No code app builder is the future, and you may ask why so?  
App development can be challenging. First, you need coding knowledge, then experience, and then an innovative idea.
But what if you have a great idea but without any coding experience? Can you still develop an app? Yes, you can!
How many times have you had a great idea for a mobile app or platform and wished you knew how to create one so you could be the next Facebook?
No more wishing! To clarify, you can design and develop an app without knowing how to code or having the funds to employ a coding team with no-code app builders / low code app builders.
These no-code app builder platforms are game-changing to underdog businesses. By allowing non-techies to design and build applications without the need to write code.

However, now you might be wondering "What is the best no-code app builder?" or are there any free app builders to try out. Don't worry, we got everything covered. 
The Best No Code App Builders:
Customers devote a significant amount of time to their devices. If businesses want to be more reachable to their audience, they need more than just a mobile-friendly website. They need a mobile app, and no code app builder is the solution.
If you google app maker or search "What is the best no-code app builder?" you will get so many results that might confuse you.
Here are a few no-code app builders (also some free app builders too) to help startups, freelancers, and small businesses create without having to write code. This might help you to choose the best for your business.
1.Swing2App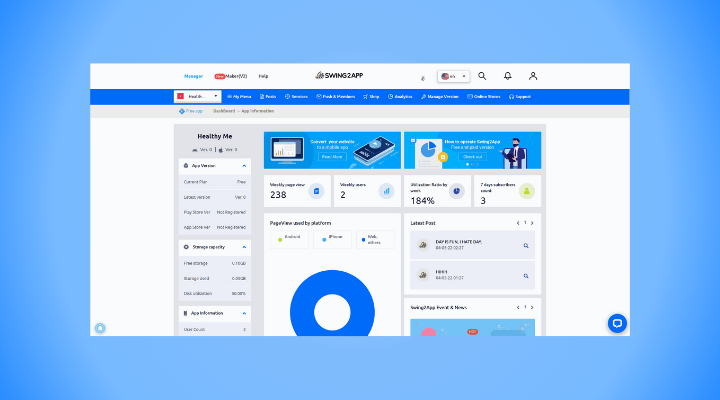 We'll start this list with us. This is, after all, our blog, isn't it? On a more serious note, we are passionate about making it possible for anyone to build professional apps with our free no-code app builder platform.
Swing2App is the best app builder for both newbies and advanced coders, we provide a free no-code app builder platform and the possibility of an image map and HTML editor to create an app.
You can create 3 free apps once you sign up to Swing2App. With our free no-code app builder you can also publish your app for free on Playstore only under the free commercial version.
Swing2App no-code app builder provides industry-specific free templates, in which you can add many features. These features could be like google maps, digital shop, product QR, Calander, chaat rooms, posts, and much more, for instance.
The best part is you can create 2 apps (Android + iOS) at the price and time of 1 app; thus, our no-code app builder is both cost-efficient as well as time-efficient.
Not only you can create an app from scratch with our free app builder, but also convert your existing website into an app in just 5 minutes.
Swing2App also includes additional tools for post-launch of the app, including user analytics, push notifications, pop-ups, in-app chats, and much more.
The paid version starts from $ 99 one time, click to get a detailed price policy
2. AppMachine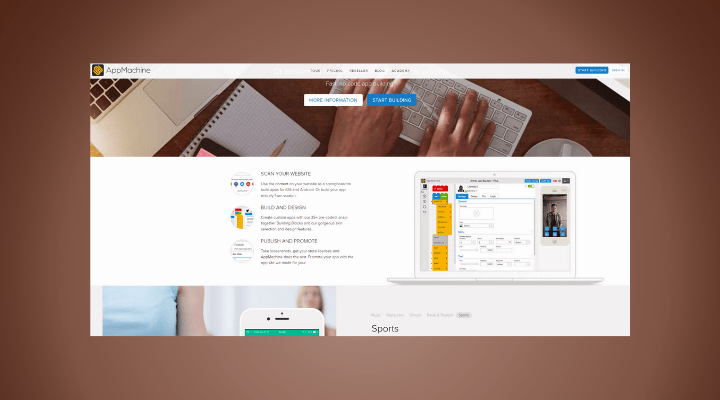 AppMachine can be used by anyone, especially small enterprises, to create mobile apps. This no-code app builder searches your existing website for information and specialized features that may be used to develop your app.
There's no need to know how to write because it comes with 35+ pre-coded Building Blocks. AppMachine also has many skins and design options.
The paid version starts from $ 588/year + added charges for developer licenses
3. Jotform Apps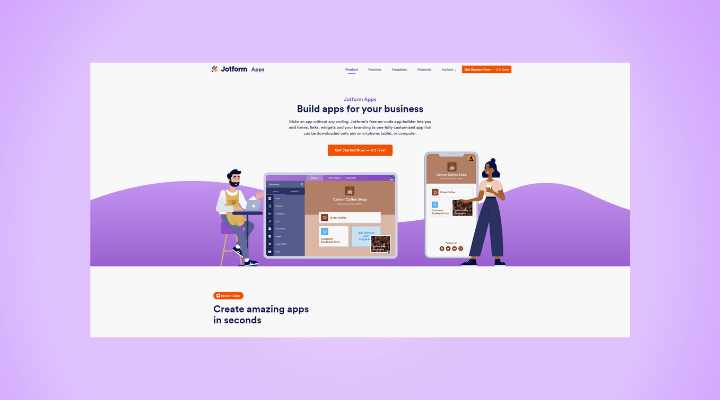 Jotform Apps is a free no-code app builder that can help you create a mobile app for customers or as an internal corporate tool.
It is a drag-and-drop mobile app builder, as a result, it is quite simple to use. There are over 300 app templates in a range of categories, and each design is easy to edit. Forms, photos, text boxes, links, widgets, and more can all be added. You can also start from scratch or even clone from an app created by you.
The paid version starts from $ 288/per year
4. QuickBase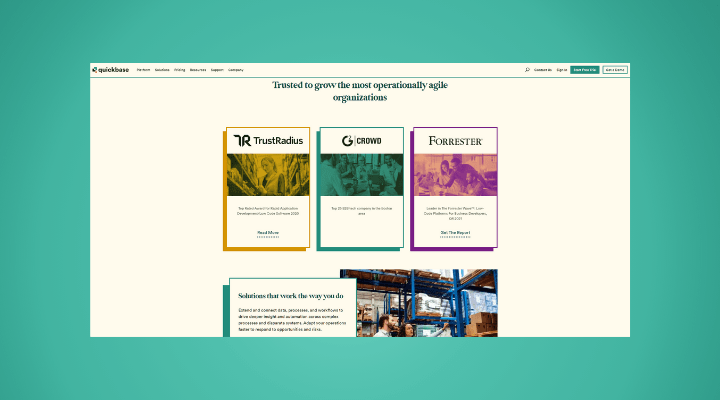 QuickBase is another no-code app builder platform that allows business and IT teams to collaborate more effectively. It also allows somebody with limited technical expertise to manage and scale across one platform.
This no-code app builder's no-code or low-code solution helps businesses quickly turn their ideas into apps. Both no-code and low-code alternatives are available.
The paid version starts from $ 7200/month
5. Backendless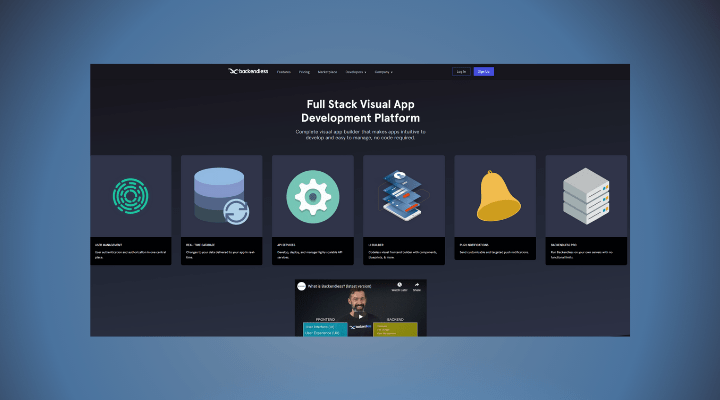 Backendless is a visual no-code app builder platform, which means you get to see what you are making. It gives you all the tools you need to create even complex as well as scalable apps.
It provides a visual UI Builder for developing the user interface of your project. Also, it has many components, themes, and page layouts to choose from. A vast number of pre-built APIs, file storage, messaging, user authentication, and so on are included in the platform.
The Backendless' no-code app builder also includes several post-launch enhancements which are quite helpful. These include visual user management, iOS, and Android push alerts, email templates, and in-app messaging support.
The paid version starts from $300/per year
6. Bravo Studio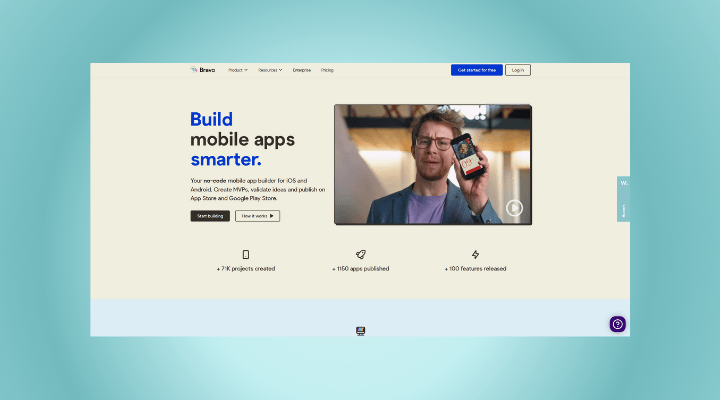 Bravo Studio prides itself on being a no-code app builder platform that focuses on design. You may design your app in Figma or Adobe XD and then import the finished product into Bravo Studio. Then, using a REST API, link your app to a backend or database to quickly create a fully complete app.
Bravo Studio specializes in mobile app development and creates apps for the Apple App Store and Google Play Store.
Paid version starts from: 228 euros/ year
What is a No Code App Builder?
A no-code app builder helps create applications without having to write any code. No-code development platforms make it possible for developers to use pre-built templates and designs to create advanced, enterprise-grade applications with zero coding.
As GitHub CEO Chris Wanstrath puts it, "We think the future of coding is no coding at all". No code app builder is a part of the bigger no-code trend. No code app builders remove programming as the hurdle between the ideas and solutions simply because they remove the limitations.
No code app builders enable developers to create applications without coding expertise, enabling and empowering them to innovate instead of restricting them.
Here are some interesting data related to no-code app builders:
Statista predicts the global no-code app builder platform market to amount to an estimated 65 billion U.S. dollars by 2027
According to Gartner, low-code/no-code solutions will make up 65 percent of application development by 2024 because the technology helps address productivity issues, skill shortage,s, and business project backlogs.
A further study by Research and Markets indicates the global low-code development platform market is projected to generate a revenue of $187.0 billion by 2030, rising from $10.3 billion in 2019, and is estimated to rise at a fast pace, 31.1% CAGR, during the forecast period (2020-2030).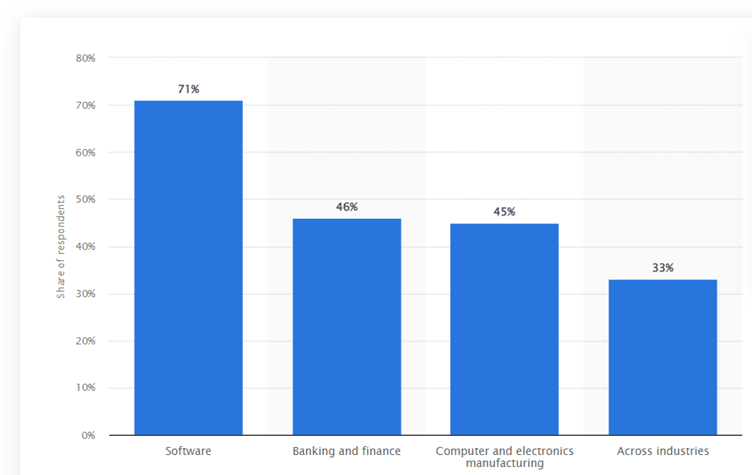 However, if you are still not sure about the no-code app builder? Don't worry we will explain everything and tell you about the best free app builder!
How Does a No-Code App Builder Work?
Perhaps you're wondering how it's possible to build advanced applications without writing a single line of code if you're new to no-code app builders. Although the basic idea behind every no-code tool is the same, each vendor may have a different approach.
Swing2App knows no-code the best, so we'll walk you through it from our perspective.
Here's how it works: Firstly, Swing2App programmers create the code that lays the foundations for the visual modeling you then use to build your application. It's not that you aren't writing code when you build with a no-code platform, it's simply that it's been already written for you.
Moreover, with Swing2App best free app builder, you can both build citizen-developed apps while at the same time constructing secure, enterprise-grade apps with the power of no-code. Furthermore, this isn't your typical no-code app builder platform; it's no-code with a getaway.
What do we mean by that? Despite not requiring advanced coding skills to develop advanced applications, Swing2App also supports JavaScript or HTML integrations for added customization. This means that coding freedom is as agile as implementation flexibility.
Conclusion
Custom mobile and web apps may be developed significantly faster-using no-code and low-code technologies than with a standard app development approach. These tools are simple to use, have a lot of capabilities, and may be used to make items for personal or professional purposes.
What to choose depends totally upon what you want. In conclusion, you will have to look up for all the no-code app builders and decide yourself.
We recommend you start your no-code journey with Swing2App's free no-code app builder and avail all the benefits mentioned above. You also have 24*7 customer support even after your app has been published which is generally not available free of cost.