We live in an increasingly fast-paced world, so if you want to stay competitive, you need to be on top of the no-code movement, whether you are a small business or a leader in your industry.
Clearly, technical skills like software engineering and web development are highly sought after. It isn't just inconvenient, but it is also impossible to function without technology right now. That implies that anyone who can create and improve technological tools will be in very high demand.
There is no denying the fact that coding is not a skill set that's easy to learn for the average person. The process is tedious, time-consuming, and unattractive to many people. Developing a system from scratch takes a lot of time and money, even for big corporations. As a result, it is even more challenging to break into the IT industry for small businesses, startups, and solo entrepreneurs.
In essence, the world is fast-paced and pushing businesses and consumers into apps.
However, most people don't have the expertise and resources to build these apps and tech products.
And Swing2App No-code app development aims to change this.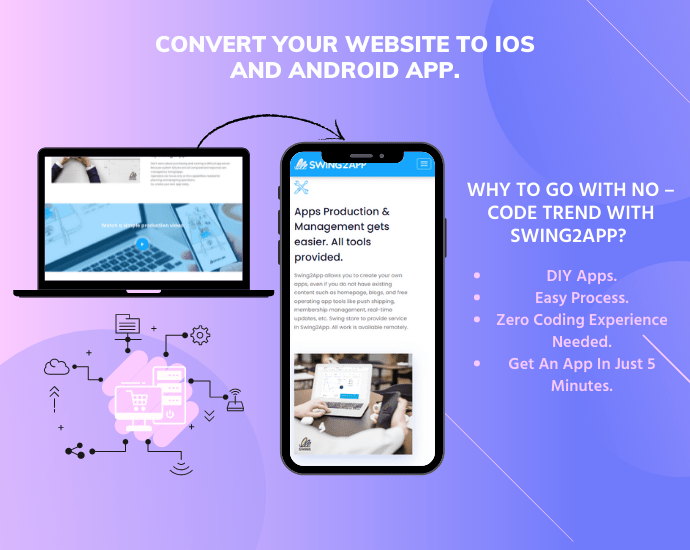 A growing number of no-code development platforms have enabled app development to become easier than ever before. No-code platforms enable you to build and customize programs for your specific needs without having to learn any coding languages. From entrepreneurs to small teams to entire business departments, everyone can now make fully customized apps without hiring or being a developer. Through the no-code trend, the computing world is being opened up.
But what exactly can no-code tools do?
And what are the results? Do they live up to the hype?
Realistically, the situation is quite straightforward
The no-code app industry has existed for quite some time, but it is still very young in comparison to traditional development. Despite this, there are already a variety of platforms, use-cases, and capabilities that no-code can offer to a variety of small businesses, start-ups, and entrepreneurs. Which no-code platform you should use depends on what your goal is. Moreover, several other factors need to be considered too.
You can however make almost anything a customer or business wants with the right no-code platform, such as Swing2App.
Throughout this article, we will explain how Swing2App actually works, what benefits you get, what pricing policy we have, and why Swing2App is the best no-code app development solution for you.
Let's get started!
How Swing2App: Website to App converter works?
For converting your website into an application, Swing2App provides 2 types of prototypes. You have to choose either of them depending upon your target and needs.
1. Push only: this is a web app that is created by linking a website as it is with an app. 
Push styles are styles that move your mobile website to your app. The push-only prototype design gives you the freedom to send push, and the bottom of the screen category menu makes it easy to move around the app.
If you enter the website (homepage) URL without any other production function, it will be linked to the app and produced, and a push toolbar will be created at the bottom of the app.
Additionally, the push app can send push messages to users who have installed the app. Unlimited pushes are also sent.
2. WebView: The web view is also a method of moving a website to an app in the same way as Push. The app does not create a separate menu or icon and does not send push.
If you have a mobile-only site, you can create a mobile-optimized app.
The web view menu has a few special features that are different from other prototype menus.
(1) Home address renewal: If you renew your home address (URL), you need to recreate your app.
(2) Using unlimited web view products: You can use an unlimited number of web views without paying for a limited period.
But you can't change your home address if you use unlimited items.
Summary of the basic differences between WebView and Push only  
Now how to convert your website into an app?
The process can be easily understood by the following images: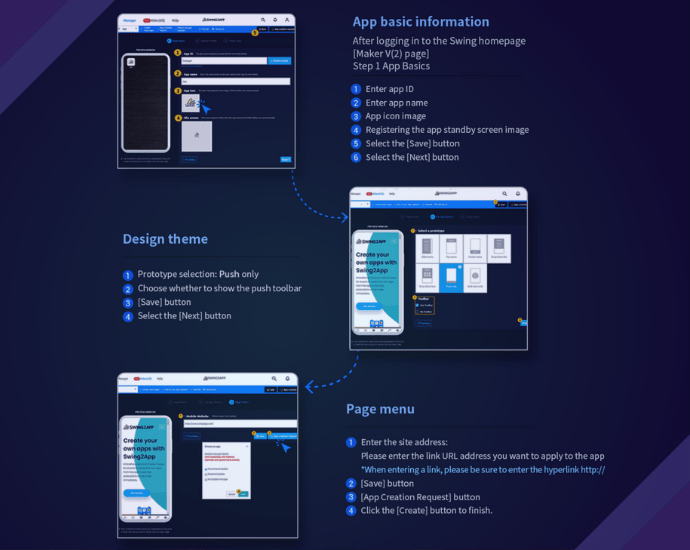 Benefits you get with Swing2App no-code App builder
Creating an app for your website is not enough; there is much more that must be done, which requires extra costs. You can rely on Swing2App to provide all the features you need to get the best ROI from your app with a single lifetime payment.
Let's discuss some general benefits of Swing2App:
Cost-saving: You can save multiple costs by using Swing2App. First and foremost, you can create both android and iOS apps at the same time for just $300 (which is a one-time investment). However, you can create for a single platform too, which will obviously cost even lesser.
As both Push only and WebView (with OneSignal) allow you to send unlimited push notifications to your app users, which means you don't have to pay separately for it.
Time-efficient: As you create 2 apps (Android and iOS) and the same time, and this takes only 5 minutes. So, you can easily cut your app development and publishing time from 6-7 months to weeks.
Enhanced UI for your users: Apps are definitely better than responsive web apps in terms of UI. And by providing a better UI to your customers you can increase their app spend time which will surely help your business grow. The better the UI, the more time they will spend on your app which means the likelihood of buying a product or service will surely be higher.
App Analytics: With Swing2App analytics you can constantly check and study your customer acquisition, your app's performance, thus helping you to provide better facilities. It can also help you to boost your business further once you know what your audience likes the most in your app.
Higher ROI: The various features of Swing2App help you in both customer acquisition as well as retention. As people spend 90% of their time in apps, hence having an app will take your business directly to the fingertips of your customers.
The ability to send push notifications and user Analytics also helps you to add to your revenue. It's simple the more you engage with your customers, you will learn more about their habits and needs, and with necessary improvements in your product or service, you can be the next big business of 2022. 
All of this must be very expensive, right?
Not at all! In fact, it is quite affordable, especially for small business owners, entrepreneurs, and even large corporations!
Swing2App Price policy
Webview app: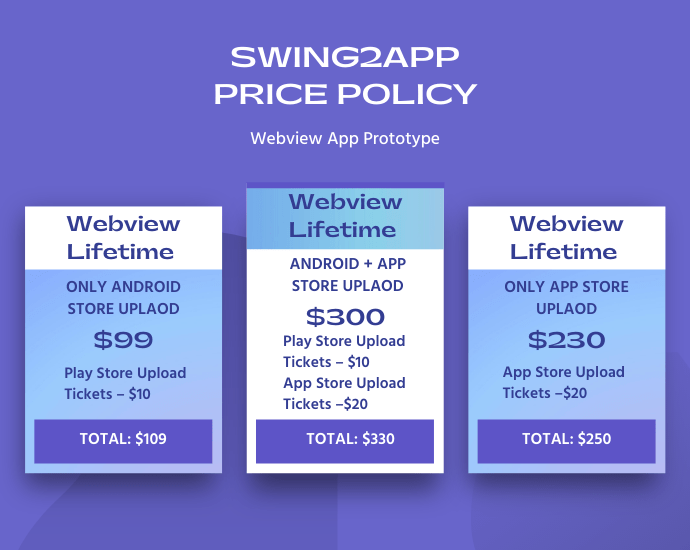 Push only: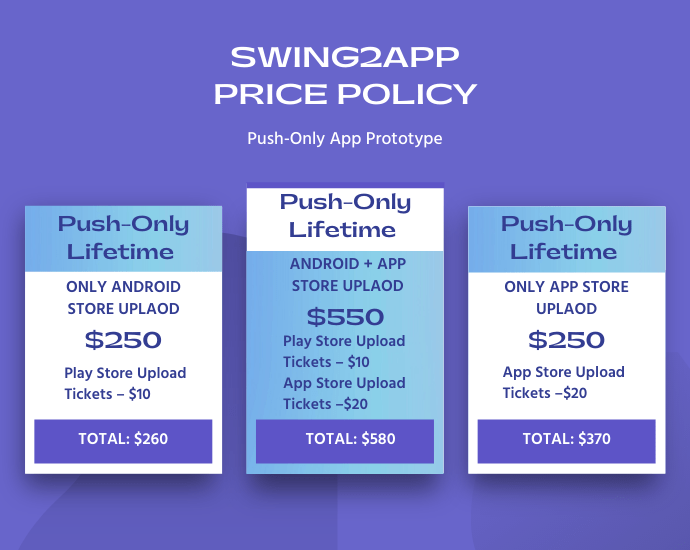 The question might arise why you should choose Swing2App over other no-code app development platforms?  
Read on to find out the answer.
Swing2App is best: why?
Swing2App is not special because of all the benefits mentioned above, but the ad-on benefits that help you in every step of app development. And this makes Swing2App Truly a One-point solution to create and manage your app.
Inexpensive store upload: Many of you might not have trouble uploading to the Playstore. It is, nevertheless, a daunting task to upload an app to the App Store due to its strict rules and regulations, even a seemingly innocuous mistake can cause your app to be rejected.
To prevent this. you can purchase a store upload ticket and we will handle everything on your behalf. If the app is rejected, we will make proper adjustments so that you can continue to publish your app and grow your business.
Update your app easily: The webapp is simply a reflection of your website in the form of an app. As everyone is accessing the same version of the web app via a URL, they will always be obtaining the most up-to-date version of the app.
24*7 swing2app support: The majority of app development companies and platforms are only involved in the creation process, they don't provide any future app help promise. And during the process even a small change in the app may cost you several dollars, the costs just keep rising! 
What about the uploading issue after the app has been created? What if you need an update or technical assistance?
You might think of outsourcing as a feasible option. You'll need to hire a new team or outsource app maintenance separately if you outsource your app development. This will cause yet another drain on your budget.
With Swing2App, you get lifetime app support. No matter what the issue is, we are always happy to help.
Customization also available: We can also help you if you want to customize specific pages of your app, and don't worry about the cost, it is quite reasonable. The customization costs totally depend upon the complexity of app customization.
We have given sufficient reasons why Swing2App is the best free app development platform for you. Still not convinced? Give it a try!
Creating an app is totally free, you need to pay only when you are satisfied with your app and want to publish on it its store. 
Visit Swing2App now!