Perfectionism in mobile app development calls for resources such as time, money, and effort.
App development mistakes are widespread all over the world; the secret is to efficiently avoid app development mistakes: the most dangerous faults that can kill your app.
The global number of app downloads will exceed 250 billion by 2022, while just 0.6% of total apps have over 1 million downloads.
Creating a mobile app for your company is an exciting but challenging endeavour. There are numerous elements to consider at various stages, numerous barriers to conquer, and it all takes a long time. As a result, app development mistakes are unavoidable, and it's useful to understand the red signs to look for.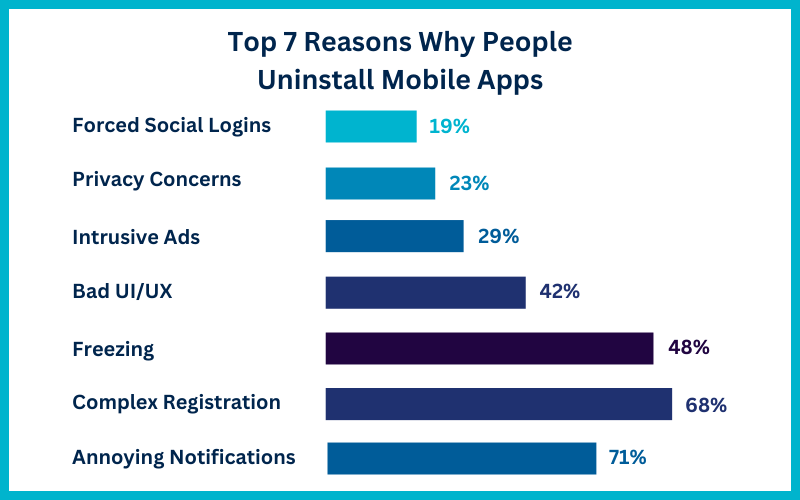 As a leading no-code app development business, we understand the consequences of such app development errors. As a result, our specialists have prepared a list of the top app development mistakes to avoid when designing an app.
This article delves deeper and addresses the following questions:
What are the difficulties in creating an app?
What are the top app development mistakes to avoid while creating an app?
How Swing2App no-code app development tool helps you in avoiding app development mistakes? 
Let's get started…
MOBILE APP DEVELOPMENT MISTAKES TO AVOID
1. Poor Market Research of the Use of your App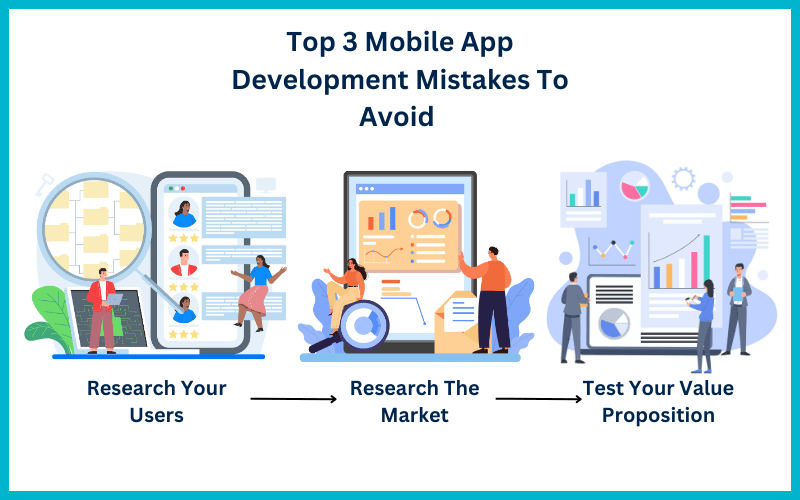 This should be the initial stage in your app development process. If you don't take the time to identify your audience's requirements and challenges, the vision for your mobile app will become hazy.
"What problems does my app solve for my users?" you should ask yourself.
This is one of the app developments mistakes that may be avoided by completing thorough investigation and analysis. Investigate and comprehend what your mobile app must accomplish. When embarking on a project that will require a significant amount of time and money, it is strongly advised to proceed slowly.
Conduct market research to find answers to the following questions: 
 Is the app selling any products or services? 
Is it only for interacting with your audience? 
Does it make day-to-day business operations easier? 
What is its purpose? 
First, research your competition to see what they're up to. Check to see if your competitors have a mobile app and what it is used for. Second, conduct research and poll your target audience. Learn what they're seeking for and identify problems that a mobile app can answer.
The use of precise data and insights as the foundation results in a mobile app that effortlessly drives customer acquisition and retention. Identifying the use of your mobile app also assists you in developing a strategy for a distinct value proposition.
Follow each step carefully for a successful app development process, from research through launch.
2. Too Many unnecessary Features
When people think of creating a "feature-rich app," they frequently think of stuffing it with as many functions as possible, which is one of the most common mobile app development mistakes.
A "feature-rich app" should be planned, designed, and developed in such a way that just the elements required to accomplish the app's purpose are included.
Adding too many features confuses your consumers rather than solving their problems, raising your app's bounce rate. Furthermore, superfluous features slow down and increase the size of your programme.
Keeping your app's focus on the major functions and a few supporting features not only makes it easier to comprehend and use, but it also makes it more interesting to consumers.
The secret to a successful mobile app is a straightforward and attractive user interface (UI).
For example, the features to prioritize in an eCommerce mobile app would be:
Product searching 
Product brief descriptions 
Shopping Cart Management 
Payment Gateways 
Order Tracking 
Help & Support 
These capabilities should be sufficient to provide great online retail experiences via your mobile app.
When it comes to mobile apps, users prefer a minimalistic design.
Swing2App provides features for all kind of apps, check out the image below: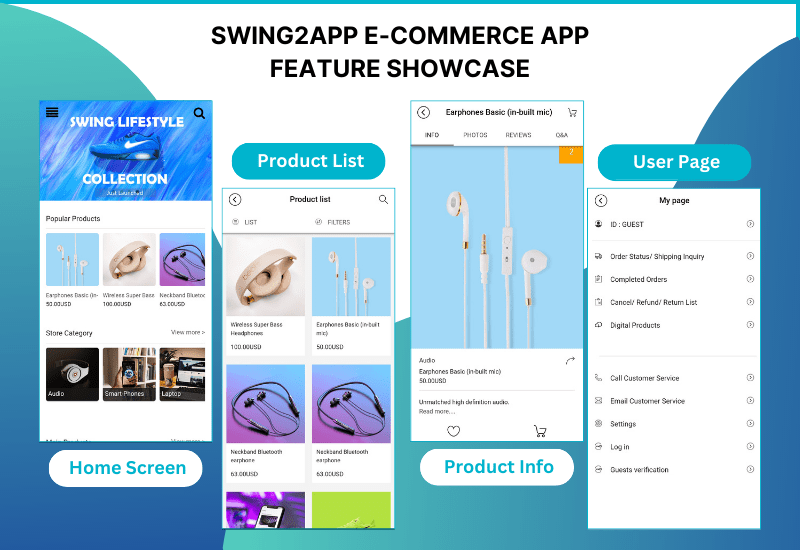 3. Choosing an App development company without Adequate Research
Business owners are frequently perplexed and lost in the jungle of distant developers. This is one of the mobile app development mistakes that leads to poor decisions and waste of money.
Outsourcing app development demands a systematic approach to find the best fit for your project.
Finding the right talent or outsourcing firm for your app development needs may appear to be a daunting undertaking, but it becomes much easier if you create a well-thought-out checklist for the selection process.
Here are a few questions to think about if you want to prevent this mobile app development mistake and hire top app developers:
Is the agency in sync with your app development requirements and objectives? 
Is the agency well-versed in similar projects? 
Is the agency up to date on the latest technologies? 
Is the agency's development process transparent? 
Is the agency's mobile app UI/UX designers creative? 
Looking for app developers to create effective and user-friendly mobile applications?
4. Ignoring UI/UX Designing
We may become so engrossed in the creation of an app that we lose sight of how it will be used. Neglecting the user interface of an app is an expensive app development mistake.
A bad UI/UX design causes 42% of consumers to uninstall a mobile app.
When a user launches an app, they have certain expectations. Check out the top apps from across the world for inspiration.
All these apps include simple navigation, a search option, a gorgeous UI design, a clear hierarchy in landing pages, a home button that can be accessible from anywhere in the app, and a plethora of other great features.
A poor user interface/user experience can affect your app's chances in a variety of ways, including:
The mobile app takes an abnormally long time to load. The longer it takes for your app pages to load, the more people will leave.
Your user interface design is dull and unoriginal. Users are more likely to stay if the app design is pleasant, uncomplicated, and simple to use.
Poor navigation confuses your users, forcing them to click and browse more than necessary to get what they are looking for.
Low-quality content and unnecessary login pages are also avoidable components of poor UI/UX design.
The most critical feature of great UI and UX is a user-centric design. Even after you've planned and implemented a UX design for the app, user feedback is critical for success.
The most popular customer choice isn't always the most technically solid solution. Finally, the goal should always be to maintain a profit-oriented equilibrium.
Swing2App provides you with industry specific pre-built templates which are great for beginners in no-code development, as well as appealing to users.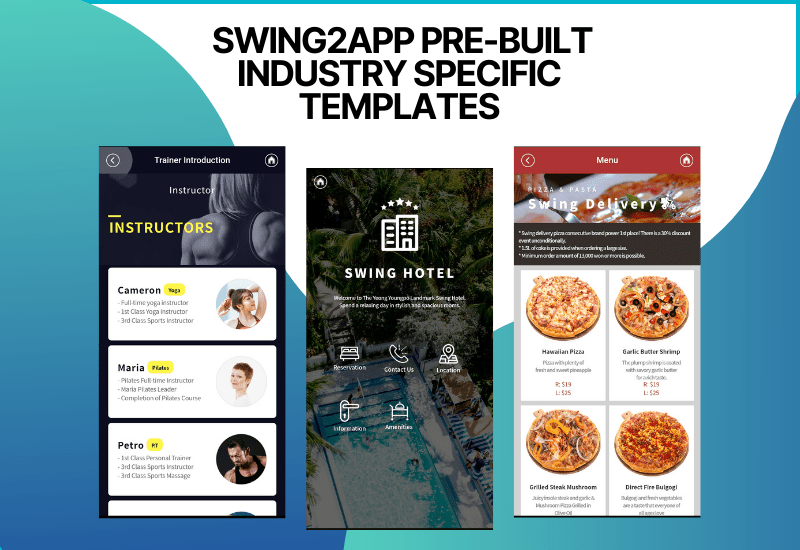 5. Improper Budget Estimation Before Development 
Going over budget is one of the most typical mobile app development mistakes that every business owner must deal with. 
There have been several key causes for this: 
Budget estimation error 
Inadequate budgeting by phase 
Unexpected costs and hidden charges 
Overcome this app development mistake by developing a cost strategy from the start of the app development project.
What is the Cost of app development?
You must budget for a variety of unexpected and hidden charges. You won't be able to add more features than you expected without a budget contingency plan. Integrating contemporary technologies such as AI, AR, and VR (Virtual Reality), for example, is far more expensive than conventional app features.
Plan the expenses at each stage of development to get a reasonable budget estimate.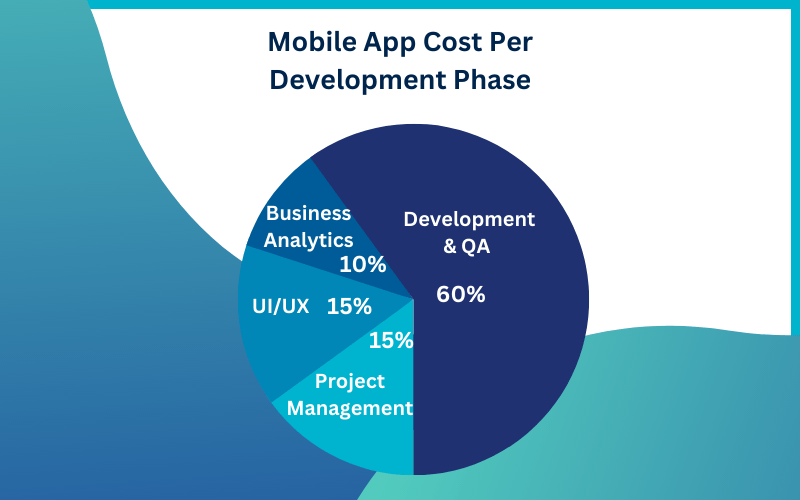 You must budget for the long term. You should budget for two types of costs after development:
Marketing Costs: For client acquisition and retention, every newly launched mobile app requires sponsored promotions and content creation.
Maintenance: The continuous costs for maintenance and upgrades are critical to a mobile app's long-term performance.
Budget estimation cannot be precise for such a complex and multifaceted operation. However, after much research and analysis, the solution becomes less vague.
However, with Swing2App no-code app development, you can avoid this app development mistake because our paid plans are completely budget-friendly and include app security and maintenance!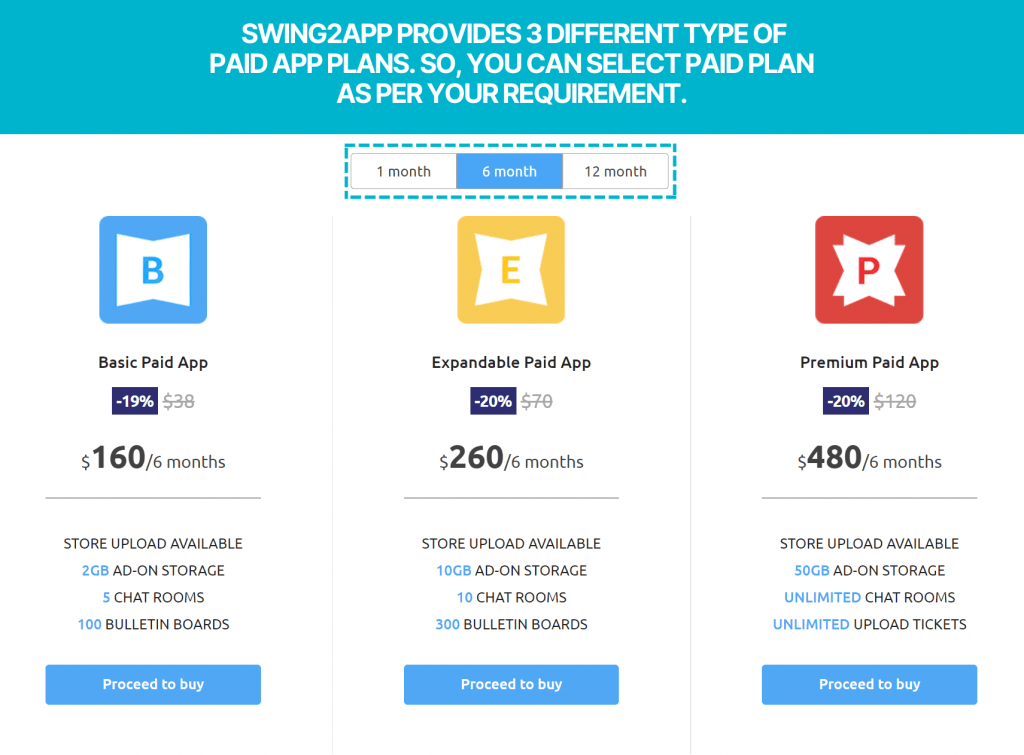 6. Not Keeping up with the Latest Trends
Recognizing changes and aligning with market trends is the best way to remain competitive in the market. Even if you come up with a game-changing idea, your mobile app may be overtaken by the competition, so stay in tune with market demand to avoid app development mistakes in future as well.
Let's take Vine as an example. It was too late by the time the app's developers recognised they needed to give users the option of generating longer movies. Because competitors such as Snapchat and Instagram had already answered the users' needs, the audience saw no reason to return to generating Vines. And, despite being the first to place short videos at the forefront of user creativity, Vine's inability to stay up with market advances was the final nail in the coffin.
You may not want to create the next Vine or Snapchat, but the premise is the same. Keep your eyes and ears open to learn about the latest trends.
The truth is that the mobile app industry is continuously evolving. To keep up, seek for a no-code mobile app development platform that makes development quick and enjoyable.
7. Inadequate Testing After Development
All your efforts in developing the app—research, design, coding—will be for naught if it is released without thorough testing. The app could end up in an infinite cycle of changes, or it could stop working entirely, causing your brand's reputation to suffer.
Quality control through rigorous testing is essential, yet one of the most common app development mistakes is inadequate testing.
In most cases, developers test their apps by having them reviewed by another developer. Although it may function well as a peer review, it is insufficient.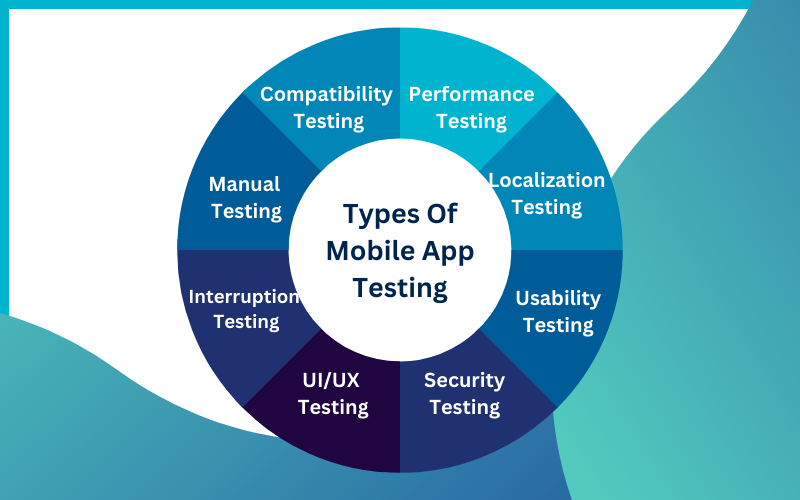 To undertake rigorous testing in numerous elements of a mobile application, you need a dedicated team of quality assurance and app testers.
Effective mobile app testing techniques:
Schedule sufficient time and budget for app testing. 
Plan for and outline your testing procedure. 
Create test case documentation using templates. 
Obtain the necessary testing tools and software. 
Test each aspect individually using a quality assurance team. 
There are other different ways for good testing, and you may develop your own. However, the primary goal of app testing should be to find and eliminate all forms of errors/glitches/bugs/vulnerabilities prior to app launch.
In this competitive market, it is critical to create a flawless mobile app to prevent users from switching to a competitor's app.
The quality of your digital platforms determines your brand's personality, likability, and repute. A well-tested, bug-free mobile app promotes favourable brand growth, which leads to increased sales and ROI.
CREATE PROFESSIONAL APPS WITH SWING2APP AND AVOID THESE APP DEVELOPMENT MISTAKES
One of the most crucial factors influencing this decision is cost-effectiveness. By using Swing2App, you can scale your business quickly and cost-effectively without having to know any coding.
With Swing2App you can easily avoid app development mistakes mentioned above and create a no-code app easily!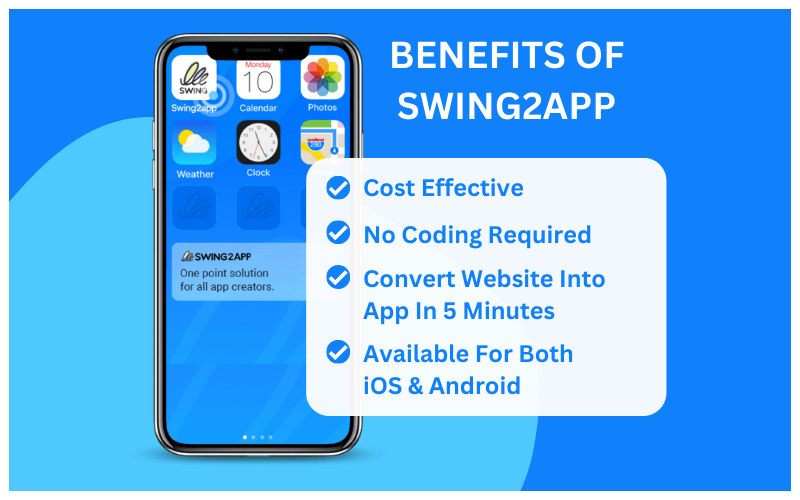 That's not all, you get other beneficial features too, which help your business grow more.
Some other benefits of Swing2App no-code app development solution are:
Android and iOS apps:
Here you can create app for both the platforms at the same time as well as cost.
Convert website to an app in 5 minutes:
If you already have a website, then the task of creating an app becomes even more simple. All you need to do is enter your website URL in Swing2App website to App converter and your app will be created within 5 minutes.
Free app creation:
The biggest advantage of using Swing2App is that you can create your MVP app absolutely free and pay only when you want to upload it on PlayStore or AppStore.
App Analytics:
Swing2App provides all the various analytics about your app like User pageview, device usage, feature usage, push notification data, new user data, and much more.
Real-time update:
Automatically update content in-app without any need for resubmission. This can be done easily with our Content Editing Tool, which is also an entirely codeless process.
App monetization:
Let your app earn money for you while you can focus on other things. Swing2App provides a Google AdMob plugin for developers who want to earn from ad revenue.
For all App creators (beginner and pro):
For developers that already have coding experience Swing2App is a means to save their precious time by creating an app in much less time than it requires to code even a basic app.
Choose no-code, Choose Swing2App. We're your one-stop-shop for all things no-code, with everything you'll need to create any kind of app with ease
IN A NUTSHELL
App development is a time-consuming process that takes a long time. There is always the chance that developers will make app development mistakes along the process, risking the app's success.
Some of the most common mobile app development mistakes to avoid include a lack of understanding of consumer wants, overcrowding the app with features, insufficient app testing, and many others.
In this article, we've selected and discussed the top mistakes to avoid when designing an app. We hope this comprehensive list assists you in positioning your mobile app for success.
Please contact us if you have any further queries about mobile app development.
Communication Crafts provides a comprehensive set of app development services, including mobile commerce development, Android app development, iOS app development, cross-platform app development, UI/UX design, app maintenance/support, and much more.
Contact our highly skilled no-code mobile app developers right away.
Get the online presence your brand deserves!