There is a lot of buzz about AI, some welcome it as a transforming tool while others think it's scary!
The rise of low-code/no-code platforms allowing people without any technical background to make customized apps by simply selecting themes, designs, and features is definitely a game changer. Along with this, we have now various generative AI technologies like ChatGPT that can do complex coding in a fraction of the time. The knowledge of these tools has become essential for app developers as it can help them to make the app development process much more time-efficient.
With ChatGPT anyone can generate the code to create an app with complex features which will require a traditional app developer for days if not months, this is definitely exciting but scary for those who work in this industry, who might think of it as a danger to their jobs.
On the face, it might seem that the no-code/low-code technologies and AI are here to steal the jobs of traditional app developers, but that's not the case because the demand for app creation is increased significantly. Further, to use these no-code/ low-code tools more efficiently you must have strong fundamentals. However, traditional app developers need to be well acquainted with these no-code/ low-code tech changes, so that they can speed up the app development process.
The demand for no-code/low-code platforms grew significantly during the Covid-19 pandemic when even small businesses were forced to create apps and launch their apps quickly.
However, now the game is even bigger with the entry of generative AI as it is going to transform the app development process inside out. The generative AI ChatGPT along with no-code/ low-code tools has created a new category of app developers known as citizen developers.
With the help of no-code/ low-code and ChatGPT-like technologies these citizen developers can build apps quickly and take their small businesses online in no time.
BENEFITS OF NO-CODE/LOW-CODE AND GENERATIVE AI CHATGPT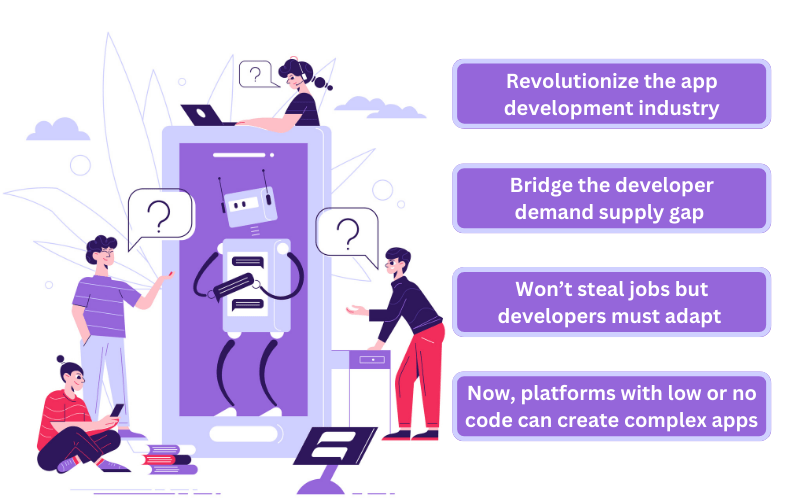 1. Revolutionize the app development industry
The confluence of generative AI ChatGPT and the no-code/ low-code tools has revolutionized the app development process and will bring more change in the future.
No-code/low-code platforms led to the rise of a new category of app developers– known as citizen developers. These budding citizen developers create apps by leveraging the visual interfaces and pre-built templates offered by the no-code/low-code platforms, which enable them to edit and build an app with minimal or no coding knowledge at all.
By empowering non-technical personnel to create apps for businesses, low-code/no-code platforms reduce the workload on technical personnel as well as make the app development process much faster and easier.
Now, converging these no-code/low-code tools with the generative AI ChatGPT further revolutionizes the app development process.
Generative AI enables you to make more informed and intelligent decisions as it provides large language models that are trained with transient data. ChatGPT can also assist you in coding and code reviews, generating test cases, and reviewing pull requests and other marketing documentation too.
Furthermore, if you are unable to understand a complex code, you can ask ChatGPT to simplify it and explain it to you. Isn't it amazing? And the best part is that it is totally free!
The scope of the AI revolution isn't limited to ChatGPT. DALL-E, a generative AI that produces designs and images takes the app development process to the next level. Creating an app design from scratch takes a long time, and this can be done much more quickly with the design generative AI, DALL-E.
Hence, as a mobile app developer, it is very important to be abreast with such generative AI and no-code/low/code tools.
2. Bridge the developer demand-supply gap
Traditional app developers knew coding apps were the only way to create an app, and they would usually end up charging you a lot of money and take months to create an app. This is not good news, especially for small businesses with tight budgets and constant pressure to create an app for their business to meet the current trends.
Due to the Covid-19 pandemic influencing digitalization, everyone has started building apps, whether a small business or a huge enterprise. This has resulted in a huge gap between the demand and supply of mobile app developers and has made the app development process even more costly. As a result, a vast majority of small businesses feel left out and face difficulties in creating even a simple app for their business.
However, with the emergence of technologies like ChatGPT, and no-code/low-code app development platforms the world of the app development industry has transformed significantly.
Automation, and technologies like ChatGPT, and no-code/low-code app development are the solutions to fill this supply-demand gap, otherwise, there'll be thousands of left-out small businesses.
Swing2App no-code app builder is one such solution where anyone can create an app without any coding at all. Our mission is to help everyone whether a small business or an enterprise to create no-code apps in a cost-efficient and time-effective way.
4. Won't steal jobs but developers must adapt
Many traditional app developers and analysts are worried about AI technology shrinking the traditional app developer job market, however, the future isn't gloomy at all rather much bright. There are lots of opportunities for technical personnel, especially app developers. AI can never replace the human touch.
The trend of AI, no-code/ low-code tools will definitely change the apps as well as the skills required to create such apps, but the demand for app developers with strong fundamentals of coding will never get obsolete. Rather, these technologies will act as an up-skilling process for such traditional app developers to create apps in a more efficient way.
With the global focus on AI and no-code tech, traditional app developers must future-proof themselves by continuously updating their skills as per the latest industry standards.
To summarise, traditional app developers should buckle up and be well-versed in the fundamentals of computer science in addition to their tech stack. Perhaps most essential, people should exercise creativity in whatever they do. The no-code/low-code tech, and generative AI ChatGPT, all rely on your creativity; more creativity results in better outcomes.
5. Low/no-code platforms now are capable of creating complex functioning apps too
Traditional app development was expensive and required a long time to develop. However, this is no longer the case due to the UI problem being fixed by low-code/no-code platforms.
This implies that not everyone needs to be highly technical in order to understand and complete everything from the start, but rather they bring a unique set of values.
Automation eliminates much of the manual labor that would otherwise be necessary and improves security by lowering the possibility of human error.
If you enter a code snippet in ChatGPT and ask it where is it wrong or why is it not working, it will tell you the exact reasons in less than a minute. So, a task that usually took days for traditional app developers would become much easier with such generative AI technologies.
Now, you know about all the amazing benefits of no-code/ low-code tech along with generative AI ChatGPT. Let me introduce the Swing2App no-code app builder to you so that you can create an app for your small business much faster and in a pocket-friendly way.
SWING2APP: NO-CODE APP BUILDER CHANGING THE APP DEVELOPMENT PROCESS
Swing2App no-code app builder is a part of this changing landscape of coding and has evolved a lot over the past few years to provide no-coders with the best platform to create no-code apps.
If you have a unique web or mobile app idea that has the potential to revolutionize the web app business, we are always ready to assist you in realizing it. Everyone, especially small businesses can benefit a lot from no-code app builders like Swing2App. Our customized app development platform provides you with the best no-code technology stack for your needs and ensures that it is bug-free, high-performing, and user-friendly.
Together, let's build the no-code apps of tomorrow!
BENEFITS OF SWING2APP NO-CODE APP BUILDER: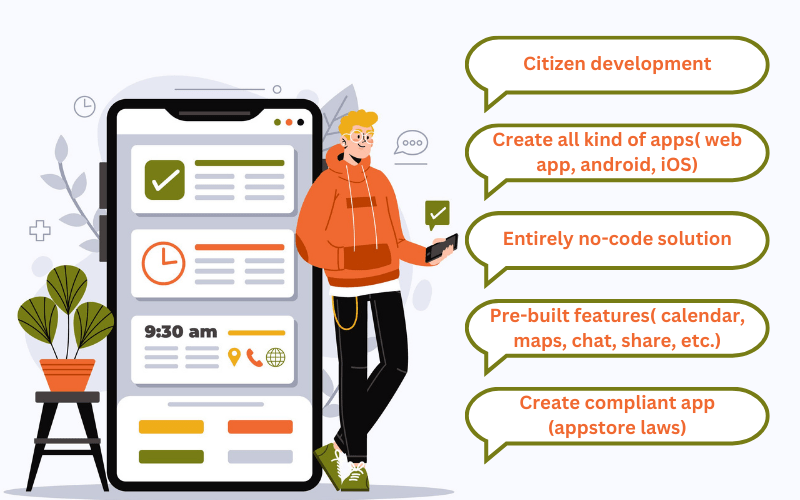 Citizen development: Swing2App aims to help every small business, entrepreneur, and non-technical people to create apps. Pre-built app templates provide a basic outline to citizen developers, these can be easily edited as per the imagination and creativity of the user.
Entirely no-code solution: Everything from app prototype, theme, template, and features to actual app release is based on no-code technology. You don't need any coding experience at all to create an app for your small business. However, if you wish to add some customized features you can code them in the HTML editor provided by Swing2App no-code app builder.
Create all kinds of apps( web app, android, iOS): With Swing2App no-code app builder you can convert your small business website into an app in less than 5 minutes and enjoy the features like app theme, toolbar, push notification, app features and much more.
You have created just a single app for both the iOS as well as Android platforms, thus creating 2 apps at the cost of one!
Pre-built features( calendar, maps, chat, share, etc.): Swing2App no-code app builder provides many pre-built essential and industry-specific features for your app. All you have to do is to assign a feature to a particular menu option and name it, without writing even a single line of code.
For example, if you want to create an e-commerce app you get pre-built features like product category, product list, My cart, Order details, Wishlist, search bar, and all other essential e-commerce app features.
Create a compliant app (app store laws): With Swing2App no-code app builder any app created is totally compliant with both the Appstore as well as Play Store. Hence, you can be well assured that your app won't be rejected.
Don't rely on costly traditional app developers when Swing2App no-code app builder offers everything at a reasonable pocket-friendly price.
CONCLUSION
The swift rise of low-code and no-code platforms has caused a major shift in the way software is developed. Furthermore, the entry of generative AI like ChatGPT and DALL-E has given additional thrust to citizen development.
According to market analysts, this market will grow significantly over the next five years, more than doubling, and is predicted to reach a staggering $187 billion by 2030. These platforms offer unmatched benefits, such as accelerated software development timelines and improved cross-collaboration between IT and business teams. They can speed up software development by up to six times.
Don't miss out on the global app development revolution, visit Swing2App now to be a part of the no-code revolution and boost your small business.