A pandemic's effects are equally devastating for all, but those who have access to limited resources are more at risk. Identifying which small businesses are most at risk can help us respond to the crisis.
Many small-scale businesses have experienced a negative impact, and over 70% believe it will take nearly a year to recover to levels prior to COVID-19.
A recent NBER report that summarises the survey data of over 5 800 small enterprises in the U. S. confirms the scale of SME concerns. And per the study, nearly half of the organizations surveyed have already closed temporarily. Businesses have cut their workforce by nearly 40%. Three-quarters of those surveyed said they have no more than two months' of cash available.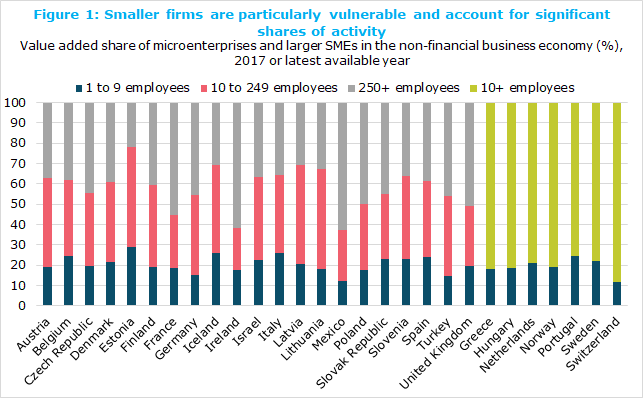 Further, the topmost challenges that might restrict small businesses are: scaling up their businesses are market access, improving productivity, and getting access to more finance.
Amidst the pandemic, businesses have reaped benefits like cost reduction and increased productivity as digitization has accelerated across sectors. Because of the COVID-19 crisis, the global adoption of digital technology has accelerated.
Across all countries and sectors, small businesses are the hardest hit. Because of the severity and duration of the pandemic's devastation, these threats are likely to persist for some time to come.
Before the crisis, nearly half of all job opportunities in the private sector came from small businesses. Many businesses exiting leads to longer-term unemployment and economic damage, so understanding which businesses may close permanently is important. Small businesses can benefit from such knowledge in a number of ways, including preventing short-term hardship, enabling them to participate in the recovery process, and better positioning them for long-term survival.
We recognize the gravity of the problem, but what is the best strategy?
Continue reading to learn how to put your small-scale business in the safe zone and be pandemic-proof.
Here's everything you need if your business has been shut, you're still in struggle-city, or want to start a pandemic-proof enterprise:
1. Digitalisation, Automation, and Innovation
The virus is obviously pushing everyone into a more digital world. While some B2Bs were already maximizing the digital initiatives, others were caught off guard. Companies who are not accustomed to digital may find it hard to slowly adapt. Business leaders must carefully evaluate the entire system and plan on how the company will be able to adapt to a digital world.
This is also an excellent investment opportunity in technology that will help the firm function more smoothly and efficiently.
If you can automate and build efficiency in your company model to remove human errors or replace humans, your costs will go down. When your production costs for your products or services fall, your margins rise. If your margins grow, you'll be better protected against downturns that adversely affect your sales.
Being well-established in the market is a dream for almost any entrepreneur, but there is a negative side also, and that is the mindset of too big to fail. However, 52 percent of the Fortune 500 are no longer in business.
As your company grows, it becomes more difficult to innovate, which allows start-ups and smaller businesses to outperform your internal employees. Hence, having a start-up environment is a must for innovation.
2. Multiple Revenue sources
If more than 2/3rd of your revenue is from a single line of products, so the product line is at risk, a key shift in your industry, price wars, etc. may put your business in a financial crunch, it may well be difficult to recover in a short time.
For example, a café selling only coffee and croissants is more prone to a crisis than those that have a slightly larger product category.
Diversity is the key: focus on both b2b and b2c in order to have a larger customer base, so getting online is a must for every small traditional b2b business owner.
You can also incorporate other strategies like:
Providing affiliate marketing: this will help in getting more sales from wide traffic that you might not be able to reach
Offering subscription plans: like in gym subscriptions, you can provide subscription plans for dine-in restaurants, you will get paid whether the customer comes or not.
3. Happy Customer is the key
Who pays all your bills in the company? not you, rather your customer. So, to succeed proper attention must be paid to customers.
Wondering how? Following are some ways that you can adopt:
Take regular customer feedback: ultimately your product or service is for the customer so to stay on the pulse of what they truly want you must get their feedback and improvise.
Encourage existing customers with loyalty programs: Your loyal clients provide the financial security that your company needs to survive the approaching uncertainties and truly pandemic proof your small-scale business.
Set up a customer advisory board: having a board that tells you about the problems faced by your consumers will surely be an aid in developing a sustainable business.
4. Strong Social media presence
Physical marketing such as billboards and signs are proving to be invisible to the general public as we drift in and out of periodic lockdowns. The epidemic has digitized marketing, and in 2021, social media will be the most cost-effective approach for your company to compete.
A third of social media users nowadays use their profiles to study products and make purchasing decisions. It's one thing to put your brand on social media; it's quite another to stick with it and build a community that will help your business thrive.
So long as you engage with your followers in the appropriate way, your social media presence not only affects brand awareness but also improves client loyalty. Here are some suggestions for enhancing your social media efforts and expanding your business:
Create a content calendar: If you want to expand your social media presence, you need to be consistent. Use an internet calendar to plan out your postings a month ahead of time. This guarantees that you are uploading to each of your platforms on a regular basis.
Identify your target audience: Get to know your target demographic to tune yourself in.
Keep track of how well your postings are performing: Consider what gets the greatest attention on social media. Your social media efforts are a never-ending experiment, so try a bunch of different things and see what gets you the most likes, shares, and comments.
5. Exit/backup plan
This is Plan B your small scale business will implement if any unfortunate contingency arises. You can't foresee what will happen, and if you plan in advance for various outcomes, you're essentially assuring that you will have some backup. Even so, having prepared ahead of time to deal with the unexpected while things are going well might help you make better judgments when you are confronted with that unexpected event.
Business planning that allows you to be flexible and prepared for the worst can be quite beneficial. As the "new normal" takes hold, using these techniques to establish a pandemic-proof business strategy for 2021 will help your small firm stay afloat or grow.
How Swing2app can provide an opportunity to revive and boost small-scale businesses?
Swing2App is a no-code app builder where anyone can create an app on their own without any coding knowledge at all. With its Swing Store feature, you can create a top-notch mobile e-commerce app in a few simple steps without much hassle.
All you need to do is register your app by applying for Swing store, where you have to add basic details of your store and you will get all the features that you need for your shopping app.
Swing store enables the following features in addition to the basic Swing2App features:
1. Shopping cart: This is a page where you can check the items you have placed in your shopping cart or before purchasing a product.
2. Category list: When you register a product, you create a category first and then register the product for each category.
Example, In Clothing e-commerce apps:
TOP: T-shirts, blouses, knitwear
DRESS: One Piece
BOTTOM: Pants, skirts, shorts, jeans
After organizing the categories like this, you will register the appropriate products for each category.
Therefore, even the categories that have been created like this can be configured as well.
3. Digital Product purchase completion page: products such as pdf, video, files, coupons, etc.
This page is for checking and viewing the contents you purchased.
4. User profile: "My Page" is a page where users can check all the details of their purchase, payment, and delivery.
It provides functions such as order status, delivery inquiry, delivery completion, purchase completion, and exchange inquiry.
5. Shopping mall main: The shopping mall main page is a main home screen page suitable for applying to the home screen as a shopping mall gateway.
A menu of popular products, categories, and major products is provided which can be edited easily.
6. Shopping mall information: It's the store information page consisting of basic shopping mall information and provides customer center, operating hours, and other such information.
7. Product search: For easy navigation Swing2App also has a product search page where users can search for registered products in the app.
Users can also apply search filters like- Filter by priority, latest, price, and popularity.
8. In-out time: You can apply it if you have registered a hotel or other accommodations or a product that makes a reservation for the entire day.
Check-in and check-out are displayed in the calendar window, so this feature is best for hotel apps.
When the date reservation is completed by the user, the products available for reservation on that date will be shown.
9. Booking: Users can select a date in the calendar window to view it.
Products available for reservation on that date will be inquired. This is the structure of making a reservation by selecting the time set by the administrator. This type of reservation can be used when your business involves multiple shifts in a day, for example, the salon app.
Conclusion
To summarise, there is no magic potion, formula, or business strategy that is really"everything proof," but there are actions you can take now to shield your business against black swan events, recessions, and other external forces that may make or break its success.
With Swing2App you can create a fully functioning range from salon, gym,café, restaurants apps, and much more. And that too with all the essential features like shopping cart, product gallery and much more without even a single line of code.
Get in touch with us if you're looking for help to you build an e-Commerce mobile app that increases sales and delivers an excellent shopping experience to your customers without spending fortunes.