Software is the backbone of every business these days. There is hardly a company that does not have an app, or a web app. Companies often use DIYs to build their apps to achieve fast results which don't meet all expectations. There is an effective solution – custom app development.
Whether template based mobile apps can suit your company's demands or if you need custom app development tailored to your procedures and the needs of your consumers.
While either of these paths is viable, early stage startups choose the template based app development or DIY tools, while quickly scaling businesses and organizations prefer the latter.
However, opting for the custom app development could be small or extensive customization. The good news is the app development cost hurdles that existed previously for custom app development have reduced drastically.
As a result, with custom app development anyone can now design their own app without sacrificing quality.
In this article, we'll go over all you need to know about custom app development versus template-based apps, as well as the primary benefits and drawbacks of each, and how to determine which is best for you.
Continue reading to make an informed decision for your company.
TRADITIONAL APP DEVELOPMENT TO CUSTOM APP DEVELOPMENT: THE JOURNEY
Few decades back, custom app creation was synonymous with app development.
Because anyone who wanted to create an app had to employ a development team. This process included element ranging from the most basic to the most complicated, making the process incredibly time-consuming, challenging, and costly.
As a result, even if small business owners wanted to, they couldn't create custom apps.
All of this changed when no-code and low-code app builders emerged.
These systems broke down reusable elements into pre-sets, allowing anyone without technical expertise to create simple business apps (no code) or access template-based apps (off the shelf) easily and affordably.
Moreover, they allowed developers to focus on providing value-added features when working on more complicated apps (low code), rather than wasting time building the same pieces over and over.
So, how should we define custom app development?
WHAT IS CUSTOM APP DEVELOPMENT?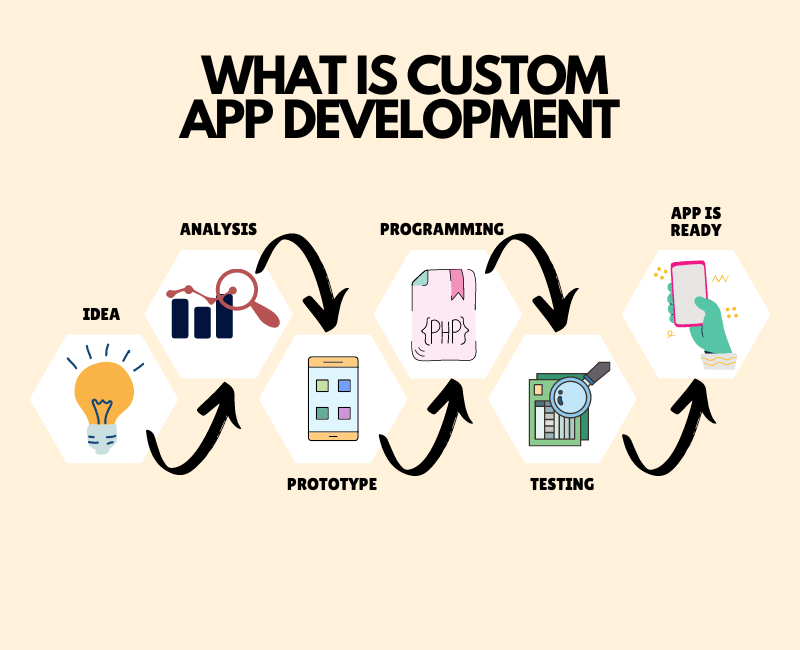 The process of creating mobile apps with unique features to better serve your business and consumers is known as custom app development. Although some technological expertise is required, the process may now be completed quickly and affordably. Custom app development has major advantages for businesses looking to build a solution that fits their unique needs. You also own the code.
WHAT IS TEMPLATE BASED APP DEVELOPMENT?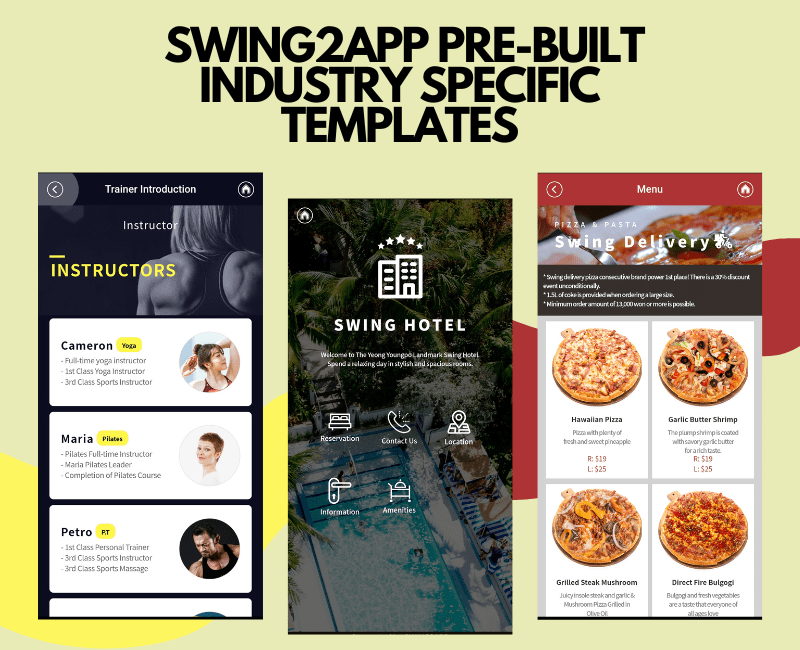 Template based apps, on the other hand, are ready-made, template-based mobile applications utilised by thousands of different enterprises. If you have simple goals like creating awareness among users, template may do – but only if competitors are not using the same template. They enable customers to import their own branding and data while also providing integrations for additional functionality. However, they lack custom features, and, in most situations, you do not own the code.
LEARN HOW TO UTILISE SWING2APP TEMPLATE.
THE TWO OPTIONS AT A GLANCE
On the surface, the distinction between custom app development and app templates is clear. The custom app development refers to creating a software solution from scratch, whilst the template-based app development refers to adding a few specific features to an already existing platform.
Both have a lot of advantages and some drawbacks too. Custom app development, for example, allows you to create a system that truly satisfies all your specific requirements. Every business is unique, and a template may not be sufficiently customized to help your company prosper.
Template or "white-label" apps, on the other hand, have reduced development costs and (often) shorter development timeframes. So, which is the best option for you? That is dependent on your company's requirements.
Understanding Your Business Needs
Before you begin any app development, you should be able to answer the question of what problem the new product will be able to solve and what new opportunities it will provide. For example, a new iPhone app may boost your exposure to your target demographic while also assisting you in positioning your brand and even generating profit.
Knowing what problem the app should tackle is a big assist in answering the custom development vs. template question. If your purpose is simple, a template may suffice. However, if you want the software to significantly improve your business processes, custom is certainly the preferable option.
Considering Short and Long-Term Costs
Of course, we all know that money is always a factor in software application development. Sometimes you simply do not have the funds to create an app from the ground up. If you have the financial means to be on the fence, you should weigh the short-term and long-term expenses of both options.
For example, a template-based apps may be updated more frequently and faster than its custom counterpart, and you may have less control over when these upgrades occur. At the same time, a genuinely customised app will brand your company more clearly and effectively, resulting in a greater impact for your marketing and sales operations.
Long-term planning can be tough for anyone working on a tight budget. However, doing so can be a sound investment, even if the early costs do not indicate so.
CUSTOM APP DEVELOPMENT VS TEMPLATE BASED APPS: PROS AND CONS
Now that you know what custom app development and template-based apps are, you can decide whether it's the ideal development path for you.
Check out the important benefits and drawbacks of each option below: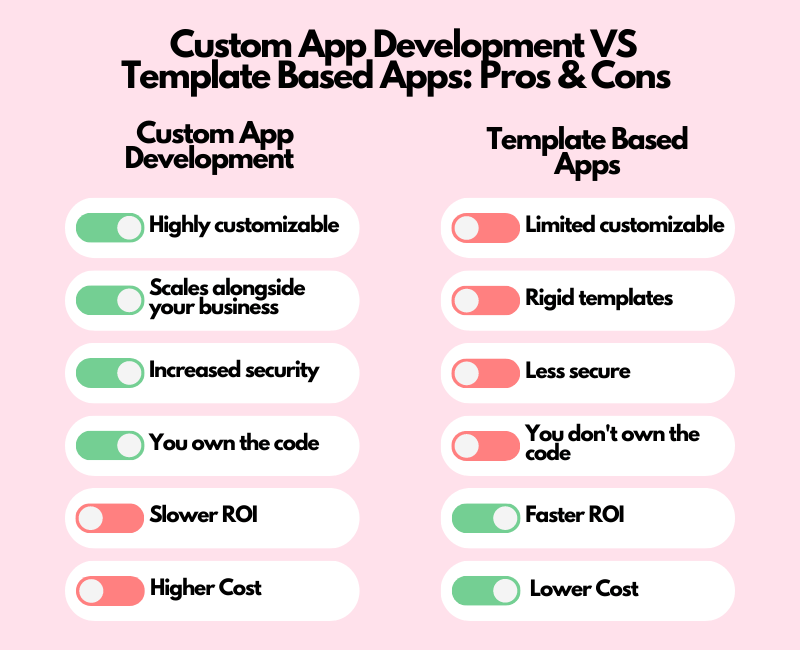 Here's a detailed breakdown of all the advantages and disadvantages.
ANALYZED PROS AND CONS
1- Customization
Customization is the single most significant advantage of a custom app development platform over template-based apps.
However, this does not simply imply adding your logo to your app or replacing the dummy text provided by your template. It entails developing custom functionality that only you need.
So, if you're concerned about being trapped with basic features you don't want while missing out on those you do, custom app creation is the way to go.
2 – Scalability
Custom software ensures that your organisation can scale as it grows.
You can simply develop on top of the capabilities you currently have with custom build options, but the strict templates used by off-the-shelf programmes make this impossible.
It's so difficult that you might have to start from scratch.
3 – Security
Because they are typically built with open-source code rather than closed-source code, off-the-shelf apps have a lack of security.
While open-source code has advantages, such as allowing people without technical expertise to make minor changes, the closed-source code of custom app development means outsiders have no access.
4 – Code ownership
As we mentioned under Security, you don't usually own the open-source code in off-the-shelf software.
This implies that if you come across a glitch that prevents consumers from checking out or a virus that compromises your customers' security, you'll have to rely on a third party to deal with it. Which might cost you a lot of money or erode customer trust.
Custom apps, on the other hand, provide you complete control over your app environment.
5 – ROI
While low-code solutions have reduced build schedules for custom software by leveraging reusable features, they still take longer to produce than off-the-shelf products.
That means you'll have to wait a little longer to gain the rewards. Although those advantages have the potential to be substantially bigger than those provided by off-the-shelf apps.
6 – Cost
There is no doubt about it:
Custom apps cost more than template Apps. However, for ambitious organizations looking to develop quickly, they are well worth the effort.
7. Development timeframes
When it is critical to introduce a product as soon as possible, time to market becomes the most crucial consideration for a client. In this instance, template-based development is a practical choice because it takes substantially less time than custom creation.
However, the extra time needed for bespoke platform development enables for the provision of a one-of-a-kind solution with functionality requirements suited to the client's demands.
8. Functionality
The most crucial consideration in selecting which solution is best for the client comes next. The more intricate and distinctive a client's set of functions, the more custom design makes sense. On the contrary, if only a basic internet presence is required, a template-based platform will suffice.
9. Marketing and SEO
When it comes to SEO optimization, template-based solutions provide truly little. Custom development enables the incorporation of SEO components into the architecture of a website. It aids in content optimization, traffic growth, and brand awareness.
WHEN IS CUSTOM APP DEVELOPMENT RIGHT FOR YOUR BUSINESS?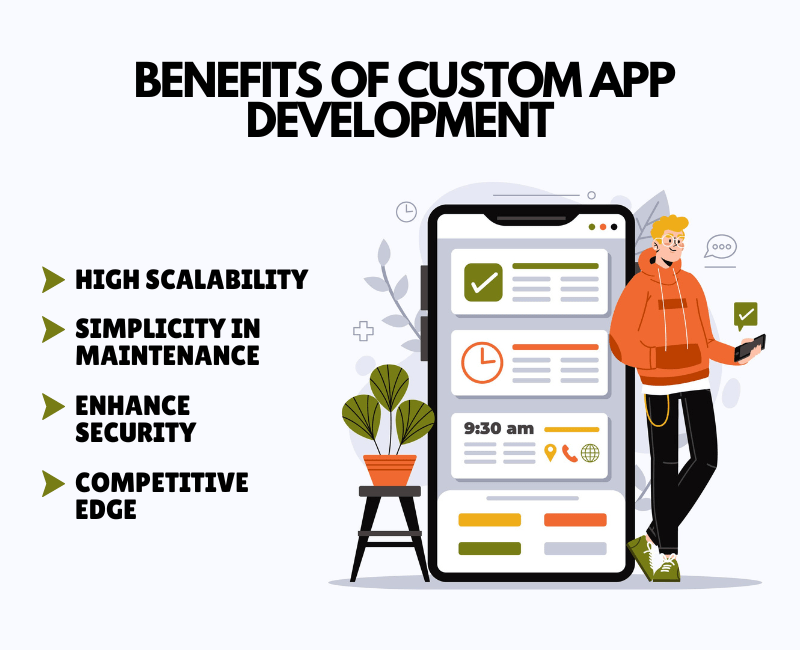 If you're still unsure whether custom app development is correct for you, answer the following questions:
If you have the means to afford it. Custom app development is usually the best choice if funds are available.
If your requirement is one-of-a-kind. If aiding your organisation requires more than a few add-ons to a global template, custom development is likely to be more beneficial.
If you have the opportunity. Custom app development often takes longer than a template-based method, so if you have a short timeframe, it may not be the best choice for you.
If your requirement is long-term. Finally, if you don't expect the app to be phased out very soon, custom development can help you in developing a long-term successful solution.
How to Choose Between Custom and Template-Based App Development?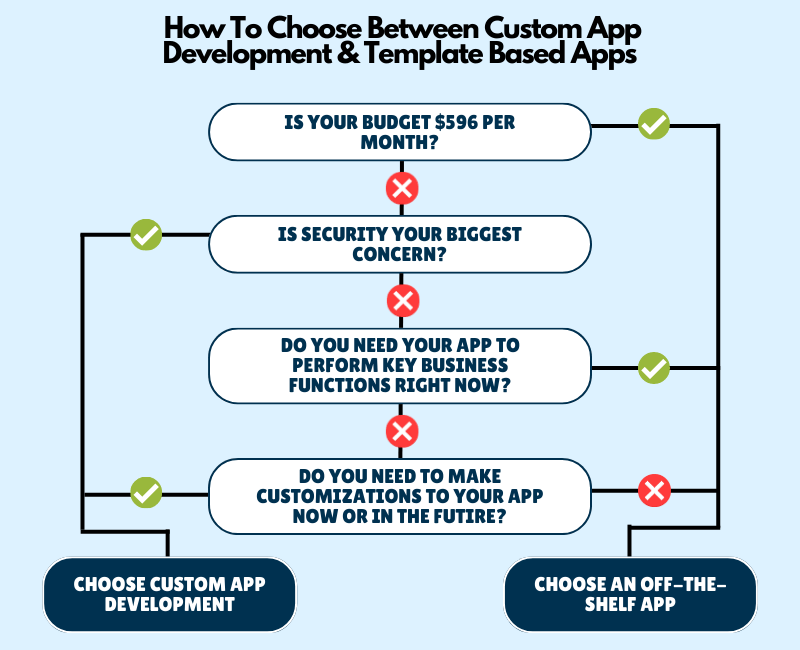 If custom app development isn't for you, you can learn more about template apps in Maker V3 of Swing2App no-code app development.
In brief, custom app development offers significant benefits to firms looking to create a solution that meets their specific requirements. The prices may be higher, but if you want to design software that does exactly what you want, that cost becomes an investment with a favourable return. Contact us to learn more about designing custom software applications and how your company can get started in the development process.
WHAT IS THE BEST WAY TO DEVELOP YOUR CUSTOM APP?
You've opted for custom app development. Excellent decision!
The question now is how to negotiate the minefield of many providers. So, consider selecting one with the following three characteristics:
Agility – there are no restrictions on what you can build, regardless of complexity.
Clarity- entails upfront pricing and timelines, so you know exactly where you stand.
Future assistance – help beyond your bespoke app creation to ensure that everything is in order
And with Swing2App no-code app builder, this is exactly what you get.
CREATE YOUR CUSTOM APP WITH SWING2APP IN A COST-EFFICIENT WAY
You can make as many or as few changes as you like, whether you run a small business or a giant corporation. Plus, you can always return for more later.
With Swing2App custom app development users can develop 1:1 app by reflecting what they want.
If you need other features or wish to develop a whole app on top of Swing2App's services, you can request Swing2App to customize it for you.
Using Swing2App's customization, all content is tailored to the customer's specifications.
Therefore, when making a request for customized app development, users should inform us of how they want to make the app by creating a plan, storyboard, and so on. The cost of custom app development is calculated based on the app's content. During the development period, the Swing2App engineer will help you.
Please send an e-mail with a storyboard and production plan to help@swing2app.com for a custom app consultation.
What are you waiting for? Let's schedule a call to discuss your custom app development project!
SUMMING UP
When it comes to development, there is no one-size-fits-all answer. Template-based development takes less time and work, however custom app development gives a website tailored specifically to your company's demands and a unique design that makes your brand stand out in a crowd. Although many providers now provide customizable templates, unique goods require a unique strategy.
Consider all the criteria discussed above and select the option that is most suited to your specific business demands.