Here at Swing2App, we want to make it possible for entrepreneurs to build their ideas into an app without coding, so we're sharing a free app built by students and explaining how you can create your own no-code application as well.
Before we get to the story, let's understand what are the difficulties faced by student entrepreneurs and how Swing2App solves them easily.
For an aspiring entrepreneurs, financial constraints are their greatest obstacle, and for a student, the situation is even more challenging. On the one hand, student debt is crippling and on the other, they have to raise capital for their start-up. This is a tough place to be in, and we totally understand.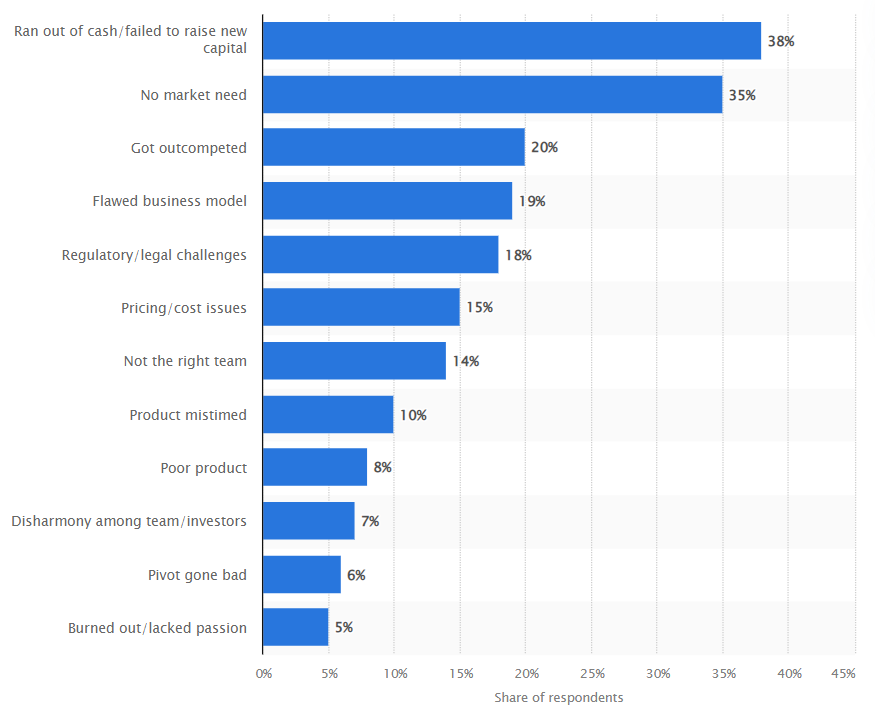 Among start-up owners, 38 percent said they ran out of funds, and 35 percent said there was no market need for their business. The lack of financial resources is nothing less than a nightmare for start-ups.
An entrepreneur should also be aware of market trends. It is much more wise today to open an online marketplace rather than a traditional store. But why is that? Simple: the risk and investment are low, while the returns are sky-high. In recent years, the shift from shopping in a physical store to shopping online has significantly increased, with more companies selling their products via mobile apps. Due to its many advantages, such as no rental fee, lower employee costs, and the ease of ordering, this method is also advantageous for start-up businesses.
These reasons lead university students who wish to become entrepreneurs to ask their universities to offer app development courses. Students at many universities are taught valuable lessons on accounting, business strategy, and marketing, but mobile app development is not included because it would take too much time to teach. Additionally, paying a developer to make a custom app is usually not in the student budget.
It's a common problematic situation that swing2app's no-code app builder aims to solve for the students and all budding entrepreneurs.
Swing2app has collaborated with students from several universities to provide them with the tools to create start-up businesses with an app.
Read the story of the student's collaboration to learn more about how Swing2App builder was successful in helping these students, and contact Swing2app to get your own hands-on experience.
Story of FitFemunity created by HZ university students
The students at HZ University felt that they needed an app for their business as a part of this study and requested their professors for the same.
This is where Swing2App comes into play as they were seeking a budget-friendly, no-code solution for their students.
During an information session held at HZ university, swing2app gave students and professors an introduction to the no-code app builder of swing2app to enable and assist them in building their own no-code apps in a week.
Having registered as a Swing2App user and begun developing their app, we offered 24/7 support to help them whenever they ran into issues and resolved them.
Since Swing2App comes with industry-specific pre-built templates, students could focus only on the content, as app design was already available to them for free. All technical issues were handled by us, including app uploading, verification, and other tasks.
Thus, most of the app had been finished by the end of two weeks, and students were able to start finding customers and uploading information of their companies.
In this short timeframe, even hiring a freelancer isn't going to get you a quality app. As a result, Swing2App proved to be both time- and cost-effective.
Take a look at the no-code smart work of HZ University students who created a fitness app for females. As part of their mission, they want to encourage women to get fit and become healthier. You will have access to a variety of demo exercises and healthy recipes within the FitFemunity App, which should make your journey toward a healthier self-experience much easier.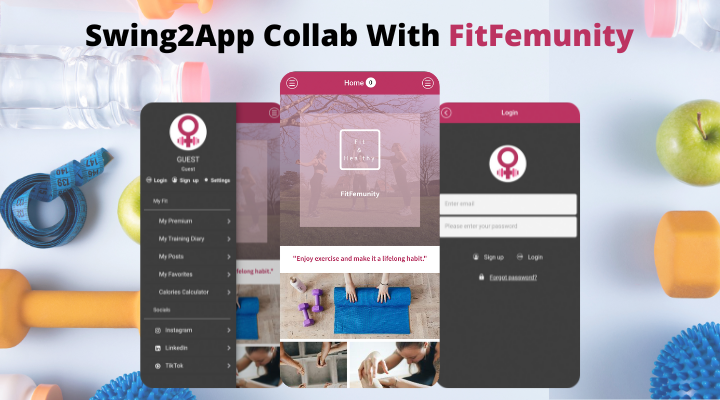 You can also download the FitFemUnity App and lead a healthier lifestyle.
Click to download for Android
Click here to download for iOS
Experience of the students with Swing2App no-code app builder
Students were impressed with the fact that they were able to build an app themselves. They did not have to pay for server costs to keep the app running and received personal support when they needed it.
In addition, this program was so successful because swing2app handled the Play store and Google Play store upload requests so that students could focus on developing their businesses.
Now that the students have developed their app, they are gaining traction online. While we plan to build more apps and help more students.
Interested in learning how to build your own app or offering other students the opportunity to learn how to build their own apps?
Reach out to Swing2App to set up a meeting and we'll see how we can help.
Now you might be wondering how much it all cost?
It's true that Swing2App offers a free no-code app creation platform, but it's only free to create an app, not to upload it.
Depending on your requirements, you will need a Swing2App paid plan along with a Swing2App store upload ticket for Android or iOS.
So, the minimum price to get your app published would be: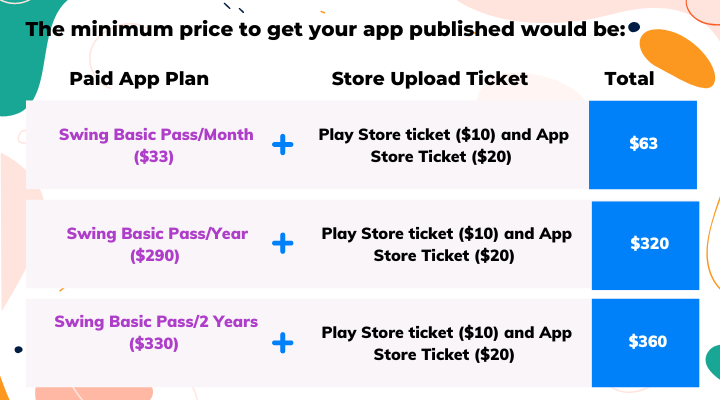 The store upload thicket is only one-time, while the paid plans are recurring depending upon the subscription time chosen by the buyer (monthly, yearly, 2 yearly).
There are other plans available too, with varying features, storage, and payment gateway options.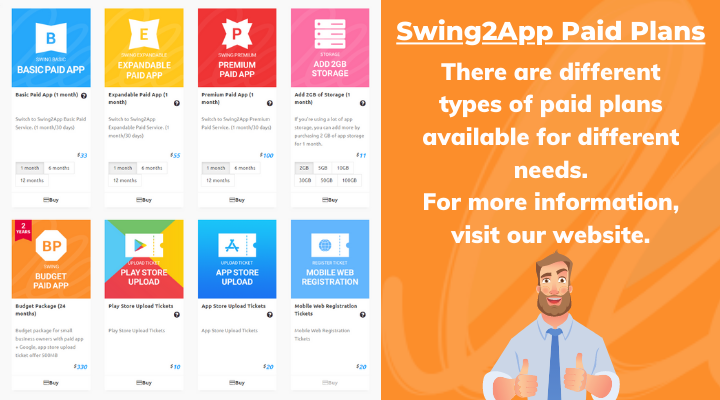 Read for more information on the price policy of Swing2App no-code app builder.