Did you know using online ads increases brand awareness by a staggering 80%?
And that Google owns 73% of the paid search market share?
Also, 65% of small and midsized organizations make sure to have an effective PPC campaign (pay-per-click)?
All these statistics point towards one thing and the one thing only – The increasing influence of online advertisement.
Google Ads is a service offered by Google that allows businesses to present their business to the world on specific keywords related to their niche. Because you are advertising your service, the results via Google Ads will be faster than the SEO.
Average cost-per-action (CPA) in Google AdWords in selected industries in the United States between August 2017 and January 2018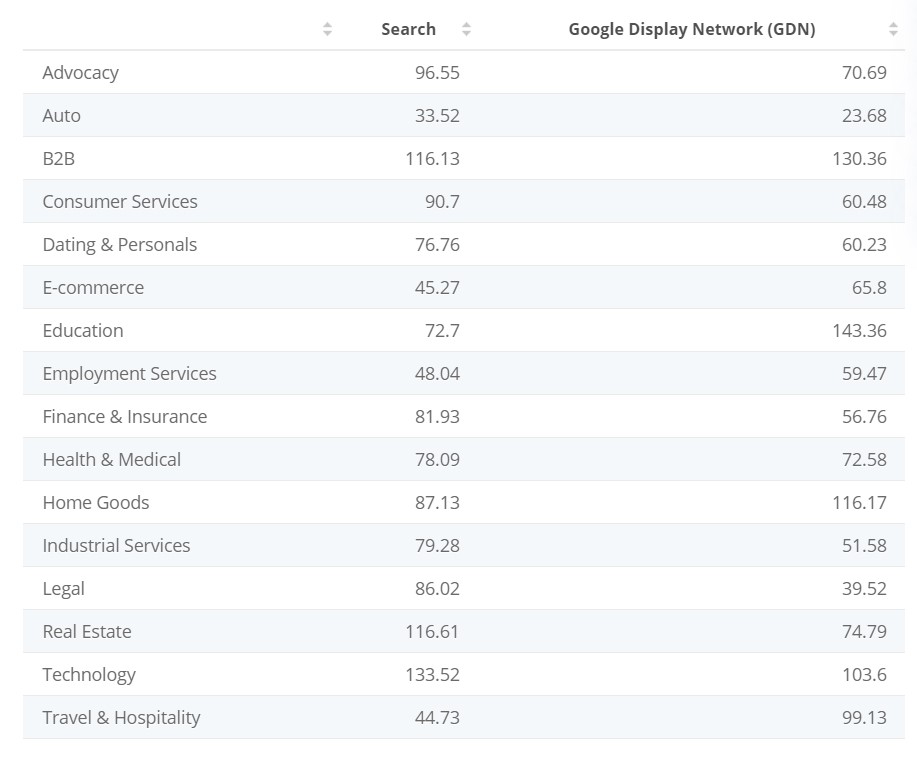 As per Statista, the timeline shows the cost-per-action average in the United States. Google Ads, split down by market, between August 2017 and January 2018. In the calculated timeframe, the average CPA for legal AdWords on Google Display Network amounted to 39.52 U.S. dollars, while the same search keywords cost 86.02 U.S. dollars per operation. So, you can see the increase in just one year.
You perform SEO to rank your website higher on the Google search engine which takes creating robust strategies and constant updating as per Google guidelines. However, with Google Ads, Google sponsors your website and shows it as top results, providing you more visibility.
This is a classic example –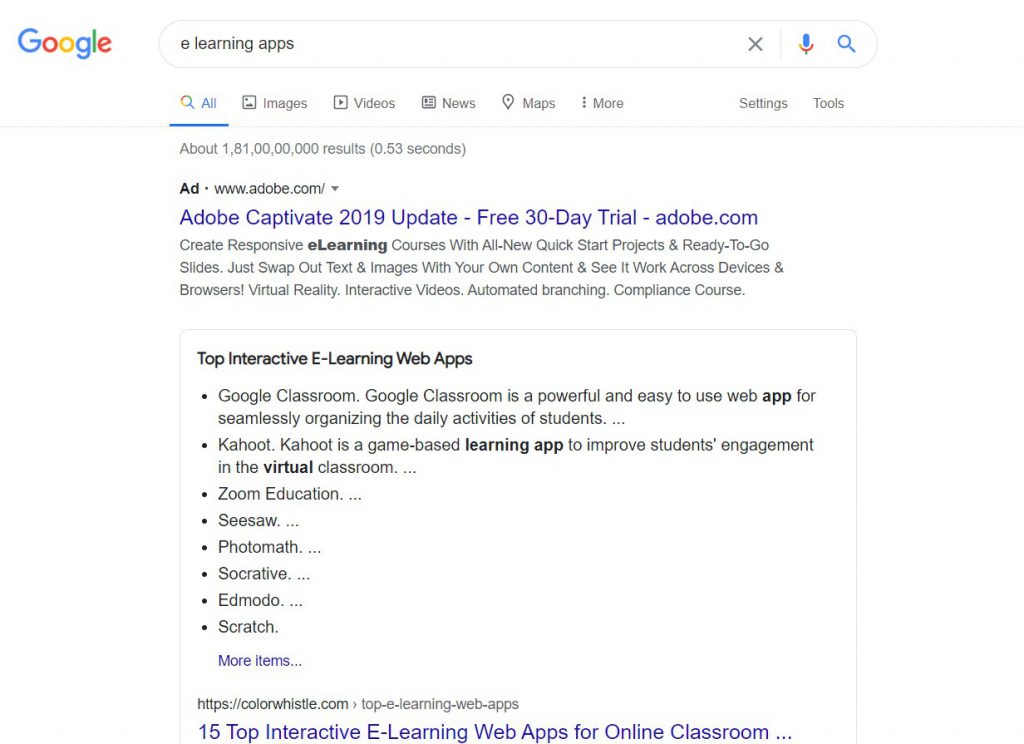 You can also use the help of Google Display Network to reach a wider pool of potential customers. In fact, Google Display Network is known to reach 90% of online consumers, which is just mind-blowing.
Advantages of Google Ads for businesses
To better understand why so many businesses give Google Ads a try at least once, let's look at some benefits it offers.
To start off, for search, 3.17% is the average click-through rate in Ads for all industries, and for display, it is 0.46%.
Reach a wider pool of customer via Gmail
One of the most used and sworn-by marketing strategies is, yes you guess it right, Email marketing. It is the oldest trick in the book since emails are invented. And not to our surprise, it is still relevant as ever.
It is best for you to combine the best of both worlds – emails and advertisements.
How? Well, Google integrated Gmail ads with Google Ads back in 2015 which is available to all the advertisers. You can guarantee to reach more prospects by covering this crucial platform because let's face it, people may not search for something on Google, but they do use Gmail every day.
Ads on Gmail normally appear on the promotion tab and can be seen on the social tab as well sometimes. You can cover both mobile and desktop platforms with Gmail ads which cost a little less than the search ads.
Helps You Measure Your Performance
Offline media has become obsolete for a reason – they offered no way to track how customers find out about the company and what ROI they bring. Newspapers, magazines, billboards, pamphlets, radio, etc. were able to reach people in limitation to geography with no way to track how effective they actually are.
With online advertisements and great tools such as Ads, things are more transparent and tracked. The tool keeps track of each advertisement posted on Google search and Gmail and trucks every click and how far along the user went in the process. Here is the list of things you would be able to track with Google Ads:
Amount of traffic you got from Ads to your site.
The total number of leads generated from those ads.
The number of clicks on your ads.
Most traffic-generating keywords
Cost per lead
All this leads to helping you understand what strategies are effective for your business and what needs to be improved to make the marketing campaign more fruitful.
Increase Brand Awareness on a Large Scale
As we mentioned above online ads are way more effective than the traditional means. You can advertise your brand on keywords for a particular location as well as globally. Additionally, Ads helps boost website traffic, clicks, conversion rate and promote your brand in every way.
To understand the benefits of Ads better, Google even joined hands with Ipsos to conduct a study on 12 verticals from retail to automobiles. The study revealed that the search ads increase mind awareness by as much as 6.6%.
You can kill two birds with a stone with ads. How? You ask. Well, using Google ads increases brand awareness on a large scale, something that is very useful for SEO since it depends on the brand name searches and related keyword variations.
Set Budget As Per Affordability
Unlike offline advertisements, where costs can go off the charts and you still won't get the best value out of it, Google Ads allows you to choose affordable plans as per your needs and budget.
You can go all out if you can or just start small with a few ads on few keywords. You can A/B test to see which keyword works best for you and develop marketing strategies around such insights.
Works Better Than SEO
Google Ads and SEO both fall under the umbrella of marketing strategies focused on increasing website traffic and promoting conversion rate growth. But, it is a proven fact that an effective and optimized Ads campaign will show you results faster than SEO.
With Ads, you can easily focus on multiple keywords at a time and also pull the plug whenever you see fit. They have more instant visibility than a ranking website.
Nevertheless, SEO is an integral part of a great marketing strategy so you should always focus on the SEO for stability and for promoting organic traffic.
How To Set Up A Google Ad Campaign?
Google offers documentation for everything, making it easier for people to avail the services right away. Here we have covered the easy steps for setting up an ad campaign.
Step 1: Creating a new campaign and choosing a goal
Start with creating your account; You must create a Google Ads account and if you have already then login.
You will find an option "Campaign" on the left side of the menu and click on it.
When asked, select a goal for your campaign. You can choose from the options laid out and if you do not want to select any of them, then choose "Create a campaign without a goal's guidance."
Step 2: Choosing the campaign type
Now, pick the campaign type. It is where you will decide the places you want your ad to show.
If you had selected a goal before, then you will be presented with the best campaign types to achieve your goal.
Now, choose any one option if your campaign type has subtypes.
Select "Continue".
At this point, you will be directed to a different page where you will have to select settings, set up the ad groups, and then create the ads.
Good news! You can avail all the opportunities Google Ads has to offer by promoting your app you created with the Swing2App no-code app builder. With these easy steps, your app will see thousands of downloads in no time.
One of the great advantages of using Swing2App is that you can purchase a plug-in product with AdMob integration. You can add AdMob advertisements in the app after that.
You can add pop-up style or banner style apps in your app and can generate huge revenue. Not only this, you can also manage your ads from Swing2App platform, so you don't have to go anywhere else when you can do everything on the same platform. From app creation, publishing app to running in-app ads in your app all can be done with Swing2App no code app builder.
Conclusion
It can be a difficult thing to do to get users to use the app.
The job could, however, be much simpler with the use of Google AdWords.
After all, whether they use YouTube, search for Google or even when they use other applications, you can now meet users.
Advertising is a tricky thing to get correct and as soon as possible you'll want to get started. This way, you can iterate your tactics easily and build a plan that produces outcomes.
With Swing2App you can create your app, then add AdMob plugin to it, so that you can manage your ads on the same platform, this ensures in proper utilization of all the resources and reduces work stress to look for different sites for various steps in app development and marketing.
Now, start using the Swing2App no code app builder to see how you can achieve all this on a single platform!