Several businesses are now understanding the value of having a well-developed app. As a result, there is a growing demand for mobile app development services and mobile app development companies.
With well-thought-out mobile apps, startups may reap enormous benefits from communicating with clients on such a widely used platform, improving user experience and ultimately saving time! As a result of this demand, various mobile app development businesses promise to provide app development services but at high costs. 
Swing2App no-code mobile app development company, on the other hand, provides professional apps at reasonable prices. However, just like any other app development job, creating mobile apps has its own set of concerns and challenges. 
As a result, amid the ever-expanding ecosystem of applications, developers must understand what works and what doesn't. Launching an app might be intimidating, especially if you're the sole proprietor of a small business. In this article, we've compiled our top app development challenges and how to avoid them with Swing2App.
PURPOSE OF MOBILE APP DEVELOPMENT
As the number of mobile users grows, organizations must understand the potential and relevance of using app development to reach their target consumers. Mobile application development can be incredibly useful for small businesses or startups struggling in a highly competitive market by giving them with 24*7 accessibility. This is why it is essential to develop mobile applications that serve specific objectives. 
With well-thought-out mobile apps, startups may reap enormous benefits from communicating with clients on such a widely used platform, improving user experience and ultimately saving time!
ADVANTAGES OF CREATING MOBILE APPS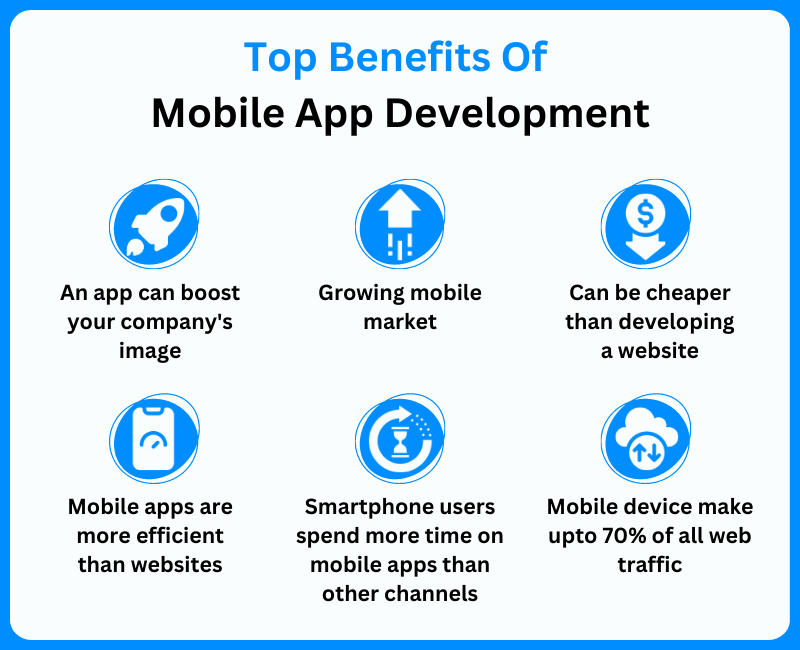 In the present time, mobile applications are no more a luxury; they are transforming people's lives! These digital technologies, with their user-friendly interfaces and immediate communication, enable to send information more efficiently than ever before, from linking people across worldwide networks to bringing businesses into new markets.
Through simple, direct, and speedy communication provided by developing mobile apps, not only is brand awareness easily done but also people's opinions can be altered. This high-impact technology continues to drive us in ways we never imagined possible before with the simple click of an app. 
However, there are some app development challenges that, if not addressed properly, might turn into nightmares. Let's understand these major app development challenges and how to overcome them.
COMMON 11 MOBILE APP DEVELOPMENT CHALLENGES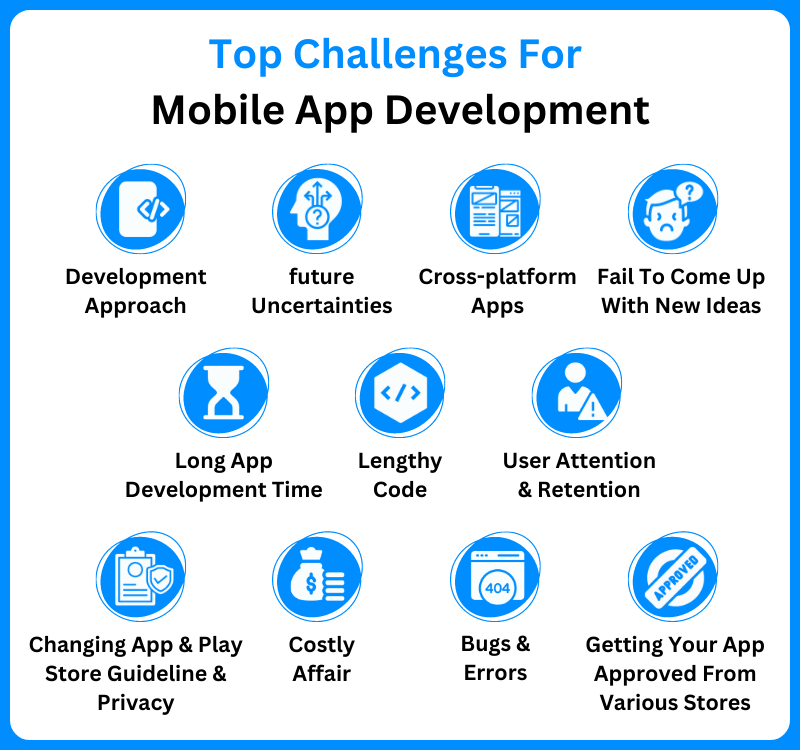 1. DEVELOPMENT APPROACH
You have a lot of options before you begin developing mobile app for your business. Remember that it is important for any business to begin with a good start. There are several frameworks and platforms available for development. It can be the biggest app development challenge for developers to pick the best option at times. You must be certain about your developing approach from the start, as well as define development timelines.
To choose between a hybrid, native, or even purely web-based mobile app development approach, you must consider the specific needs of your business and your long-term goals. This requires you to plan out your UI and UX requirements. Aside from these, there are various other factors that must be considered. A good start can point you in the right way. However, before to beginning, study, analysis, and execution of ideas is important. In short, a well-planned approach is the first app development challenge.
2. LENGTHY CODE
It's enough to make you worried and stressed when a single line of code has the potential to crash the entire app. It's natural to be afraid of code, especially if you're not from a technical background.
Coding is the major app development challenge for all the small businesses who want to grow but don't have the technical knowledge.
Swing2App's no-code app builder makes the process easier. Our innovative visual builder platform automates all the scary things for you, so you don't need any coding expertise. 
3. CROSS-PLATFORM APPS
When building apps, standard devices, single operating systems, and screen size are not the only to consider. This is due to the fact that people are using devices with varied screen sizes. To solve these mobile app development challenges developers should use a responsive design while creating an app.
As more customers access mobile apps from their phones, tablets, or other portable devices, mobile app developers must account for screen size variances. It is critical for user retention to ensure that your app's design functions across all screen sizes.
A mobile-friendly design ensures a great user experience on all devices. This will also help to avoid negative ratings and reviews, which can be detrimental to a company's success.
4. APP PERFORMANCE- BUGS & ERRORS
Aside from creating a profitable app and delivering an outstanding customer experience, most app developers face a similar difficulty in assuring world-class app performance. The app development challenge is running an app without crashes or bugs while taking up as little space on the device as possible without harming battery life. During the earliest stages of app development, you should concentrate on ensuring that the design works properly on all available mobile devices.
A well-performing app can attract many users. After you have passed the testing stage, you will have the opportunity to design an exceptional mobile app.
5. FAIL TO COME UP WITH NEW IDEAS
Making a user comfortable to any application is another major mobile app development challenge. It only happens when every feature is up to par and meets the criteria of the new digital world.
To acquire a high reaction and make the top ten list, it is critical to understand and follow specific principles. Also, conduct some research on the competitors who are now engaging users at their level fest. These are several tricks that will be useful in practise. It will quickly expand your app's reach and make it popular among the customers.
When they do not improve and make confident improvements in the design plan, the only conclusion is failure.
6. COSTLY AFFAIR
Money is another major issue while developing an application. It is critical to have a good concept of the total cost connected with your mobile app. It is not a one-time expense. Your app requires funding for any future value additions.
If you are not a technical person, you will need to conduct significant market research before selecting an app developer. Keep in mind that quality is important. It is not enough to simply have a mobile app for your business; you must also have a successful mobile app, and quality work should be prioritised.
7. LONG APP DEVELOPMENT TIME
Your app needs a pretty precise completion date to develop that exciting buzz and promotion for a successful launch. A vague deadline is stressful for all app developers out there.
When you code your app our outsource it the biggest app development challenge there if setting app development time. However, if you choose Swing2App no-code app builder you can reduce the app development time drastically and overcome this app development challenge very easily. 
8. USER ATTENTION & RETENTION
In fact, over 1 million mobile apps have been published to the Apple and Google app stores in the last three years. It is critical app development challenge for the small businesses stand out in order to thrive in their field. A decent app and a successful app are not the same thing. There are many good apps that go from the app market after a few months or years, but successful apps are those that survive for a long time and generate cash.
The first goal should be to capture the attention of your potential users. You must ensure that the app contains everything that your consumer expects. As a business owner, you must be well-versed in app promotion. There should be a lot of PR and media planning, as well as social and viral marketing.
It won't take long for an app to get lost in the app market if it isn't properly advertised. For a successful application, you must have an effective market penetration plan.
9. CHANGING APPLE/ PLAY STORE GUIDELINES & PRIVACY LAWS
As new developments emerge on a regular basis, developers have found it difficult to keep up with the current industry standards.
To ensure a successful launch, programmers must ensure that the software supports the most recent operating systems. When a new version is released, app developers must ensure that the existing app or the app on which they are working supports the latest version. Even after the solution is delivered, app owners must ensure that the app is kept up to date with the latest versions.
Aside from that, most users now prefer to use app development services that offer automated updates, allowing them to access new features, bug fixes, and security patches as soon as they are available.
With large firms like Google, Apple, and Microsoft releasing two to three new versions of their operating systems each year and announcing plans for regular updates beyond that, many small businesses simply cannot compete.
10. GETTING YOUR APP APPROVED IN VARIOUS STORES/MARKETS
Getting your apps listed in various markets, such as Apple's iOS store or Google Play, will be one of your most difficult problems. Approval can take many weeks, and even then, you may be denied for reasons that aren't at once clear to you. Before you launch your app, make sure you have a plan in place to test it and grow an audience.
11. FUTURE UNCERTAINTIES 
Hidden costs, marketplace fees, and limited-time customer support are the last things you want on your list of concerns while developing your new app. Our costs for Swing2App no-code app builder solutions are guaranteed, and our deadlines are entirely clear. We don't like hiding behind dark corners to catch you off guard. 
To avoid a nightmarishly challenging app launch, visit our Swing2App no-code app builder website and begin your app journey today!
HOW TO OVERCOME APP DEVELOPMENT CHALLENGES WITH SWING2APP 
Swing2App is a no-code app development solution to make app development easier for coders as well as non-coders.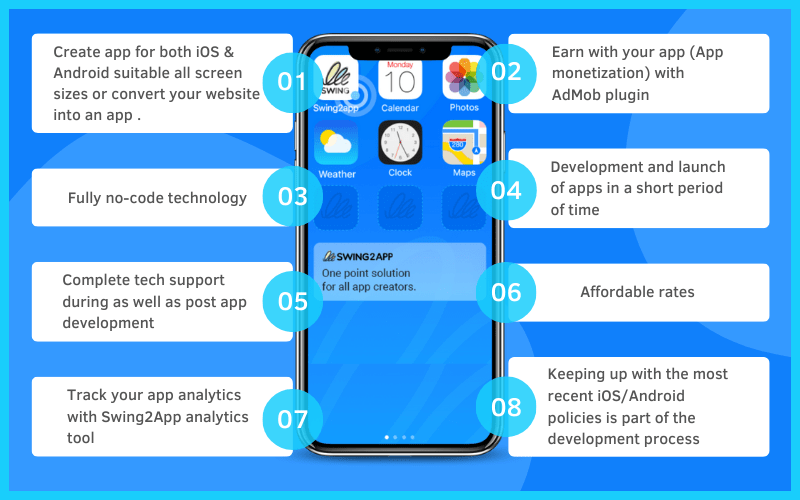 1. Create app for both iOS & Android suitable all screen sizes or convert your website into an app (webapp)
Swing2App no-code app developer allows you to create a single app for both iOS and Android platforms. Our prebuilt templates are suitable with all screen sizes offered by iOS and Android. Swing2App allows you to save a lot of time and money by producing a single no-code app and launching it on both the Appstore and the Play Store.
Furthermore, you may transform your website into an app in just 5 minutes, saving you a lot of time when developing an app for your small business website.
2. Fully no-code technology
We have eliminated the biggest barrier to app development with Swing2App no-code app builder, anyone can make an app without coding.
Additionally, you can see real-time changes that you make in your app on your visual screen, which makes creating apps a breeze.
3. Complete tech support during as well as post app development
Helping you create apps is only part of what we do. Swing2App also provides you with 24*7 customer support, app maintenance, and app updates so you can launch your app without fearing app rejection.
4. Affordable rates
No-code app builder platform Swing2App aims to revolutionize the app development market & empower everyone to develop apps easily. Hence, our prices are also reasonable & affordable as compared to other app-developing companies which charge you thousands of dollars for a simple MVP app.
5. Up-to-date app with recent iOS/ Android policies
We know it is quite challenging to go through each and every policy details, especially when they are continuously updated. It is a time-consuming process, but not with Swing2App. When you choose to launch your app with Swing2App it is our responsibility to ensure that your app follows each and every policy and will not face any app rejection issues.
6. Quick app development as well as app launch
With Swing2App no-code app builder, coders, as well as non-coders, can reduce their app development time drastically. With our pre-built industry-specific templates, you can create apps quickly and efficiently.  
Once your app creation is done, app launch is just a matter of days with Swing2App and that too without the fear of facing app rejection.
7. Track your app analytics with Swing2App analytics tool
With the Swing2App no-code app builder platform you get an exclusive app analytics where you can check, track and analyse your app users, most visited page/post and much more.
8. Earn with your app (App monetization) with AdMob plugin
No penny is taken from your app monetization by the Swing2App no-code app builder. We rather help you monetize your app through our AdMob plugin which helps you to earn money from your app by running ads within your app.
WRAPPING UP
To summarise, in order to survive in this highly competitive market and overcome actual problems in mobile app development challenges, a great deal of attention must be paid to mobile app development process steps. In other words, you must ensure that you are producing quality apps capable of achieving great success and providing mobile app development solutions.
As a company decision maker, you must strive for success regardless of the barriers that may arise. If you want to expand and establish yourself as a firm, test your limits and stick to a plan. Unless the app development challenges are properly solved, the overall popularity of the application will suffer. Many businesses have failed simply because they were unable to solve the problems and provide something unique to their target audience.
Furthermore, if you are a startup and mobility is on your priority list, you only need that initial boost to get started. Swing2App creates top quality professional mobile applications and can make your aspirations a reality.