Starting a business in 2023 needn't be overwhelming. As a new entrepreneur when you are just starting your first startup there's a lot to think about, but the major issue is the money. The cost of starting a business in 2023 depends on a variety of factors, such as whether you can afford it, if the business will sustain you, if you can balance your side hustle alongside your full-time job, and exactly how much will it cost to start a business.
In a survey, Business.org found that online-only business owners spend an average of $35,000 in their first year of operation. Depending on the type of business you start, you might end up spending more. Those with mobile businesses spent an average of $92,500, while those with storefront businesses spent an average of $100,000.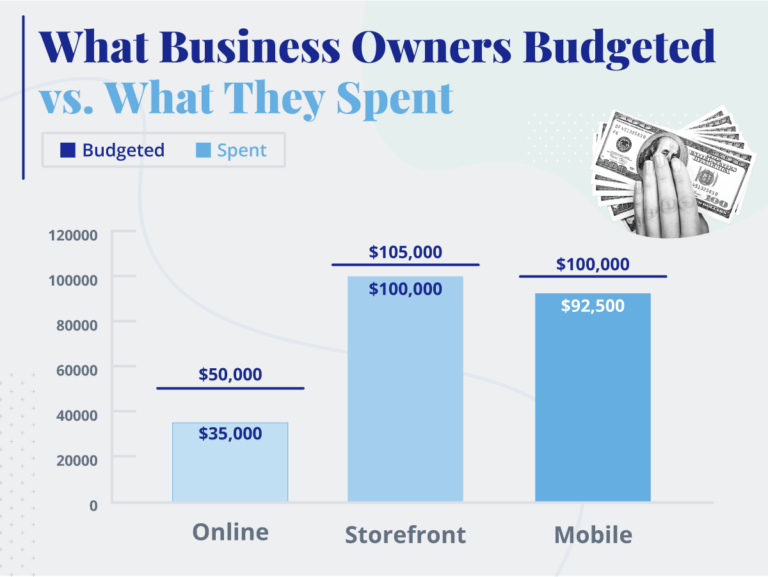 source: Business.org
If you're working to start a business in 2023, the first step is to understand the different costs of starting a business as a new entrepreneur. Understanding the possible startup costs beforehand makes you more confident as an entrepreneur and may enhance your chances of success in starting a business in 2023.
HOW TO CALCULATE THE COST OF STARTING A BUSINESS
There is no one-fit-all cost for starting a business, and a variety of things can affect your early investment. In some circumstances, a few thousand dollars might be enough to start a business. On the other hand, to start a business that requires a lot of capital investment or buying costly raw materials you might need to come up with five figures or several times over during their first year in business.
In order to prepare for the wide range of expenses that may arise, it's helpful to write a business plan first. Additionally, you can estimate your startup costs using a separate startup cost analysis. You can use SBA sample worksheets and free guidance for both from the U.S. Small Business Administration (SBA).
It is important to take the time to break down an overall estimate of your initial costs to start a business. This additional planning ahead of time can result in more reasonable expectations and better long-term outcomes for starting your business.
COMMON BUSINESS STARTUP COSTS TO CONSIDER: HOW MUCH IT COSTS TO START A BUSINESS?
Finding and setting aside some capital is a good start. To make sure you don't spend wastefully, it helps to think about precisely where that money will go. Itemizing your expected expenses will help you prioritize, plus find ways to get creative if necessary. Costs will vary depending on the nature of your business, but most startup costs fall into the following two major categories: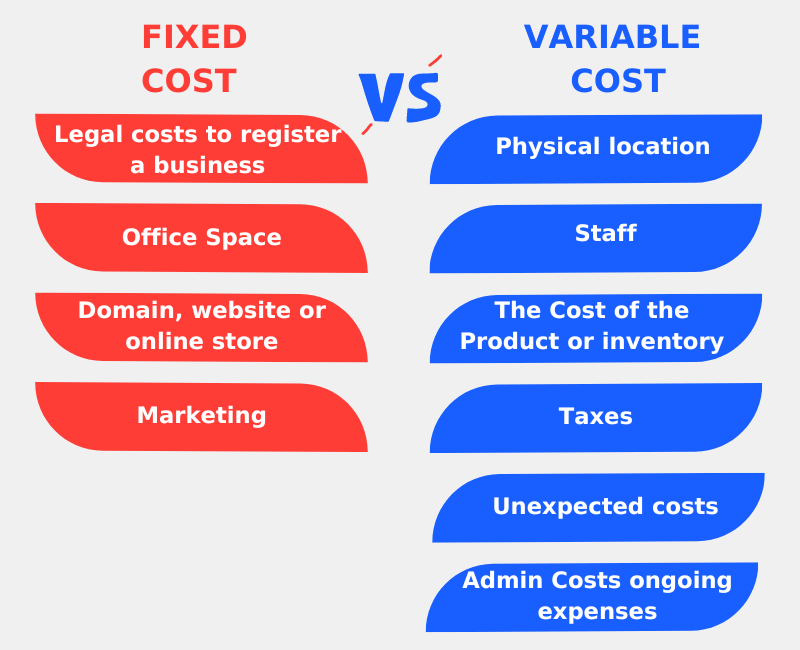 FIXED COSTS
Legal costs to register a business or cost Incorporation of business:
Even if you use an online service instead of hiring an attorney, you can expect some fees to file articles of incorporation. Moreover, if you include trademarks or patents, this expense grows further.
Office Space:
As you grow your business, you will eventually need a space to work; your own office. Even if you work from home, you may still need to purchase tools, computers, furnishings, and utilities.
Domain, website, or online store:
If you can build a website or web app in Bubble, this cost might only be a few hundred of dollars per year. A hired web designer could cost several thousand even for a somewhat basic site.
Marketing:
When you start a business, the marketing expense is one of the most adaptable with endless options. One benefit of marketing is that you can do a lot on your own. You can succeed without spending any money if you choose to manage social media platforms to promote your business. Because it takes time, the time commitment must be taken into account.
If you're considering using advertisements for marketing your business, you must evaluate their benefit against their expense.
VARIABLE COSTS
Physical location:
The benefit of starting a business in 2023 is that many businesses won't need a physical location to start their business. However, if you're opening a traditional brick-and-mortar store or work in an office you'll need to make decisions about rent or a loan to buy a physical store.
Staff:
Whether you hire employees to start your business or a contractor to get the job done, you need to pay them. If you need a team of developers or engineers, the cost of your staff alone will far exceed the average cost of starting a business. However, Swing2App provides the best solution for this, read on to know more.
The Cost of the Product or Inventory:
If you have an idea for a sustainable new shoe, how much will it cost to produce the shoe? Or if you want an app to start your business or digital marketplace, how much will it cost to create an app?
Business Admin Costs ongoing expenses:
You're likely to encounter additional costs in areas like marketing, software, and business insurance.
Taxes:
Once your business starts bringing in money, you will have to pay taxes on any cash flow you generate, so make your plans properly. You can get professional assistance in this area by working with a small business accountant, but it increases the costs.
Unexpected costs:
When you start a business, it is essential to set aside a certain amount of money for unpredictable events that may cause loss. Moreover, you may set priorities for your spending and look for less expensive options once you have some understanding of where the money you spend will come from.
HOW TO REDUCE BUSINESS STARTUP COSTS WITH SWING2APP NO-CODE APP BUILDER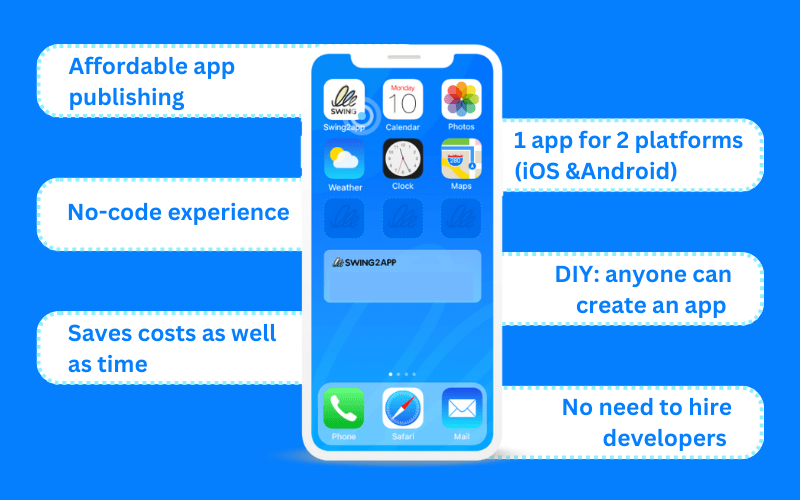 Starting a business online rather than in a traditional brick-and-mortar store allows business owners to significantly lower their launch costs. However, if your business can't be fully remote, you should look for an affordable office for example a co-working space. You can also lower your costs for starting a business by limiting the number of employees and exploring free tools like ChatGPT AI or no-code tools like Swing2App. 
When you start a business as a startup founder you may frequently take on multiple responsibilities, so as to reduce costs. When you can create an app or website yourself (or learn how to create something yourself), you can avoid the costs of outsourcing services. However, the DIY method is not without limitations. If you have a choice between spending six months doing something yourself or paying someone $10,000 to do it in two weeks, the wasted time may wind up costing you more than the $10,000. Hence, it is important to choose the right DIY platform to start your business like Swing2App, where anyone can create no-code apps for free. 
One of the biggest costs for the majority of IT businesses is hiring new employees. Huge salaries are paid to developers, engineers, and user experience (UX) designers. As a result, resourceful founders are discovering no-code methods to create apps and are having success. Startup owners have access to low-cost methods to start a business and produce effective products thanks to no-code app builders.
Developing a functional product or service in little time and with little money also yields benefits beyond the initial cost savings. With a functional product or service, the new business owner can start generating revenue. Having a functional product or service also makes getting seed funding for your startup easier, which can help minimize your personal costs as spending ramps up.
With Swing2App no-code app builder you can create no-code apps for free and publish them at a pocket-friendly price when you are satisfied with the app you created. Swing2App no-code app developer allows you to create a single app for both iOS and Android platforms. Our prebuilt templates are suitable for all screen sizes offered by iOS and Android. Swing2App no-code app builder allows you to save a lot of time and money by producing a single no-code app and launching it on both the App Store and the Play Store.  
Furthermore, you may transform your website into an app in just 5 minutes, saving you a lot of time when developing an app for your small business website. 
No-code app builder platform Swing2App aims to revolutionize the app development market & empower everyone to develop apps easily. Hence, our prices are also reasonable & affordable as compared to other app-developing companies which charge you thousands of dollars for a simple MVP app.
Moreover, with Swing2App no-code app builder, coders, as well as non-coders, can reduce their app development time drastically. With our pre-built industry-specific templates, you can create apps quickly and efficiently.   
Once your app creation is done, app launch is just a matter of days with Swing2App, and that too without the fear of facing app rejection.
Hence, with Swing2App you not only save money but also your precious time!
ABOUT SWING2APP NO-CODE APP BUILDER & THE AFFORDABLE APP DEVELOPMENT
Swing2App is committed to the no-code movement. Swing2App offers a powerful click-and-choose no-code app builder and cloud hosting platform that allows users to build fully customizable no-code web applications and apps for both Android as well as iOS platforms, provides simple prototypes, easily editable pre-built templates, essential app features, and more.
We believe that everyone should be able to create technology, so we provide an entirely no-code app builder where anyone can create an app for free. Pay only when you are ready to launch your app to the App Store or play Store.
You might think that launching an app must be expensive. Not at all! At a pocket-friendly price, Swing2App makes it easy to create and launch your own app. The cost-effectiveness of Swing2App paid plans is what makes it stand out from the app development market.
Swing2app provides lots of paid plans, for different developer's requirements, by which they can create their dream app without incurring huge costs.
Let's break down the total cost of launching your app on the app stores for better understanding:
With Swing2App you can launch 2 types of apps:
1. WEB APPS for prototype: WebView & Push Only app creation
In the case of web apps, Swing2App no-code app builder provides lifetime plans, which means you have to pay only once and enjoy the benefits for life. There are no recurring subscriptions or hidden costs.
| | |
| --- | --- |
| WEBVIEW APP | PUSH ONLY APP |
| WEBVIEW LIFETIME PAID APP (Android iPhone) $300 | PUSH ONLY LIFETIME PAID APP (Android +iPhone) $550 |
| WEBVIEW LIFETIME PAID APP (Android) $99 | PUSH ONLY LIFETIME PAID APP (Android) $250 |
| WEBVIEW LIFETIME PAID APP (iPhone) $230 | PUSH ONLY LIFETIME PAID APP (iPhone) $350 |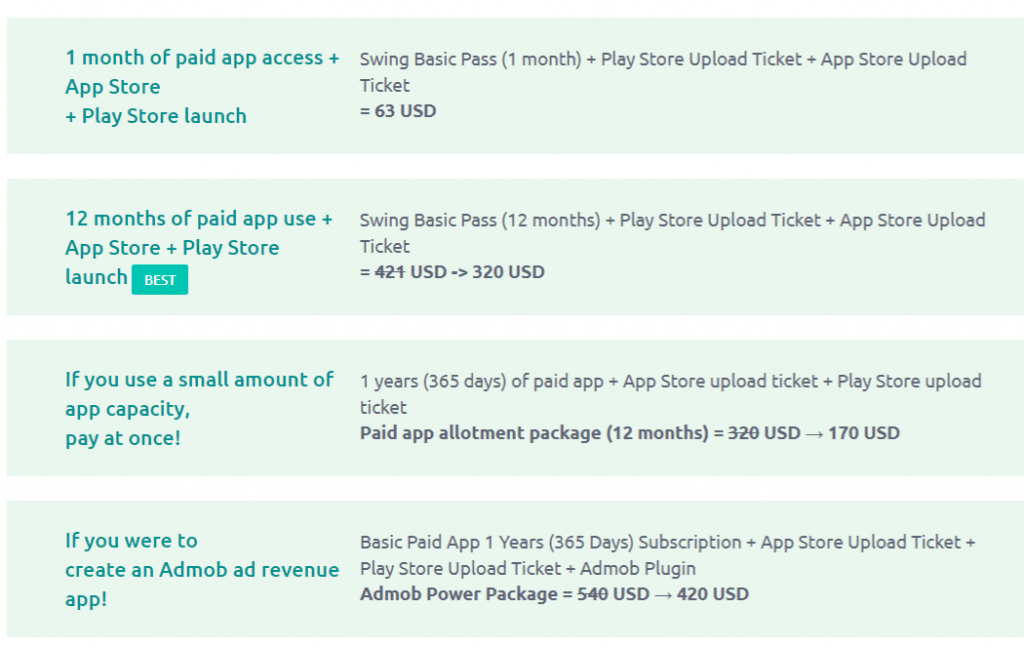 Swing2App no-code app builder also provides a free commercial version for those who want to create and upload a basic app on the Play Store for free.
The free commercial version of Swing2App no-code app builder is the service that allows you to release a free app on the Play Store without having to pay for vouchers. It can be released on the Play Store but not in the App Store.
So, you can apply for the free version of the app and use it without restriction if you wish to publish the app to the Play Store but are constrained by budgetary constraints. Apps created with the free commercial version can be used without restrictions, and Swing2App-controlled ads will be displayed.
Further read Swing2app Price Policy: Which Is Best For You.
CONCLUSION
Nowadays, you'll notice that everyone uses a variety of apps on their smartphones. Every business is going digital, so if you're wanting to launch one, you should start by considering an app for your business.
Because there are more and more app developers and more competition, you must create a high-quality app to keep your users. Otherwise, you risk losing them.
Swing2App no-code app builder makes it so easy and affordable for all types of developers to create apps.
An app builder like Swing2app no-code app builder offers you a variety of free features, design templates, and other free app benefits, simplifies the app development process and lowers the cost of app development.
You don't have to pay an expensive fee or a separate production cost to use the wide range of features available.
Create your own app to get started with no-code app development quickly and affordably.