If you've ever gone to a restaurant, especially a high-end restaurant, you've most probably reserved a table. If you didn't before COVID-19, you surely did after. It became possible for restaurants to manage their capacity by asking every client to book, the majority of whom did so via online restaurant reservation apps. 
Taking countless calls, coordinating guest calendars, and performing various onboarding responsibilities at the same time is exhausting for restaurant owners, especially small businesses. However, with the introduction of mobile apps like restaurant reservations apps, they may easily overcome these challenges. 
People can use restaurant reservation applications to schedule and enjoy wonderful cuisine at their favorite restaurants. The diner can reserve a table at a restaurant by entering information such as the number of seats, meal time, and seating selections without having to wait in line. 
It's a profitable idea to develop a restaurant reservation app, but before we get into how you can build a restaurant reservation app, let's look at the types of restaurant reservation apps and the benefits you get by creating a restaurant reservation App. 
TYPES OF RESTAURANT RESERVATION SYSTEMS FOR BUSINESSES
Before you decide to develop a restaurant reservation app, you must first decide which model best meets your big or small business needs.
Let's go over them quickly:
1. AGGREGATOR OR 3RD PARTY RESTAURANT RESERVATION APP MODEL
This model works in the same way as a marketplace, with restaurants registering with multiple restaurant reservation apps. Restaurants may be charged a fixed fee for each trade or table reservation. Companies like Yelp and OpenTable make money by creating apps that solve real-time customer problems.
Examples of such Restaurant reservation apps include YELP, OpenTable, DineTime, and TableIn.
Advantages:
Quick & easy table management 
Multiple payment options 
Helps in increasing the number of customers 
Analytical and reporting consistency 
Waitlist management with simple cancellation options 
Customer Loyalty Administration 
Ease of finding and booking venues 
Disadvantages:
Monthly fee commitments 
Unwanted cancellations of reservations 
Slow processing owing to a high volume of guest interactions 
There is less transparency in restaurant feedback/reviews. 
Lack of complete menus or lists 
2. FOR DIRECT RESERVATIONS – A SELF-OWNED APP MODEL 
Creating a unique mobile app for your own restaurant reservation app might be a stand-alone method of dealing with customers. You do not have to pay any further fees to a third-party marketplace to manage preferences on your own.
Advantages:
It will benefit both your customers and your company. 
Total command of the reservation management system 
Use leverage to monetize your company. 
Disadvantages:
Competing against top players may be difficult. 
It will take time to create a presence. 
Both restaurant reservation app systems enable everyone especially small businesses to channel their primary goal of increasing client traffic. Although their functions and costs differ, digitising your restaurant with a mobile app can work wonders.
BENEFITS OF A RESTAURANT RESERVATION APPS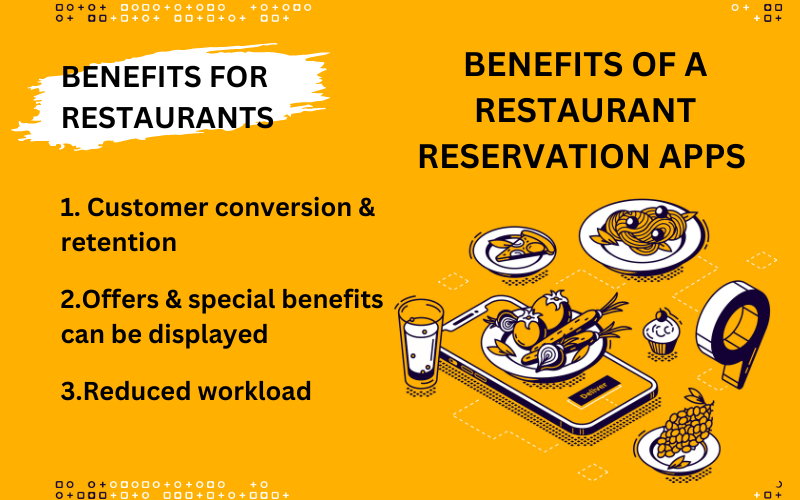 BENEFITS FOR RESTAURANTS
Customer conversion & retention: It should go without saying that restaurant and pub owners should be keen in having their food offering location included in the app. The likelihood of online traffic converting into reservations is high.
Offers & special benefits can be displayed: Restaurants can post photos and special offers in the app to attract potential clients. For example, they may showcase the restaurant's ambiance or delicious dishes that everyone would like to try.
Reduced workload: Instead of answering customer questions or dealing with cancelled reservations, restaurant employees may focus on other tasks, increasing efficiency and performance.
Better management: The restaurant reservation app covers everything from name to contact number, booking time, and arrival time, ending the need for staff to look for information. Everything is in one location. Similarly, confirmations and cancellations are handled efficiently.
BENEFITS FOR CUSTOMERS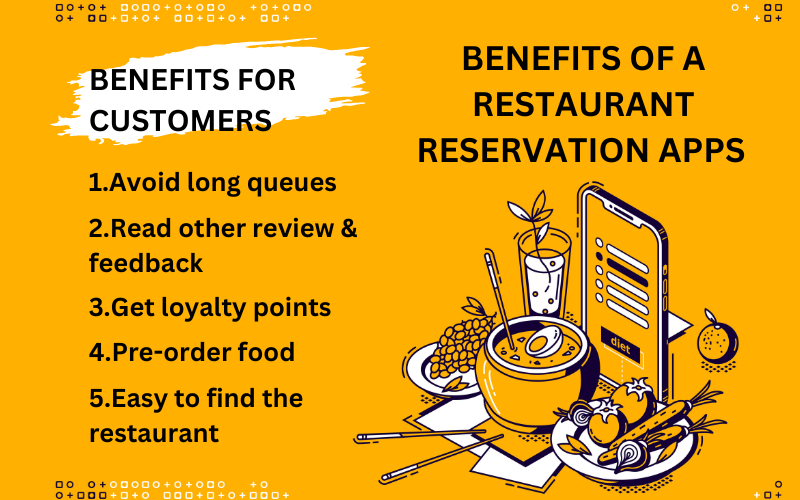 Avoid long queues: It's considerably easier to book a table at a restaurant or a pub using the restaurant reservation app than it is to make a reservation over the phone. You can even reserve a spot a week in advance and at any time.
Read other review & feedback: The app enables you to make the best decision by reading reviews or the finest offers given by food offering places. This helps you to compare pricing and make a more informed decision about where to spend your time.
Get loyalty points: The restaurant reservation app provides access to discounts that would not otherwise be available.
Pre-order food: Customers may view the menu on your restaurant reservation app before ever entering the restaurant.
Easy to find the restaurant: Customers may easily find the eatery using GPS.
4 WAYS TO MAKE A RESTAURANT RESERVATION APP 
There are 4 basic ways to create an app for your website. To make it easier for you to comprehend, we have presented them in a table. 


Pros
Cons
Cost and Time
Code it yourself
1.High customization scope 2.can leverage your core web product 3.No time wasted on explaining to others 4.Full rights of your code are with you 5.Easy Multiple revisions possible 6.self project management
1.Highly time consuming 2.Can impact revenue as you will need a team 3.Need to learn to code (React Native, JavaScript, etc.) 4.Double work (iOS + Android) 5.App publishing difficulties may arise 6.App maintenance & testing is also your responsibility.
From app designing to publishing it could take at least 6 months or more and could cost you depending upon your team size
Hire a freelancer
1.you & your team can focus elsewhere
2.much cheaper than hiring an agency or building an internal team
3.skilled person creates your app which could produce better results
1.significant costs as it requires testing and a lot of research, which takes time.
2.You must ensure they have the skills, portfolio, and references
3.Freelancer must be onboarded on your business which can be risky
4.Communication is a big issue here -multiple revisions may cost you more
5.chances of late project completion is quite high
It's not always time efficient to hire a freelancer and get projects done when you want or need unless they've signed a legally binding contract. If you take a browse Upwork, the freelancer charge from $30- $250 per hour or even more as per their skills and experience.
Hire an agency
1.Your team is free to focus elsewhere
2.they guarantee professional results
3.they know best app UI and UX practices
4.They will conduct deep research into your target audience and competition
5.Project management is fairly good
1.Their fees are too high for a startup.
2.much longer development time
3.strict terms and limitations, so even slight changes may be very costly
Development time varies with the complexity of app but takes at least 2-3 months. The average cost of an app is between $40,000 and $80,000; and it gets doubled for Native Apps.
DIY App builders like Swing2App no-code app builder  
1.You can do it yourself without learning to code
2.For a small business, it is quite cost effective.
3.Time efficient
1.Customization needs extra expenses
3.Limited themes might be an issue
In less than a month, you can create and release your app.
HOW TO CREATE A RESTAURANT RESERVATION APP WITH SWING2APP: 
Swing2App no-code app builder allows you to create no-code apps for free and then pay only when you're ready to publish them to the Appstore or Google Play. Swing2App no-code app builder provides you with industry-specific pre-built templates, which can be easily customized as per your need.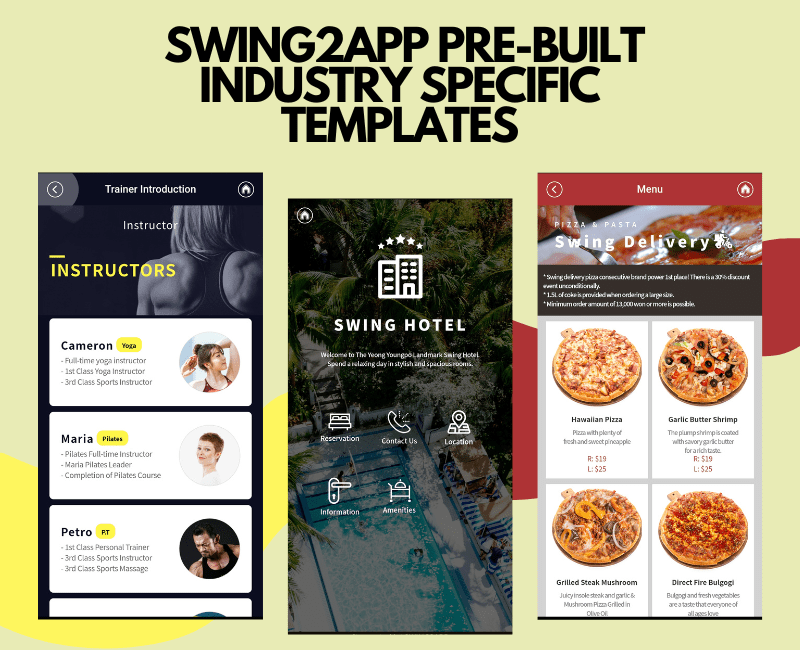 LEARN HOW TO UTILISE SWING2APP TEMPLATE.
Swing2app no-code app builder offers a range of templates for hotels, restaurants, churches, gyms, and other small businesses. These templates are specifically created to meet the needs of the industry. 
Not only that, but you can easily customize and edit these templates in much less time than the traditional method. The user can simply choose a template as per their industry and then edit it to their liking. This tool saves you time during the lengthy process of designing your app themes and prototyping; it is a lifesaver for small businesses.
Furthermore, without the requirement to learn to code or hiring app development team, resources, or technology, a mobility solution may be readily created with minimal steps.
Additionally, you can turn any website into an App, whether it's a blog on WordPress or an e-commerce site on Shopify or WooCommerce, and all without any code.
Now, let's go over the three basic stages for creating a restaurant reservation app with Swing2App no-code app builder.
1. Name your on-demand delivery app
Choose the app category, color theme, and test device suitable for your on-demand delivery app, and then add your brand logo.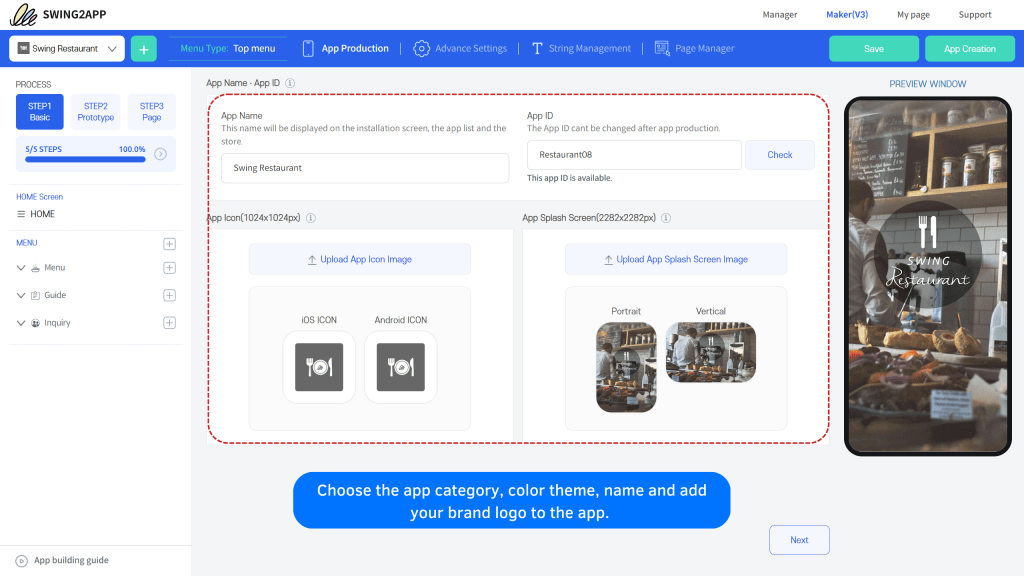 2. Add the on-demand delivery app features provided by Swing2App
Easily integrate on-demand delivery and other relevant features into your app without knowing how to code only with Swing2App no-code app builder.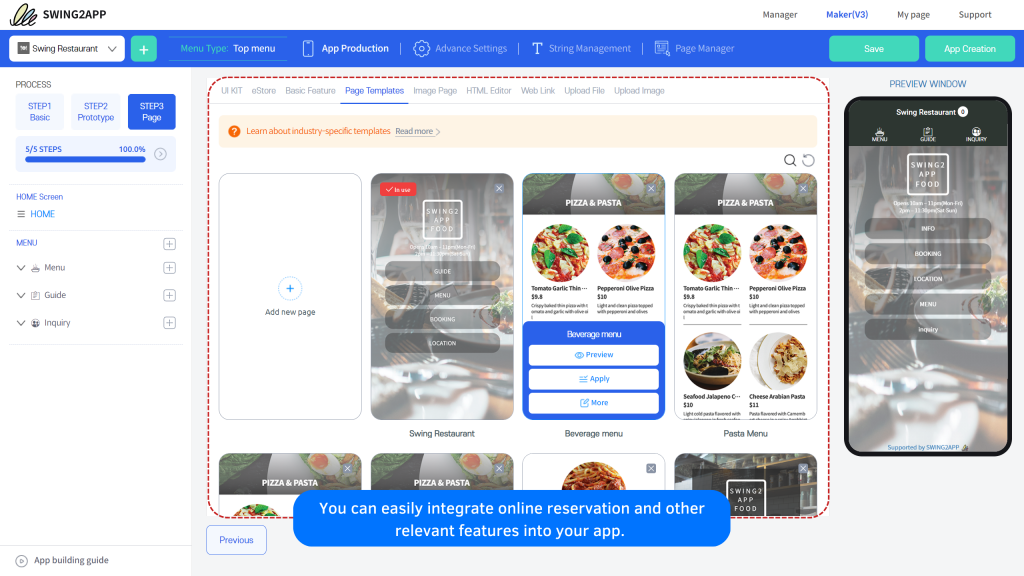 3. Edit, test, and launch your app
Before testing your app on a device, make sure it is edited properly. Once you are satisfied with your no-code app, it's time for you to launch your app on Apple App Store and Google Play Store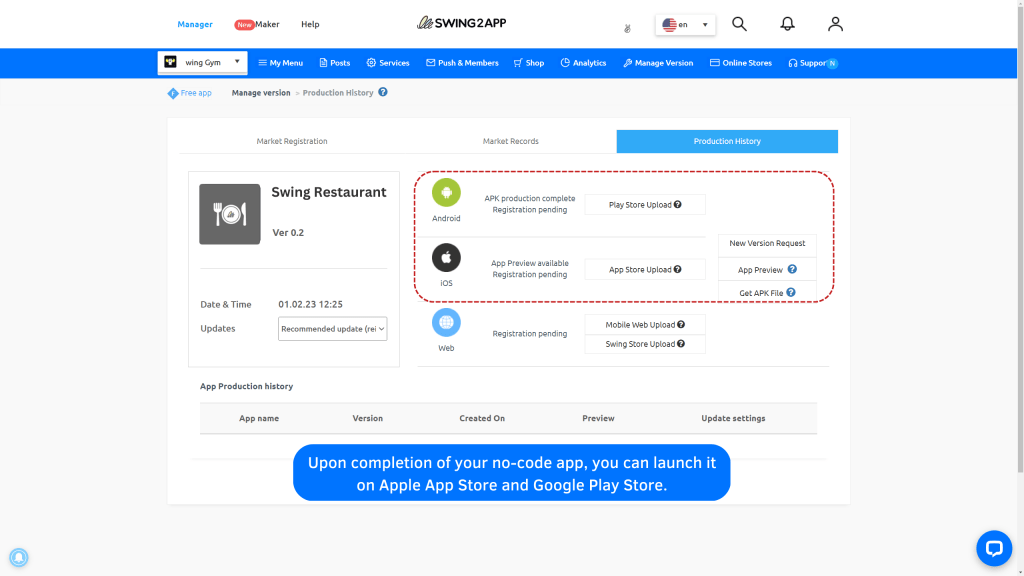 QUICK GUIDE TO ADDING RESERVATION FEATURE IN YOUR APP USING SWING2APP 
How to Use the Reservation System in Swing Shop?
You can sell reservation products such as restaurant table reservation, hotel rooms, camping events, and movie tickets using the reservation system. It is also beneficial to small businesses that require reservations, such as hair salons, spas, and restaurants.
The reservation system allows you to pick the preferable day, hour, and price for each date. We have all of the choices you need to make a reservation feature workable.
We'll teach you how to set up your subscription for the day when the check-in-check-out service is available, with Swing2App no-code app builder. Let's get started. 
STEP.1 Product Category Registration 
Please first apply for a swing shop. Before the menu is available, the swing shop must be requested!
Learn Product Category Registration on Swing Shop
Instead of registering a product, you must first create a category that includes the product in the main menu!
Go to Shop → Products → Product Category Registration Management.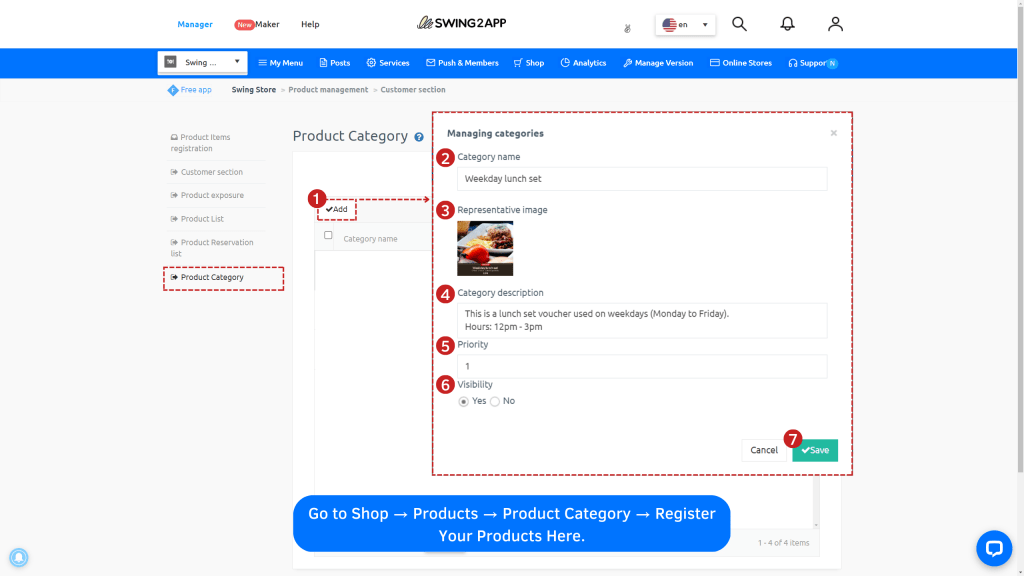 Select 1) [Register] button on the product category registration management screen.
In the category management window, add the following details: 2) Category name 3) Representative image 4) Category description 5) Priority 6) Check Display Status 7) Select Save button.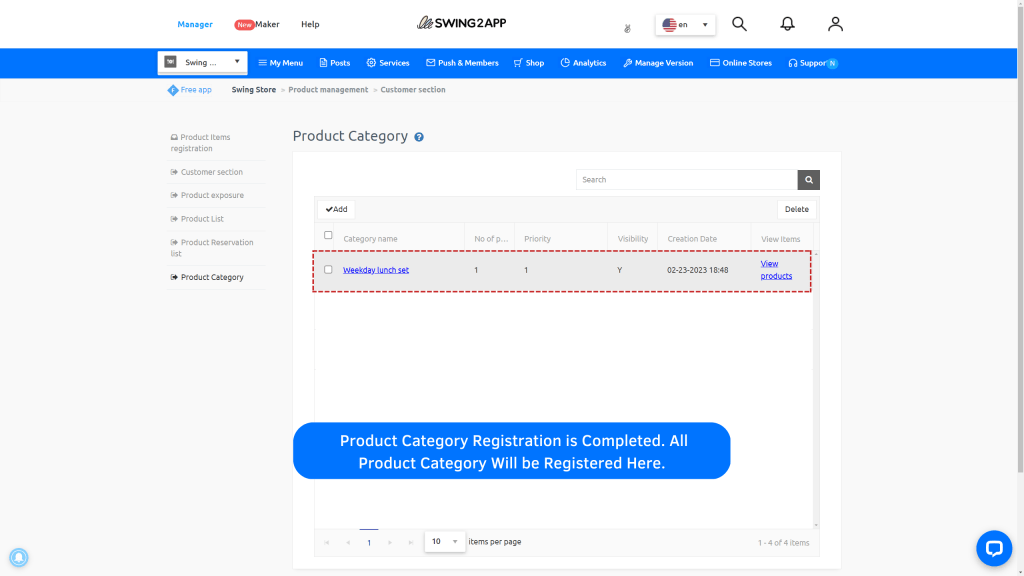 Registration for each category is now complete. Categories can still be added from that menu, and the number of categories is not limited.
You can change the content by choosing the category and deleting it using the [Delete] button.
STEP.2 Product Registration for Reservation 
Let's register a reservation product is category registration is completed!
Go to Shop → Products → Product Item Registration.
Select product type as "Reservation system." Fill out other details regarding your product, which is here the table reservation at restaurant.
Product registration is complete. Registered products can be checked in product inquiry.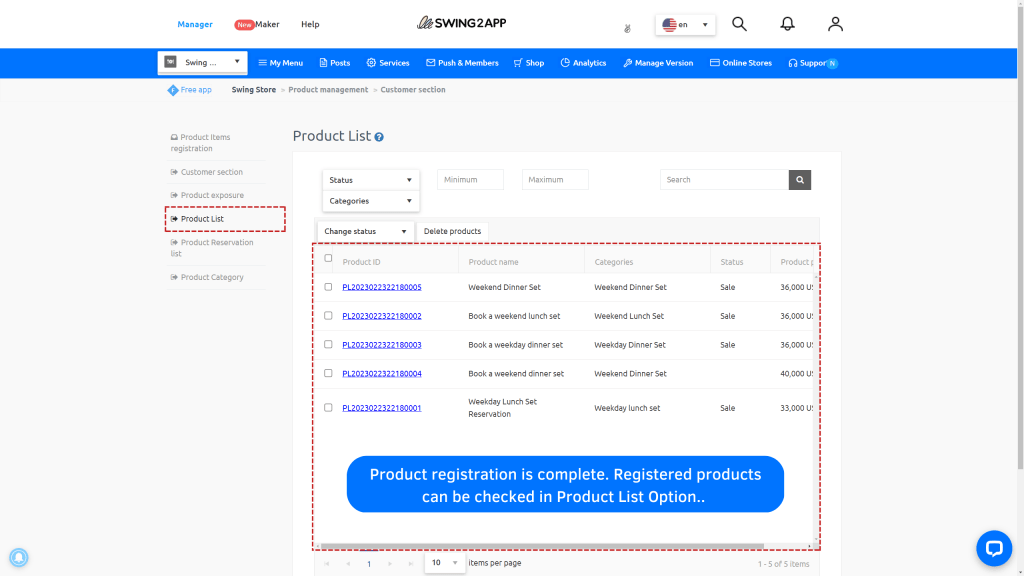 In the [Product Search] menu, you can view all of the registered products.
If you need to change the registered product details, use the cursor to select the product you want to change.
You will be taken to the edit product registration screen.
Set Time Schedule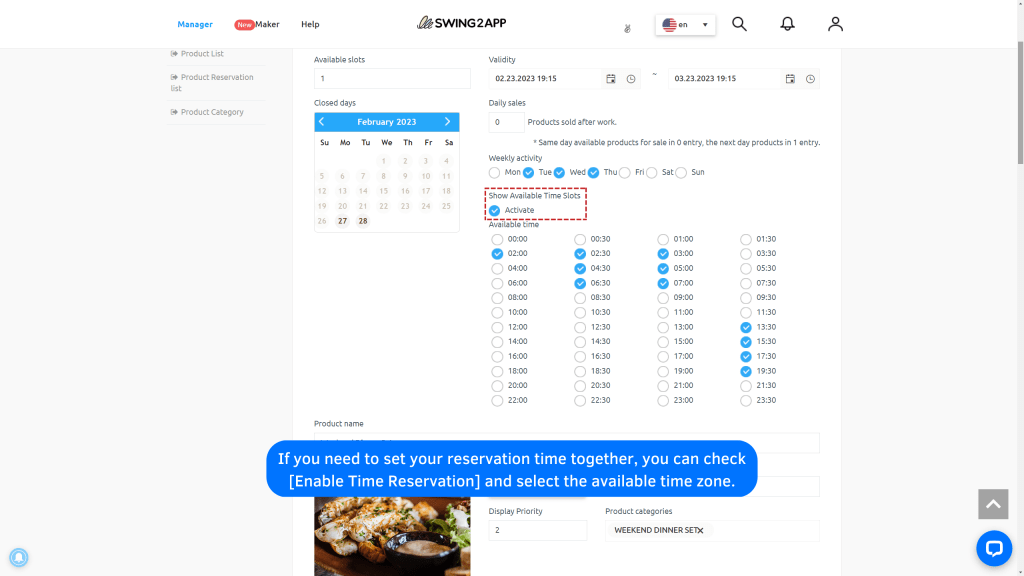 In the reservation product, a Time Setting option has been added to select a reservation time.
After selecting the reservation date above, you can set the reservation time.
If you need to set your reservation time together, you can check [Enable Time Reservation] and select the available time zone.
App Launch Screen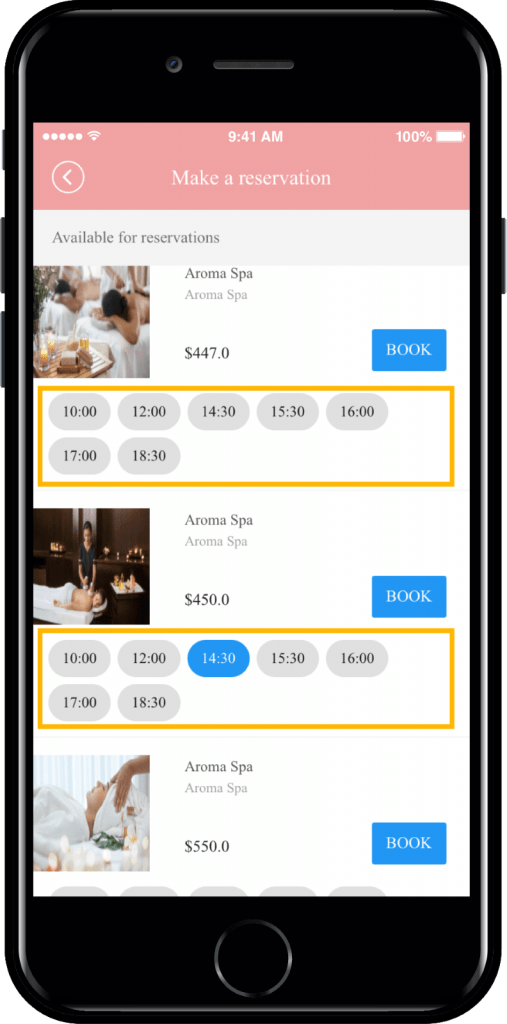 After selecting a date when purchasing a reservation – You can also select a reservation time. 
Click here to get detailed manual on time-booking products
NOTE:
Reservation time can be done only once per hour.
You can't make multiple reservations at one time, rather only make one reservation. The time when the reservation is completed is displayed on the screen as the reservation complete 
STEP.3 Apply the reservation system to the app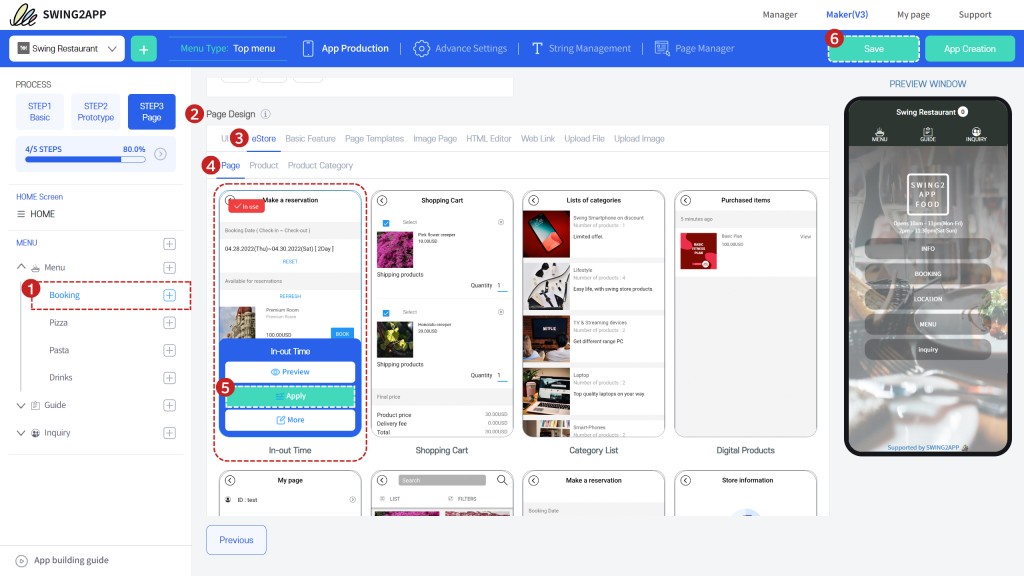 (v3 image will be shown)
Maker(V3) Page → Move to Step 3 Page Menu
1.Select Home screen and click Add a Category. A new menu item will appear.
2.Select the new menu item and change the name in Menu Name.
3.Select Swing2App Page.
4.Click on the Link Wizard icon. The Link Wizard pop-up window will open.
5.Select an In-Out Time from the list. *If you have registered only the date at the time of registration for the reservation product → Book the reservation product (set the period) / If you have registered the date + time together → Select the reservation product reservation (time, single) menu.
6.Click on Reflect
7.Click on Apply.
8.Click on Save.
There should also be a page where users can check the list of purchases or payment status after purchasing the pre-orders, right
If you look at the menu on the swing page, it says "My Profile."
Please apply My Profile as the app menu!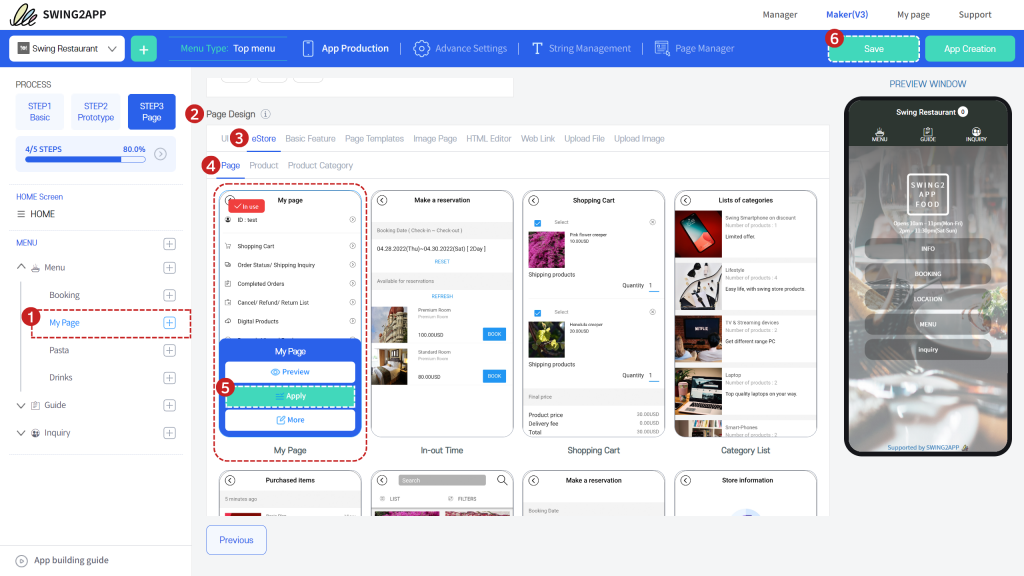 (v3 image will be shown)
Maker(V3) Page → Move to Step 3 Page Menu
1.Select Home screen and click Add a Category. A new menu item will appear.
2.Select the new menu item and change the name in Menu Name.
3.Select Swing2App Page.
4.Click on the Link Wizard icon. The Link Wizard pop-up window will open.
5.Select a My Profile from the list.
6.Click on Reflect
7.Click on Apply.
8.Click on Save.
See My Page for Apps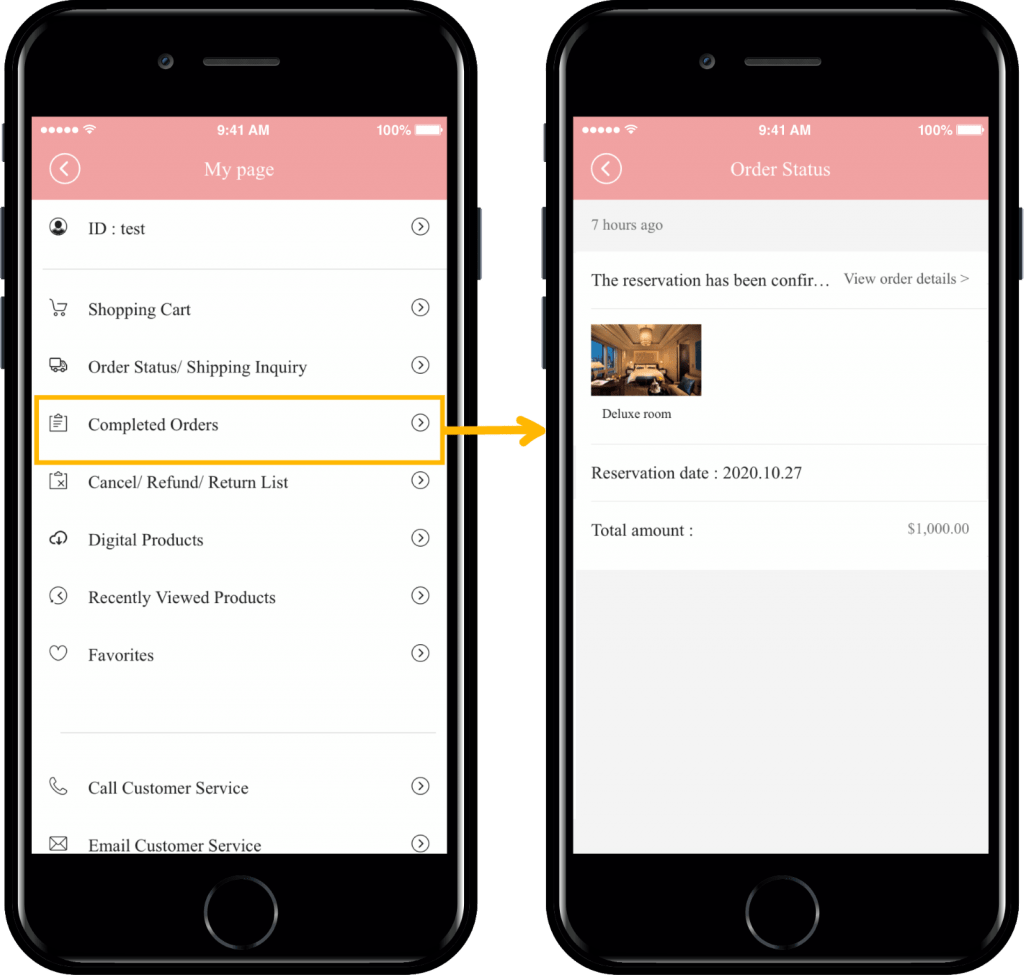 You can view the pre-orders you purchased by selecting the Delivery Complete/Purchase Complete menu on My Page.
When purchasing digital products, My Page not only checks the completion of the purchase, but it also provides delivery status and document viewing functionality.
There are also many other features, such as the main product and the trending product view.
STEP.4 App launch screen: running a reservation system 
Let's run an app with a reservation system and check it out!
I'll check by running the app to which the time reservation product was applied! 
For time reservation products, first select the day you want to reserve from the calendar (calendar), and a list of available products is displayed.
Please select the desired product time here.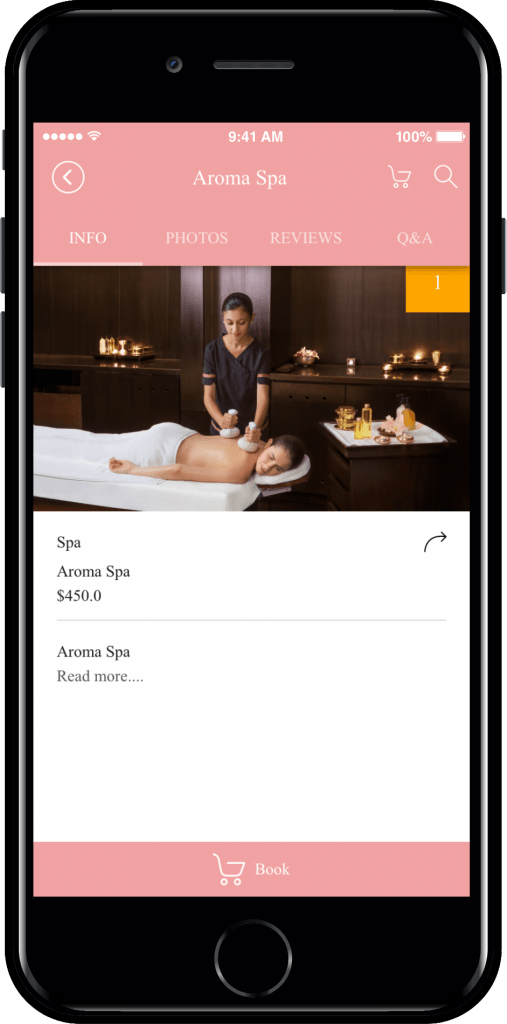 Check the product details and click the [Book] button.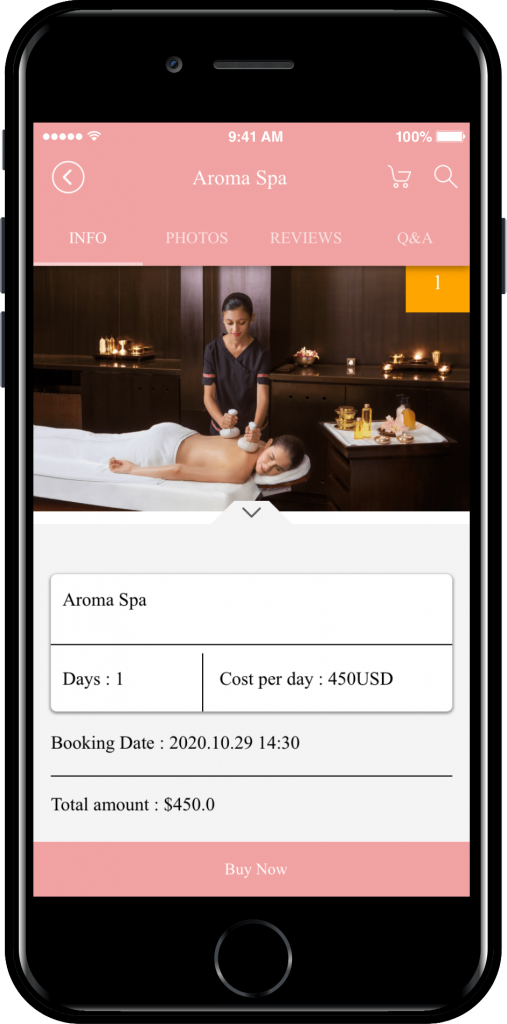 Please click the [Buy Now] button.
At this time, you can choose between PayPal card, electronic payment, and non-bankbook deposit as the payment method.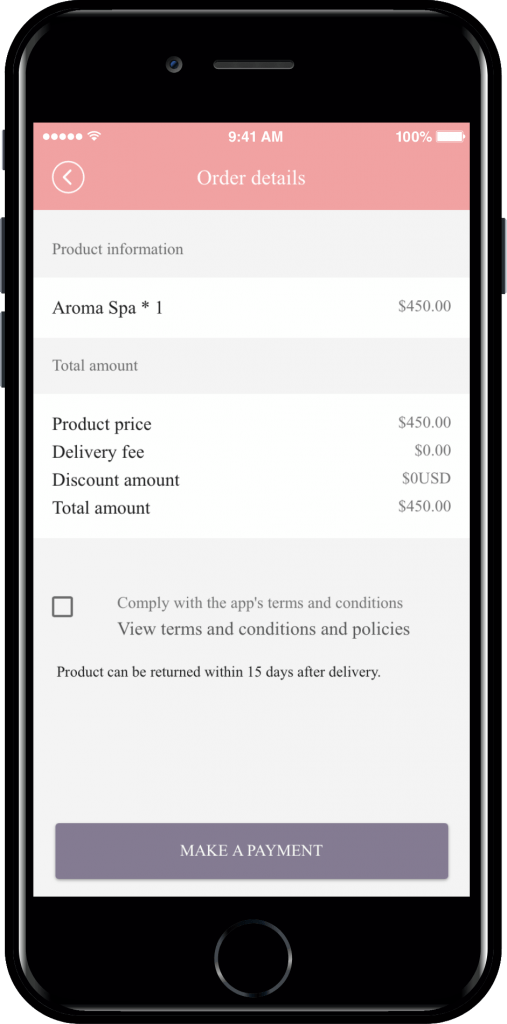 Check the phone number verification number on the order details page.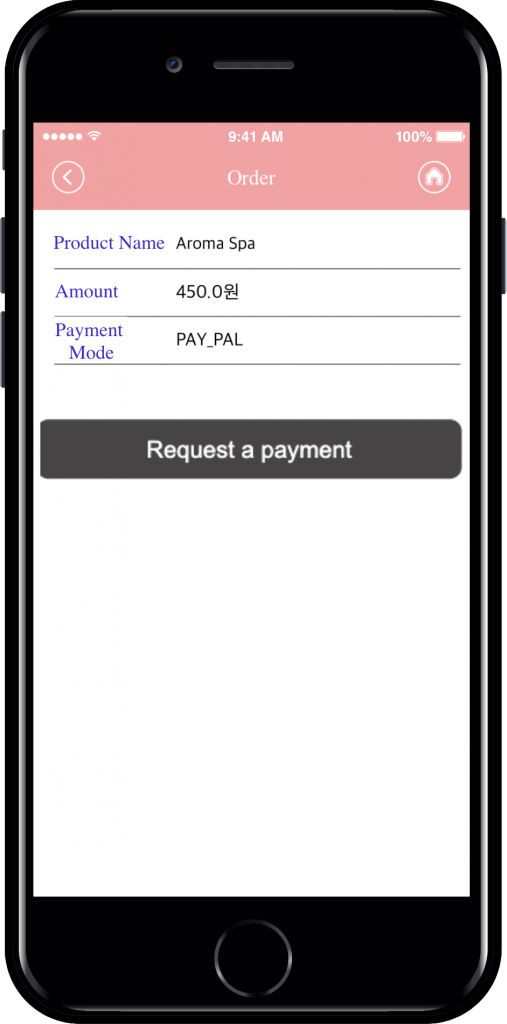 If you proceed with the payment request, it will proceed to payment.
This app is a test app, so there is no actual payment.
Cancellation will be processed immediately after payment of $450.
In addition to the hotels reservation, the reservation system can be used by other small businesses.
Register your desired products, such as hair salon appointments, restaurant reservations, and hospital appointments. The reservation system function is easily accessible in the app.
CONCLUSION
Restaurants should develop restaurant reservation apps to boost visibility, income, growth, and expansion. By creating your own restaurant reservation app, you can take advantage of digital transformation platforms and engage with your customers more efficiently.
When opposed to traditional methods, your consumers will have a number of options that will ensure unforgettable encounters. Everything has become easier in our digital age thanks to these apps!