Do you want to create an education app for your education startup or digital learning course? In this era of exponential growth in the EdTech market, it makes sense to create an education app.
If you want to learn anything, all you need to do is open an app on your phone (like Duolingo for learning a language); this eliminates the need for physical presence to learn something. Similarly, if you want to teach something, you could use another education app like Google Classroom, and start spreading knowledge. We are living in the best time in history for learning! 
According to Statista, 'Education' is the second-most popular category on the Google Play Store, which might come as a surprise. It makes up 10.47% of all apps globally.     
Therefore, if you've decided to create an educational app, this is the right opportunity. Read on to learn how to create an education app.  
We put together all the information in this blog to help you create an education app using Swing2App no-code app builder. 
GLOBAL KNOWLEDGE INDUSTRY TREND
You must want to know the market size of e-learning and other related statistics related to e-learning before you are planning to invest or want to know how to make a learning app.
The educational apps market is white-hot right now. The truth is the EdTech industry had been growing steadily even before the pandemic, but after COVID-19 made online education a must, EdTech investments really spiked. The e-learning market is projected to reach $645 billion in market size by 2030.
Global Market Insights predicted that the e-learning market would grow to $1 trillion in size by 2027.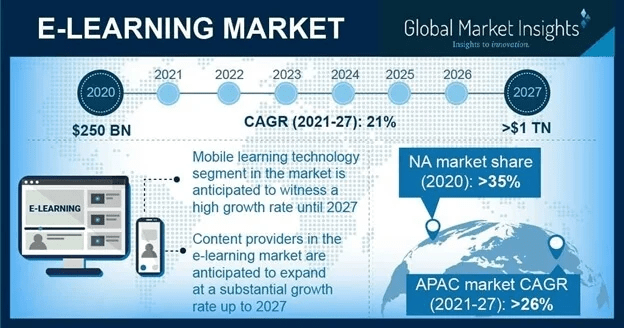 And even though funding fell in the turbulent year of 2022, that only means that VCs are looking to invest in e-learning startups with immediate revenue capabilities.
Yes, the e-learning market is thriving all over the world. This brings the opportunity for all the entrepreneurs who are looking to invest in e-learning or educational app development.
HOW TO CREATE AN EDUCATIONAL APP FOR ANDROID AND IOS:
1. Decide on What Are You Planning to Offer 
The education might seem static or with limited scope from the outside, however, upon a closer look, there is much to be explored. Why? 
There are various types of educational apps and ideas and hence exploring each and every aspect probably becomes difficult.
So, the first step must be to decide what exactly you want to sell, after this, the process of determining the app functionalities and features becomes much easier. This initial planning helps you in staying ahead in the competition to build a successful education app. 
For example, if you want to build a quick maths learning app, then you need to focus on providing a single platform for students to learn how to do mathematical operations quickly, memorize them as well as implement them. Then you must plan the features according to your audience's needs, such as integrating small tasks, videos/tutorials, audio, and tests. 
Along with this, start planning about the design and feel of the educational application. This also includes identifying the target audience because the look and features of your application should attract your users. For example, a kid's learning app will look a lot different from the app targeted at college students.
Now let's discuss the next step of identifying your target audience and how to do competitor research.
2. Market Research, SWOT Analysis
It's important to test the waters before diving into something. As an entrepreneur, you surely wouldn't want to risk your investments into something that might not give you satisfactory results. Therefore, it is recommended that before actually starting to build an educational app extensive market research should be conducted. 
Why is market research necessary before developing an educational app?
To analyze the needs of the customers  
To know the pain points of your customers 
To create a potential solution for your target audience in the form of your educational app 
To know the efficacy and potential ROI of your app 
To decide on a relevant revenue model for the app monetization 
To strategize and identify market trends 
However, to understand the potential and develop strategic planning for your business, conducting a SWOT analysis for your own app idea to ensure your education mobile app is crucial. 
SWOT: Strength, Weakness, Opportunity, and Threat
Conduct SWOT Analysis for Educational App Development (or any app)
| | | | |
| --- | --- | --- | --- |
| Strength | Weakness | Opportunity | Threat |
| 1. Advantages provided to the target | 1. Areas that need improvement | 1. Opt for the latest technology trends | 1. Figure out difficulties you might face in the future |
| 2. USP/ uniqueness of your app | 2. Decide what to ignore or drop from the app | 2. Identify competitors' weaknesses and work to overcome them in your app | 2. Identify funding issues |
| 3. The vision/ the ultimate goals | 3. Check for challenges in revenue generation | 3. Find business scaling ideas for the future in advance | 3. Competitors in the same niche |
3. Essential Features to Include in Educational Mobile App Development:
The best way to identify the features of your app is to align the two things: 
1. what exactly you are willing to offer to your future students?  
2. what your students are looking for from your app. 
For example, you are willing to offer podcasts, videos, and pdfs in your app, but the students are looking for a gamification experience; this would create a demand-supply mismatch. 
Apart from this, you can check the top comment section of other educational apps (within your niche) in Google Play Store and Apple Play Store.
Usually, the app users share their feedback and expectations related to the app features and functionalities in the comment section. You can even run a survey or create a poll and ask your potential customers to share their preferences for features.
To make a competing educational application in the market, your educational app should have the following features:
Audio and video-based content
Offline courses
Gamification & 3-D lectures
Push notifications
Group chat and in-app discussion
Regular practice and analysis
Student/parent dashboard
paid products/videos/e-books
4. Determine the App Development Platform-choose Swing2App
You want to create an educational app, but have you decided to develop your app on an Android or iOS platform? Or do you want a cross-platform app (a single app for multiple platforms)? 
Here are the few factors that you must think over before choosing an app development platform for your educational app: 
App development cost
App features and functionalities available
App development time
Development complexity
Maintenance and support
5. Launch and Market Your App
If you choose Swing2App no-code app maker to create your education app, then be assured of the best results. We will help you to quickly and successfully launch your app. In fact, launching the app on both the App Store and Play Store is a part of our mobile app development process. Above all, we also offer free app maintenance services after the launch of the application. 
After following all these steps your educational app is now launched. What is next? How would you actually attract and reach your target audience?
No need to worry, we got the perfect answer for all of these questions.
To reach your target audience for your app, you can market your educational app on various social media platforms like Instagram, YouTube, Facebook, etc.  In fact, you can introduce your app to your website or conduct a webinar to create hype around your app so as to attract relevant traffic.  
Let's check how to create an education app with Swing2App no-code app maker.
DEMO EDUCATIONAL APP CREATION WITH SWING2APP
Swing2App no-code app builder allows you to create no-code apps for free and then pay only when you're ready to publish them to the App Store or Google Play. Swing2App no-code app builder provides you with industry-specific pre-built templates, which can be easily customized as per your needs.  
Swing2app no-code app builder offers a range of templates for hotels, restaurants, churches, gyms, and other small businesses. These templates are specifically created to meet the needs of the industry.
Furthermore, without the requirement to learn to code or hire app development team, resources, or technology, a mobility solution may be readily created with minimal steps.  
Additionally, you can turn any website into an App, whether it's a blog on WordPress or an e-commerce site, and all without any code.
Now, let's go over the three basic stages for creating an educational app with the Swing2App no-code app builder.  
1. NAME YOUR EDUCATIONAL APP
Choose the app category, color theme, and test device suitable for your on-demand delivery app, and then add your brand logo.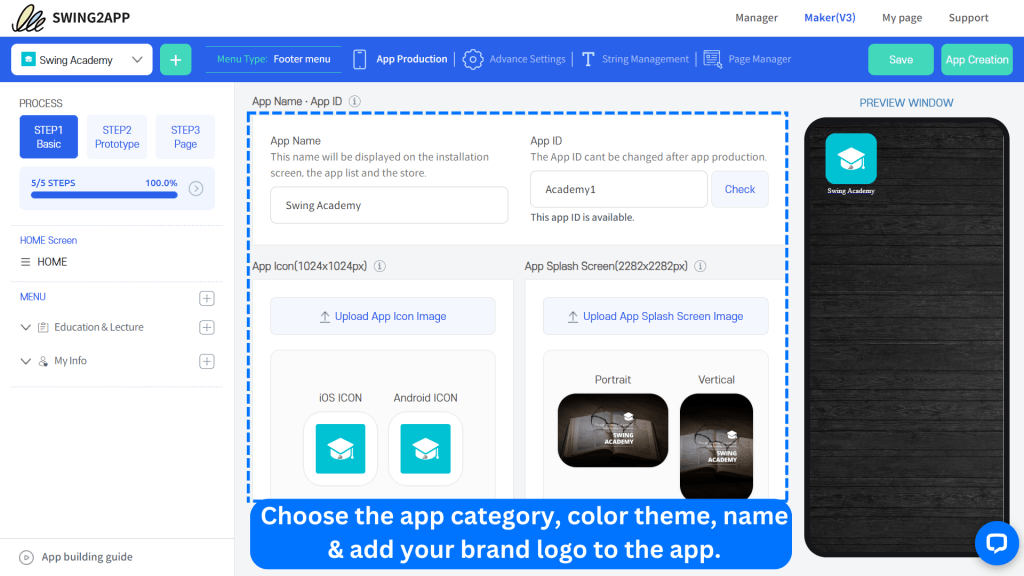 2. ADD THE EDUCATIONAL APP FEATURES PROVIDED BY SWING2APP
Easily integrate educational app functionalities and other relevant features into your app without knowing how to code only with Swing2App no-code app builder.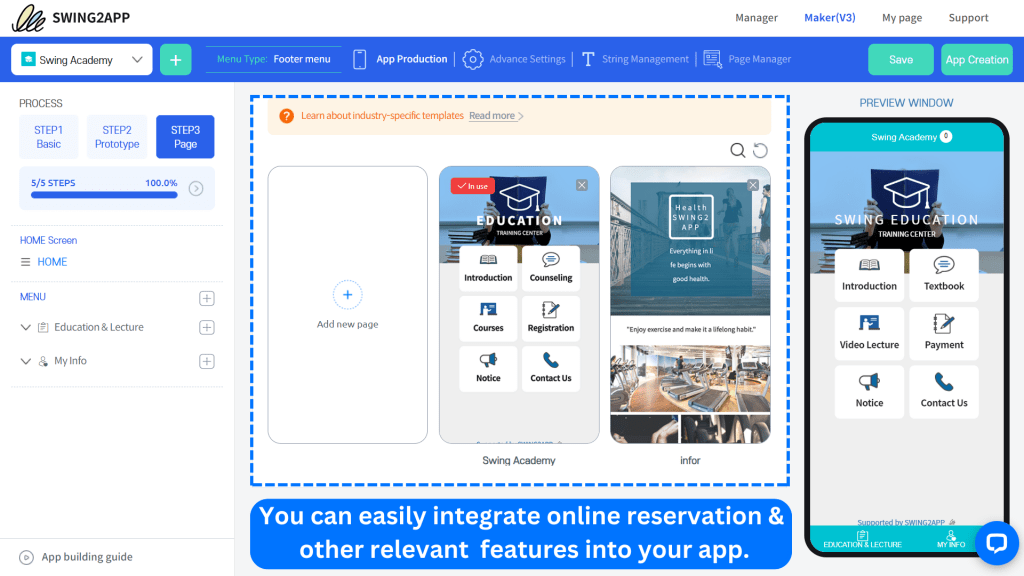 Guide to adding features to your educational app: 
1. Use of a calendar to show exam dates with the syllabus for school. 
Swing2App calendar can be used to show the events and schedule as per user requirements. 
Let's check out the use of the calendar to show the exam date sheet with the syllabus. 
1. As an admin of the school app, the schedule will be set for a date sheet with the syllabus for students. 
2. Admin will enter the events as per schedule. Check the image below: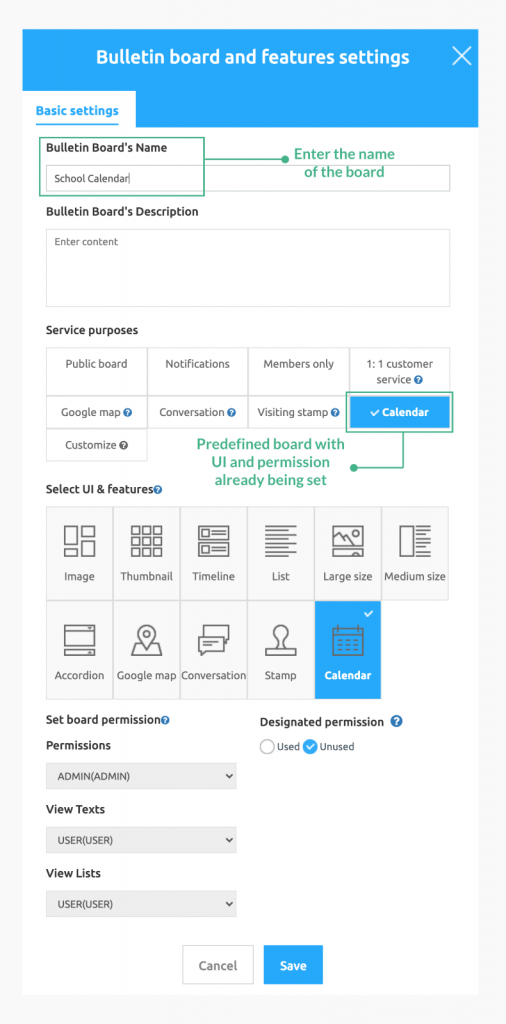 3. Students can check the date sheet with the syllabus on the app. Check the image below: 
2. Digital product for selling
Swing2App Guide to add educational video as a digital product to be sold in your educational app to generate revenue.
3. EDIT, TEST, AND LAUNCH YOUR APP
Before testing your app on a device, make sure it is edited properly. Once you are satisfied with your no-code app, it's time for you to launch your app on the Apple App Store and Google Play Store.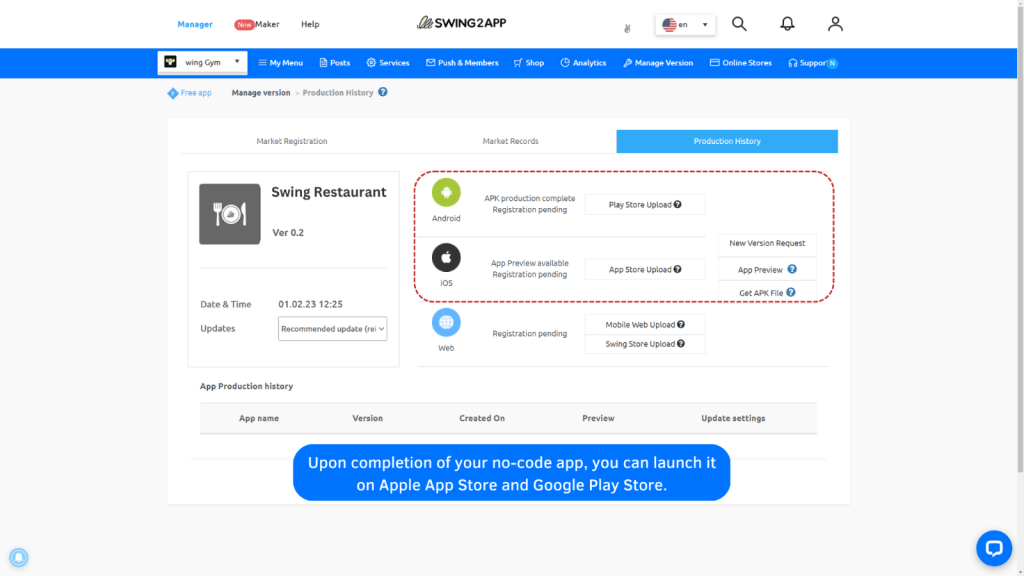 BENEFITS OF CREATING AN EDUCATION AND LEARNING APP WITH SWING2APP NO CODE APP BUILDER
Swing2App No Code app builder is truly a one-point solution for anyone looking to create an educational app or any other app. 
Certainly! Here are ten benefits of using Swing2App as a no-code app builder for creating a DIY app:
User-Friendly Interface:
Swing2App offers an intuitive and user-friendly interface that makes app development accessible to individuals without coding knowledge. Its drag-and-drop functionality and visual builder simplify the entire app creation process.
No Coding Required:
With Swing2App, you can create a DIY app without any coding skills. You can build your educational app by selecting pre-built templates, adding features and functionalities, and customizing the design according to your preferences.
Time and Cost Savings:
Using Swing2App no-code app builder eliminates the need to hire professional developers or invest in extensive coding courses. This results in significant time and cost savings for individuals or businesses looking to create their own apps.
Rapid App Development:
Swing2App enables you to build an app quickly and efficiently. With its library of pre-built components and templates, you can easily assemble and customize your app's features, reducing development time.
Wide Range of Functionalities:
Swing2App no-code app builder offers a variety of built-in functionalities, such as push notifications, in-app purchases, social media integration, and more. You can easily add these features to your DIY app without any coding expertise.
Real-Time Preview and Testing:
The Swing2App no-code app maker allows you to preview and test your app in real time before publishing. This feature helps you identify any issues or improvements needed, ensuring a high-quality end product. 
Cross-Platform Compatibility:
Swing2App no-code app maker supports cross-platform app development, allowing you to create apps for both iOS and Android devices simultaneously. This broadens your app's reach and potential user base.
App Store Submission Assistance:
Swing2App no-code app maker provides guidance and assistance throughout the app submission process. It helps you generate app icons, screenshots, and descriptions that meet the app store guidelines, simplifying the technical requirements of app store submissions.
Updates and Iterative Improvement:
Once your app is live, Swing2App's no-code app maker enables you to make updates and improvements without hassle. You can iterate on your DIY app based on user feedback, market trends, and changing business needs. 
Comprehensive Support and Resources:
Swing2App no-code app maker offers comprehensive support and resources to assist you at every step of the DIY app creation process. You can access tutorials, documentation, and customer support to address any questions or challenges you may encounter.
These ten benefits highlight how Swing2App no-code app maker empowers individuals and businesses to create DIY apps without coding knowledge, saving time, reducing costs, and providing a user-friendly experience throughout the app development journey.
CONCLUSION
Now, it is your turn to build an education app with Swing2App no-code app builder. 
If you need guidance on your educational app or want to build a leading education mobile app on your own, sign up for the Swing2App no-code app builder platform. We have experience in developing more than all kinds of apps including educational apps. 
Moreover, you can also convert your website into an app in just 5 minutes with Swing2App no-code app builder. That's not it, the app-building journey is absolutely free! You need to play only when you are ready to launch your app on the App Store or Play Store, and that part too can be done by our professional app developers. 
So, once you get on board with Swing2App you get unlimited app development benefits like no-code experience, templates, industry-specific features, and much more as discussed above. 
Ready to build your educational app?