Do you have an amazing app idea but no idea how to build an app?
Mobile apps are on the rise as they offer the best way to convert, retain, and engage your customers by providing constant connectivity. 
If you want to build a mobile app there are several options: hire an app developing agency, or freelancer, learn to code apps, or use a no-code app builder. 
The no-code app builders are the best option for people who want to make their own app but have little to no coding experience.  
In this blog, we are going to tell you about no-code app builders and then help you in choosing a no-code mobile app builder for your amazing app idea. 
Before we jump into that, let's think about a few questions before you start to build an app with a no-code app builder.
DOES YOUR BUSINESS REALLY NEED AN APP?
Don't be a sheep just following the herd! Definite apps are in trend and many businesses, especially the digital ones are looking to build an app. However, it is important to understand if the app will really add value to your business or just be another financial burden. So, don't build an app just for the sake of having an app store presence.  
However, you should consider building an app if you have a need to communicate with your customers on their mobile devices. For example, it makes more sense to build an app for e-commerce stores, newspapers, etc. than a small gym in a locality. Build an app if you have great content and you want to show it on mobile devices. Above all, build an app only if you can financially and technically maintain it! 
Further read about "How much it costs to create an app" to have a clear vision of app development costs, and also of the difference between hiring app developers/freelancers or building an app with a no-code app builder.
MAKE AN APP YOURSELF USING NO-CODE APP BUILDERS OR HIRE AN APP DEVELOPER?
Mobile apps are one of the fastest-growing markets. As per Statista the App Store and Google Play being the two main and biggest stores, offer users millions of apps: 1.5 million apps for iOS and 1.6 million apps for Android. So, if your business needs an app then you should definitely start building an app.  
It is your choice if you want to hire a developer/freelancer, learn to code yourself, or use a no-code app builder. However, it is no surprise learning to code isn't child's play, especially when creating complex apps as it takes a lot of time. So, unless you really wish to add coding to your skillset or have no issues with spending money on developers/freelancers, you should choose a no-code app builder. 
Now let's discuss about app builders and understand what things to consider when choosing a no-code app builder.
With the rise of DIY app builders in the market your choices are vast, take your time to research which app builder suits your needs the best. 
CRITERIA FOR CHOOSING A NO-CODE APP BUILDER TO MAKE AN APP BY YOURSELF: 
There are several factors you should consider when choosing a no-code app builder to make an app by yourself to ensure that the app builder you choose satisfies the needs of your project. 
Let's discuss the criteria for choosing a no-code mobile app builder:
Quality comes first
Most often you might first think about the pricing of a product, however, product quality should be your priority. The quality of an app builder can be determined by the app design, UX, simplicity of use, integrations, overall functionality of the app, etc. created using that app builder. App UI/UX and design must be your top priority if you want users to notice your app and keep coming back to it.  
The final app should be professional looking, without any glitches or bugs, and provide a seamless user experience, only then the app builder can be considered of good quality. With Swing2App you can create quality apps at a fraction of the cost of what professional app developers charge. 
Templates Design
If you want to get your app noticed, you must choose an app builder that offers attractive app templates, quality design, and an easy customizing process. The templates should be easily editable to represent your brand visually and aesthetically. The apps are supposed to be visually appealing, creative, and engaging so that potential customers would be more tempted to download and use them.  
Swing2App no-code app builder offers a variety of industry-specific templates all 100% customizable and that too without any coding. You can edit these templates, the menu, color theme, fonts, etc., for every section of your app, so as to choose the best app design to make your app shine.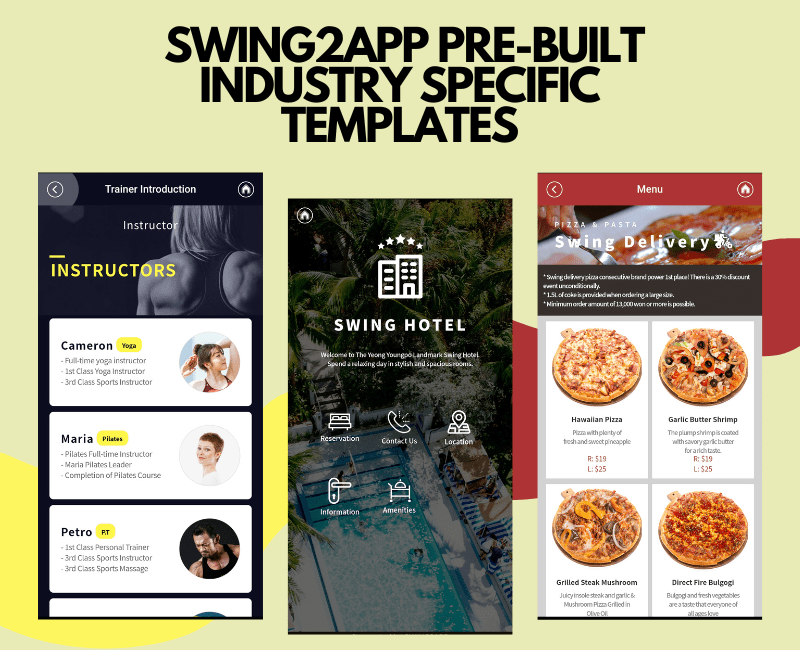 Simple to use
The app builder platform should be easy to use, intuitive, and not require learning some new skill. The app builder you choose must be an efficient DIY solution, so it is important to ensure it doesn't have any complicated features so that you can navigate smoothly and build an app easily.  
Also, don't ignore the user experience for the sake of simplicity. The best way to know if the app builder provides a good user experience is to check out some other apps created using that app builder or some demo apps. 
Swing2App no-code app builder puts a strong focus on offering an easy-to-use and intuitive app-building platform with multiple guides and support sites to help you through the app development journey.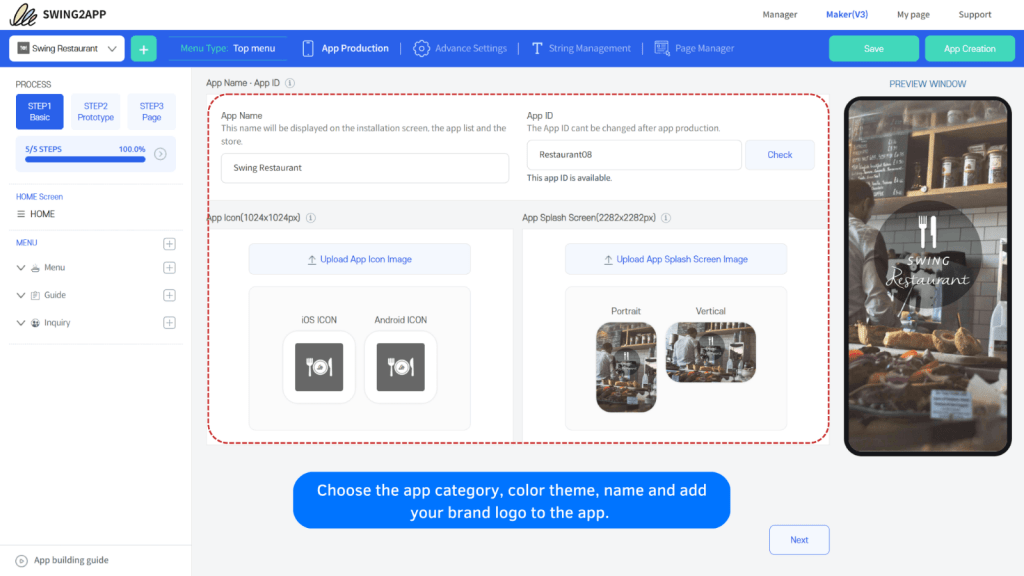 App Builder's Content management
Does the app builder you choose give access to content management of your app to update your content? Being able to make updates in content makes in an app builder is a game changer when it comes to managing content. If you don't have external sources such as a blog or a website to publish content, make sure that your app builder provides a solution to create content directly from the platform itself.  
With Swing2App no-code app builder you can create articles, post videos, and photos, and advertise upcoming events, all directly from your Swing2App no-code app builder platform. This is the perfect tool for those who don't have any third-party solution or a blog site to publish content and want to create their own app from scratch, with an all-in-one solution.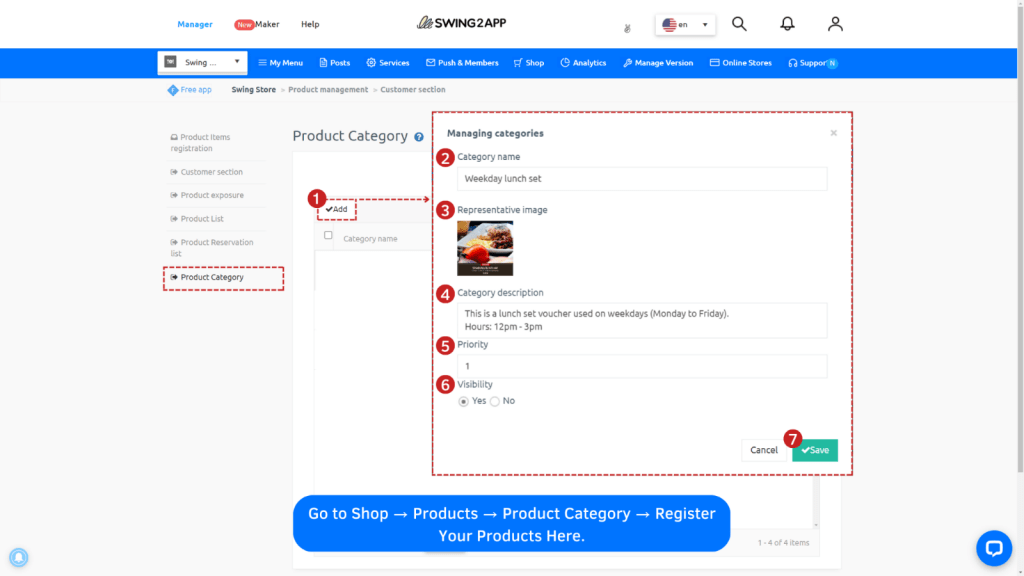 Similarly, you can add other content like videos, photos, audio, etc. without any coding at all. 
Sharing app content features
Spreading the word about your app by sharing your app content is crucial for app marketing. Your users should be able to easily share your app content on social media platforms like Facebook, Snapchat, etc. It's important to give people multiple options to build hype around your app and its content. It creates brand recognition which leads to more app downloads. Moreover, if with the app builder you choose, you can add users feedback, surveys, or other such options, it will help in customer engagement and retention as well. 
Swing2App no-code app builder comes with built-in social media sharing features on various platforms, survey and feedback forms, and much more!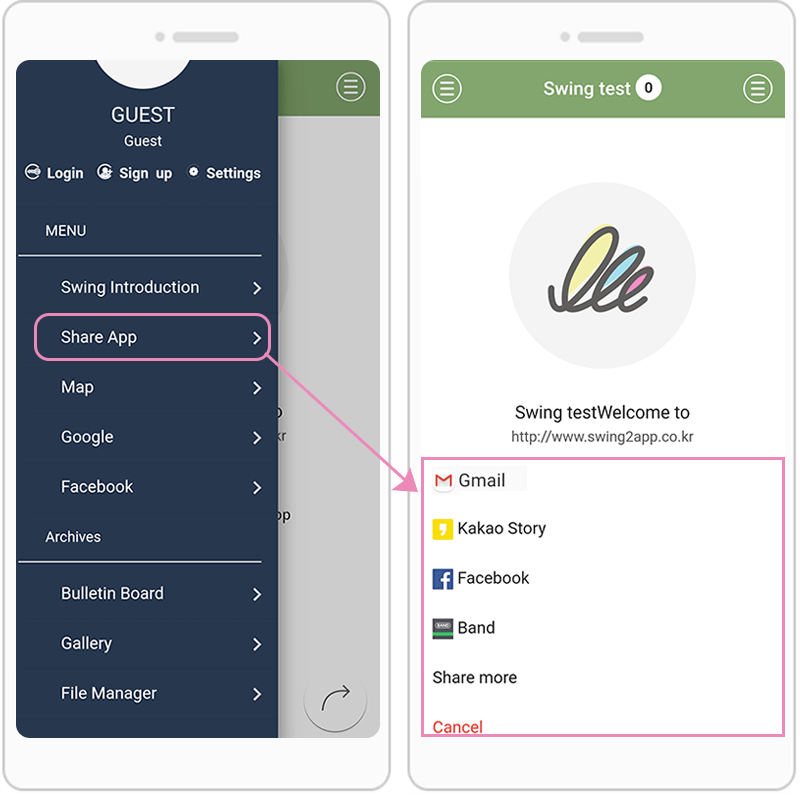 Push notifications
Push notifications can take the mobile communication strategy to the next level. The push notifications are the best way to attract users to open your app and keep them informed about the latest news, updates, and promotions! 
So, you must carefully check how your app builder handles push notifications. Does it support scheduled push notifications? Can you manage the push notifications for a specific target audience? Push notifications offer great marketing, make sure you have the complete freedom to schedule, target, add images, etc. to them.  
Swing2App lets you target your users and also schedule push notifications, and a lot more. With these options, you can send relevant messages and generate more conversions.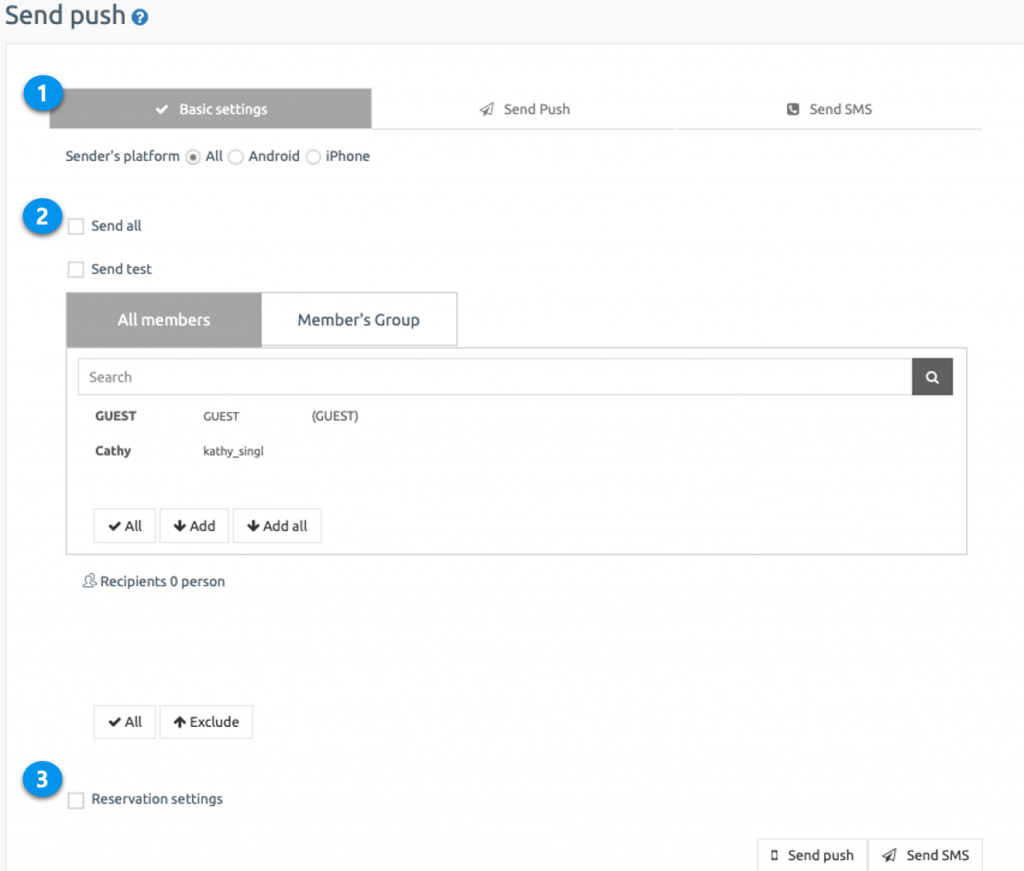 Mobile app platforms (Android and iOS)
Your final goal should be well-defined from the very beginning. When you start to plan for building an app, you should decide well in advance if you want a progressive web app (PWA) a native app, An iOS or Android app, or both. 
Native apps are very beneficial as they can access the phone's hardware capabilities, offer more speed, accessibility, interactivity, better user experience, and much more. On the other hand, PWAs are accessible on all devices and allow deeper market penetration.  
Moreover, wouldn't it be amazing to have your app on both iOS and Android platforms? The biggest advantage of no-code app builders is that you can create a single app for both iOS and Android platforms. 
Swing2App provides you with the iOS, Android, and PWA versions of your app. You can use the progressive web app for a mobile version of your website, by converting your website into an app in just 3 simple steps within 5 minutes.  
Analytics Tools
Tracking your app's analytics gives you valuable information about various aspects of your app. App analytics helps you to understand your users and their preferences. With proper use of analytics, you can easily check which pages are most viewed, what kind of content they like, etc.  
With the help of app analytics, you to create different target user groups accordingly. With these app insights, you can offer better content and also target push notifications effectively.  
With Swing2App no-code app builder you also get a detailed analytics tool that will enable you to gather useful insights about your users. This may help you in further enhancing your app to provide an even better experience to your customers.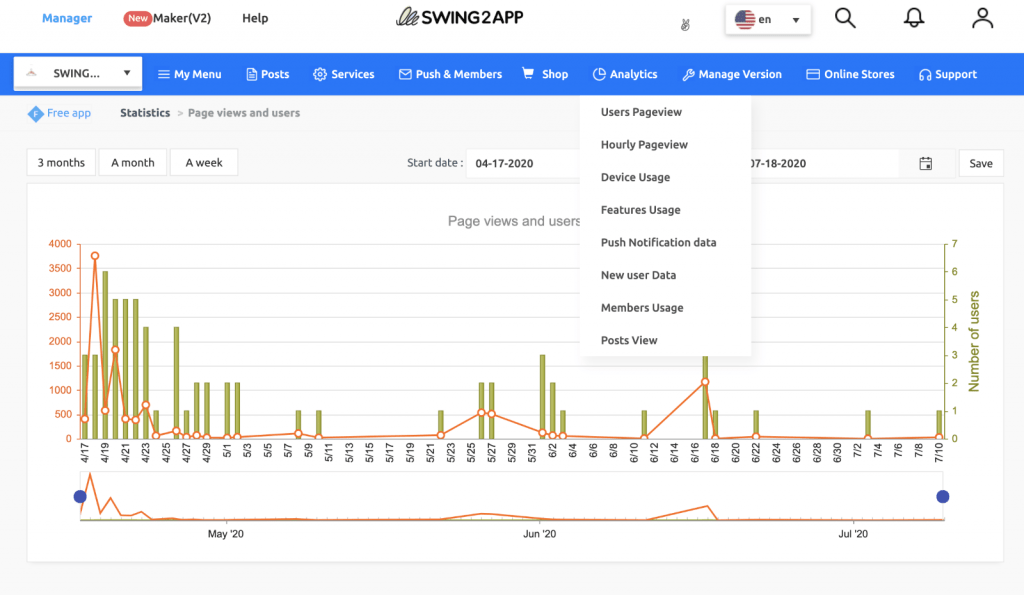 Monetization features
It is most important to check if the app builder you choose provides the opportunity to monetize your app. It is not wise to build an app and not be able to earn from it.  
Some app builders do offer the opportunity to enable in-app advertisements with external ad networks like Google AdMob. However, check well in advance if the app builder you choose takes some commission off the ad revenue of your app. 
Swing2App no-code app builder integrates AdMob to display ads and banners and the best part is that revenue is yours 100%. You can let Swing2App publish your app on your behalf or publish your app to the stores with your own developer accounts. 
One of the most well-known app monetization techniques is to offer subscriptions through in-app purchases. With this built-in feature provided by Swing2App, you can set your price and earn by selling digital products/ services or subscriptions. 
The app builder must be cost-efficient 
Last but not least, let's talk about pricing. But be careful, it's easy to fall for low prices, you must pay close attention to any hidden or additional costs that the app builder might be charging.  
It is always better to first try and only if you are satisfied with the app builder then buy it. In the free trial period test various features and check all the points mentioned above. 
Different app builders offer different types of paid plans, monthly or annual subscriptions. Some also offer free plans, but be careful as in such app builders the features are very limited, and compulsory ads can be displayed within your app.  
One of the biggest advantages of app builders is that you do not need a team of technical experts to create and update your app, just ensure that the app builder you choose allows you to modify and update your app easily without having to pay for each submitted update. 
Swing2App no-code app builder offers many simple paid plans for each platform suitable for people with different budgets for app development. You can buy monthly or yearly subscriptions, lifetime plans, or advanced customization fees. However, with Swing2App you can be best assured that your apps are always published under your name. No-code apps made with Swing2App are also free of ads, it's your choice to enable some or not with an AdMob integration provided by Swing2App.  
The best part is that Swing2App's no-code app builder provides unlimited free trial periods. You can create your app for free, and start to pay only when you are ready to publish it. 
SWING2APP NO-CODE APP BUILDER DOES EVERYTHING FOR YOU
When you decide to build your app using a no-code app builder, it should be a smooth journey and you shouldn't experience difficulties. The aim of Swing2App no code app builder is to make the app-building experience simple even for beginners who no nothing about coding an app.  
The Swing2App no-code app builder team is here to answer all your questions and provide to technical support even after your app gets published. In the Swing2App V3 App maker the initial steps are clearly put in a guide form, plus, you can find detailed online help to assist you with the setup of all the sections and features. You can also follow the Swing2App blog and keep up with our updates. 
You are now ready to start building your app in the app builder world!
Create beautiful apps with Swing2App, click here to start now!