"The future of coding is no coding at all." Chris Wanstrath, ex-CEO at GitHub  
The demand for software significantly outnumbers the number of developers available. Citizen developers are enabled to become inventive, software developers, and app developers in today's digital economy thanks to no-code development platforms.
According to a Statista poll, 71% of respondents believe no-code technologies will be used in software more frequently in the coming year. Non-programmers can create apps without writing code.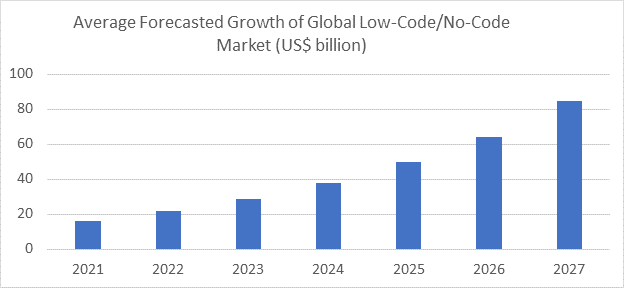 Digitalization is now more than ever a reality. Businesses of all sizes are launching their own apps in order to expand their client bases and income streams. Traditional app development used to be the sole option for organizations. Custom development, on the other hand, necessitates a significant amount of labour, a talented development team, and a large budget. 
Lately, the monotony of creating apps only by coding is broken by several no-code developing platforms. Businesses are weighing the benefits of no-code/low-code development vs traditional development in order to speed up digital transformation. App development using low-code and no-code involves little to no coding. An app maker can create an app by visualizing it like a storyboard instead of writing lines of code.
This article will examine the risks and benefits of no-code development platforms in order to help you decide whether this method of development is right for you.
Let's begin by looking at the differences between traditional and no-code app development.
Traditional Coding / Custom App Development
Custom app creation, also known as traditional app development, resembles the process of creating a custom home. To build a house, you must first assess your needs, then work with a designer to develop a thorough plan, locate a construction firm and obtain a preliminary cost, and last supervise the construction process. To construct an app the traditional way, you'll need to interview and employ a team of developers, define all of the features your app should have, go through a research phase, and get a preliminary design before the IT team begins development and testing.
Although the traditional technique is just good and perfectly acceptable, these projects are frequently difficult, costly, and delayed owing to a variety of variables.
A conventional development strategy also necessitates a developer's continual maintenance process to maintain the customized software program secure and up-to-date. 
Whether you're building a house or applying for a job, the process takes time, can go over budget, and can be delayed for a variety of reasons. You may also buy a prefabricated home or make minor changes to a basic home design in a new housing development. Similarly, rather than employing an IT firm, you may utilize a no-code development platform to construct an app using a graphical interface. 
No-Code App Development
No-code is a relatively recent technique for app creation that caters to non-technical developers who don't know how to code. Non-programmers may create applications and without any coding using no-code app development platforms, which have well-designed visual interfaces. 
No-code platforms are essentially a subset of the first generation of quick mobile app software development technologies. With the advancement of technology, organizations of all sizes and sectors have understood the need of undergoing a digital transformation. They required software and/or apps that met client expectations to be ahead in competition in the digital era. 
No-code platforms are a fantastic choice since they provide various benefits such as mass availability, speed, and cost. These platforms provide a strong visual programming interface that allows users to easily design their own applications.
In this approach, users have access to a comprehensive catalogue of pre-built features that they can drag and drop into a graphical interface to build whole applications out of templates that incorporate fundamental business procedures and functionality. When a company wants to quickly create and deploy a basic app, no-code platforms are a decent choice. 
Now you might be thinking why no code and why not traditional coding? 
Disadvantages of traditional app development with coding:
Cost of Development is High
Custom web apps and websites come at a hefty price. To create a very effective web app, you'll need to devote more time and effort over a longer period of time.
Time-consuming
When you're building a custom web application from the ground up, it might take anything from 2 to 8 months. Furthermore, owing to the complexity of customized application development platforms, delays might occur as a result of too many issues.
Requires a Whole Development Team
To build a web app the traditional approach, you'll need a designer, web developers that specialize in web frameworks, and testing engineers. And hiring all these for your team will surely tell upon your pocket, as it is a recurring cost and not one time. 
So, what is the Solution? 
No-code Vs Traditional coding app development
With Swing2App's no-code app development platform many businesses and startups have availed the benefit of the cost and production efficiency that we provide to our users.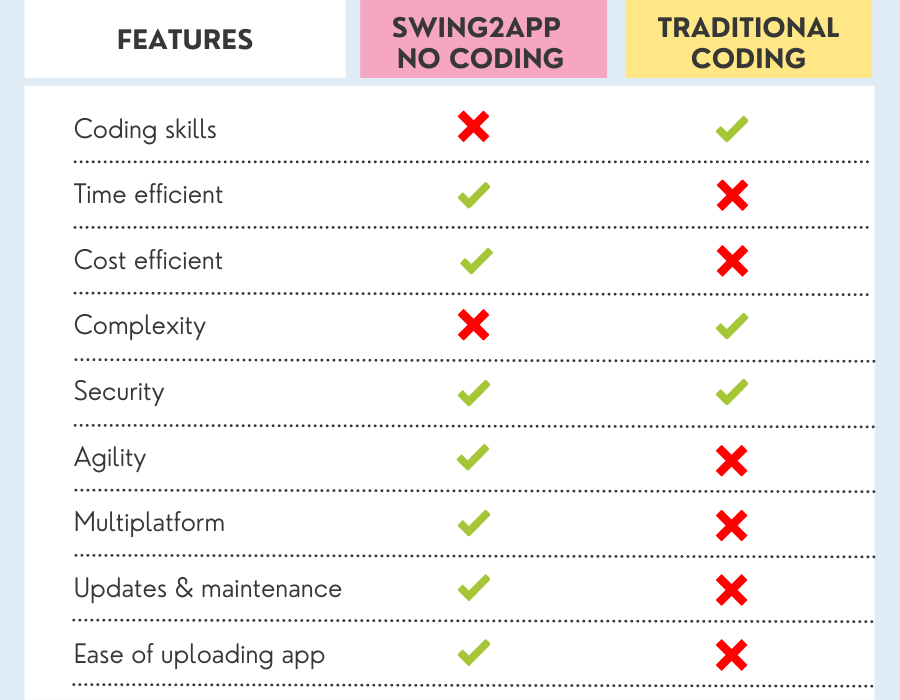 Why no code development? 
As in the above comparison, it is pretty clear why no-code development is beneficial for all be it app developers, designers, tech, or even non-tech persons. You don't need any prior coding knowledge and can scale your business with a simple no-code app development solution.  
Some other benefits of Swing2App no-code app development solution are: 
Android and iOS apps

:
For a newbie developer it is quite a decision to make whether to choose Between Android and iOS app development. If he chooses one, the audience will be limited to only one platform either Appstore or Play store which means a loss of great opportunity. 
However, this is not the scenario with Swing2App. Here you can create app for both the platforms at the same time as well as cost, this is like freeing two birds with one key.
However, if you develop both, everyone will be able to use your app. We don't have to build from zero every time because of our user-friendly app development tools. So creating both an Android and an iOS app will surely cost a bit extra but not as much as coding it separately!
Convert website to an app in 5 minutes

:
If you already have a website then the task of creating an app becomes even more simple. All you need to do is enter your website URL in Swing2App website to App converter and your app will be created within 5 minutes.  
No complex coding, no unreasonable costs, and time efficiency are what you get with Swing2App. 
Free app creation

:
Create your own app for free, you get to download your APK, 100MB storage, unlimited posts as well as you can upload your app for free with Swing2App free commercial version for android. 
The biggest advantage of using Swing2App is that you can create your MVP app absolutely free and pay only when you want to upload it on PlayStore or AppStore.
You also get industry-specific app templates, which further reduce your development time and provide you with basic ideas to further build on upon it. With swing2App free template templates you can create e-commerce apps, delivery apps, business apps, and much more. 
App Analytics

:
Swing2App provides all the various analytics about your app like User pageview, device usage, feature usage, push notification data, new user data, and much more. 
All this enables the app developer to make more informed decisions regarding future updates and features. Moreover, they can also use this vital data and create analysis to understand users' behaviour.
Real-time update

:
Automatically update content in-app without any need for resubmission. This can be done easily with our Content Editing Tool, which is also an entirely codeless process. 
Virtual app screen:
It's the era of visual development, what could be better than creating your app visually rather than just seeing endless lines of code! 
Swing2App has a preview window at all the steps so that you can visualize all the changes that you make and thus compare them. If you don't like the appearance of the app at any point you can edit it on the spot without spending much time rewriting the code. 
App monetization

:
Let your app earn money for you while you can focus on other things. Swing2App provides a Google AdMob plugin for developers who want to earn from ad revenue.  
Moreover, you can also earn from in-app sales or subscription plans that are entirely up to you and your app business plan. And don't worry about payment gateway setup as Swing2App provides PayPal and Stripe for transaction facility. 
For all App creators (beginner and pro)

:
For developers that already have coding experience Swing2App is a means to save their precious time by creating an app in much less time than it requires to code even a basic app. 
For beginners it is a blessing, you don't need to spend your time learning to code, rather devote that time to the ideation of your app business. 
Swing2App – Your one-stop solution for no-code app creation 
Choose no-code, Choose Swing2App. We're your one-stop-shop for all things no-code, with everything you'll need to create any kind of app with ease.