So, you've released an app and want it to rank higher in the Google Play Store or Appstore.
In this article, we will analyse significant ranking elements and compare keyword targeting on the App Store against Google Play. Everyone wants to be ranked higher, especially in the cutthroat world of mobile app development. Once you've settled on your keyword set, it's time to incorporate it into your app store listing or app details. Your app is ranked for specific keywords by the App Store and Google Play algorithms.
To be honest, getting up there isn't easy; there are a lot of factors that could bring you there; many mobile app development companies employ these aspects for App store optimization and actually improve them to do better than the competition.
What is the best way to use keywords to help your app rank higher? Let's begin with the steps to perfecting your keyword for app store listing before publishing your app.
STEPS TO PREPARE YOUR APP'S STORE LISTING FOR LAUNCH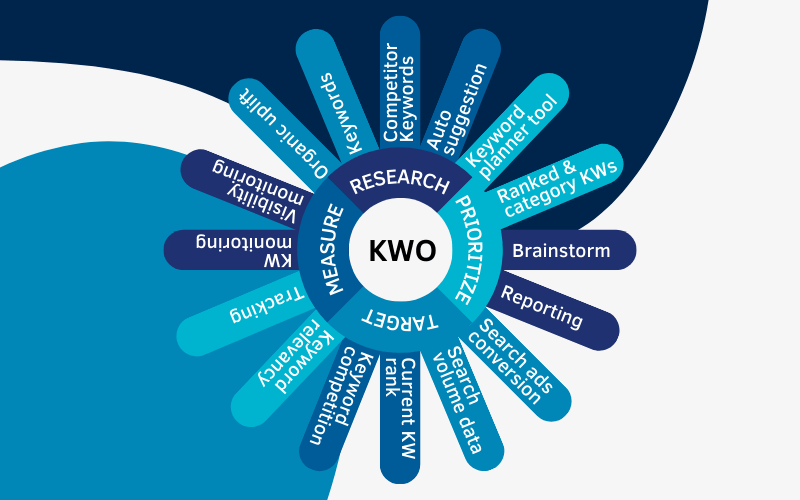 STEP 1: HOW TO RESEARCH KEYWORDS
Keywords are a fantastic free marketing tool because they assist you rank your app higher for user search queries. With over 70% of App Store users using search to find apps, it's critical that you establish a keyword strategy that allows you to appear for these queries.
The first step is to conduct keyword research. You can accomplish this in a spreadsheet, but I prefer using an app marketing tool because the keyword data provided by the tool will serve as the core for your plan.
Before you begin, keep in mind that the bulk of keywords that people search for contain multiple words, or keyword phrases. While single-word keywords are useful, these phrases should form the foundation of your investigation.
A simple way to start researching keywords is to make a list of your app's features. For instance, a video editing tool may have an option for "cropping video" and another for "putting music to video". Remember to take notes on different versions! The terms "cropping video" and "cropped video" can also be used effectively.
Looking at rival or comparable apps is another wonderful technique to explore keywords. What words in their app title, description, and screenshots are you interested in? Brainstorm as many as you can think of because the next step will assist you decide which of these keywords to target.
For example, when you search for video, you get multiple auto complete text which can be used as keywords for your apps.

STEP 2: IDENTIFYING YOUR TARGET KEYWORDS
Now that you've compiled a lengthy list of keywords, the next step is to assess their potential.
Relevance refers to how pertinent a term is to your app and how likely it is to convert users from that keyword. Many keyword tools will display search results based on that keyword (or you can check manually). Seeing apps that are similar to yours from this perspective is a good method to confirm if the keyword is relevant.
Search Volume is a non-linear measure that determines how many times a keyword is searched for. A higher score indicates that more people are looking for it.
Difficulty indicates how much competition a keyword has. If several large apps (such as Facebook, Instagram, and Snapchat) rank in the top ten for a keyword, it will be considerably more difficult for you to overtake their position. The quantity of apps that rank high for this keyword will also have an impact on this score.
Your goal is to identify niche keywords with volume scores ranging from 10 to 40 and difficulty values ranging from 1 to 30. Lower volume, lower difficulty keywords, often known as long-tail keywords, account for the vast majority of organic search searches. While they may not result in a significant number of instals per month, your chances of placing in the top three results are substantially higher. App ranking for a significant number of long-tail keywords will result in a powerful growth curve over time.
For example, in ahrefs or any other keyword tool when you search for keyword video editor, you get related keywords and their details as below: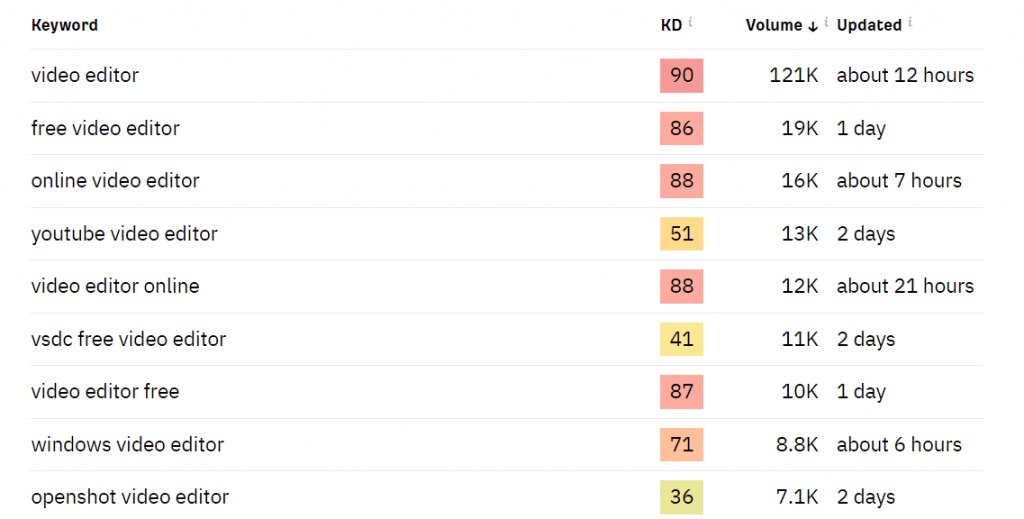 Lower the KD(Keyword Difficulty) higher are your chance to get found in the top list.
After you've decided which keywords to target, the following step is to incorporate them into your App store listing.
STEP 3: IMPLEMENTING YOUR KEYWORDS
The Apple App Store and the Google Play Store handle keywords differently. I've divided the two to explain how they work better.
The last step is to incorporate your selected keywords into your app store listing. Remember that for app ranking weight in both app stores.
Apple App Store
Apple gives you 3 keyword fields:
App Name: 30 characters
Subtitle: 30 characters
Keyword Field: 100 characters
It is your responsibility to combine and match your target keywords such that they fit within these areas. Don't worry, keywords do not have to be near to each other to form keyword phrases! This means that keywords in your Title, Subtitle, and Hidden Keywords can combine to generate phrases even if they are not adjacent.
Target your most valuable keyword phrases by using the Title and Subtitle fields. It's critical to make these fields legible and relevant because it will assist users grasp what your app does right away while also avoiding an Apple rejection for keyword spamming.
Apple also provides you with a few free keywords. Individual keywords such as [app, apps, free, the, and] do not need to be included into any keyword fields, nor do your developer name, app category, plural forms of singular words (only if you can add a "s"), or plural forms of singular words (only if you can add a "s").
The AppStore Connect Hidden Keyword field should be utilised to generate additional low priority keyword phrases from your Title and Subtitle. Make the most of the 100 characters you've been given! Avoid using spaces because they are empty characters and remember to separate your keywords with commas.
Google Play
Google gives you 3 keyword fields to work with:
App Title: 30 characters
Short Description: 80 characters
Long Description: 4000 characters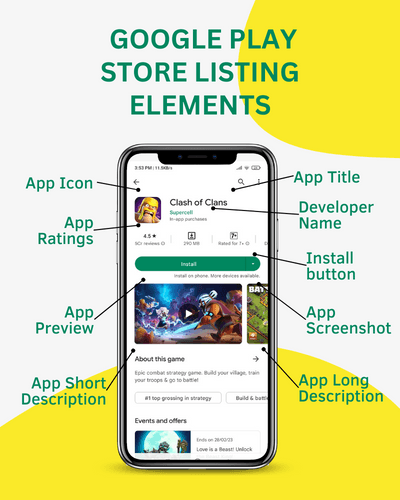 These are the most significant app information fields, listed from most important to least important. Another consideration is whether or not to repeat keywords.
Your Title and Short Description, like Apple's, should include your targeted keyword words. Keyword phrases can be formed even when the keywords are not adjacent to one another (for example, a keyword from your Title and from your Short Description can form a keyword phrase).
Keyword spamming will reduce the legibility and relevancy of your app title. Because Google Play does not display app screenshots from the search results page, make sure visitors can readily understand what your app does from the title.
Your Long Description is a little more difficult. Unlike Apple, Google will search for terms in your Long Description field. It's best to use your target keywords 4-5 times throughout. To prevent being tagged as spam, space them out and utilise them contextually.
NOTE:
You should never repeat keywords across any fields in the App Store.
You must repeat keywords at least 3-5 times throughout all areas for Google Play.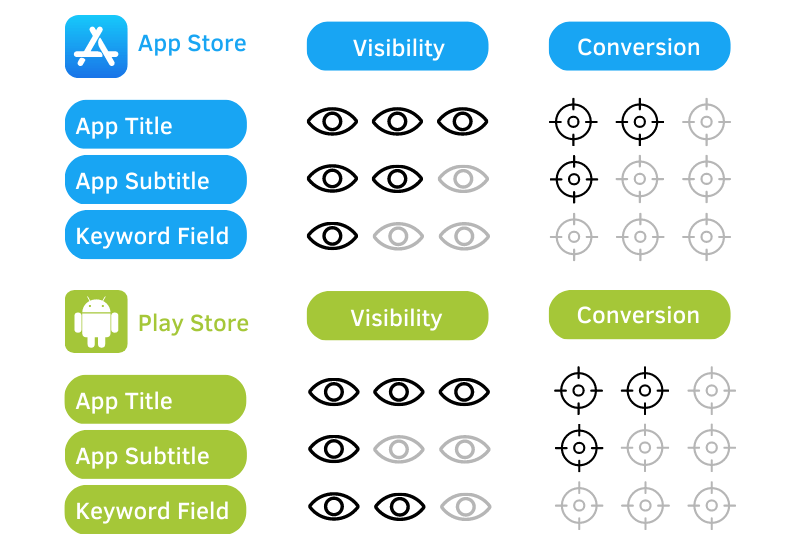 Where Else Can You Target Keywords?
Some developers have discovered that including a keyword in the product ID can influence keyword rankings.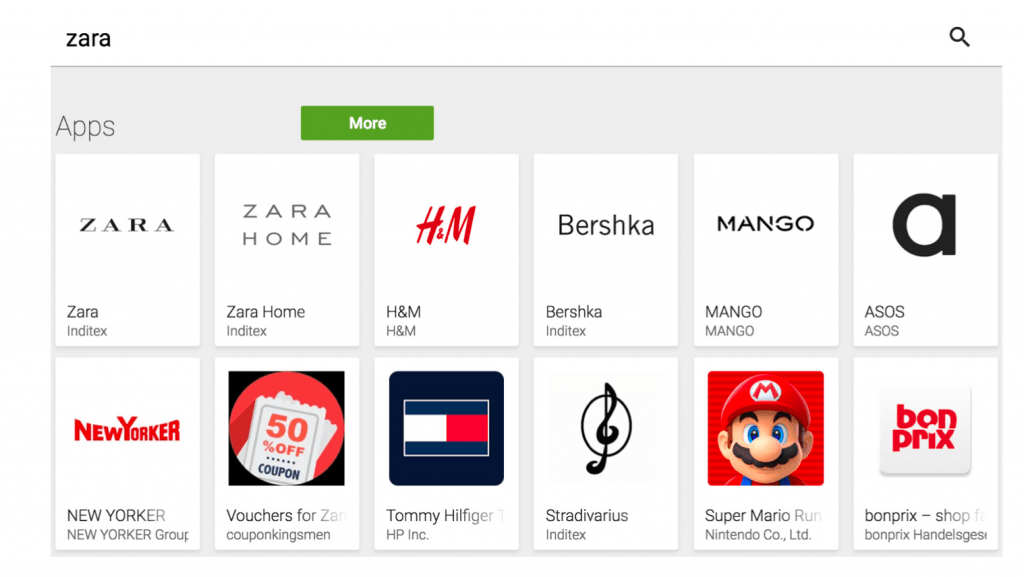 For example, Super Mario Bros featured "zara" in their product ID, which was most likely owing to a naming practise and was not meant to target the apparel brand. The game was able to rank for the phrase on many brief times; this does not necessarily imply that adding a keyword will result in app rankings, but it does show that Google indexes this field.
STEP 4: GROW INTERNATIONALLY WITH LOCALIZED KEYWORDS
International expansion is critical to the long-term success of your software. Localizing your app store listing is an excellent (and inexpensive) method to enter new markets, even if you haven't yet translated your software.
You can add new languages to your app store listing using AppStore Connect and the Google Play Dashboard. The keyword fields for new languages will be similar to those for your primary language.
This can seem frightening with over 51 languages available on Google Play and 37 on the Apple App Store. My advice is to start with 5-10 languages. Here are a few websites to help you decide which languages to start translating for:
T Country-specific smartphone users 
Market share of mobile operating systems by nation 
Which countries spend the most money on cell phones? (if you have IAPs) 
Here are several translation services that may be of use to you in your localization journey:
Google Translate [free] – Machine translation has improved significantly and is an excellent technique to obtain instant translations. You can also send these results to human translators for approval, saving you even more money. 
Freelancer [paid] – Find and hire a translator for a specific language. While this is a much more manual procedure, it allows for an organic back-and-forth as you validate and modify their recommendations depending on the facts you discover in the following stage. 
OR, alternatively, other premium tools. 
Publish your keyword translations to your app's keyword tool for the country it is targeting. This will provide data on Search Volume, Difficulty, and Relevance. You can now design your keyword fields accordingly.
| | |
| --- | --- |
| Language with people who spend money | Language with lots of people/users |
| English, Danish, French, German, Italian, Japanese, Korean, Swedish | Arabic, Hindi, Portuguese (BR), Russian, Spanish |
STEP 5: MEASURING THE IMPACT OF YOUR KEYWORDS
The next step is to measure performance now that your keyword implementations are live. I'll show you how to track your organic growth using your app marketing tool, the AppStore Analytics Dashboard, and the Google Play User Acquisition Dashboard.
Your keyword tool will provide you with the most detailed information for particular keywords. Check the following areas:
Ranking – The rank of your app in the search results for this term. If it is unranked, you must either wait longer or it was considered irrelevant.
Ranking History – View your app's ranking history. This is a very strong perspective since it shows you how you are expanding for that keyword.
Installs – This indicator is provided by some platforms and is a rough estimate of how many monthly instals you are getting from a specific keyword based on its volume and your app ranking.
As new data comes in, your keyword strategy will evolve. While over-optimizing your keywords (making frequent changes) is not advised, you should continually consider ways to expand your keyword network based on the performance of your list.
Apple AppStore Connect Analytics
Apple does not provide particular keyword information. Instead, they present a summary of your performance from people who discovered you organically through Apple Search.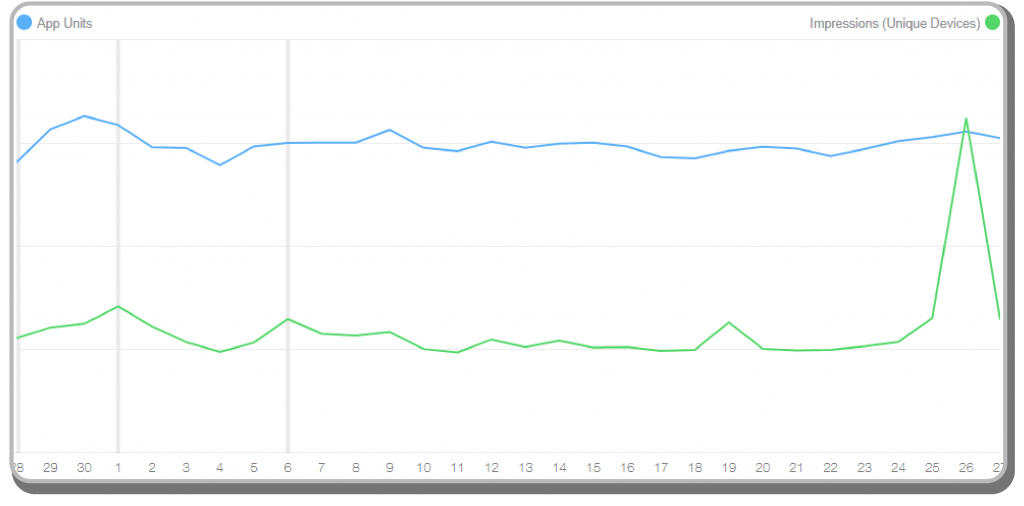 Navigate to the App Analytics Dashboard > Metrics to access this information. Then, apply a filter to display Source Type > App Store Search. This view displays App Units (instals), Impressions (every time a user sees your app), and Page Views (every time a user sees your app store listing) derived directly from organic search.
Using the Compare To feature, you can track your instal conversion rate. This allows you to track the percentage of users who convert from an impression or page view, which is a strong indicator of whether your keywords are relevant and/or performing well.
Large spikes in Impressions can indicate that you have begun keyword ranking for a term. Examine your app marketing tool for any new keyword ranks or rank fluctuations that correlate.
Remember to monitor your performance in specific nations by applying extra filters!
Google Play Store Acquisition Reports
Google Play has a couple of dashboards for tracking your instal performance.
Statistics
The statistics dashboard allows you to track your overall instals. This report can be used to quickly review app installation performance by nation or language.

User Acquisition Reports
The User Acquisition Report dashboard will show you your conversion rate from users that discovered you organically through the Play Store. Scroll down to discover the conversion rate for each nation. This data is a key metric for understanding your overall performance.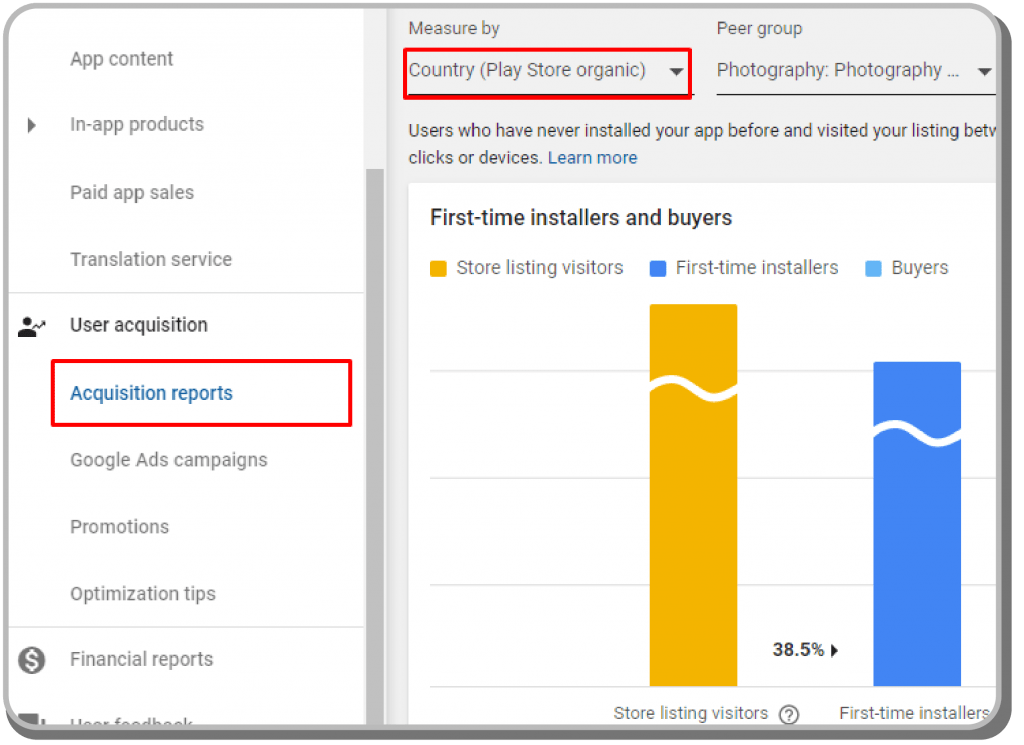 CONCLUSION
Although Google Play app keyword placement differs from the App Store, there are numerous options to impact term ranks and target the correct users through search. Remember to focus on phrases that are most relevant to the app and to consider not just keyword placement but also app vitals and conversion when monitoring keyword rankings.
Keyword marketing is a constantly dynamic process. Continue to monitor the statistics and tweak your app store listing to compensate for underperformers.