Developing an app is just the first step if you want to make money from your app.
The next step is to get your app approved and find potential users to download it.
If your app ranks high in Google Play Store, then getting downloads is quite easy for you. But how do you improve your ranking?
Like the Google search algorithm for websites, we don't know the exact weight of each factor in the Play store algorithm.
However, we do know that there are certain things you can do to improve your Google Play store optimization strategy. If you know how to be in the right place at the right time, you can hit higher Google Play store rankings with the active app hunters waiting for your latest app offering.
The concept of app store optimization or ASO refers to strategies and methods to achieve high app rankings, increase downloads, and improve their KPIs inside the Play Store. For this, Google Play uses an algorithm to identify, and rank high-quality apps for its users. The Google Play store algorithm uses direct and indirect factors that carry different impacts on the success of your app differently.
You'll learn what factors are most significant for Google Play app SEO and how to start optimizing your app's organic traffic from this article. Keep reading if you want to start competing with the big apps and publishers.
How does Google Play Store ranking works?
Google Play Store is the world's largest app store for android devices. It has about 3.5 million apps, 32 app categories, and 77 languages available on Google Play. The number of Android devices over 3 billion makes app marketing extremely challenging. So, it would help if you put in some extra effort to stand out.
Google Play uses keywords as the basic factor to understand the users' search objective. Using the search queries, the Google Play store algorithm checks for apps that meet the list main criteria in order to appear in the search engine results.
In order to rank apps, Google Play maintains an index of apps, primarily based on metadata keywords. An app must be relevant to the keywords in metadata for Google Play Store ranking. Ranking strength also based on other factors such as the app ratings, downloads, conversion rates, retention, etc.
Your chances to rank higher rises with your success in providing Google Play with the correct information about your app and having a quality app with top-notch user experience. 
Now that you What is Google Play ranking and how Google Play Store ranking works, let's delve the ranking factors.
What are Google Play store ranking factors?
Google Play store ranking factors can be classified as direct or indirect. The direct factors are based on keywords and their placements, while indirect factors are not related to keywords. Let's have a look at each of them.
Google Play Store Optimization elements for Comprehensive App Store Listing
As per the Google Play Store guidelines your comprehensive store listing is critical for your app's discoverability.
It consists of these main components:
App title 
Short description 
Long description 
In-app purchase 
Rating and reviews 
Updates 
Android vitals 
Downloads and engagement 
Hidden factors 
Google Play store Algorithms in app stores and app keywords 
Let's look at the important ones:
App title
App title is the most important Google Play Store ranking factor. Make sure to place your most important keywords in the app title and that keywords are aligned with your brand name. The maximum character limit is of 30 characters, so plan carefully which keywords you will use. Keyword placement is equally important, keywords at the beginning of the app title will give more weight, but you also need to ensure that your brand name is also mentioned with equal emphasis and aligned with Google Play guidelines.
Additional tip: Adding emoji to your app title may grab the attention of the users while browsing or searching in the Google Play Store.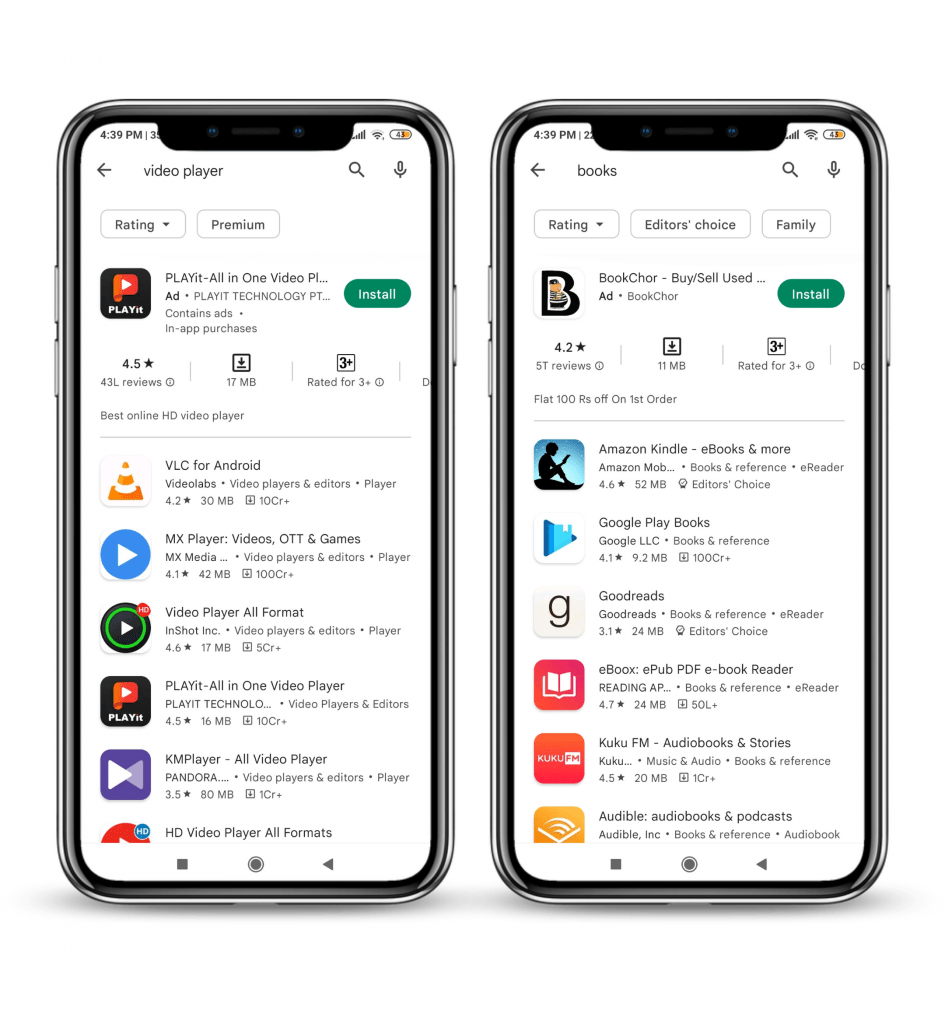 Short description 
The second most important Play store ranking factor is the short description that give better chances for keyword rankings. You have a maximum 80 characters limit to give your users a brief & crisp information about your app.
A well-written short description is the key Google Play store ranking factor about your app, and the best way to use it is to include the core keywords and the main purpose of your app.
Additional tip: Adding emoji in the short description definitely captures users' attention!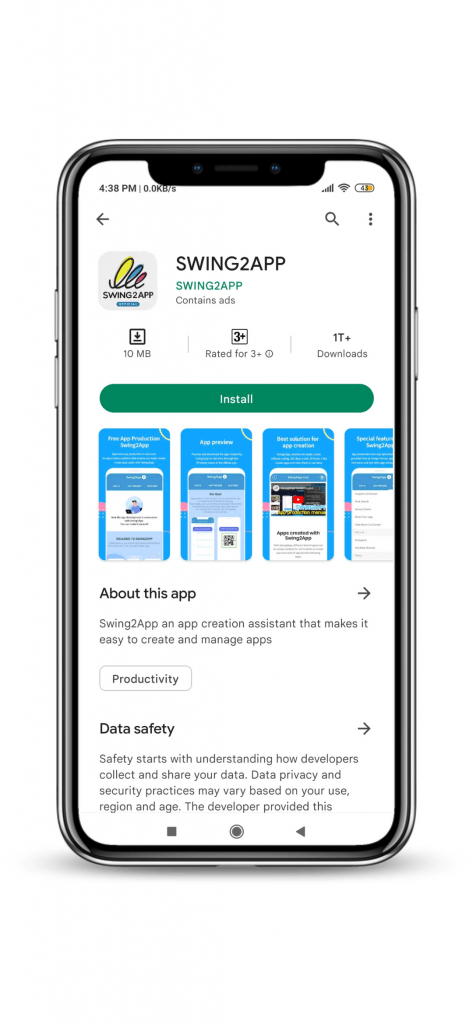 Long description
The description in Google Play is particularly crucial because it is an On-Metadata factor that is accountable for Search and Conversion. You must add all of your app's keywords in this section, along with an appealing call to action.
You can describe your app's functionality, administrative details, specifics about its features, etc. in the extended description, which has 4.000 characters.
Firstly, the description serves the objective to improve your app ranking in the Google Play Store algorithm, therefore it must be searchable. Additionally, it aids in attracting potential customers to use your app, therefore it must be actionable.
There are no written rules about the keyword density, but it is suggested to include the most important keywords in the text several times.
Your description shouldn't include anything that Google considers restricted content.
Content restricted and not allowed on the Google Play Store include:
Violence 
Gambling 
Hate Speech 
Harassment or Bullying 
Sexual Content 
Illegal Activity 
Also, you shouldn't deceive users in the description of your app.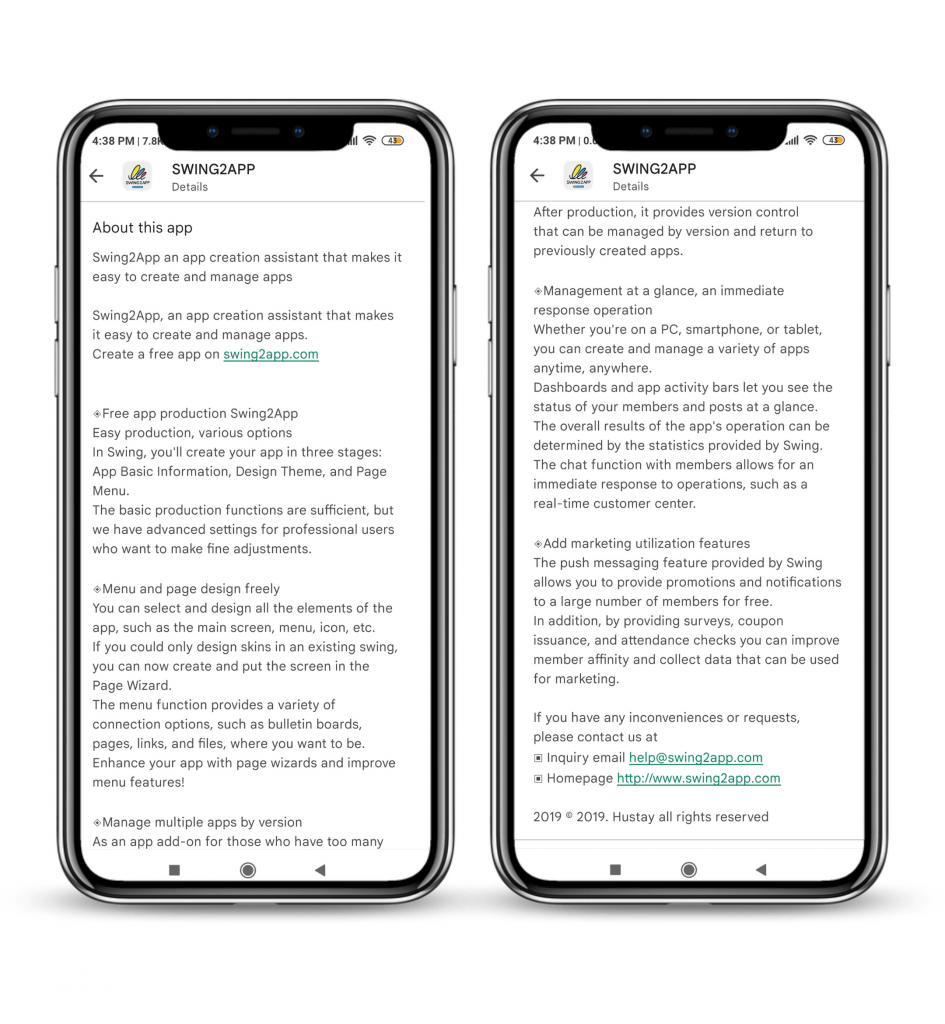 User ratings & Reviews
User ratings are one of the significant ASO factors which are not under your direct control. However, the user experience and your app quality will greatly impact how consumers consider your app. The more satisfied they are, the more probable it is that they will reward your app by giving it a good rating. How many ratings you obtain, and the average ratings are what matter the most for Google Play. The ratings your app obtains have a significant influence on the install conversion rate and are displayed in the search results. You should devise strategies to gain user ratings since they indicate the quality of your app and help it be featured.
User feedback and reviews largely reflect how well your app performs. Users who enjoy your app might very well give you positive feedback, and the Google Play store algorithm indexes the keywords they use to describe their feedback. Even though you have no control over what individuals write, you should always respond to negative reviews and resolve customer complaints. If the dissatisfied customers believe that you solved their problem, they may update their ratings and reviews.
Keyword retention rate
Another important Google Play ranking factor is the app retention rate. When customers download your app then quickly delete it from their devices, it indicates that your app is not the greatest match for what users are looking for. Google also searches for phrases that increase app installations and retention rates. Even if you have no influence over it, you need to keep an eye on your app retention rate. Your app is not meeting user expectations if retention is lower than that of your competitors. At this same point, you should look to improve your app or test keywords that could provide higher retention rates.
Google Play Store App Look and Feel
To improve your rating on the Google Play Store, you'll also need some high-quality visual graphics.
These graphics include mainly:
App Icon 
Feature graphics 
Screenshots 
Icon
An icon is the core of your app and the first visual impression a user will have of it. After searching in Google Play, users see a long list of apps with various names and icons, and at this point they will decide which app to check out and install purely based on app icon and ratings.
Here are some tips to draw attention to the app icon:
icon should fit the theme of your app. 
Maintain the overall look and feel of your app. 
Stand out from your competitors. 
To draw attention, choose vibrant colours. 
Avoid text out of your icon.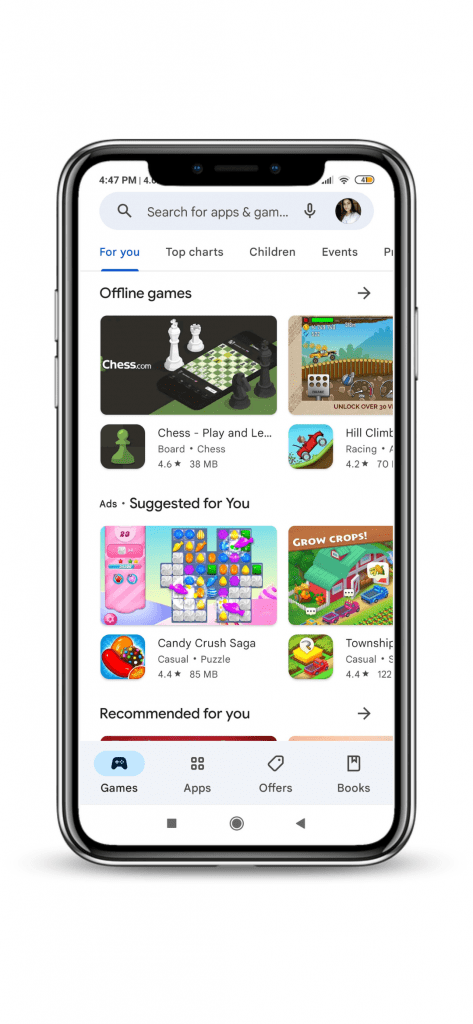 Feature Graphic
Another key aspect for Conversion Rate Optimization (CRO) is the Google Play feature graphic which is displayed before your screenshots if you include a video. The feature graphic is showcased before your screenshots. Additionally, if you included a YouTube promotional video in your app store listing, a Play button with a play icon has been put on top so that users may view your video.
Why is the feature graphic Noteworthy?
Because it is one of the most visible creative features on your Google Play Store listing.
Furthermore, the feature image that appears when you add a video serves two purposes:
It persuades visitors to play your featured video and watch it;
It expresses your app's product offering.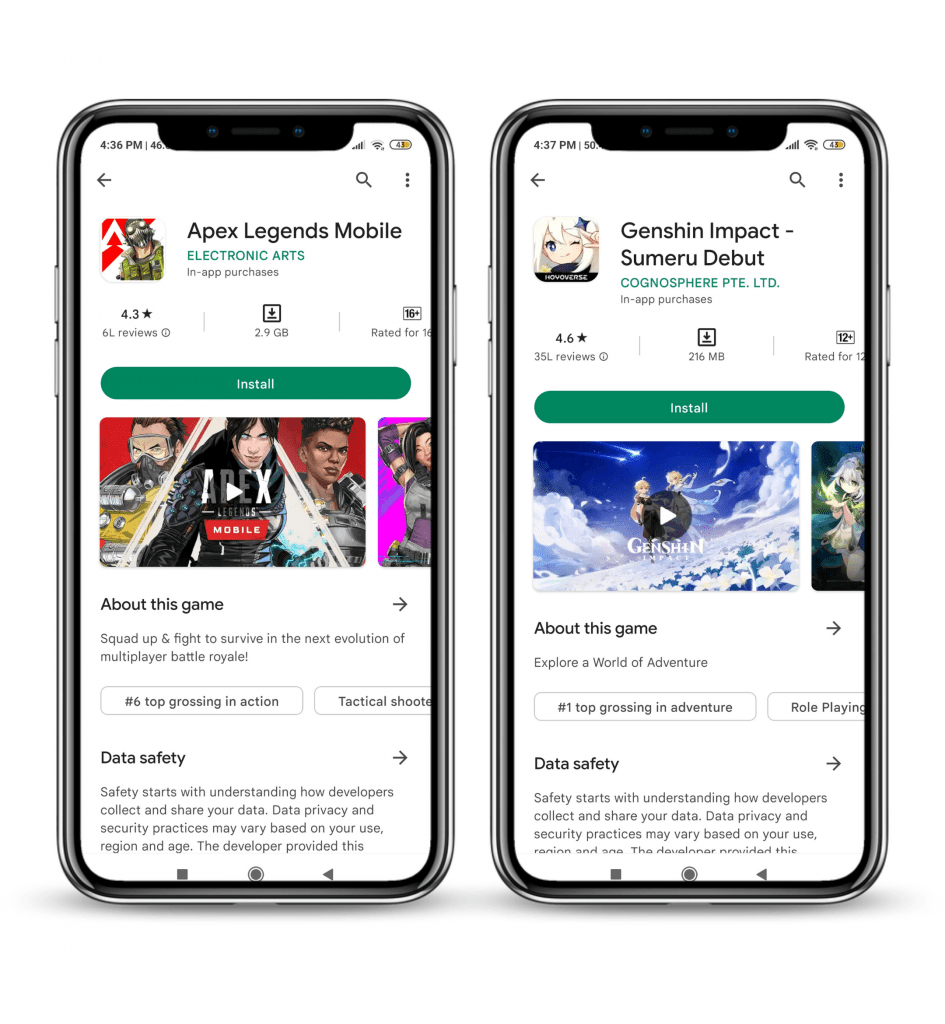 Screenshots
The screenshots don't impact the Play store algorithm, like the icon and feature graphic, but they do have an influence on the installation conversion rate. Screenshots emphasise the greatest elements of your app and showcase how they appear within. It is up to the user at that point to decide if he likes what is shown and wants it, thus it is crucial to capture their interest right away in the first screenshot.
To make your screenshots stand out, use these tips:
For your app's BEST feature or most crucial message, save the initial screenshot spot. 
Don't just present screenshots; complement it with an explanation. 
Choose a theme for your screenshot in specific order and follow it instead of uploading random images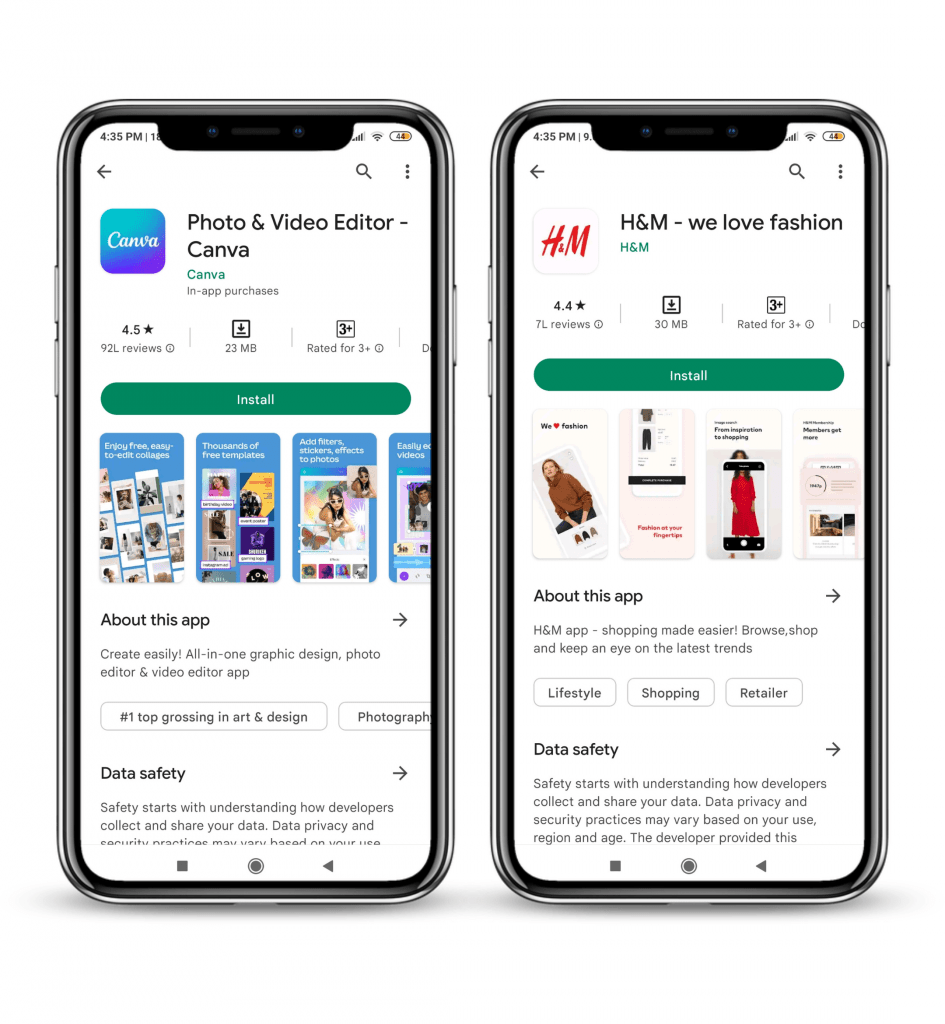 Now you know about the factors influencing your app ranking in Google Play, let's discuss how to use all this information to rank your app higher in the Google Play Store.
How to rank higher in Google Play?
If you want to rank higher in Google Play, knowing what matters is just the first step. You need to develop an ASO strategy to guide you to work consistently & improve your store listings.
We already discussed that keywords add value majorly to app store rankings. For this reason, you should think seriously about the keyword optimization process. This includes 4 main steps :
Research the keywords by consulting industry experts, your team, or via tools. 
Sort and rank keywords according to their applicability, demand, and level of competition. 
Choose where and how you want to target those keywords. 
Track the results and effects of your actions and evaluate their influence. 
Your keyword approach should be used in combination with other strategies, like increasing your conversion rate, for the most impact. To draw consumers and have a significant impact on conversions, your Google Play app's icon, screenshots, and promotional video are crucial. You should test various graphic assets and choose those that will engage users.
Main area of your daily ASO initiatives might be user management. A portion of your resources should be devoted to interacting with your app's users and enhancing their experience.
Since many applications have a global user base, you should think about localising your store listings and determining whether seasonality affects your app downloads. The more relevant your app is to your customers, the more probably you will enjoy better conversion rates and move up the Play Store rankings.
You have a strong chance of getting featured, which can affect both traffic and rankings, if you have a high-quality app that attracts many positive user feedback & ratings. Just keep in mind that ASO demands ongoing work, so if you want to get it into the Play Store, you must continually improve it.
Do paid campaigns influence Google Play rankings?
Paid advertisements are often used by app marketers to supplement their ASO efforts since they play a big part in user acquisition. Could they affect your organic Google Play rankings as well? Yes they can, however only indirectly.
The number of downloads your app receives is a quality indication for Google Play, as we said previously, and downloads affect rankings. Assuming that your paid campaigns are helping to bring you downloads and instals, your app will get an extra boost in the Play Store. The outcome will be enhanced visibility in search results and while browsing.
More visibility will generate more users to your organic store listing, out of which many will bring you organic downloads. Therefore, if done effectively, paid advertising may start a growth cycle that promotes your current marketing initiatives.
Final word on ranking in Google Play
You must first master the fundamentals in order to improve your Google Play rankings. Work on your ASO approach first before anything else. Establish a keyword optimization process where you research, apply and test keywords which have search potential relevant to your app.
Also, enhance the Play store visuals to achieve better conversions from impressions you get in search results.
Be proactive about improving your app ratings and responding to user reviews. A helpful attitude will increase your chances of receiving high ratings. You will have a much better chance of getting featured, improving your Google Play rankings, and getting more downloads once your app has accumulated many high ratings.
Lastly, you need to know what works in your industry and why your competitors rank well. Identify your top competitors' ranking tactics and why they rank highly. To get new users, you should target long-tail keywords with enough search volume. For keyword optimization, competitor analysis, store listing updates, and user management, make sure you have the right tool in place.