Most forward-thinking businesses are looking for top mobile app production companies to remain competitive in a cut-throat environment due to the growing demand for applications.
In order to compete better, every enterprise is implementing new innovations. Hence, it is not the only thing that you can do to deliver an app to make substantial money. There should be something extra for the corporation to raise more.
Businesses for app development are no longer restricted to national borders. By growing into foreign markets, international apps help companies accelerate innovation. They allow companies to reach out to the global community.
According to Statista by 2023, mobile apps are projected to generate more than 935 billion U.S. dollars in revenues via paid downloads and in-app advertising. The statistic shows the immense potential of mobile apps and their growing worldwide use.
Find more statistics at
Statista
You've launched a mobile app successfully, and you want to grow globally now. It will seem simple at first look, but in fact, every market has different needs, and it is not sufficient to only translate the text in the app.
Some of the advantages of the worldwide introduction of your app are: access to a larger base of clients, allows the firm to support more users with its approach, access to international opportunities for investment, diversifying opportunities for businesses and much more.
Hence, if you have a fantastic app, extending your presence internationally is a great way to gain more profits. Here is what you need to hear about how to internationally sell your app.
Important points while launching your app internationally
Research the global market in advance
The most imperative component is the analysis before making any significant decisions. Prior to making the leap, business owners are expected to research the industry they choose to go through. It could be a part of a thesis to visit the country to get an understanding of their traditions and how they do business. They would be more competitive if the owner is comfortable with the business.
Study involves evaluating the competition. With multinational business expanding every day, working internationally ensures that a company would have both foreign and indigenous rivals. Study the global market, to make sure that you can do something better and new for consumers.
Research your target countries
Any major project begins with in-depth research, and so research is a must because there is an audience involved. It is the first step in investigating and evaluating the countries in which you want to start your software.
Understanding the culture of a nation when extending the software is important and not all applications in all states work well.
For example, for certain Asian nations, an app that includes adult content would not be suitable.
To consider whether or not the idea of your app correlates with the ethos of the business, you need to analyze extensively. Once you are assured that your app is good for the sector, then schedule your marketing activities accordingly.
Modify the app to fit in different countries
You can localize the app according to their specifications now that you know the diverse cultures of your target countries. When you reach a new market, you have to tweak the vocabulary of your software, the new user base can align with UX/UI interface, explanations, and other important elements.
You need to twist your app concept, definition, vocabulary, and other critical elements as you reach a new market, so that they resonate with the new user base. Both these components lead to the rating of the product search on the app stores and search engines.
Promote your app globally as per the country
In the local app stores and markets of countries all over the world, you must advertise your app. There are numerous popular app stores in several countries and local app service providers that you can use to distribute the app locally and push further downloads.
For example, Google Play does not work in China, so all the developers have switched to Baidu. Baidu is a global technology corporation from China. App marketing has to be applicable to the channels of your selected region. Otherwise, you would not be allowed to use the app on a local basis.
Integrate social media
Do not forget to have your app with social media logins. This makes it easier for users to log, which allows for easy data collection without any added hassle. Nevertheless, make sure that the countries and their society are localized to these social networks. For various countries, define the most important social media sites and offer login options accordingly.
With swing2App you can share via Facebook, Instagram, discord and much more.
Check the legalities in advance
Every country has different rules and regulations for international business, and it is practically not possible to know all the details. Hiring a local legal support will surely help you in long run.
Especially, if you are tapping into new market or which is prone to face legal issues you must brace yourself in advance with sufficient knowledge and adapt your app according to the country you want to launch in.
Hire a local team
Internationalization is the design and development of a mobile app to target markets who differ in community, area or language, allowing easy localization. We don't care about the source code or the content of the app anymore; we talk about all that affects the app. Ideally, for consumers, local language alternatives are available for the website, social media and so on.
You need a committed staff that can work at a provincial level in order to achieve this efficiently.
Definitely, creating a team abroad is not a walk in the park. It's a huge commitment and it can demand precious energy, but the returns can be enormous when performed correctly. To go totally international, you need Localize your company website or blog, social media marketing, and customer service support.
With Swing2App you can make your app in the language you want
With Swing2App you can make your app in the language you want but only single language.
You can change all the dynamic text from the text management option under the services on Manager page of Swing2App.
"Manage Text" is a management page where you can check all the phrases and messages displayed and used in the app.
The content phrases used in the app can be edited directly by the administrator and can be used by changing to a foreign language.
Therefore, you can check all the phrases used in the app on the app string management screen.
All you need to do is download the entire app string management file as excel sheet, where you can edit text in your preferred language and then simply upload it again.
To change the menu names, you can simply enter the names in the language that you prefer and your app will be ready in another language, whatever you want.
We have expanded the access rights that administrators can directly edit, such as changing everything or finding and changing only the phrases they want.
Please check how to use it below.
For example, here we have created a Korean version of the English App:
These menu names can be change into any language by simply inserting names in that language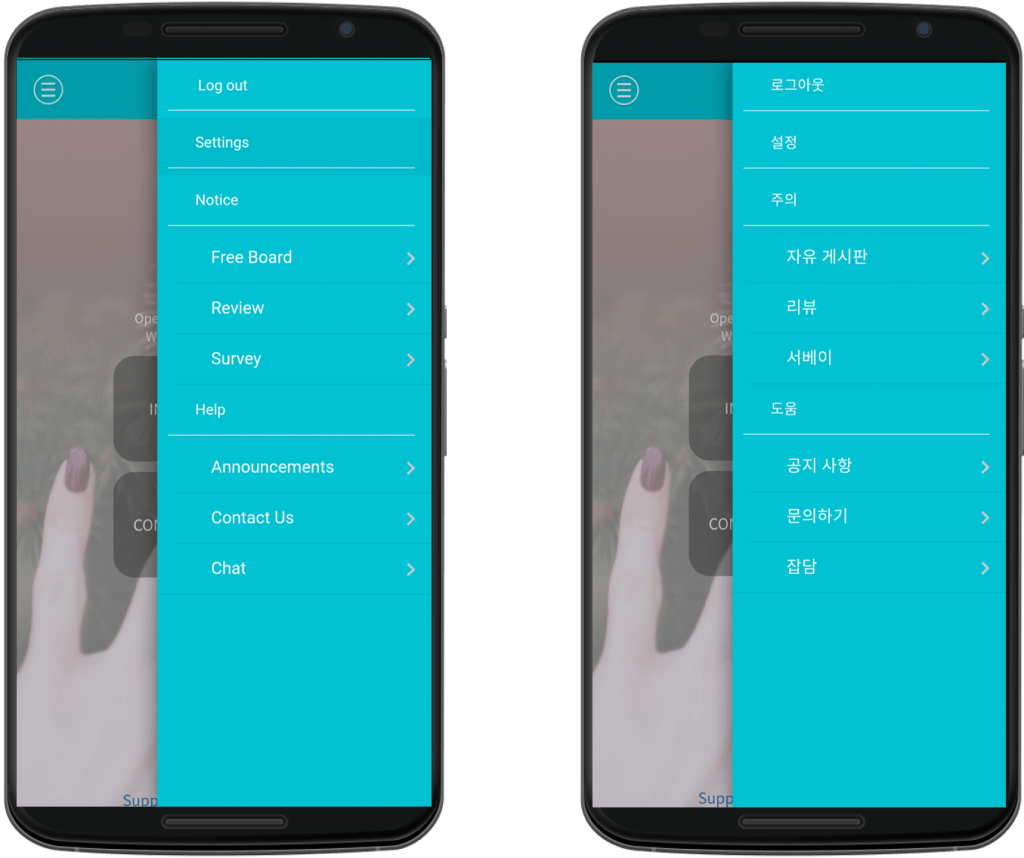 These pop ups and notification language is changed in app string management.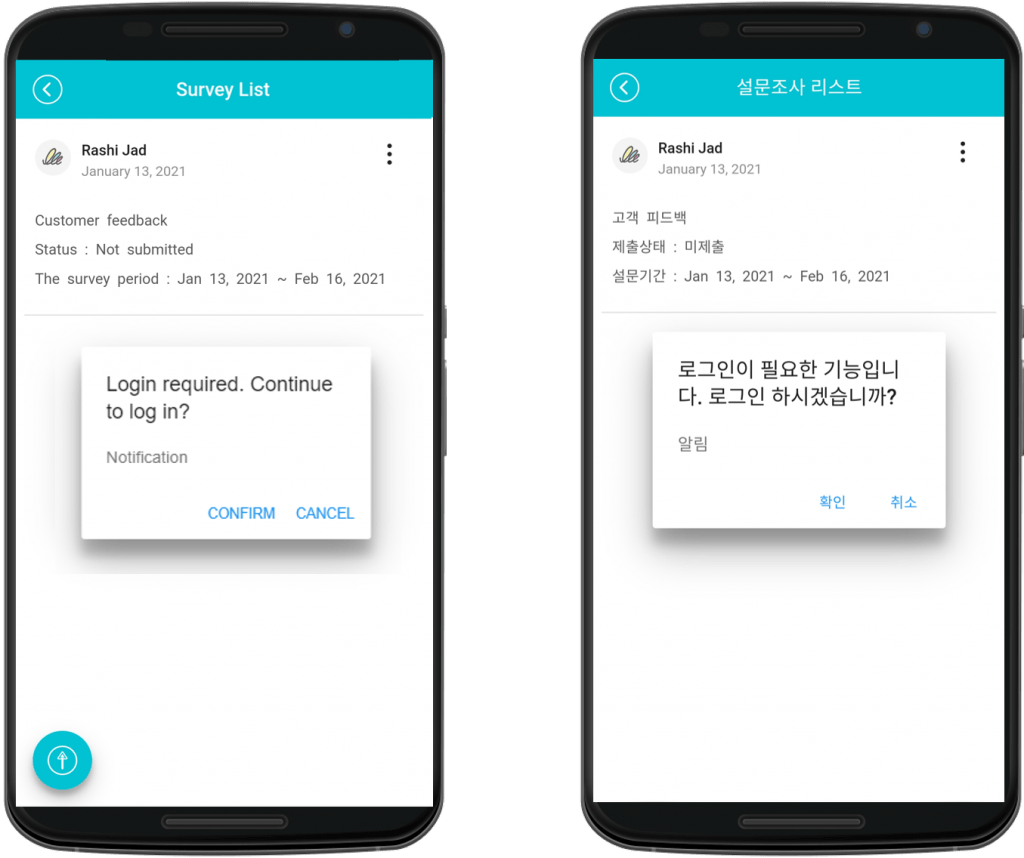 Conclusion
Having said all this, going global with your app is not as east, there are several risks involved from cultural mismatch to legal issues. You need to make sure that your app works with different risks linked to your products. The best way to do it is to measure the KPI metrics in order to monitor the performance of your app. These KPI metrics help you to understand which areas need improvement in your app.
Globally, promoting an app can be a challenge. But, if you create your app using Swing2app, it can happen easily, as it provides various customization features that you can use to customize your app. Promotion and optimization of the app is also very convenient with Swing2app.