Are you ready to create your own web app to skyrocket your business?
In today's world people spend many hours surfing the Internet, visiting different websites. It may be for work or education, although most of the time it is just for leisure. For today's generation any concern can be solved by means of few simple clicks. We have apps for everything, the app revolution and, and to be precise, the web app development revolution, has brought everyone closer to a world in which new technologies are growing at a much faster pace.
There is a rise in web app development in recent times because it is convenient, time saving and affordable for the app developers. So, the demand for free app builder has also increased because amateurs who want to create an app don't know how to code an app.
If you already have a website for your product or service, you do not have to start creating your app from scratch rather you can simply transform your website to both android and iOS app.
You might be wondering that 'why creating app from website is better that building app from scratch?'
ADVANTAGES OF CREATING WEB APP OVER CREATING APP FROM SCRATCH
So here is my opinion why creating app from web app is better as compared to building app from scratch:
EASY SETUP It takes a couple of minutes to setup a new user; provide a URL, username and password and they are away.
TIME SAVING You already have a fully functioning website for your product or service, so all you need to do is use your website to create an app. You have already put sufficient time and effort in your website, so there is no point in wasting your time by creating a new app when you can simply convert your existing website to an app within few minutes. Also creating a new app will you take you at least few months unlike web app which you can develop in much less time.
COST EFFICIENT Do you know creating app from scratch may cost you fortunes depending upon the complexity of app. While as the cost of converting your website to and android or an iOS app is very less comparatively.
STORAGE INCREASE With the availability of the cloud, storage space is virtually infinite.
ALWAYS UP TO DATE As everyone is accessing the same version of the web app via a URL, they will always be accessing the most up-to-date version of the software.
USERS ARE ALREADY FAMILIAR WITH YOUR WEBSITE With responsive design, it is a lot easier and cheaper to make a web-based system user friendly across multiple platforms and various screen sizes.
CREATING WEB APP USING SWING2APP
In this blog, I am going to talk about how to make an android app from your pre-existing website using SWING2APP in few simple steps.
SWING2APP is Korea's largest app production service, it is an app creator providing wide range of services ranging from production request to apk download. SWING2APP is popular app builder that can build apps for both Android and iOS devices.
It is an application development platform by which anyone can develop their own iOS and Android app. The software includes Maker(V2) tool with prototypes, templates, and other features by which users can easily customize apps using different colours, themes, user interface etc.
The content editing tools in SWING2APP allow developers to add and delete content in real-time. It offers different features including posts, bulletin boards, multiple chat rooms, submission to official app stores, custom domain, version tracking and more. Moreover, the platform uses AWS cloud system, enabling organizations to handle daily data backups, safeguard app users' information and securely transfer data using HTTPS.
If you already have a website, there are tools available on SWING2APP that can turn it into a native Android app in no time.
The apps you build with it will have support for push notifications, links, SWING2APP analytics, and much more.
If you need best & cost-efficient web app within the next couple of minutes, SWING2APP is for you.
Let's check out how you can create your web app with SWING2APP.
All you need to do is sign up for Swing2app and then using their Maker(v2) tool enter basic details of the app you want to create. Then you must select a prototype for your web app, SWING2APP provides 2 types of prototypes for web app development.
The first one is push only which is for those developers who not only want to create their web app, but also want to be able to send push notification in the app.
The other prototype, Web View only is for those who simply want to convert their website to an android app without any push notifications.
After selecting prototype, you just have to enter your website link & the process in done.
1.Go to the maker(v2) and simply enter your basic app details in the App Basics option, then save it.
CHECK OUT THE IMAGES BELOW FOR REFERENCE: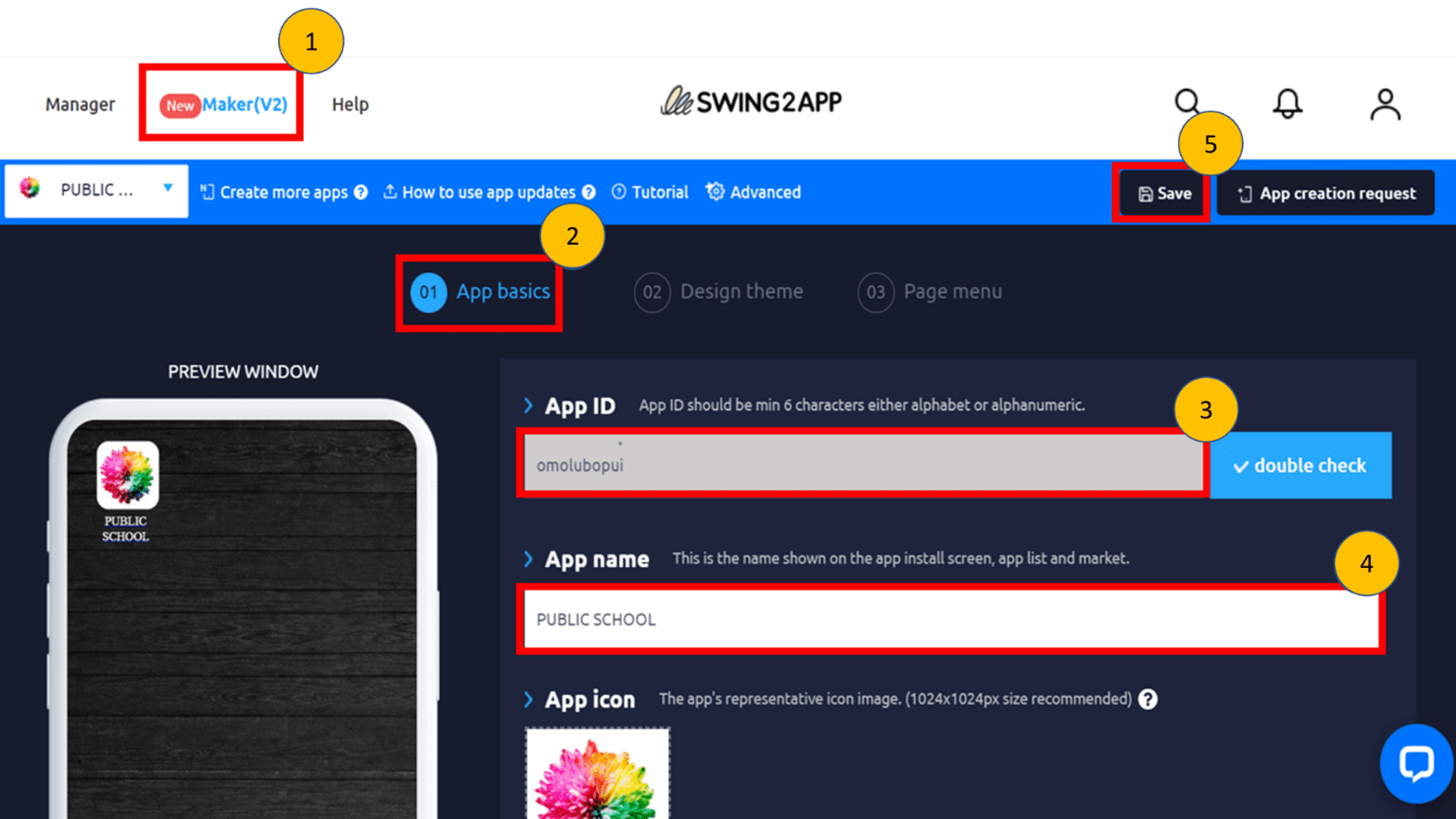 2.After entering the basic details of the app you want to create, go to the design theme, and choose your prototype for your web app.
If you want to send push notifications via your app you can choose Push only prototype, in this prototype you may or may not use toolbar as per your choice.
If you choose to keep the tool bar, your app will show a toolbar at the bottom, just like this image.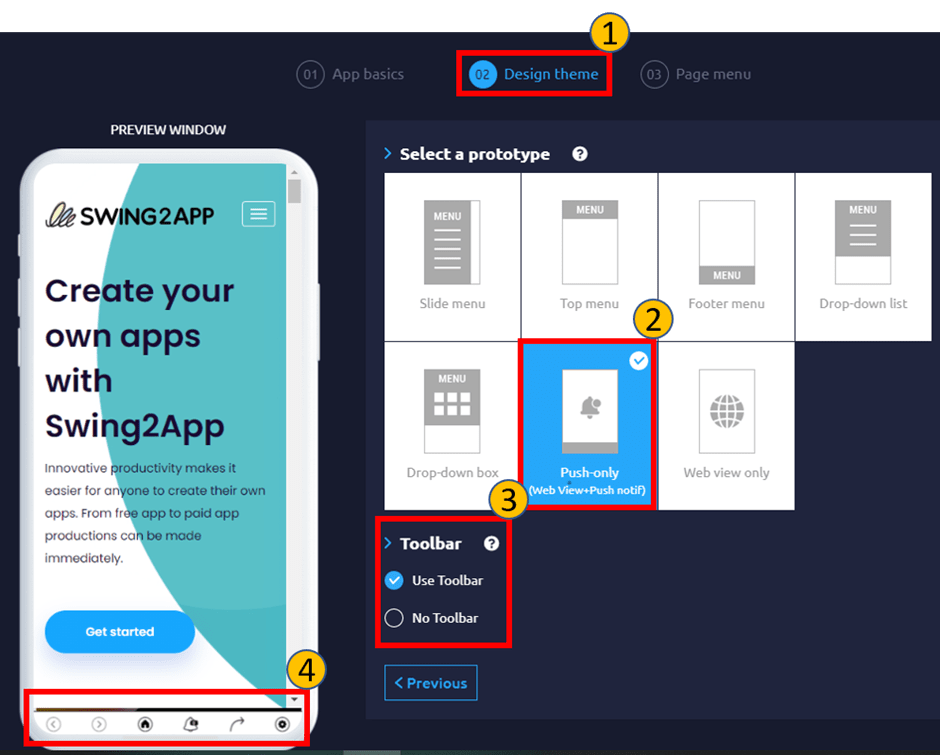 3.If you don't want a tool bar simply select no toolbar , then your app will have no tool bar at the bottom & will be like the image below.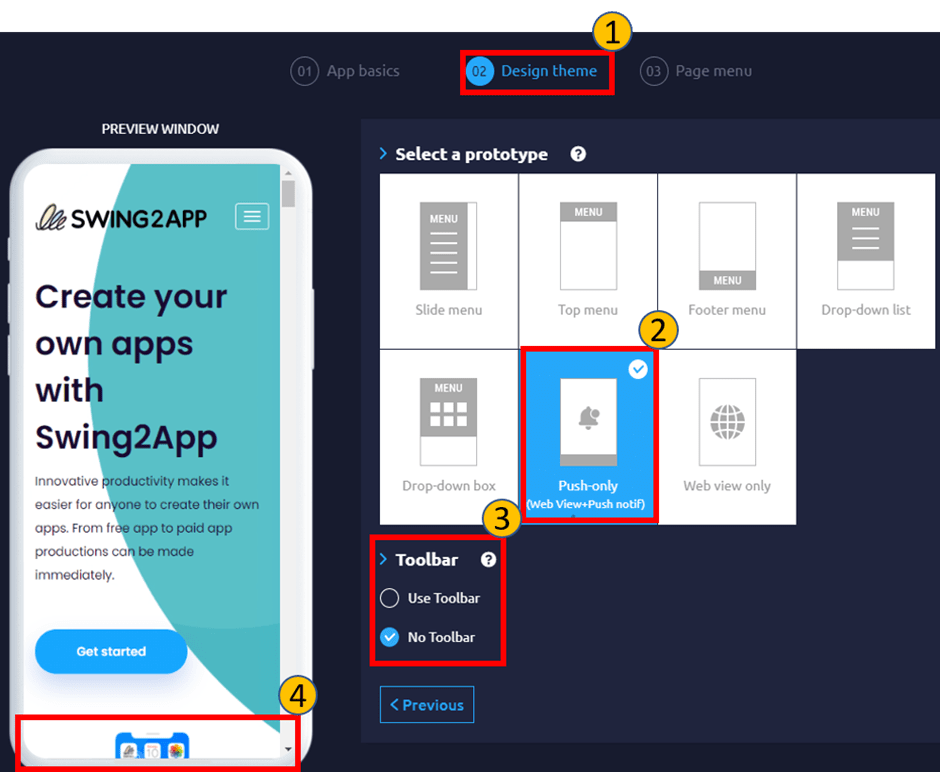 4.If you only want to create an android app without any push notifications, then select Web view only prototype. In this, you wont be able to send any push notifications.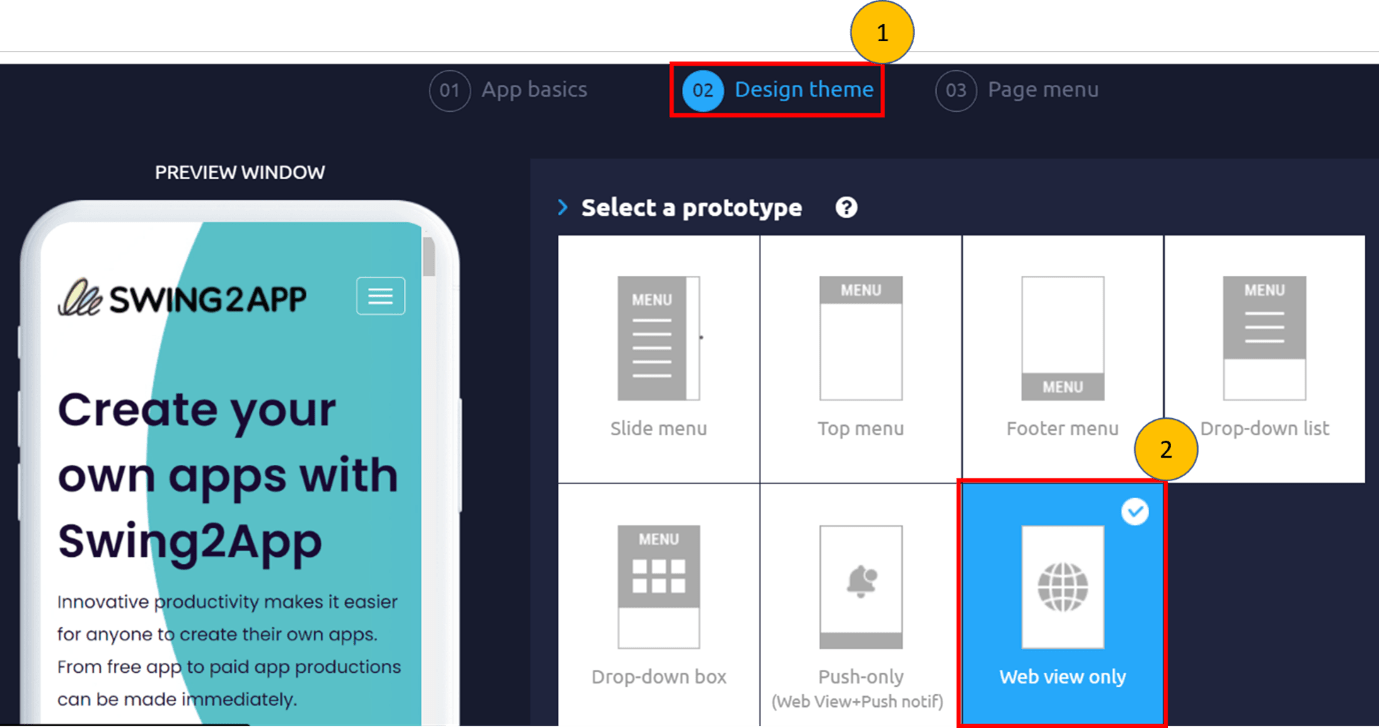 5.Once you have selected your prototype, now it's time for the last step for app creation.
Go to the Page menu, enter your website and simply save your app.
Now, to download your apk and to preview, download your app click on app creation request & a request would be sent from your side to download your newly created web app.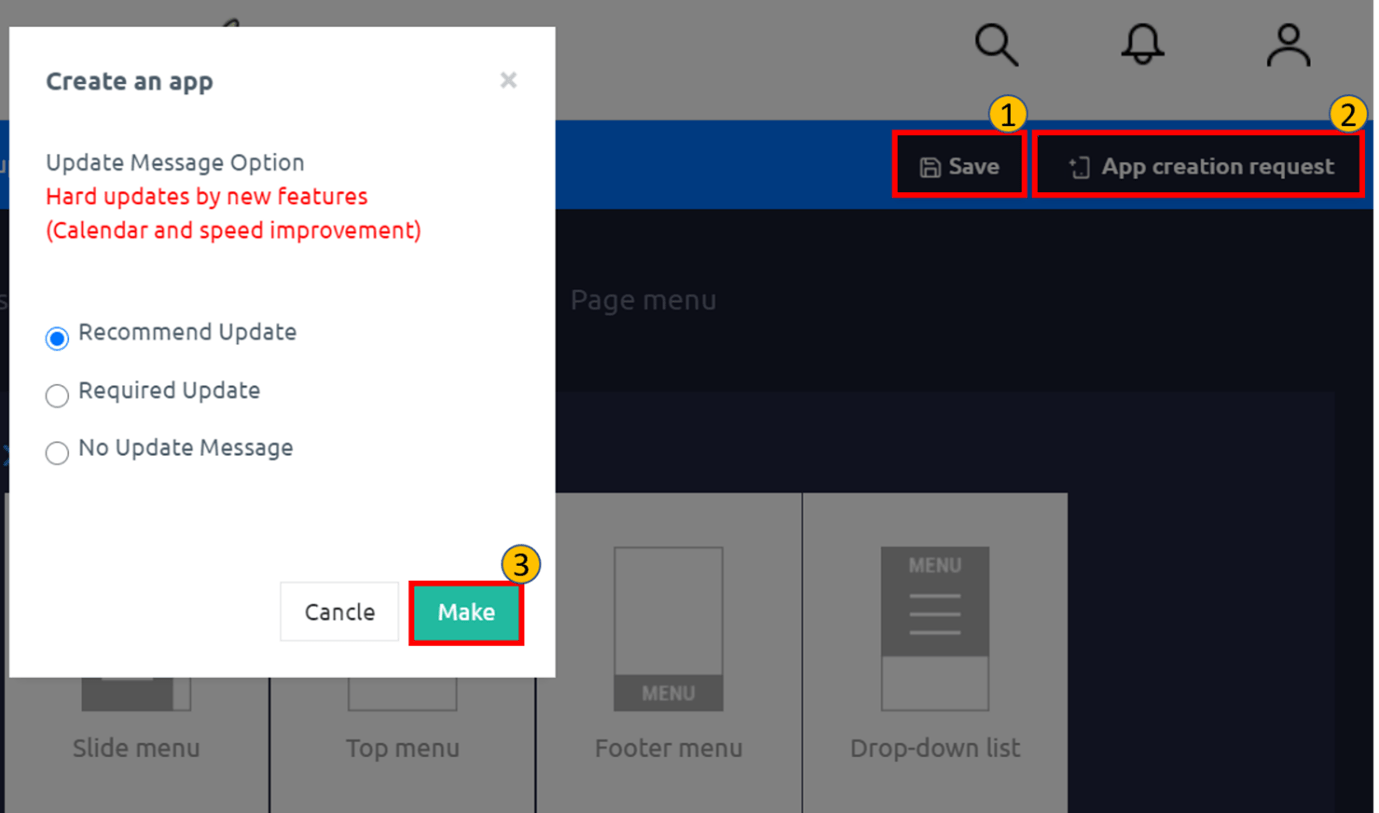 YOUR WEB APP IS READY IN LESS THAN 5 MINUTES!!!
Once you have created your app from the app maker you can simply request your apk by the app creation request option OR you need to download SWING2APP app in your phone where you can easily request for apk as well as preview & download the app that you created.
CHECK OUT THE IMAGES BELOW FOR REFERENCE:
After 10 minutes of the app creation request , you will receive email by swing2app where you can download your app in a single click.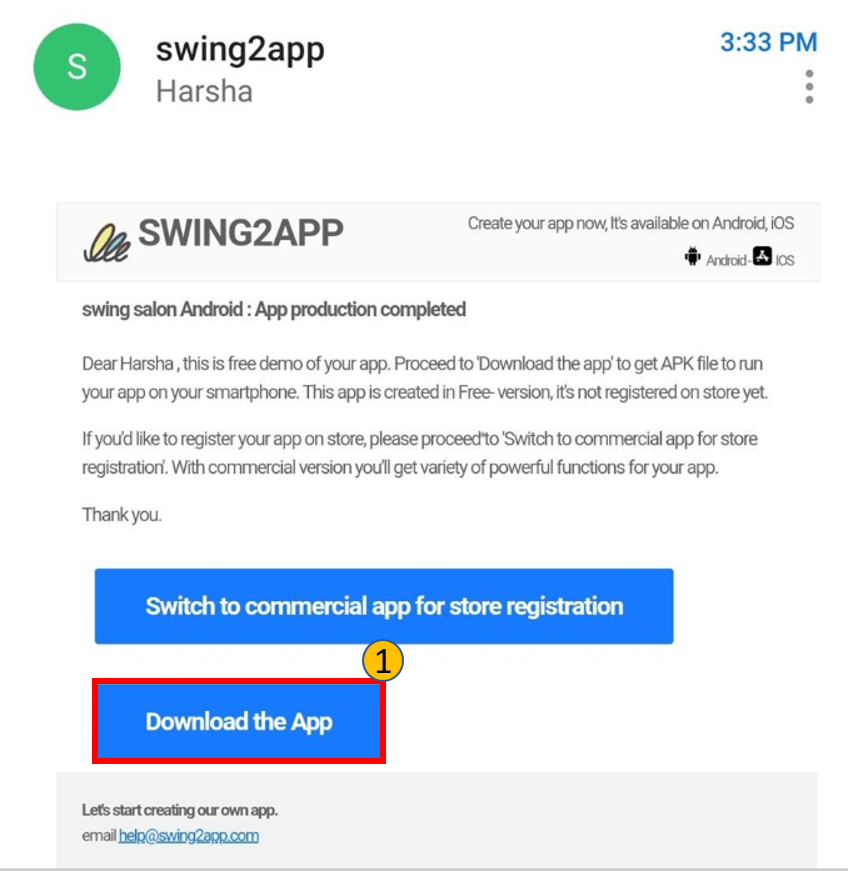 After downloading your app, you simply have to install it just like any other app.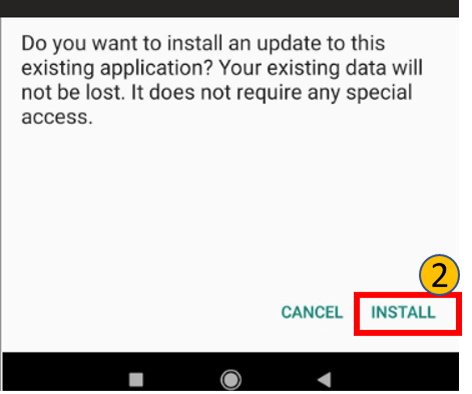 Once you click on install, your app will be installed, and you can preview your app.
You can also visit: https://support.swing2app.com/documentation/quick-tutorial/how-to-make-app-from-mobile-website/
SO NOW YOU HAVE SUCCESSFULLY CONVERTED YOUR WEBSITE INTO AN AMAZING APP!
Also submitting your app for app store is as easy as creating it. You just need to submit a web domain registration verification certificate and your business registration certificate, that can prove the ownership of your website.
PRICE POLICY
If you only want an app and no push notification, then you can opt for unlimited web view plugin $300 package & if you want push notifications for your web app then you will have to pay $33 per month.
BONUS POINT
With Swing2app web view app you can send unlimited push notifications to your users.
Also, you can add tool bar to your web app & process from creating Web app to installing it has absolutely no coding involved in it.
CONCLUSION
Web-based applications are easier to develop, more useful for your users, easier to install, maintain and secure, and easier to update as you grow. The most important thing is that SWING2APP app maker truly provides a codeless experience. It is definitely the best free app builder because of the wide range of services available.
If you'd like to find out more about creating web-based applications with swing2app, visit the website: https://www.swing2app.com/