In 2019, the size of the world market for cosmetics was $532 billion. And what is more, in the coming era, projections have shown promising progress. Development is linked to new patterns. To cater to trendy Millennials and Gen Z, these are openness, sustainability, and targeted pricing.
Furthermore, the mobile apps industry is also booming as people prefer apps over going personally to the store for booking appointments or claiming their loyalty points.
A major turn-off for any service industry, especially the salon industry, is the lack of good management. You end up losing clients, and we are sure that's not what you want. Therefore, to get better traffic in your salon, a stable mobile application solution can be very helpful.
In addition, during these difficult times, individuals avoid going to any crowded location. In such a case, if you give them appointments and services when they are sitting in their houses, it will be best. How?
The response is the same again, with an application for a salon!
Why your salon needs an app?
On the app platform, when the services are streamlined, it helps you to make the whole management productive and smooth. After all, in order to relax and relieve the tension they deal with in everyday life, people hit the spa centres and salons, and when you can give them the same, they are sure to be happy and return.
Moreover, you can't disregard the fact that the highest number of your customers googling the best salon nearby is the first thing today. And then, possibly, according to the ratings, availability, and cost, choose one. So, if you don't get enough customers, you're probably losing out on targeting local clients!
Let's delve into the best explanations why and how your beauty salon mobile app will fix your troubles.
1.Reduced Waiting Time
The major benefit why a mobile application is needed by your beauty and hair salon, is that it reduces your clients' waiting time. We all know that people hate to stand in long queues, even if you give massive discounts, they will be pushed away from your salon due to the long waiting list. What should be done, then?
Your customers could book an appointment on the go with a beauty salon application! They don't have to wait hours for the call and book appointments to come. In addition, you can also handle your inventories, and even your customer information in no time if you opt for an on-demand salon app.
2.Better Management
For a salon company, it is important to handle salon management effectively. Users will see all of your beauty items in a specific menu with a mobile salon app so that consumers can browse and shop freely right away. It also improves the confidence of your customers in your service. Not only that, but a mobile salon app also enables the salon owners to control inventory and automatically monitor it too.
3.Mobile reservations
Customers can use your app to access mobile bookings that are directly connected to your calendar. While on the go, they can search open slots and book appointments quickly. This saves some time on the phone for your workers, and makes it easier for clients to easily get an appointment.
4. Communicate Instantly
Communication is yet another significant aspect of any salon company.
Communicate with push notifications with your customers via direct messages to their individual mobile device. You can sent personalized promotional programs to your customers too.
This will increase the number of customers visiting your salon or store, resulting in higher sales and a better overall user experience.
5. Get more customers
If customer loyalty is at the top of the priority list, you can not only maintain your existing customers, but also draw new ones. Referrals from happy current users help to bring in traffic.
This directly leads to increased sales because individuals are more likely than searching for one on their own to use a salon product or service that has been referred to them.
6. Loyalty And Reward Programs
With applications, you are 24*7 linked with your users and can represent them on a daily visit with appealing loyalties and rewards. When they join a certain geolocation, you will draw your users with allegiances! If consumers come to know about these enticing offers, they will stick to business. So In-App loyalties can be beneficial for your company to reward your daily clients.
7.Effective display of your service packages
With an app you have the ideal opportunity to show the best service offerings to your clients on a regular, weekly or monthly basis to draw the interest of the masses with your reduced audience and successful use of social networking sites.
For your beauty and salon company, a user-friendly and attractive mobile application will be able to engage your audience effectively and push your salon services to use them wisely.
You can display your services with detailed information and price packages, so that users can decide easily what service or package they want.
What benefit you can provide to customer with your own salon app made with Swing2App no code app builder
Now you are fully aware why your salon business needs a mobile app, having discussed them above. However, you might be wondering how to make such app that delivers the best output but does not cause a hole in your pocket, and your concern is justified.
Worry not, with Swing2App you can create a fully functioning salon all with all the essential features that will help you to stand out in the business.
Check out various benefits that you can provide your customer with your own salon app made with Swing2App .
1.Membership function
You can set up a membership form for your prime or VIP customers, so that you can get their details like birthday, mail id, phone no. and other thing you want to know. You can send personalized push notifications to your customers on their birthday, for special discount or whenever you want to.
User will get all the push notifications and discounts on the app and can avail the offer easily with few clicks, this benefits costumer as well as your business.
2.Loyalty Card
With Swing2App you can also provide loyalty card in the form of stamps with attached coupons, which they can avail when they visit your salon.
The biggest benefit for the customer is that they won't have to carry unnecessary paper coupons, when they can get all the stamps and coupons on the app easily. In this way they won't miss out the offers provided by you. However, as in case of paper coupons, it might get misplaced so it would be of no use for the customer.
3.Reservation
Customers hate waiting and being able to reserve an appointment well in advance solves this issue quite well. All they have to do is to book their reservation on the date and time they want, once approved by your salon app admin, they can visit your salon at the scheduled time.
This will not only save customer's time but also time of your employees spent on maintaining the appointments manually.
4.Details about your services and Packages
An app provides a detailed guide to your customer, they can view and choose any of your packages at the comfort of sitting at their homes. It helps them to decide well in advance that what package or service they want, they don't need to visit your salon for such trivial enquiries.
Moreover, having a beautifully designed service and package page ensures that customer is able to understand your service prices, benefits and details easily.
5.Location
There may be many salons with similar names in a particular area, which might confuse the users.
Having an app solves this issue too, having a google map enabled in your app makes your salon easily accessible to your customers. All they have to do is a click, and they will get the precise location.
Brief total budget and process of making app with swing2app
By now you must be clear why your salon needs an app, so now let's see how Swing2App helps in creating your perfect salon app.
Swing2App provides all the features that are required for church app as mentioned above, you can create event calendar, manage reservations, send unlimited push notifications, add audio, video and image files as well as membership forms all without a single line of coding. So, with Swing2app you can create your salon app on your own, moreover, you have constant support from Swing2App whenever required.
You must be wondering that will all these app feature app creating cost must be huge.
But no, with Swing2app you can create your app for free, as all the basic templates and designs are absolutely free along with various features like calendar, maps, chat rooms, and many more bulletin boards.
However, to commercialise your app, you will have to purchase paid app plans, but worry not, the costs are quite reasonable and don't tell upon your pocket.
You can start with as less as Basic Paid app plan worth $33/ month or if you want to invest for long term you can get discount if you purchase 6 monthly or 1 year plan.
Swing2app also provides store upload facility, that means we will upload your app on Play store or Appstore wherever you want, for this you just have to purchase store upload tickets.
Play store upload ticket is only worth $5 and Appstore upload ticket is worth $20, all these plans and tickets are for single app only.
That means if you wish to invest the least you can do that with Swing2App.
If you want to create a basic mobile app and upload it on Play store as well as Appstore, then the minimum cost that you need to pay is:
$33/1 month -Basic paid app Plan
+
$20/1 app Appstore developer ticket
+
$5/1 app Play store upload ticket
TOTAL= $38
However, you also need to create google app developer account, which will cost $25 one time.
Hence, the grand total would be $63 for first time, and then $33/month and so on.
Checkout various apps features provided by Swing2app which can be used for various business or services:
Checkout what all you can create with Swing2app:
Here we have created a basic salon app with various essential menu pages attached.
Home page, with all the menu pages linked and Program Menu page. On program page customers can view various programs provided by your salon.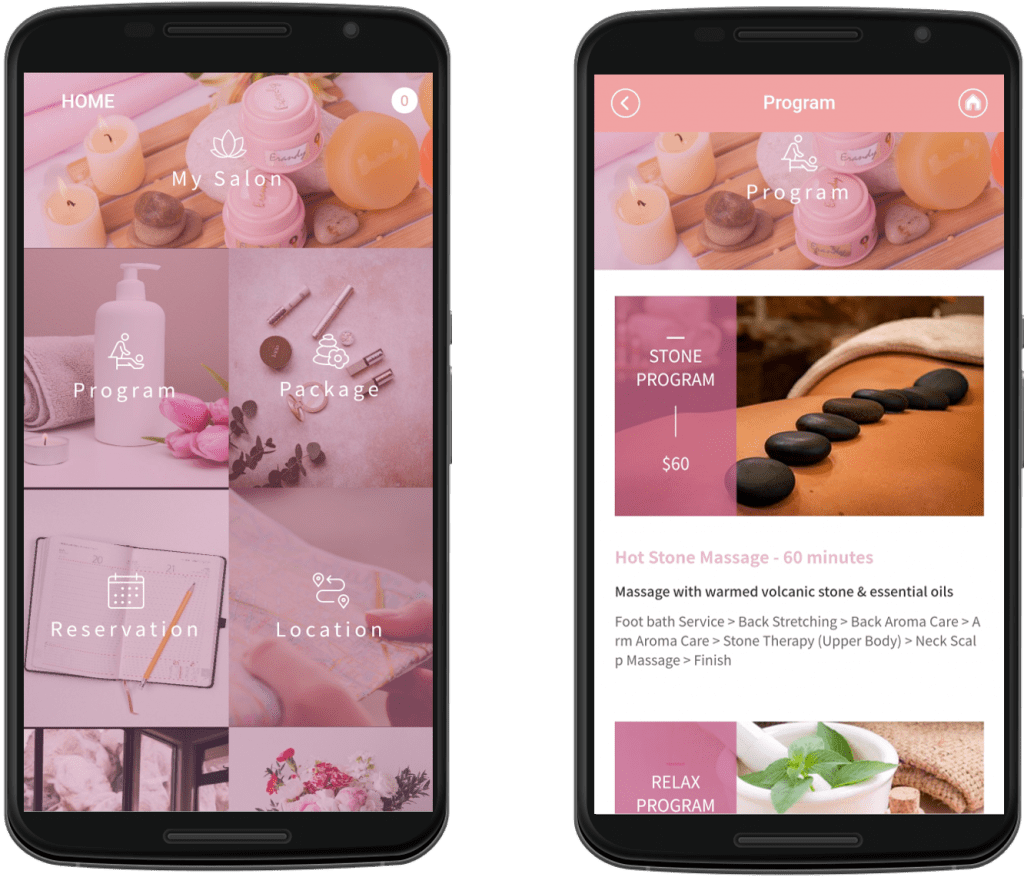 Packages menu displays various service package provided by your salon and the location menu helps the customer to find the location of your salon via google maps.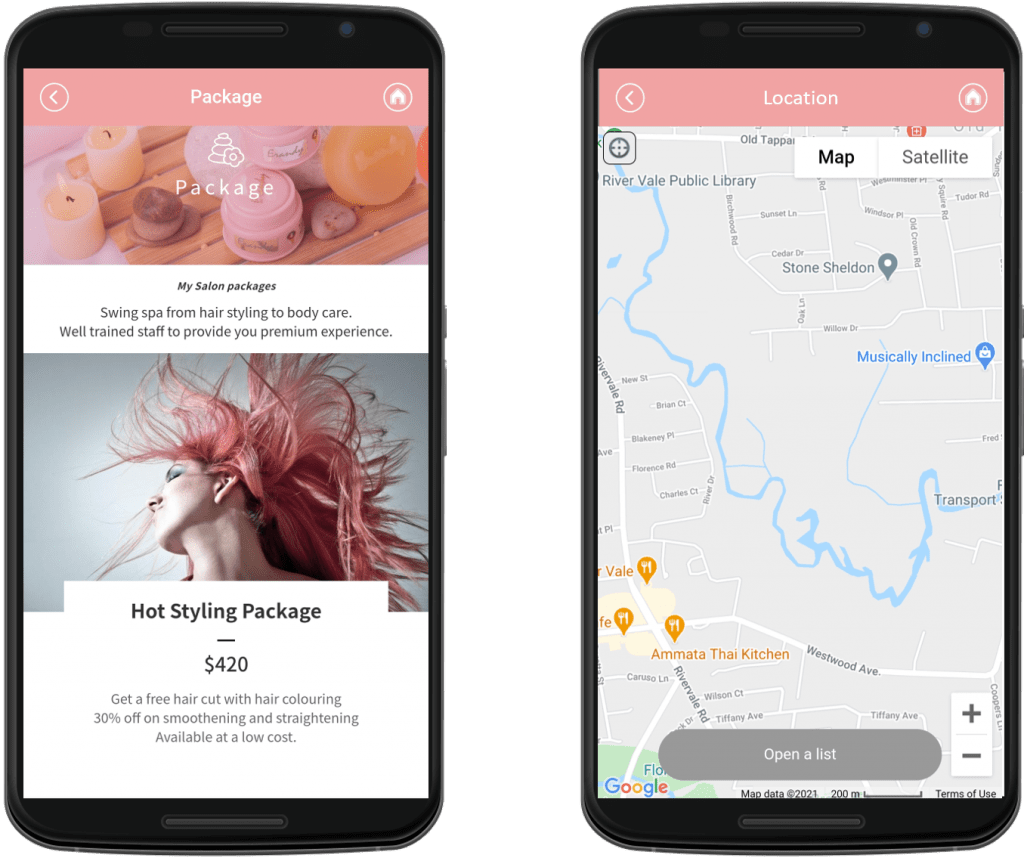 Reservation menu enables the customer to pre book an appointment at your salon.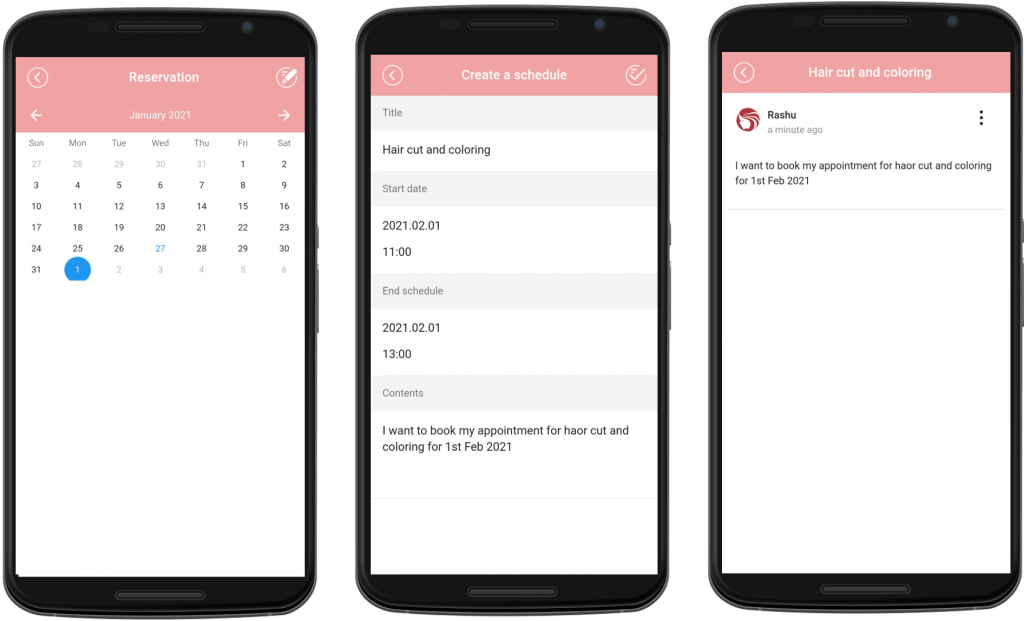 Loyalty card menu provides the customer to view and avail coupons presented as stamps. These coupons can be availed only at the salon when the owner scans it.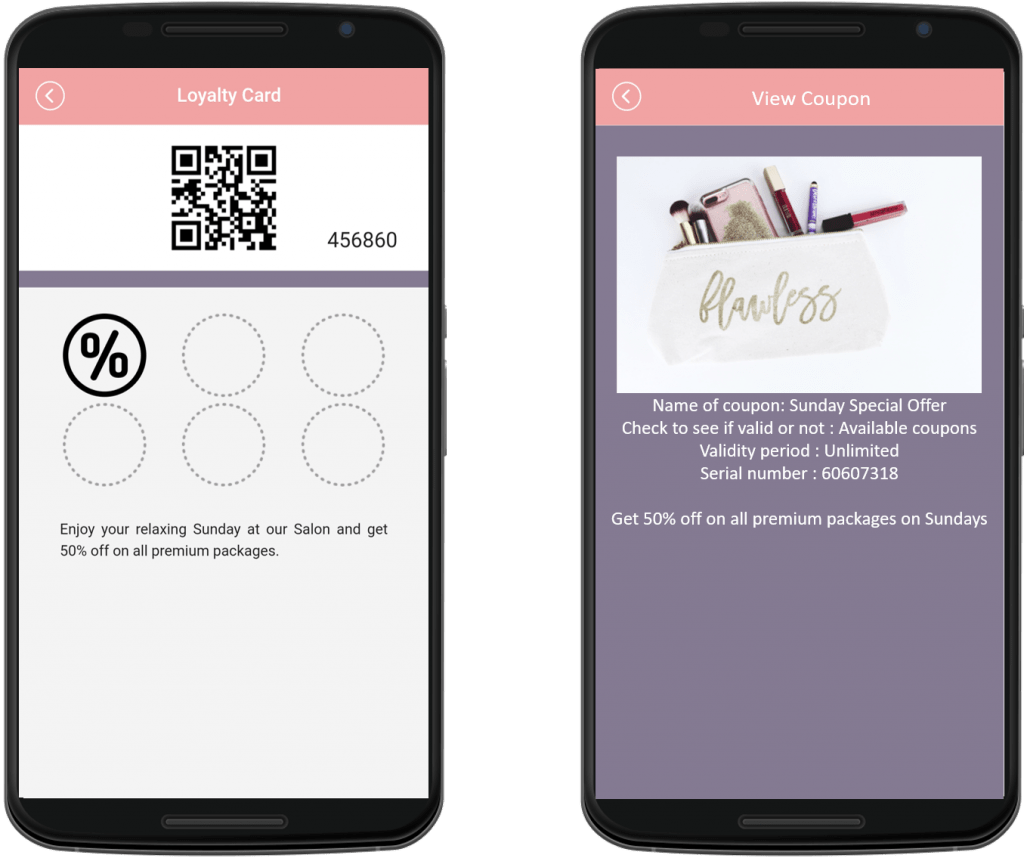 Membership Registration menu is for getting the users registered as subscribers. Users need to fill the membership registration form only then they can avail the benefits.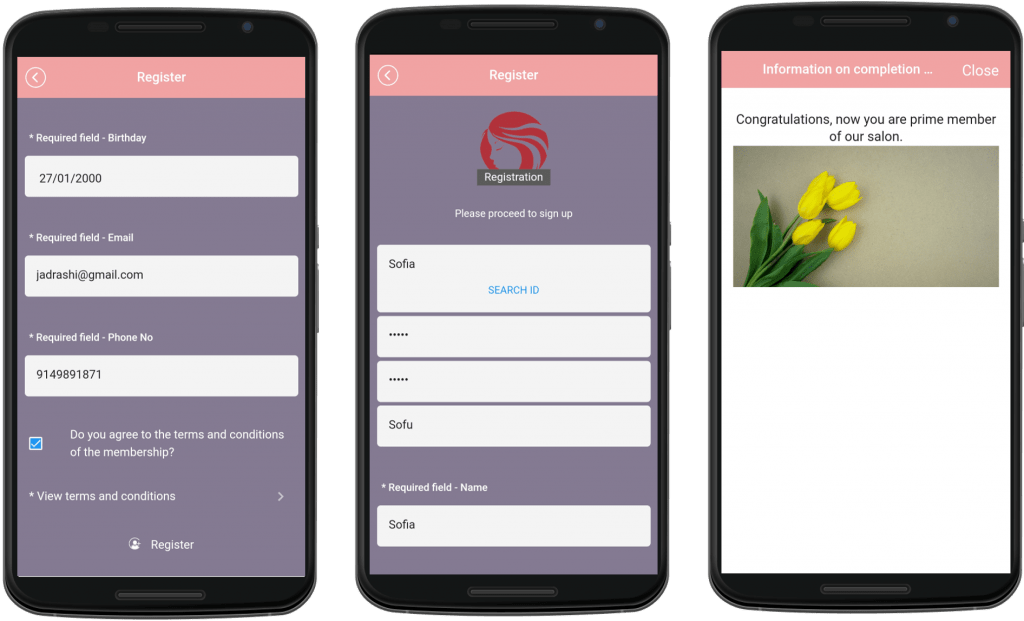 Conclusion
You can boost your salon business with little effort and dedication. Giving this an online platform will expose you to a larger set of audiences that will increase your revenue stats automatically.
We highly recommend an app for any salon out there, because if you do not have one, you can never tell what causes a slow day. More importantly, some parts of your company can be automated, and you can concentrate on expanding in the areas that matter most to you and your clients.
Salon appointment booking apps and salon mobile apps are quite popular nowadays and in case you are looking for one, then get in touch with Swing2App for the right guidance and spectacular app development solutions.