It is quite common for business owners to constantly seek ways to enhance their companies, including lowering costs, streamlining management structures, acquiring better supplies, and attracting customers. Still, many shopkeepers do not benefit from being a part of the industry shift. This is due to firms always trying to sell them items and services for their own benefit, making shopowners wary of new products that could help their business and are not just another waste of resources. While this logic is sound, it obscures new and innovative ideas. The world is constantly changing, and shopkeepers should be adapting as well.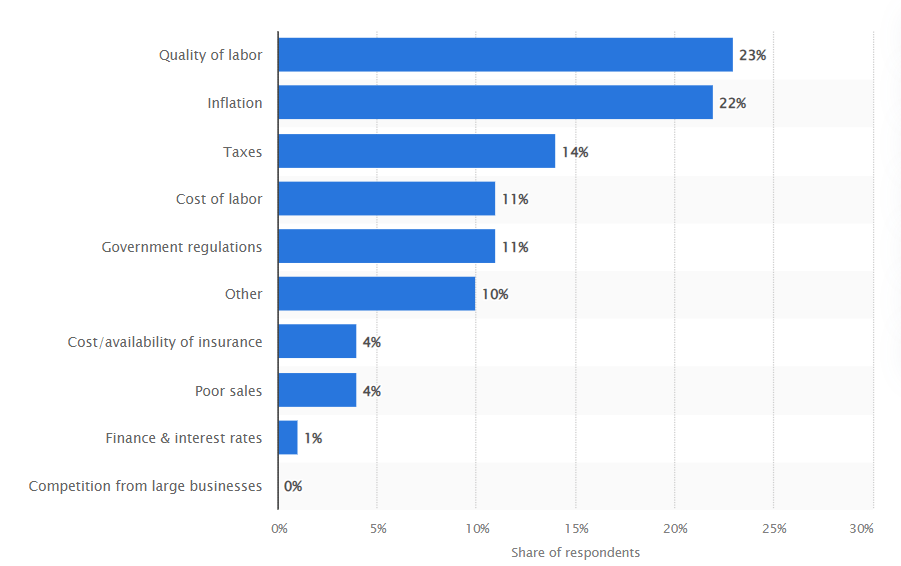 We know every other small business suffers from one or another problem represented in the data above. But what is the solution?
Every small business owner wishes they had more time and money. Business technology solutions can help your organization run more efficiently and cost-effectively. Staying on top of technology trends is essential in today's fast-paced business world if you want to stay ahead of the competition. According to Gartner's analysis, 80 percent of B2B interactions would take place on a digital platform by 2025.
There is a plethora of technology, tools, and innovations available to assist you in growing your business. Make sure you research the best possible choice for you and your business once you know what you hope to accomplish. However, for a newbie or a small shop owner, the wide variety might well be daunting and perplexing, but we're here to assist you.
Running a small business is a costly affair. You might be one of those entrepreneurs who can afford to take risks, but most small business owners would say they carefully review every critical decision their team is making. It's no different when it comes to choosing and using the best software for your business.
This post will inform you about cost-efficient business technology tools that can help small business owners save money and time.
Let's take a closer look at the tools and technologies.
The Top Tech Tools for Small Businesses in 2022
1. Task Management Tools 
Task management software enables teams to collaborate on tasks. While Asana is probably the most popular task management application, numerous other solutions, such as Trello and Basecamp, provide a free version of their product for small enterprises or hobbyists on a budget.
These applications allow users to cooperate on projects by allowing them to create tasks, assign them to team members, and group relevant communications in one location.
Task management software is an excellent business tool for any firm with remote staff or that needs an effortless way to keep track of who is completing what task at any given time. They also enable teams to track project progress at every stage, ensuring that there are no surprises as important deadlines approach.
2. Email and Social Marketing 
There may now be many daily tasks that can be automated, enabling business owners to focus on more intellectual pursuits. Email marketing platforms such as Aweber and MailChimp offer an easy way to keep your subscribers updated with company news, discounts, and promotions. The best part is that many email marketing systems will automatically share your email newsletter on your social media accounts, so you won't have to worry about doing it.
Social marketing tools assist in tracking the delivery of emails. By using social marketing tools, the message of the latest offers, discount coupons, and promotional events can also be automatically delivered to the customers via email or pop-up messages. As a result, customers are always aware of the discounts, thereby increasing revenue as well. 
3. Customer Relationship Management platforms 
A CRM tool like HubSpot, SalesForce, and Insightly is an excellent resource for finding and retaining clients as well as uncovering hidden revenue. From the initial contact through your marketing and sales funnels, you can keep track of future, existing, and past customers, as well as nurture those relationships.
A CRM can also help you make informed business decisions based on facts rather than speculation. It is possible to see how many new clients you have acquired in a given time period, and filter contacts by data factors such as geographic location or product category. By doing this, you will know whom to contact for recommendations or repeat business. Marketing funds will be used more efficiently in this manner.
4. Website building platforms 
Create your eCommerce website with Shopify, Wix, BigCommerce, or any other budget-friendly website builder. DIY tools like these make it simple to create an effective eCommerce website, and they are the next big thing for upcoming small businesses. Considering the ongoing covid problem, they benefit not just startups, but also small-scale businesses, medium-sized businesses, and store owners. They might lower their rental expenses and access a wider demographic by transitioning to online platforms, as they will no longer be relying on clients in the immediate vicinity of their physical stores.
It lets users sell anything they want by providing all the tools needed to launch an online store, as well as customers, prefer to buy online rather than heading to actual stores these days. Furthermore, tiny enterprises do not have to worry about paying rent, hiring employees, or going to the bank to collect cash.
5. No-code app builder 
No-code is an innovative technology for app development that appeals to non-technical creators who aren't familiar with coding.
No-code platforms are an excellent choice since they provide several advantages such as widespread availability, speed, and low cost. These platforms provide a powerful visual programming interface that makes it simple for users to create their own apps.
Users may choose from many pre-built components that they can drag and drop into a graphical interface to create whole applications out of templates that include basic business operations and capabilities. No-code tools are best for small shopowners who intend to quickly design and launch a simple app in a cost & time-efficient way. Swing2App is one such great platform for creating a no-code app, webapp, for both android and iOS devices.
By now you must have clearly understood that to get an edge over the competition and incorporate the latest tools and tech in your business you need to switch to an online store or at least a hybrid form of business. 
Without going with the trend, you could be losing out on competing with big companies by not using this easy cheap tool to compete in this new market.
How to take your store online?
Are you considering creating an online store? Perfect timing. Because of COVID-19, online shopping surged this year due to people staying at home and avoiding brick-and-mortar stores.
The fact that there is an enormous potential to make money selling things online is a powerful motivation for getting your business off the ground.
Regardless of whether you're a brick-and-mortar business looking to migrate online, or a startup looking to start an online business from scratch, we'll provide you with all the tools and knowledge you need to set up your online store.
You can create an online store to sell even when your physical store is closed, then use Swing2App to turn it into a mobile app and reach new customers.
To get started, you just need to choose one of the website-building tools above and build your website. The next step involves the magic of Swing2App: Create an app from your website in just 5 minutes. You can also download and preview the app before publishing it on your Android device.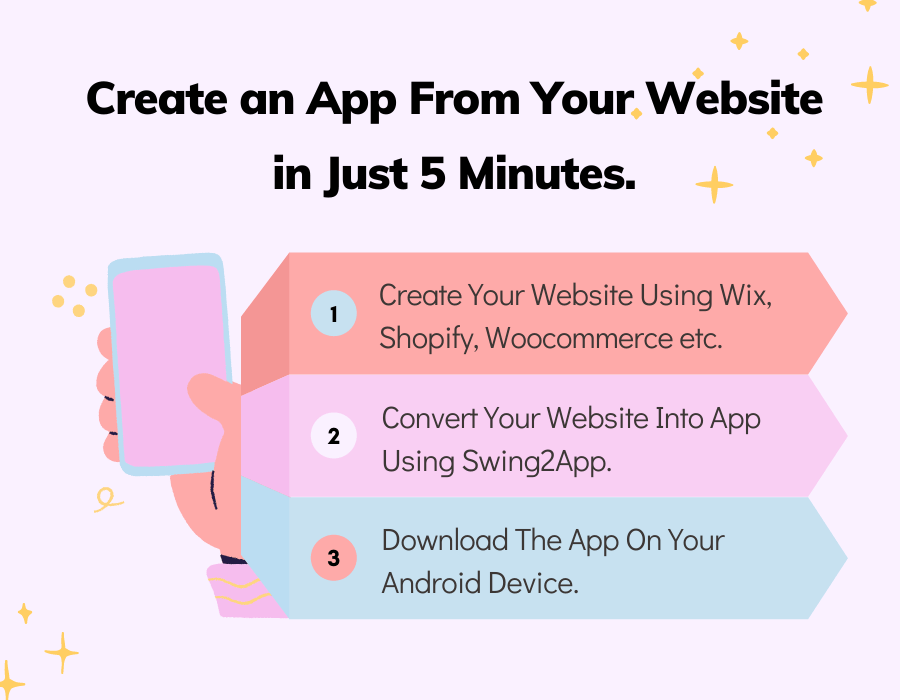 Why Swing2App?
It is a free app development tool that allows anyone to create an iOS or Android app. A key feature of Maker(V2) is the ability to easily customize apps by changing colours, themes, and user interfaces among other features.
The content editing features of Swing2App allow developers to edit content in real-time. A variety of features are available, including posts, bulletin boards, numerous chat rooms, submission to official app stores, custom domains, version tracking, and more. Furthermore, the platform leverages Amazon Web Services cloud infrastructure to allow businesses to manage daily data backups, protect app users' information, and securely send data.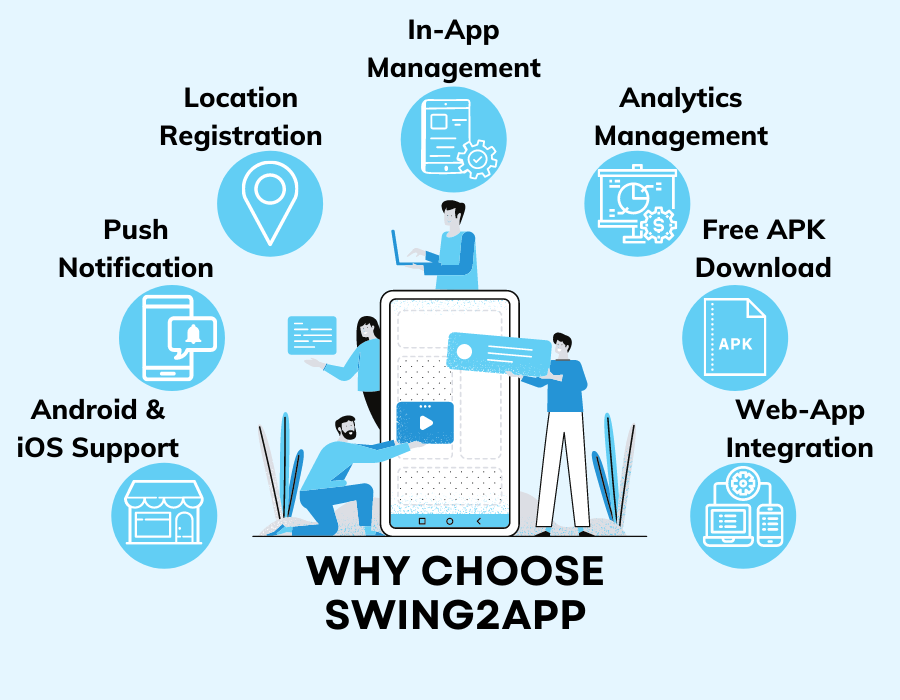 If you already have a website, Swing2App can convert it into a native Android app in 5 minutes. 
Swing2App is for you if you need a high-quality, low-cost web app in the quickest and easiest way possible. 
Grow your business with Swing2App
There are several technologies, tools, and platforms available to assist you in growing your business. All these technologies allow you to get more done in a time-efficient way.
Ready to take your shop into the hand of your customers?
Get started with Swing2App now and create your app for free and pay only when you want to publish your app.