Some argue that the no-code solutions for app development are limited and should only be used for an MVP. That is absolutely wrong!
To be honest, this is a common concern among most aspiring no-code developers or those considering using a no-code solution. It's no surprise: most no-code platforms allow you to do one thing exceptionally well which is to scale your business app. Is it even possible to begin with? Yes.
No-code development has become popular in recent years for automating business processes. No-code platforms have completely taken over the technology niche.
No-code platforms help in scaling operations at a low cost, which is awesome for small businesses. Millions of users rely on a no-code platform to make software development more affordable. Because of the popularity of mobile apps during COVID, no-code tools have grown in popularity.
ARE NO-CODE APPS SCALABLE?
The main question that aspiring no-code developers and business owners have is whether no-code apps are scalable. Business owners want to know whether a no-code app will be able to handle new ideas and features in the coming years. The answer is that while 99% of no-code apps can scale a business process, this is not true for all development projects. Scaling a no-code app development project with a no-code app is easier than with a hybrid approach. In this article, we will discuss the scaling elements of an app, why no-code is the best option, and important factors to consider when scaling a no-code app for your small business or even the huge businesses.
Let's look at the tried-and-true methods for scaling a business, whether you use no-code or traditional software development.
A user interface that is both dynamic and user-friendly
A strong database models
Database queries that are unique to you
For all this Swing2App is the best example of scaling no-code apps with no-code platforms like Swing2App.
The best example of scaling with no-code apps with no-code platforms is Swing2App.
There are several factors to consider when scaling your no-code app. You might consider scaling your business app in order to add new features. In the following scenarios, a business owner can plan to scale no-code apps by adding new features:
to boost conversion rates
To meet the needs of the user
to meet market expectations
Improve business operations
As a result, no-code app development is the best option for validating new ideas without having to write a single line of code. Scaling with no-code apps is also faster than traditional coding. Pre-built templates are used for app development with no-code platforms. Swing2App provides As a result, the no-code platform has already tested the coding. As a result, the likelihood of discovering a bug in the app is low. At the same time, traditional development necessitates extensive testing in order to detect and debug errors. As a result, a no-code platform enables business owners to develop no-code apps more quickly.
WHAT MAKES NO CODE SCALABLE?
In its true sense, "scaling" is determined by several factors, including:
The app's ultimate functionality
How long can the server infrastructure last?
How is the app tested?
Capabilities for integration
The main issue that many no-code platforms face is data exchange speed, which is why some of them appear unresponsive or take an eternity to process requests. However, this requires a truly staggering number of transactions to take place.
The other difficulty to scaling no-code apps is not related to app developers, but rather to a general misunderstanding of what no code is and the novelty of it all. Platforms race against shifting demand and evolving technology, while we mere mortals try to keep up while also building.
The most important indicator of no-code app scalability is the no-code platforms themselves. Bubble, Zapier, and even our own platform (Swing2App no-code app builder) are almost entirely based on their own functionality.
Knowing the right tech stack and trying things out before making a decision are truly required for a no-code scalable app, confident product built on a no-code platform like Swing2App.
A CASE WHERE NO CODE DIDN'T WORK
Recently a post was made by FINN, a German car subscription service that began with the help of a no-code platform. FINN experienced explosive growth, which brought with it a slew of challenges that proved too much for their tech stack at the time.
FINN built the infrastructure, automation, and other support systems using tools from the multiple tech stack. Naturally, this demonstrates that no code tools were excellent for the initial stages of their product journey. Of course, problems arose once the growth reached new heights, to name a few:
databases were out of date (up to 100 timeouts a day)
Coupling of data (due to one large database with 20 tables, one of which had nearly 400 fields)
Difficult testing procedures
Due to a high level of automation and data exchange, there are synchronisation issues and lag.
After that dilemma unfolded, and on the verge of entering the US market, FINN decided to return to traditional coding and start from scratch. The migration process is still ongoing; it will take some time, but with the right approach, everything will be fine in the end.
However, the entire problem was caused by the incorrect tool stack. And if you have the right tech stack (Swing2App) you won't have to worry!
A CASE WHERE NO CODE WORKED PERFECTLY
Rebel Book Club a global platform connecting book lovers. How it works is that registered club members vote on the book that everyone must read within the next month. By the end of the month, they arrange a meeting to discuss what they read. As a result, users interact both online and offline.
Rebel Book Club has subscription options. It now has over 950 active members and generates a monthly revenue of £10,000.
The platform was built using a variety of no-code instruments. This examples only demonstrate that no-code solutions can be integrated into large, successful projects. You can use them to quickly transform your idea into a real application, easily launch it, and present the project to investors to raise funds for further development, hence no-code apps are scalable too.
BENEFITS OF NO-CODE APPS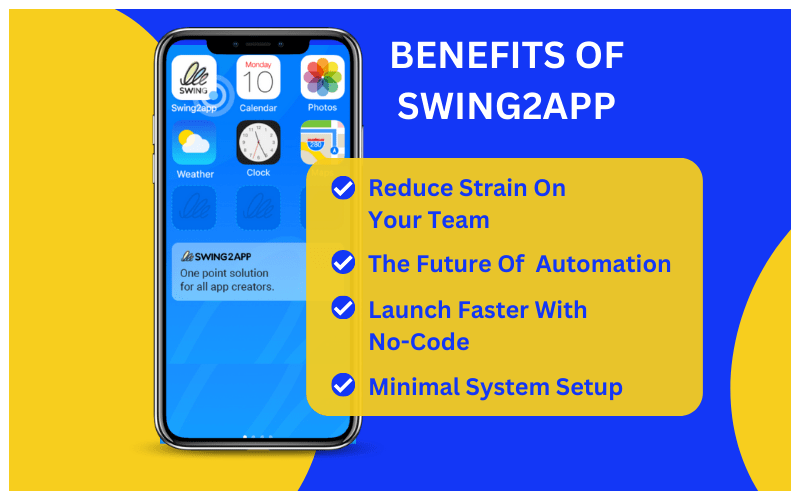 REDUCE STRAIN ON IT STAFF
You may be wondering why you should choose a no-code platform when web developers excel at software development. As a result, some organizations may be unable to find developers to complete a project. Using a no-code platform can help to relieve stress on the development team by allowing them to work independently without regard for deadlines.
Furthermore, rather than writing complex code, you can use drag-and-drop options to make your ideas a reality. Even if you have no technical background, you can use a no-code tool to create a prototype or a functional app.
No-code software development is the best option for developers who lack experience but want to create apps for their clients. As a result, no-code development has reduced traditional developers' workload by allowing them to design app features in a few clicks without requiring extensive coding skills. Because no-code solutions are cost-effective, IT companies are embracing them.
As a result, rather than spending time learning to code, web developers concentrate on finding new solutions with no-code tools. A no-code developer, for example, can devote more time to developing ideas to meet specific organizational needs remotely. As a result, you don't need to schedule an in-person meeting with a no-code developer to get a no-code solution.
THE FUTURE OF AUTOMATION
The use of no-code development to automate business workflows is on the rise. Scaling no-code apps allows businesses to automate their workflow without incurring additional costs. Small businesses can easily use the no-code app developing platforms like Swing2App to boost their small business. Traditional development, in contrast to no-code solutions, necessitates more resources and software developers to complete a project.
Furthermore, no-code tools give you more control over the development process. Assume that a marketing team can deploy a no-code project with great autonomy without the assistance of a professional developer.
As a result, organizations are looking for ways to rapidly scale their no-code apps. As a result, no-code development has made it easier and less expensive to digitize business processes. Overall, no-code solutions have greatly increased developer efficiency and are more focused on innovative app solutions.
MINIMAL SYSTEM SETUP
No-code tools are internal tools that assist businesses in obtaining custom code solutions more quickly. Furthermore, no-code development allows business owners to bypass the setup process. The no-code movement encourages using web platforms rather than relying on local resources. As a result, the no-code movement assists small businesses or even huge ones in reducing technological overhead and allowing software development in a few clicks.
Furthermore, no-code platforms like Swing2App enable small business owners to scale their operations even when funds are limited.
As a result, no-code technology assists small businesses in elevating their business graph and software developers' abilities. To determine the project investment when looking for a software solution for your business, compare the traditional software development approach with no-code development. Another advantage of using a no-code solution is that you don't have to worry about the latest software updates.
The reason for this is that no-code tools can update the most recent software updates without requiring the services of a professional software developer. Furthermore, traditional software solutions require API and SDK licenses to update the software, whereas no-code tools can update the software automatically. The obvious fact is that subscribing to a license plan will increase your development budget.
Further, with Swing2App you can create an app for both iOS as well as Android platforms simultaneously at the cost of creating a single app!
LAUNCH FASTER WITH NO-CODE
Traditional software development flaws have aided no-code solutions in reaching their peak with low budgets and nontechnical staff. You can launch your software product with no coding skills if you use a no-code platform like Swing2App. A no-code developer can make visual changes to a software solution without writing a single line of code. You can use no-code as the owner of a newly launched business for the following reasons:
You can save time and money by creating a software solution with no-code options.
When using a no-code tool, you do not need to hire a professional software developer.
You can hire someone with a diverse background to bring innovation to your company.
Due to its constant nature, launching a no-code app can reduce your Total Cost of Ownership (TOC) and does not necessitate editing costs.
So, using a no-code tool like Swing2App to launch a no-code app benefits your business's growth.
Read: HOW TO LAUNCH YOUR APP QUICKLY WITH SWING2APP
SWING2APP NO-CODE APP BUILDER IS PERFECT FOR CREATING SCALABLE NO-CODE APPS
SCALABILITY
The scalability of no-code apps is one of the factors driving the popularity of no-code development. A no-code solution enables business owners to scale their operations without incurring additional costs. Swing2App, a no-code tool, includes a drag-and-drop feature for creating a more complex no-code solution. When scaling a business, you can expect speed, agility, automation, and innovation from a no-code solution.
The prominent feature of no-code development and one of the primary reasons for using no-code in project deployment is speed. Depending on the nature of the project, developing a mobile app traditionally can take months. However, no-code allows business owners to scale their operations in hours rather than days or weeks. As a result, no-code solutions have become popular because they require little time. As a result, you can use a no-code tool like Swing2App to optimize speed with click-and-select options, built-in interfaces, cross-platform compatibility, and built-in business models. Furthermore, a no-code tool allows for the addition of integrations and APIs with a single click, whereas traditional development necessitates repetitive tasks when integrating a third-party tool.
AGILITY
Agility in the business environment enables companies to quickly adapt to and respond to digital changes. In this regard, no-code platforms have come a long way in terms of creating an agile business environment and balancing daily business functions and organizational changes. As a result, these no-code platforms are created to support new and legacy systems to meet a business's changing needs.
Today, no-code solutions are thriving to automate business processes with built-in functions, such as making it easier to deploy a chatbot in an organization to generate automated responses. Automation has become a necessity for all businesses, especially small businesses in recent years in order to increase conversion rates and ensure smooth user interaction. Using a no-code tool to automate a business process is thus a cost-effective option, whereas traditional development requires a significant amount of time and resources.
INNOVATION
Another factor driving the popularity of no-code technology is innovation. Many people believe that using a no-code tool will limit a software developer's innovation and creativity. However, this is not the case because software developers focus on the core business aspects of software rather than removing bugs and fixing errors. A no-code solution manages a project's technical aspects, so developers don't have to worry about programming languages, bugs, or debugging. As a result of removing the project's technicalities, a developer will be more productive.
Because of these characteristics of no-code, it is clear that a no-code solution provides the much-needed scalability in no-code apps for expanding business operations.
FINAL THOUGHTS
This is becoming the way to develop new products, regardless of size or load, with the proper tech stack and continuous evolution of no-code app builders. It's faster, less expensive, and has a much lower learning curve. There is a reason why the no-code movement has grown to its current size.
The best path is to combine the best of both worlds: no code's flexibility and speed with traditional coding's best development practices. If you're willing to try new things, you can accomplish a lot more with less.
With the right tech stack in hand (that you will get with Swing2App no code-app builder), the sky is the limit.
In case you'd like to know how it all works with our platform, contact us at help@swing2app.com.