No code and low code development tools have transformed the way individuals, companies, and agencies build apps to overcome traditional coding limitations. On the other hand, in this ongoing debate, "yes code" has grown as a counter point, claiming that a traditional coding method is the ideal method of app development.
App development is sometimes associated with countless lines of code. Businesses often hire agencies and developers to develop and manage their websites, apps, and other online domains, which is time-consuming and a costly affair.
Low-code and no-code software development technologies have emerged as feasible and practical alternatives to the traditional development method to address these difficulties. Coding is no longer the huge obstacle it once was. There are numerous no-code platforms that reduce or eliminate the technical aspects of coding.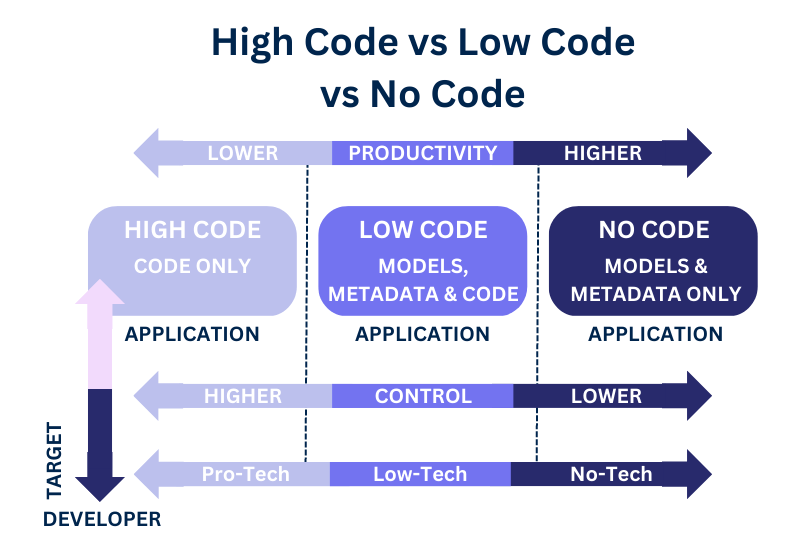 When it comes to deciding between no code, low code, and traditional coding, there is no correct or incorrect choice. It all depends on your project's objectives! Continue reading to learn more about each development style, including its benefits and drawbacks. 
WHAT IS NO CODE?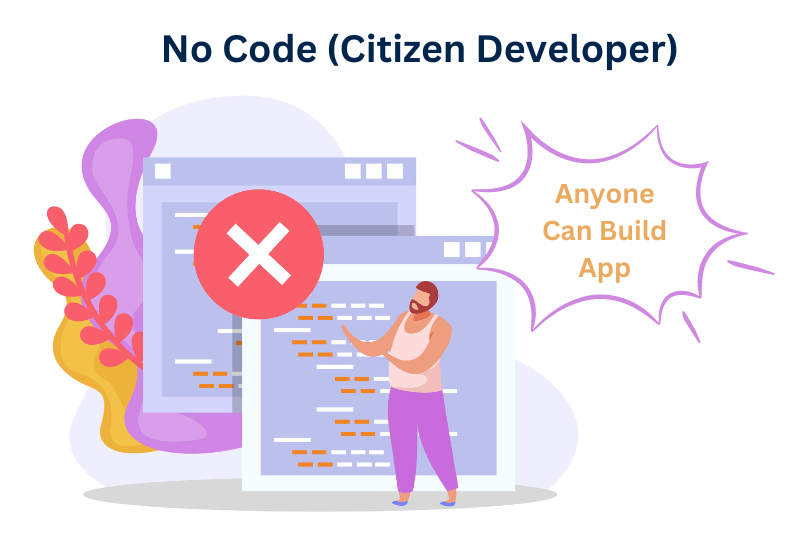 The term "no code development software" refers to tools for creating apps without writing a single line of code. These technologies allow users to create completely working websites, native mobile apps, and other applications without any prior knowledge of coding languages. Anyone may learn coding fundamentals by using drag-and-drop features to create app designs and functionalities.
Advantages of No Code
No-code tooling is incredible because it allows anyone to become a developer (just like the Swing2App users create no-code apps without a single line of code).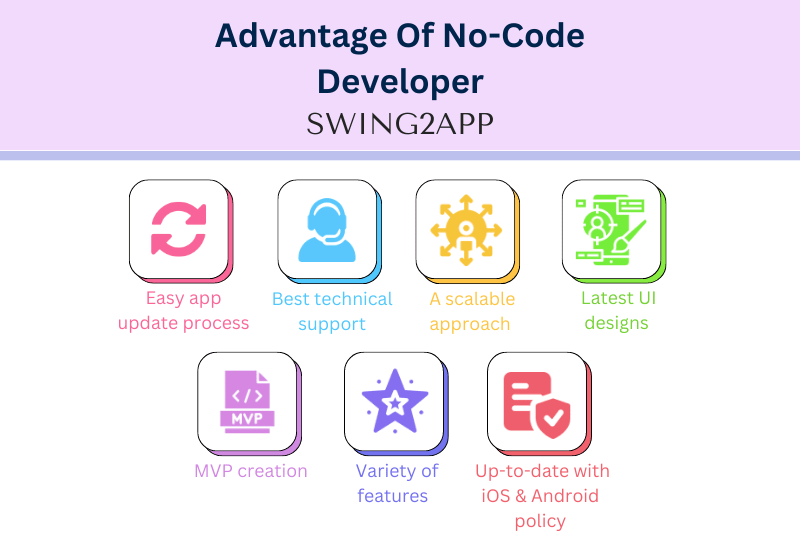 Instead of waiting for a budget or workforce to begin a project, a non-technical person with no experience can get started right away. Another advantage of not using code is that it is faster. Quick modifications can be made on the run to shorten review process, and pre-built components such as templates, menus, navigation bars can add functionality in a fraction of the time it would take to develop the same feature. Even experienced developers can benefit from this tooling by quickly prototyping and testing an idea before committing to coding.
Disadvantages of No Code
While no code platforms are wonderful in many cases, they do have several drawbacks as compared to low code and traditional code platforms. If a functional element is not given, customising the functionality via a no code approach will be more complex. If your project necessitates a large number of complex features, another solution may be more appropriate. Furthermore, if your project demands rapid scaling, such as working with massive amounts of user data, some no code platforms may be limited.
Examples of No Code Platforms
As firm believers in the no-code approach, we build no-code apps as well as web apps for both iOS and Android platforms. Here are some no-code app development platforms that you may try:
Swing2App
Appsheet
WHAT IS LOW CODE?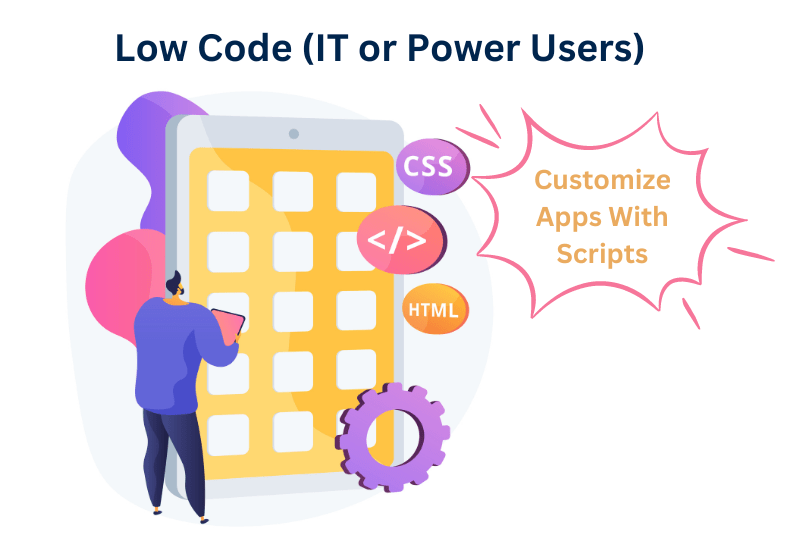 Low code platforms find a middle ground between no code and traditional development. You can create applications without having to write a lot of difficult code and have more customization possibilities. As a result, minimal code solutions are an excellent choice for those who are experienced with coding and want more control over their project without delving too deeply into traditional programming.
Advantages of Low Code
Because low code is the perfect balance between the no-code app and traditional coding app development, the pros and cons are also in the middle. These tools often integrate visual components with coding to assist developers in quickly developing solutions. While the build time is still faster than traditional coding, no code wins in terms of time to market. Similarly, while low code allows for more complicated functionality, traditional programming allows for the most customization.
Disadvantages of Low Code
In contrast to no code platforms, prior experience in coding is required to use a low code platform. While a non-technical employee may be able to use some of the technology, a project must still be passed on to developers, which lengthens the process. With the utilisation of low code platforms, pricing and resource requirements begin to rise. For example, if you want to add unique features, you may need to recruit a few more expert engineers.
Examples of Low Code Platforms
Check out the low-code platforms listed below and try to create a low-code app easily.
Shopify
WordPress
There are mainly three kinds of applications that can be built on a low-code/no-code platform – 
Web Applications
Customer-facing web apps that aid in the integration of your back and front offices. No-code or low-code platforms are increasingly being utilised to create online applications without the need for coding.
Back Office Applications
Back-office apps that solely employ a back-office component and capability to administer your business data for internal use only.
Mobile Applications
Mobile applications can be customised for mobile devices such as smartphones and tablets, you don't need to code separately for iOS or Android. Rapid mobile app development is on the rise, and low code and no code is a main reason for that.
TRADITIONAL CODING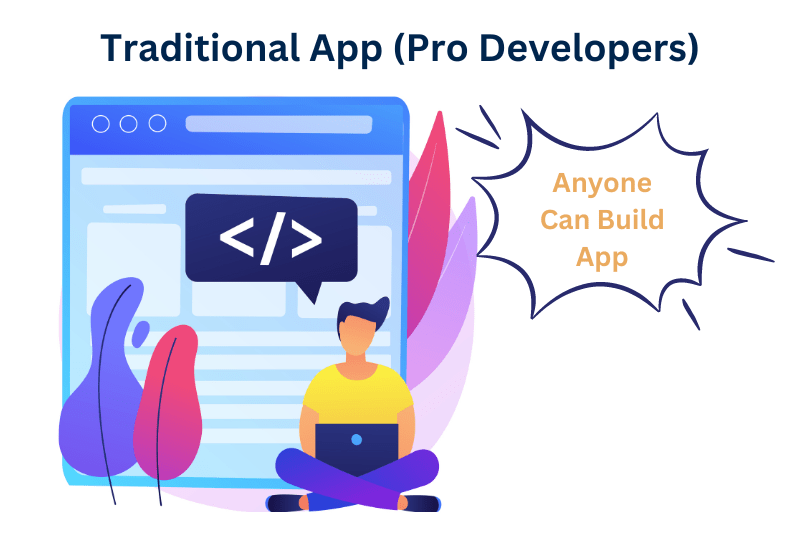 While no and low code platforms offer innovative solutions for a wide range of ideas, we can't deny that traditional coding will always be a part of the software development world. In fact, at Swing2App no-code app builder, our strong team of coders works hard at programming so that our hundreds of thousands of users don't have to. While the future of software development is always changing, conventional coding will always exist.
Advantages traditional coding
Traditional coding provides for complete customisation when combined with technical knowledge of a programming language, such as JavaScript, Python, or C. Traditional coding, unlike no and low code, does not pose the challenge of scalability to developers. The sky is the limit if you have a talented team of coders on your side!
Disadvantages of traditional coding
Nevertheless, the limitlessness of traditional development comes at a price. Coding is not only hard, but it is also time demanding, which may be a problem for people who want to complete their project as soon and effectively as possible. Multiple stakeholders, sluggish turnaround times, and back-and-forth conversations can all add months to the development process. The technical requirements also necessitate qualified people who can create sophisticated code, which raises the cost significantly.
COMPARISON TABLE: NO CODE VS LOW CODE VS TRADITIONAL CODING: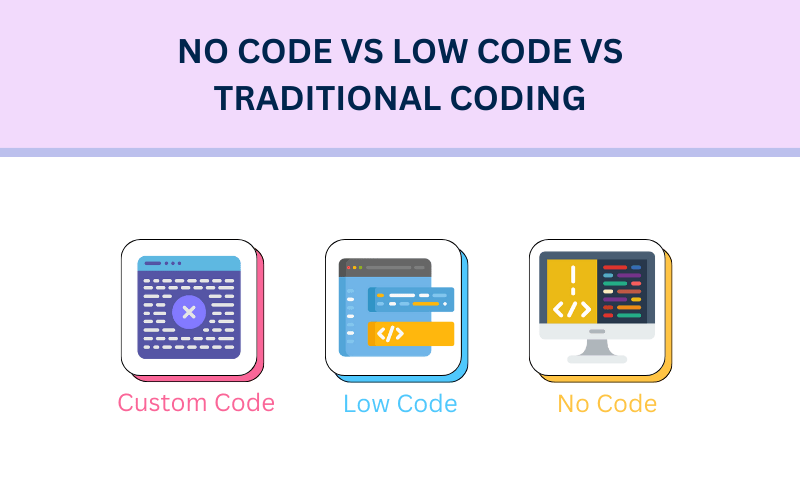 | | | | |
| --- | --- | --- | --- |
| | NO CODE | LOW CODE | TRADITIONAL CODING |
| flexibility | ❌ | ❌ | ✅ |
| scalability | ✅ | ✅ | ❌ |
| Low cost | ✅ | ✅ | ❌ |
| Quick to build | ✅ | ✅ | ❌ |
| create Complex apps | ❌ | ❌ | ✅ |
| customization | ❌ | ❌ | ✅ |
| App maintenance | ✅ | ✅ | ❌ |
| App support | ✅ | ✅ | ❌ |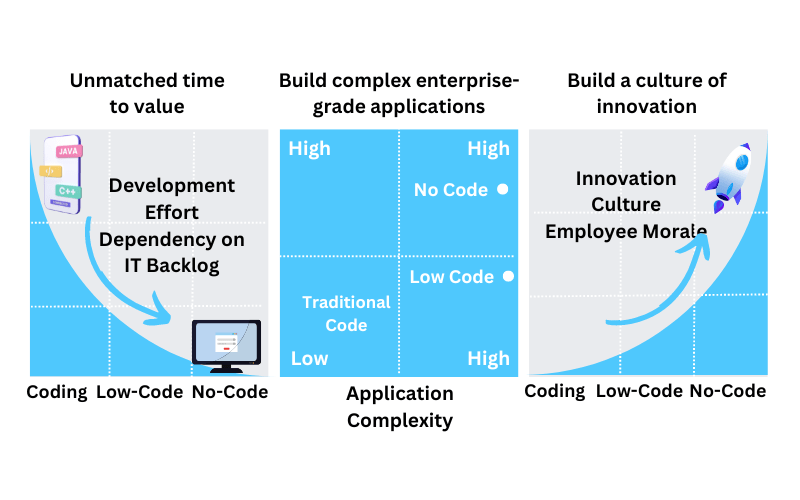 WHY ARE LOW-CODE/NO-CODE PLATFORMS GAINING POPULARITY?
Low-code/no-code development, which is increasingly being employed in the marketing of a wide range of software products, is causing major disruption in the software business today.
A study by Gartner tells that by 2024 low-code/no-code application platforms will account for almost 65% of all app development. his effectively suggests that the bulk of apps launched in 2024 will be created utilising platforms and tools that provide simple (or no-code) programming methods.
WHICH METHOD OF APP DEVELOPMENT IS RIGHT FOR YOU?
It is now up to you to select which type of development is best for you. That is dependent on your project's objectives. Consider the following:
What is the deadline for the project? 
What is your budget for your app development project? 
How does the possible development technique fit into your current technology? 
As previously said, there is no correct or incorrect way to approach application development! It is up to you to assess your requirements and select the best solution.
A low-code/no-code platform is an ideal solution when –
Businesses and enterprises want to create apps by themselves in a cost-efficient way. 
The application needed is a normal business use case. 
There is no unified approach for application development that overcomes the challenge. 
However, it is critical to remember that these are broad guidelines. It is quite beneficial to envisage and carry out this in the context of real-world business challenges and decisions.
A no code platform is probably your best option for projects when you want to have a solution deployed rapidly with low overhead and little to no coding skills. If you have the technical resources and want to create a somewhat more complex solution, low code is an option to consider. If you have plenty of time and coding expertise and are working on a complex project, consider traditional development.
NO CODE PLATFORMS FOR MOBILE APP DEVELOPMENT- Swing2app is best for you
The no code platform's accessibility, functionality, and convenience of use make it appealing for providing high-quality solutions rapidly, whether you're a complete novice or an experienced programmer. That is why our team is offering the world of mobile app development a no-code experience.
Swing2App is a no-code app builder for Android and iOS that allows website owners to create mobile apps. As a user, you may have noticed that the Swing2App no-code app builder does not need you to enter any code in any module.
Accessibility is a major reason Swing2App no-code app builder provides no-code development. Even low-code platforms require some coding. As a result, it is difficult for organisations with limited technical resources to fully use minimal code platforms.
This is why no-code platforms, particularly for app development, make more sense. Users should be able to get the most out of a platform regardless of programming knowledge.
As a Swing2App no-code app builder, you may convert your website into an app without knowing how to code. This gives you more time to focus on expanding your app and less time to worry about development. It enables business users to construct their own apps without the need for IT or consultants. It includes a WYSIWYG editor, a form builder, a third-party interface for all of your favourite tools, and extensive training resources to get you up and running quickly.
Here are some of the advantages that low-code/no-code development provides to businesses: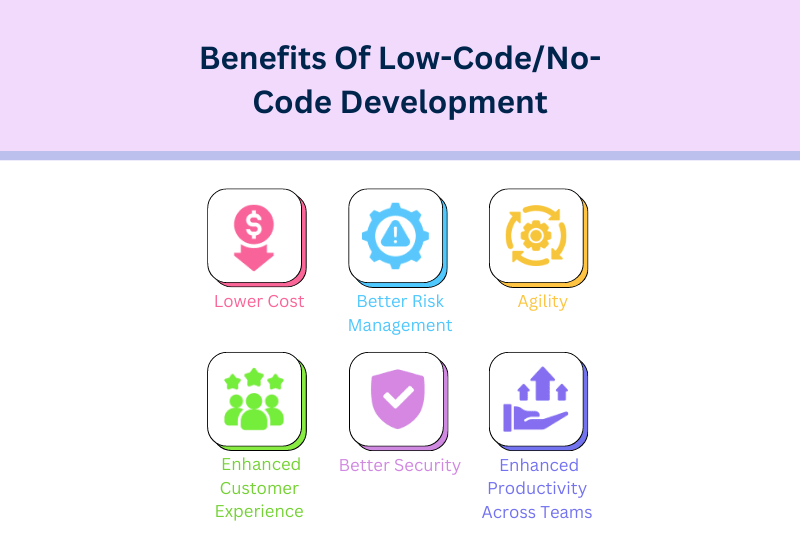 Lower Costs
Low code development services significantly reduce time and costs, and organisations do not need to engage as many developers.
Furthermore, when you use Swing2App as your no-code development platform, you have the flexibility that the Agile method gives because these platforms support versioning for any changes made to the application.
Agility
Swing2App no-code app development enables enterprises to innovate and change more quickly. Because they provide configuration-based design experiences, the skills required to create low-code/no-code development products are substantially lower than those required for custom development.
Better Risk management
With continuous evolving rules, organisations that use a no-code/low-code approach can make swift adjustments to be compliant.
Swing2App takes care of any future updates in Appstore or Play Store guidelines, thus securing your app.
Furthermore, as compared to traditional development approaches, all configuration operations in this situation, including code creation, building, and debugging, are substantially faster.
Better Customer Experience
Low-code/no-code systems automate a variety of tasks critical to the user experience. The agility in app development and strong business process features aid in the development of far better apps, hence increasing the overall consumer experience.
Swing2App provides you lifetime technical support, our team is always ready to help you!
Enhanced Productivity
Low-code/no-code platforms bridge the gap between IT and business teams, allowing them to tackle real-world problems that affect the firm.
Business teams can use this strategy to design their own applications without having to wait for engineers. It reduces the need for traditional code, which gives more team members access, resulting in increased productivity.
Better Security
When a new patch or security upgrade is released, it will be automatically deployed in low-code/no-code platforms rather than the developer having to go back into the code to implement the security fix.
With Swing2App you don't need to depend upon any third party for security of your app, we take care of all the aspects of your app. Swing2App is a one-stop solution for all app developers!
CONCLUSION
It's never been easier to create no-code apps for Android, iOS, and mobile web with Swing2App. If your team is already using no, low, or yes code approaches for databases, websites, or other infrastructures, Swing2App no-code app builder allows you to rapidly extend these solutions to native mobile apps. You'll be designing and releasing completely customisable native mobile apps in no time. Discover why Swing2App is the greatest no-code app builder for your development needs!