The common method for finding and installing iOS or Android apps — via the Apple App Store or Google Play Store — is now well known to everyone. Apps published on the App Store and Play Store are publicly available, meaning anyone can find and install your app on their device.
As developers have become increasingly aware of the need to distribute their apps outside of the traditional App Store, especially in order to limit the potential audiences for a particular app, distributing outside the App Store has grown in popularity. Businesses often look for such modes where only their employee have access to the company app. In response, both Apple and Google have provided an increasingly wide range of different distribution mechanisms to cater to use cases that require limiting access to more tailored audiences.
WHAT ARE UNLISTED OR PRIVATE APPS?
These are for companies and their employees only and aren't available in stores, but rather shared via a link.
Although unlisted Apps are still published through the App Store, only a direct link can be used to access them. These apps are not listed in any app-related categories, charts, search results, or other listings in the App Store. Apps that are not mentioned are regarded as hidden but not private.
A private app is one that is exclusively accessible to users within an organization. Managed Google Play is entirely compatible with private apps. An organization can publish private apps to its managed Google Play store and remotely install private apps on users' devices.
UNLISTED APP IN APPSTORE
The App Store is meant to publish apps for the general public that is accessible to all.
If you are building an app for the employees of a specific company, then you may want to restrict access to your app.
For business apps that don't want public app distribution on the App Store, there are 3 possibilities.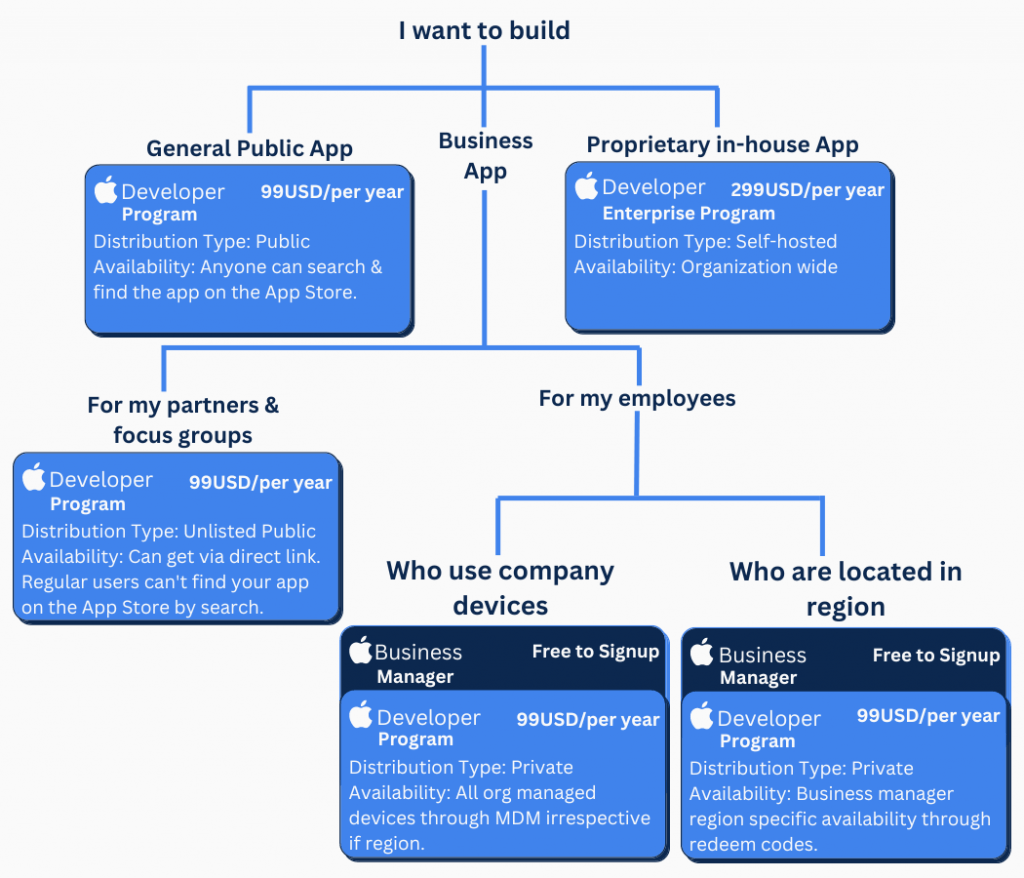 Apple gives 3 ways of app distribution outside their general store:

1) Custom Apps: Here you can distribute your app privately while using App Store Connect and Apple Business Manager.
You can deliver to certain partners, clients, etc. secretly and securely using Apple Business Manager and Apple School Manager. Additionally, you can give your internal staff access to exclusive apps.
Your app does not display in the public iOS App Store when it is distributed privately. As an alternative, you receive an infinite number of redemption links that you can distribute to your users. They can download your software from the App Store using these links.
That's all. Your user doesn't need to take any more action. They can start using your app right away and will automatically receive upgrades as you release newer versions. If you want to know how to secretly release your app through the App Store, keep reading.

2) In House distribution : Use an Apple Developer Enterprise Program to distribute the app outside of the app store, but with rigorous eligibility constraints. One of the requirements is to have 100 or more employees. The Apple Developer Enterprise Program subscription costs $299 per year.
Check Apple eligibility requirements

3) Unlisted app distribution: If your apps aren't appropriate for public distribution, make them available as unlisted apps on the App Store that can only be found via a direct link. Apps for employee resources, partner sales tools, or research studies are a few examples of apps that may be suitable candidates for unlisted app distribution.
Neither the App Store nor the search results will show an unlisted app. The download link will be the only way to access the app.

NOTE: This mode of distribution is direct but not private because anyone with the download URL may still download an unlisted application.
For a fully private distribution, look at the Custom App distribution option and see what distribution method works best for your app.

Another important point to note is that even if the app is not visible, it is still distributed via App Store Connect and, therefore, must be compliant with the App Store Review guidelines .
HOW TO PUBLISH UNLISTED/PRIVATE APPS ON APPSTORE
In order to distribute your app through the public iOS App Store, you might consider the following options.
| | | | | | |
| --- | --- | --- | --- | --- | --- |
| | TestFlight | AdHoc | Enterprise (In-House) | Private Distribution (Custom Apps) | Unlisted App (added January 2022) |
| How to install | Install TestFlight app, then open invite link | Provide UDID and wait for signed build, then install via Safari | Install via Safari and accept developer profile in Settings.app before app will be able to launch | Click on a redemption link and install the app in the App Store | Click on a standard link and install the app in the App Store |
| Build Expiration | 90 days | 1 year | 1 year | Never | Never |
| Automatic Updates | Yes | No | No | Yes | Yes |
| Install Limit | 10,000 testers | 100 of each device type | Unlimited employees | Unlimited partners, clients, franchisees, and employees | Unlimited partners, clients, franchisees, and employees |
| Annual Cost | $99 | $99 | $299 | $99 | $99 |
| App Review | Less Strict | None | None | Less Strict | |
Let's discuss Private distribution as most businesses look for this option.
PRIVATE APP DISTRIBUTION (CUSTOM APPS)
Apps that haven't yet been made available on the App Store can only use private app distribution. If you wish to publish existing software through private distribution, you must make a new bundle identifier.
Prerequisites
Create a new app by going to App Store Connect. Then upload the build of your app.
Choose Pricing and Availability from the left sidebar on your app's page in App Store Connect.
Select "Available for private distribution to particular organizations on Apple Business Manager or Apple School Manager" under Distribution for Business and Education by scrolling down to that section.
You must enter at least one organization's Organization ID, but you can always add more afterward. In Apple Business Manager, under Organization Info, you can locate the Organization ID for your company.
Send your app for review when you're ready.
Your app won't be available in the public iOS App Store once it has been approved, but it will appear in Apple Business Manager for the organization(s) you specify!
Distributing the App to End Users
Each company that will distribute your app will need to set up an Apple Business Manager account. You'll only create one account if you're distributing an app to the staff at your business. If you have many clients who want to distribute to users in their business, they must create their own Apple Business Manager account.
On https://business.apple.com, click "Enroll now" to create an account. A few pages of simple forms regarding your business and your employees' contact information must be filled out. Your company's D-U-N-S number is the main piece of information you need to obtain before you can begin.
After submitting the form, you'll need to wait a few days before hearing from Apple. The caller will inquire about your company briefly and obtain your verbal authorization to accept the Apple Business Manager conditions on behalf of your organisation. You'll get an email with the subject "Thank you for verifying your organisation" after the call. To set up your account, you can follow the steps included in that email. Just make sure to use an email address that isn't already linked with another Apple ID.
Getting the redemption links
Once you have an Apple Business Manager account, it's very easy to get redemption codes.
Go to Enrollment Information to enable Custom Apps.
On the Custom Apps page, select your app, then select "Redemption Codes" as the license type.
Enter the desired number of redemption codes and click "Get."
Under Redemption Codes, click Download to download a spreadsheet containing redemption codes and associated redemption links that you may send to users.
Send each user the link and inform them to open it on their iPhone to download your private app without it being accessible to the general public!
UNLISTED APP DISTRIBUTION IN APP STORE
As of January 2022, you can distribute your app as an unlisted app, which allows you to link directly to your App Store product page instead of making it available on the general App Store. In contrast to the "Custom Apps" option, unlisted app distribution is easier to setup, and each user doesn't need their own redemption link. For detailed process read Unlisted app distribution.
CREDIT: APPLE
BENEFITS OF UNLISTED APP DISTRIBUTION OVER PRIVATE APP DISTRIBUTION
Apple introduced the unlisted app feature in 2022 to simplify the limited audience app distribution process.
Discoverable only via a direct link
App Store apps that are hidden are unlisted. These apps don't show up in search results, suggested apps, charts, or categories on the App Store. Businesses have the option of unlisting an app from the App Store and sharing a direct link with only their target market, allowing them to be the only ones to download and install it on their devices.
No Apple Business Manager Account Signup Required
To manage company-owned devices or distribute the app to customers in a specific region, businesses using the conventional private app distribution models are required to open an additional Apple Business Manager account. However, there aren't any such limitations with the most recent unlisted distribution app model.
In-App Purchases Are Possible
In-app purchases are not supported by Apple Business Manager. However, users can make in-app purchases in unlisted apps.
Simplified App Review Process
Before the unlisted app feature, it was usual for an organisation to have conversations with the Apple review team to explain why their app is only for internal usage at their business and not for public distribution. However, a company can now buy a subscription to the Apple Developer Program in order to create the software and distribute it without being advertised on the App Store. The "Account Holder" for the Apple developer programme is responsible for ensuring adherence to the App Store publication requirements and submitting a form for approval.
PRIVATE APP IN ANDROID
Private distribution is the only option for apps that have not yet been made available on the Play Store. You must create a new bundle identifier if you want to publish an existing app through private distribution.
In Android you can create 2 types of private apps:
Google-hosted private apps
Google Play distributes the APK to users after you upload the APK for your private app to the Play Console. Applications hosted on Google Play benefit from the service's dependability, security, and simplicity of management.
Externally(self) hosted private apps
APKs that are hosted externally are not transmitted to Google for inspection. The security of their content cannot, therefore, be ensured. When users access an app that is hosted externally, they are informed of this.
An externally hosted app is a personal app that has an APK hosted somewhere other than Google Play (such on your personal server, for instance). You (or the app's developer) must upload a JSON file to the Play Console with the app's metadata in order to distribute externally hosted apps through managed Google Play.
HOW TO PUBLISH PRIVATE APP ON GOOGLE PLAYSTORE
No matter how many apps your organization has, there are tools available to manage them all on the Play Store automatically. Google Play has a developer API that provides management of Play store listings, APKs, and more. Fastlane, a collection of app automation tools, was part of Google's January 2017 acquisition of Twitter's Fabric developer tool suite. Fastlane has the ability to sign/push apps to the Play store, handle beta deployments, and automate screenshots.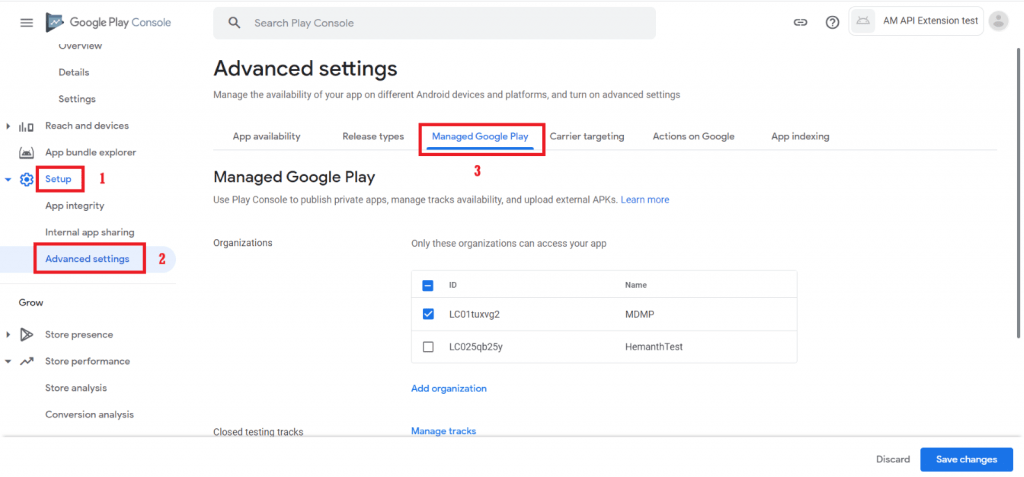 Additionally, Managed Google Play customers can create private hosted apps without passing a minimum version check thanks to the Custom App Publishing API. Managed Google Play is a marketplace for Android Enterprise offering support for private apps. Private apps are Android apps that are not public rather distributed only to internal users (via link).
Why this is important: The Custom App Publishing API, often known as the fastlane, considerably simplifies and minimises the friction associated with transitioning to Managed Google Play and connects with continuous integration tools and processes.
You also have other options to publish your private app on Google playstore:
OPTION 1: Publish private apps from the Admin console
You only need an Android application package (APK) and a title to upload and publish private apps in the admin panel. An organization-specific Play Console account is made when you publish a private app for the first time. Private apps are instantly approved for your company and usually available for distribution in less than ten minutes. Up to 15 private apps may be uploaded each day.
Further read how to Publish private apps from the Admin console
OPTION 2: Publish private apps from the Play Console
You must sign up for a Google Play developer account in order to publish private apps from the Play Console. You are granted the necessary administrator rights through the account in order to upload and publish personal apps to controlled Google Play. Then, you may deploy these apps to consumers via your EMM console.
Private apps must have certain settings to make sure that only people within your company can access them and that they are simple to find. If you're hosting the app yourself rather than Google, you'll also need to specify a few options. Only an Android application package (APK) and a title are needed to submit and distribute private apps.
Note: The Admin console allows you to publish private apps if Google is your EMM provider. You might be able to publish private apps from your EMM console if you utilize a third-party EMM supplier but for that you need the verify this with them.
Read to know the entire process to publish private apps from the Play Console.
Enterprise developer: Private app publishing guide
CREATE A NO-CODE APP FOR YOUR COMPANY WITH SWING2APP
It takes only a few weeks to create a no-code private app with Swing2App and you'll be able to save a lot of money. Furthermore, you do not need to worry about all the unlisted/private app upload processes, we handle the entire process for you and ensure you publish your app without any issues.
To stay connected with your employees, you can create a professional app for your business.
HOW TO CREATE A PRIVATE APP WITH SWING2APP
You can create 2 types of Private apps with Swing2App no-code app maker:
1. Available after the administrator approval: Users can use the app only after the admin has approved them.
The user simply needs to sign up when the window appears when they run the app, and app users can use the app as soon as the administrator approves.
Steps to create private app (Admin approval)
Go to Manager.
Select Services.
Click on Policy.
Click Add Subscription Policy.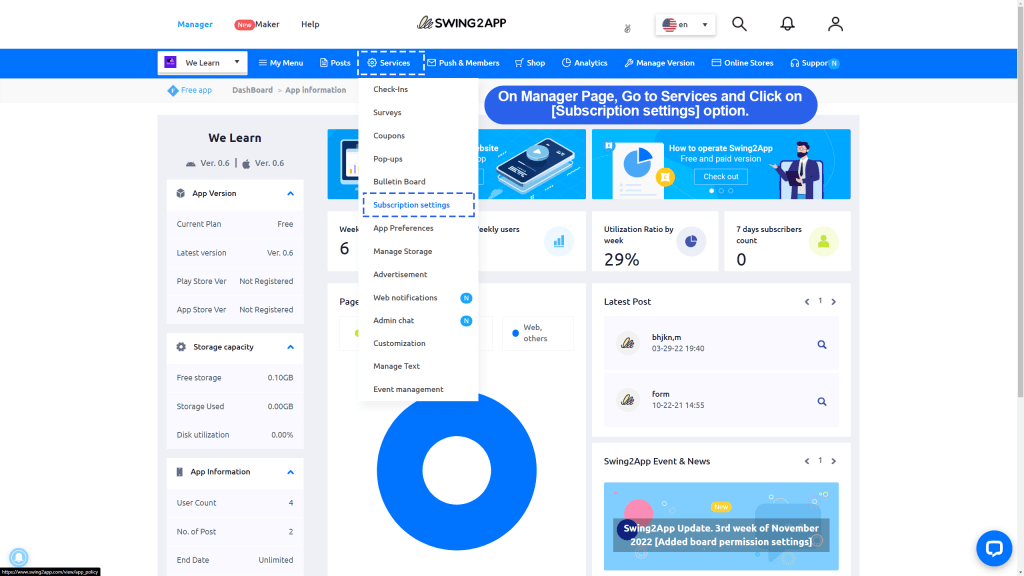 You'll be directed to Membership Policy Page, where you can edit your policy.
Select Add Subscription Policy -> Check Private (Available after registration and admin's approval) box [Under App Privacy] -> Fill Details Required -> Click on [Save] button.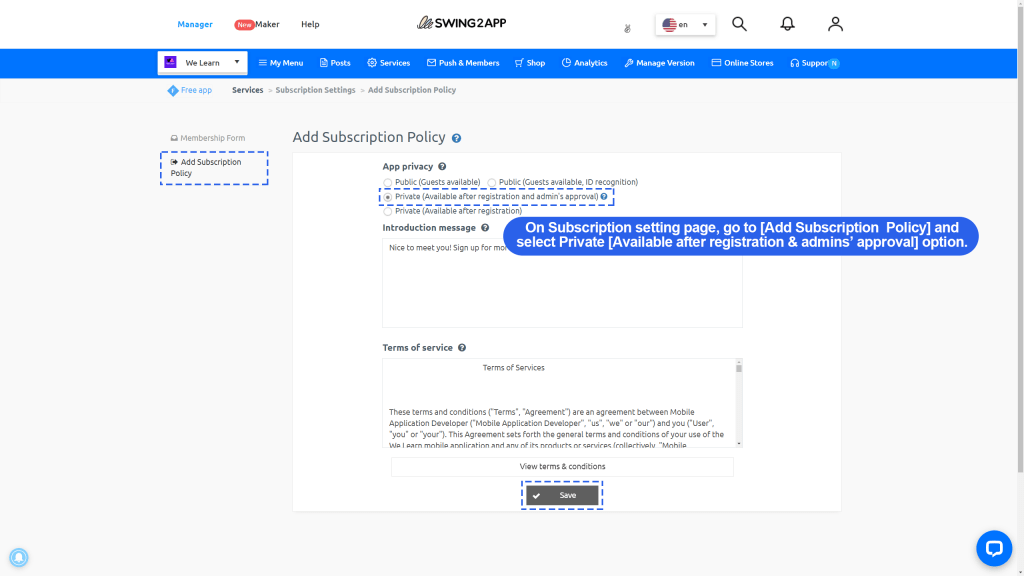 To give access to users who sign up you need to give them permission:
(Manager -> Go to Push & Members -> Click on Members View -> Give Permission to users)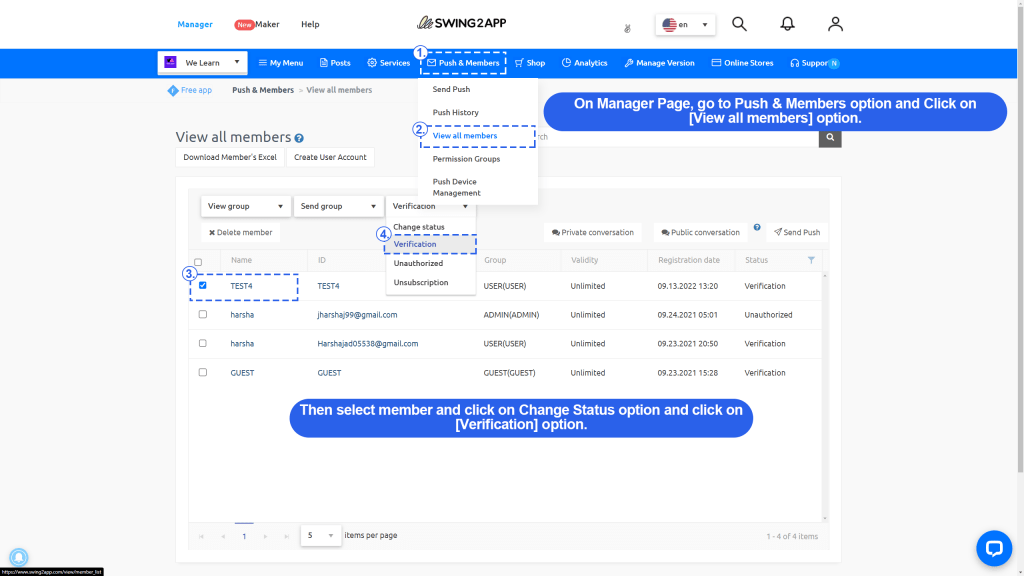 If you haven't given the permission user will be displayed a message like below image and will not have access to your app.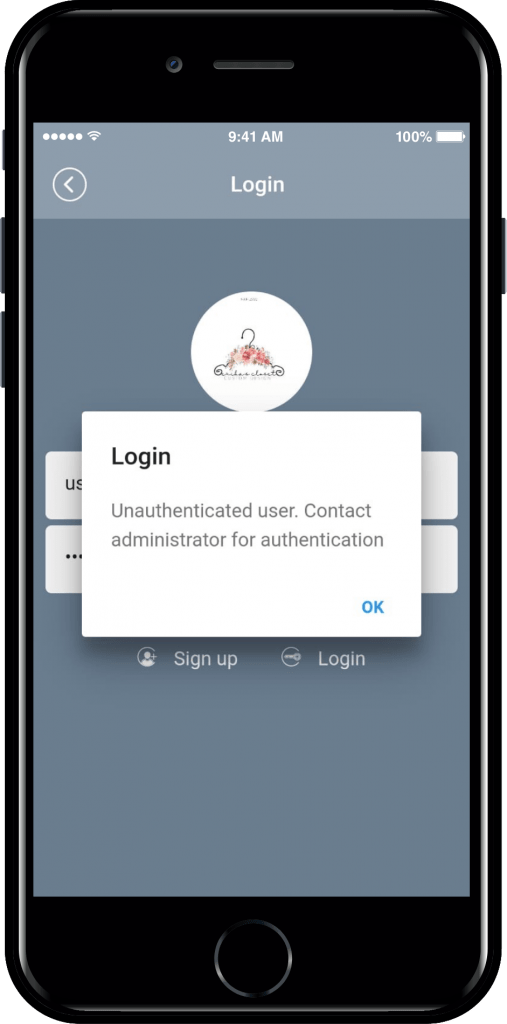 2. Available after signing up: Users can access the app after signing up, no need for admin approval.
Steps to create private app (Available after registration)
Go to Manager.
Select Services.
Click on Policy.
Click Add Subscription Policy.
Select Add Subscription Policy -> Check Private (Available after registration) box [under App Privacy] -> Fill Details Required -> Click on [Save] button.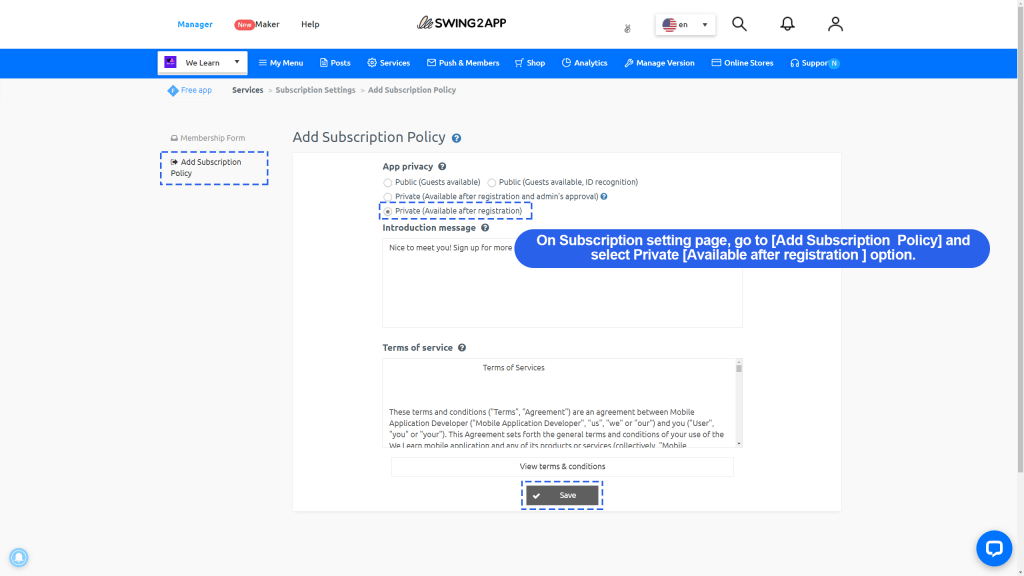 Swing2App provides a variety of features that can be added to your business app, these are:
Chat-to stay connected with your employees
Push notification for announcements- so that everyone is up to date with new task or projects
Event Calander- this is one of the most important features as it relieves you from the stress of scheduling meetings and informing everyone about it
Training- you can also conduct online training sessions that can remain available on the app and employees can access them any time
Reporting- apps make employee reporting much easier
Employee Survey and feedback by using Swing2App Survey bulletin board
In addition to these features, the list is endless as any feature can be added according to the needs of your company.
Additionally, you will be able to create apps for iOS and Android simultaneously for the same cost and time. Isn't this great? Why wait any longer?