First of all, I will briefly explain the background of why this law was created. Currently, in the case of the Google Play Store and Apple App Store, for non-physical and digital products, it is mandatory to use the in-app payment provided by Apple and Google.
What are non-Physical digital products?
Apps on both Apple and Google have certain items which they consider as non-physical digital products. Payments for these items go through the Play Store and AppStore, which charge a 15-30% commission from the developer.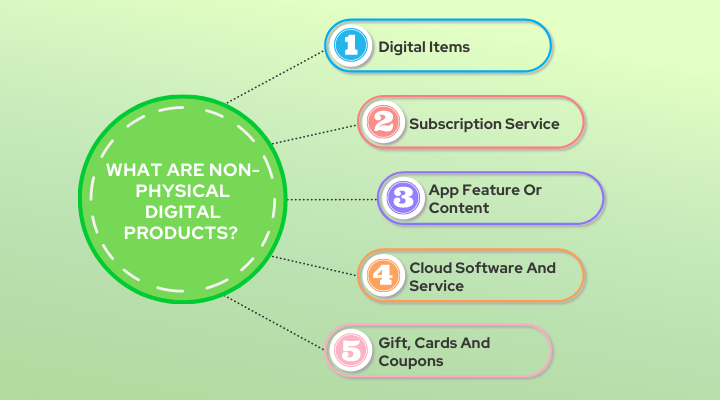 These items are:
Google
Apple
Digital items (e.g. virtual currency, extra lives, extra playtime, add-on items, characters, avatars)
If you want to unlock features within the app (eg subscriptions, in-game currency, game tiers, access to premium content or unlock the full version), you must use in-app payments.
Subscription services (e.g. subscription services for fitness, games, dating, education, music, video, and other content)
Digital gift cards, gift certificates, vouchers and coupons redeemable for digital goods or services that may only be sold in the App through in-app payments.
App features or content (e.g. ad-free version of the app or new features not available in the free version)
Cloud software and services (e.g. data storage services, business productivity software, financial management software)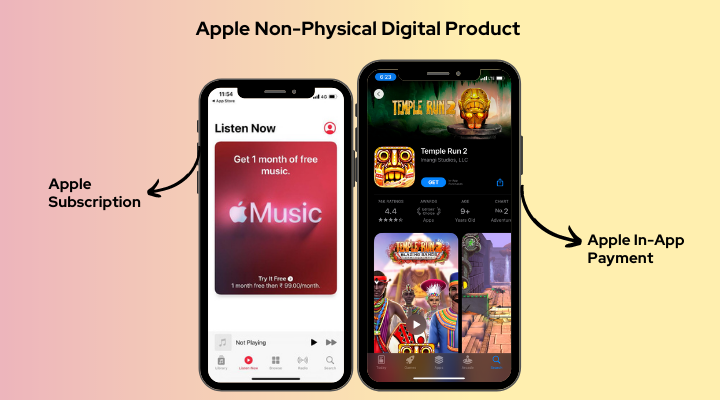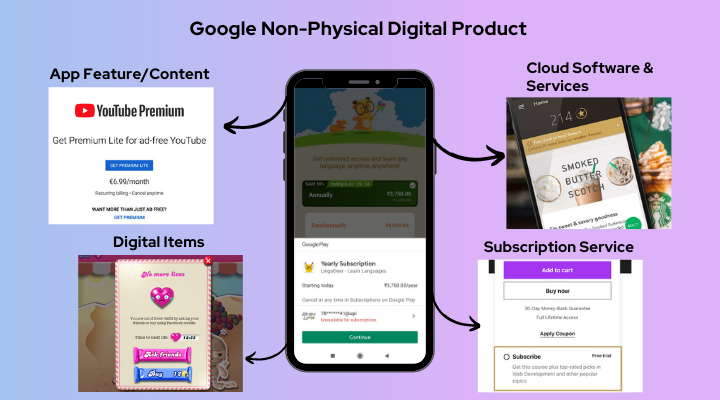 * To put it simply, you can think of it as being levied on all goods that are not non-real goods and services (they exist only digitally).
For this Google uses Google play services in the Play store and Apple uses Apple pay in the Appstore.
Issues with Google play services and Apple Pay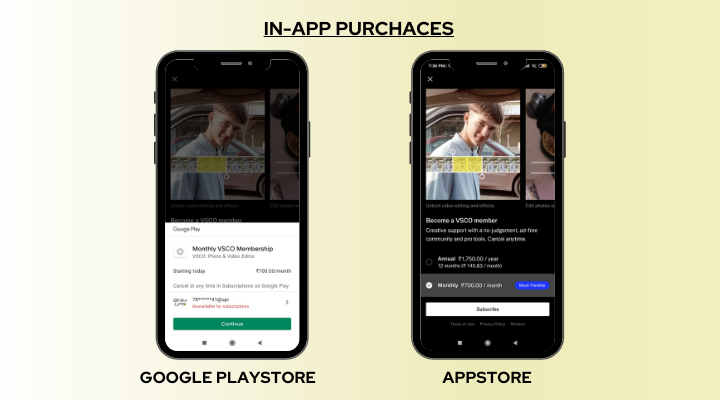 Of course, unifying payment methods has advantages in terms of providing convenience to users and management, but the most problematic is the fee.
Currently, fees are charged at 15-30% depending on the sales volume.
Considering that the PG (Payment Gateway) fee of a typical online store is 3~5%, it is very high, and it is dissatisfying from the point of view of the app developer because 30% is charged for annual sales exceeding 1 million dollars (about 1.2 billion KRW).
Representatively, "Epic Games", famous for "Fortnite", complains strongly about these fees, and has come out of the Play Store and App Store by itself and built its own payment system.
source
In a situation where it is difficult for most game companies to achieve an operating profit margin of 30%, it is reasonable to think that it is very unfair to bear a sales fee higher than the operating profit margin.
For this reason, the Korean government started discussions about the world's first so-called "forced in-app payment law".
Many tech giants welcomed the move by the Korean government. Meghan DiMuzio, the leader of the Coalition for App Justice, a trade organization sponsored by Spotify and Epic Games, the producer of the mega-hit game Fortnite, said the rule "is a huge milestone in the worldwide effort to bring fairness to the digital economy."
As this bill was passed. Many developers expected that they would now use a payment method with a low fee, free from the abuse of Apple and Google.
However, as soon as this law is passed, Google promised to respect and abide by the decision of the law and announced a new in-app payment policy that would only be applied in Korea so that new guidelines in accordance with the law could be applied in Korea.
As scheduled, Google has released a new in-app policy, and the contents are as follows.
"According to the recently amended law, any developer can now offer an in-app payment system provided by the developer along with the Google Play payment system for mobile and tablet users in South Korea. Google Play services fees are reduced by 4% when users pay through a developer-provided payment system."
In conclusion, Google ignored the purpose of the law and took advantage of the law's laxity to find a way to effectively invalidate the law. The reason can be seen in the following.
First of all, you can say that it is possible for the developer, to use their own payment method.
However, If you look closely at the content, you can see that the developer cannot benefit from these fees.
App Developers' Payments Dilemma: Easier with or Without Apple and Google?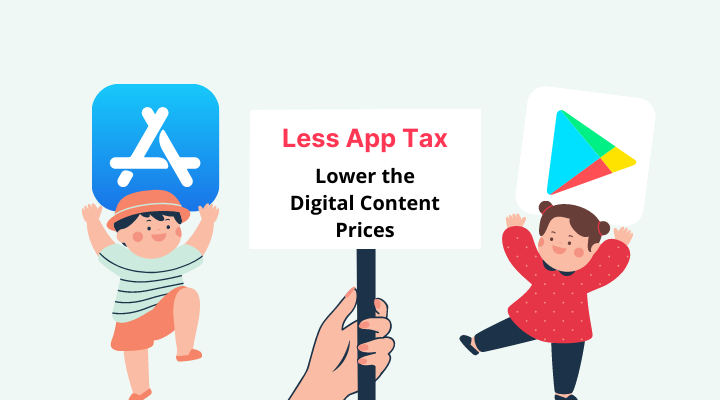 Both Google and Apple decreased their in-app payment commissions for developers with less than $1 million in yearly sales from 30% to 15% during the last year, affecting many apps in their respective stores.
The smaller commissions, on the other hand, do not benefit the major app developers, such as Epic and Spotify, who have carried their grievances throughout the world.
A new term called Google Play services fee was created and all non-physical products paid for in the Play Store would receive a so-called relay fee.
Therefore, if you use the in-app payment as it is, you have to pay a fee of 15-30%,
If you use a separate payment system, you will have to pay 11-26%, a 4% cut.
The 4% cut can seem to be attractive to developers. However, we must not forget that there is a fee to be paid to the PG (Payment Gateway) company.
Currently, the average PG company fee is 3~5%, and there are cases where it is higher depending on the payment method.
As a matter of fact, two cases can arise.
| | | |
| --- | --- | --- |
| | Use Apple or Google In-App payment | Use your own payment system |
| Fee rate | 15-30% | (11-26%) |
| Additional costs and operating costs | – | PG (Payment Gateway) company fee ( 3~5% ) New payment module development cost, the self-payment system need to establish a system for a refund and CS response |
| TOTAL | 15-30% | 14% ~ 31% |
It is clear from the comparison that the overall commission structure prior to the ban and now is not much. However, if the developer opts for creating their own refund and payments system or chooses some other payment gateway, the cost will be higher than before.
Therefore, no app developer would want to choose the second option.
The entire purpose of the ban remains defeated, small developers are still have not benefitted the way the legislating body thought it would.
In addition, even if you use your own payment system, it will be less convenient for the customer who is used to the convenient in-app payment method.
So, we can say that this law to allow multiple in-app payment systems could lower digital-content prices, but will likely add hurdles for users and app developers.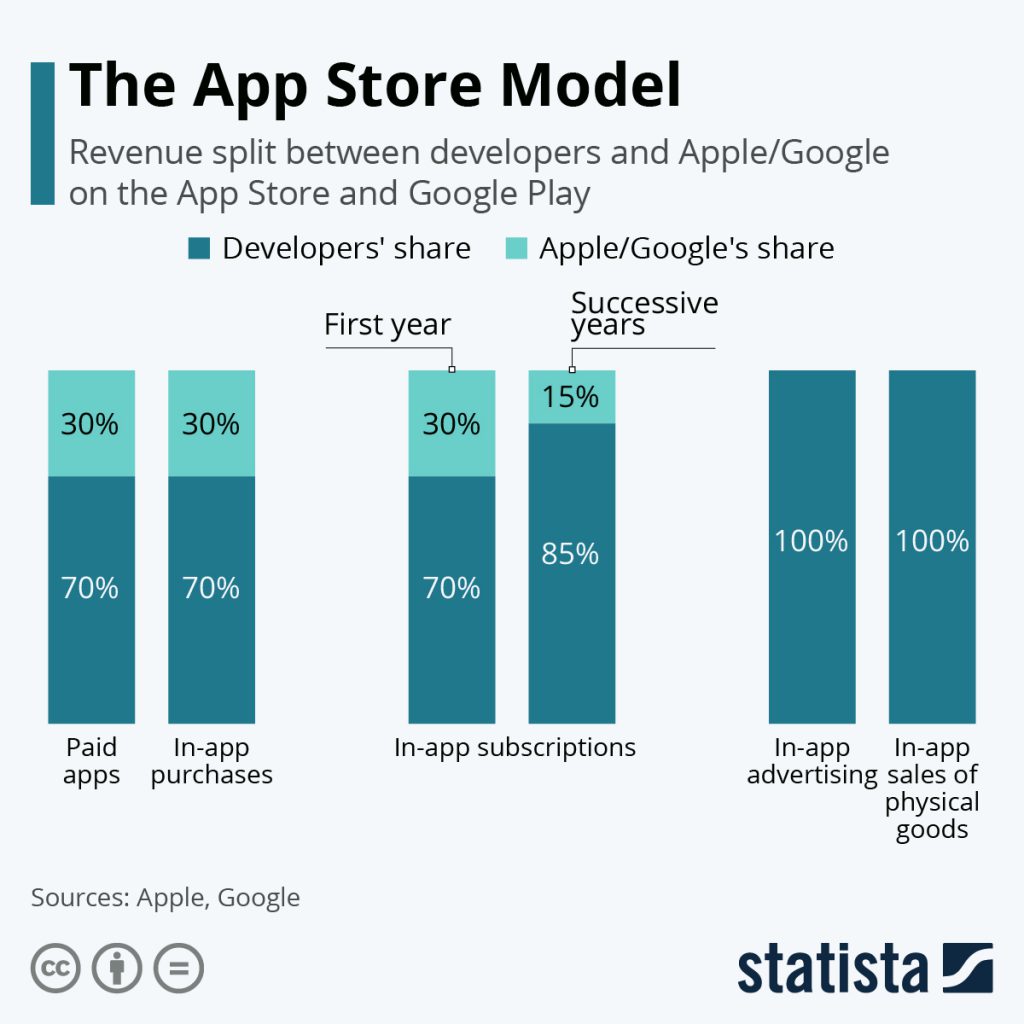 There should not be a difference in the sales revenue between in-app and other payment methods.
It is because of this problem that many online services such as Netflix and YouTube Premium currently receive different amounts due to in-app payment fees when paying through the app.
Even if many developers succeed in service through their efforts and generate sales, the current situation is that it is not taking as much profit as Apple and Google.
For example, assuming that sales generate $10,000,000, and you spend about $6,000,000 on marketing expenses for servers and labor, the share between Apple and the developer of the revenue generated by the app is as follows.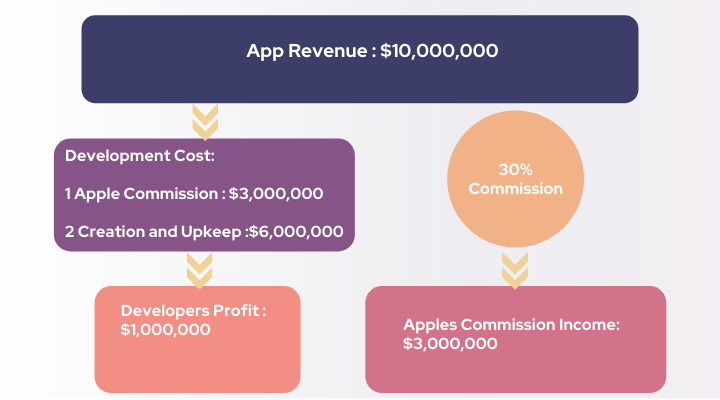 Amid increased regulatory scrutiny over how it runs its App Store, now it had reduced the App Store commissions for smaller businesses. Developers making up to $1 million per year will only have to pay a 15% commission on in-app sales, rather of the customary 30% fee, under the revised parameters of the "App Store Small Business Program."
App developers provide money to Apple by competing fiercely through development competitiveness and marketing.
Apple and Google always provide in-app payments for the convenience of developers and users, and it can be said that it is an inevitable policy to create an ecosystem that provides better services.
However, the reality is that in order to survive excessive fees, only high-margin games and games with a lot of gambling are provided to users, and users are paying a lot of money there. And when that is not enough to sustain the app, it results in many games and services disappearing day by day, and when that happens, all the money spent by users will disappear.
Currently, in Korea, the legal maximum interest rate is 20%, but Apple and Google charge a fee of up to 30%.
In many countries, there is a ban on asking for more than a set maximum amount of interest because it harms a healthy society.
Although the fee is different, the in-app fees charged by Apple and Google may not be different from the interest for many startups and small businesses in an environment where they finance through loans. Therefore, these high fee policies of Apple and Google are having a bad influence on the ecosystem of the game and digital content market.
Despite this, when looking at all the countries in Europe, North America and Asia, the mobile game and digital content market continues to grow and grow.
To Conclude
Swing2App provides an app production builder service, hoping that the app development market will continue to grow by allowing anyone to create an app without needing to code and not having to pay service fees while also being held up to date about policy changes to give more power to the everyday people who want to make an app.

We do express our respect and appreciation for the way Google and Apple have built the ecosystem we are today. However, Google and Apple no longer charge reasonable fees for a healthy ecosystem.
It is natural they should continue to receive a reward for the app market they have built and maintained. Yet they really need to be forced by law to lower their fees as this will be the only way app developers can continue to make profitable apps that result in innovations that benefit the users.
We want to improve this market to be accessible to anyone. Therefore, we look forward to legislation or guidelines to correct this in countries all over Asia, North America, and Europe in the future.