The COVID19 has revolutionized the way we live and run our businesses. In recent years, shopowners, particularly the younger generation straight out of university, demonstrated that they have considerably more hold on in their self-created businesses. There is no deep secret behind their success. They had a competitive advantage by simply taking their businesses online.
If you haven't yet entered the eCommerce arena, 2022 might be the year to start thinking about starting an online business. The COVID pandemic has wreaked havoc on businesses, but eCommerce is capitalizing on the situation.
Small businesses may be "small," but they usually have huge ambitions, and thanks to eCommerce platforms like Shopify, Wix, WooCommerce, and others, they can still acquire global exposure for their goods and services.
One of the first considerations made when beginning an eCommerce or any business is what tools to utilize to conduct the day-to-day operations. In the traditional brick-and-mortar shop, managing inventory, marketing, sales promotions and daily invoicing is quite a tedious task and costly too. The cost of outsourcing some elements will be much higher and it may not be as effective as you hoped.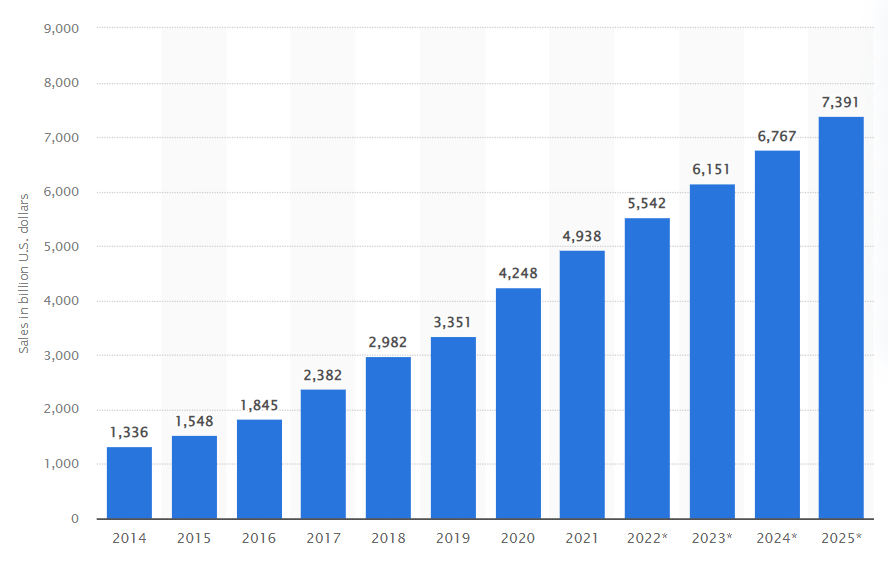 For small business owners interested in opening an eCommerce or online store, web builders like Wix, Shopify, WooCommerce, Square, and other platforms have become such a great addition to the lives of many shop owners. Now that these business innovations are available, users can easily build their online presence and do so without spending massive amounts of money on marketing companies. They also reduce the costs of logistics, supply chain efficiency, and inventory management as everything is handled by the website creating platforms themselves.
Global retail e-commerce sales were estimated to be over 4.9 trillion dollars in 2021. Over the following four years, this value is expected to increase by 50%, hitting $7.4 trillion by 2025.
With a market share of 23.51 percent in 2021, Squarespace Webstores was the world's biggest e-commerce software solution. WooCommerce and 100sklepow ranked 2nd and 3rd.
According to the data, it is clear that the e-commerce industry is booming and will continue to grow further owing to its convenience and personalization.
Now you might be wondering how to take your store online and earn more without burning a hole in your pocket?
The solution is pretty straightforward, all you need to do is choose the website building platform that suits your needs the best and you will be all set to boost your business online.
However, it can be difficult for you to scale without a proper strategy, don't worry we are here to help you with that.
The purpose of today's article is to introduce you to the latest eCommerce trends in 2022 that you could employ to make your online store a huge success.
Let's get started!
Create your online presence
If you'd like to save costs on your marketing and online shop creation and still remain in control, then you'll need to use Shopify, Wix, Bigcommerce, or any other platform. There are now quite a few places that allow you to build a website yourself in a DIY manner using these platforms.
Below is a comparison chart showing basic differences among the prominent website building solutions, as the basic features are similar in all so we have mentioned only distinguishable ones.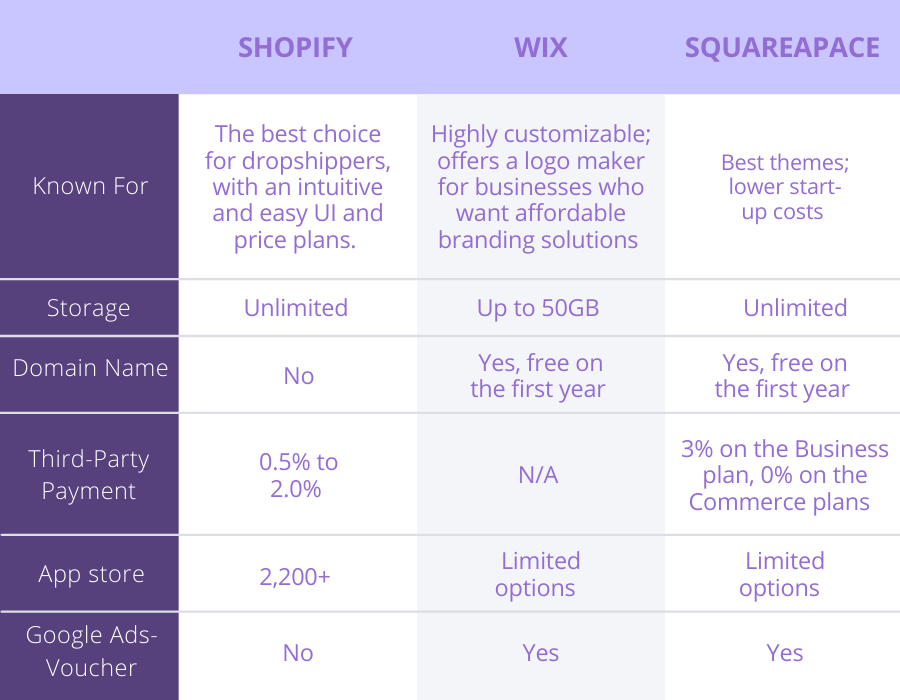 Here are the plans for prominent platforms, you can do a cost-benefit analysis and choose the best one for you.
Creating a website is just not enough to stand out from the crowd you need to focus on other aspects too for generating more sales from your online store.
Here are 5 trends that you can incorporate into your online business for better results.
TOP FIVE TRENDS IN 2022 TO TRANSFORM INTO SHOPPER-FIRST BUSINESS
1. Evolve as one-stop shopping
Today's retailers are diversifying their offerings to include community, content, and a wider range of products. Future Ecommerce victors will be those that create a linked ecosystem of related services that customers can interact with within one seamless experience. Customers like to deal with stores that provide convenience.
Those who establish value-adding, distinct ecosystems can provide a wide choice of things particular to their category, allowing them to serve as a handy "one-stop-shop" for customers. Nearly half of customers said they were more inclined to buy from a marketplace with a large assortment of items. Shoppers can manage different demands in one spot rather than jumping from website to website.
It may be challenging for small-medium-sized businesses to compete with established e-commerce giants; however, they can diversify their product offerings to cater to a larger audience.
2. Omnichannel commerce
Omnichannel refers to a company's use of all accessible channels to contact consumers and offer services, which increasingly includes social media and social marketing. For example, a consumer may make an order for an item on a company's e-commerce site, then monitor the progress of their purchase via Facebook chat, and then pick it up in-store when it comes.
The technology side of the project is being handled by headless architecture, a type of e-commerce infrastructure that separates the front-end user experience from the back-end transactions and inventory management. This allows for a far more flexible approach to omnichannel selling by promoting "plug-and-play" capabilities, which allows merchants to quickly add features like voice control, chatbots, and text message ordering.
3. Secure & Resilient commerce
Given the events of the previous two years, it's no surprise that resilience will be a significant keyword in all aspects of B2C operations in 2022.
Resilience is especially critical in the context of recent global supply chain breakdowns that have resulted in economic disruptions and supply shortages. In 2022, we will witness a surge in the use of artificial intelligence (AI) and blockchain technology to develop more reliable and trustworthy supply chain procedures. Although this won't make businesses completely immune to interruption from volatile global events, they will make it easier to pinpoint the cause of disruption and put measures in place to reduce harm. They will assist in identifying options for redundancy, such as alternate backup supply chains and parts of the business that may be moved closer to consumers, to decrease risk when things outside a business and future control fail.
4. Integrating Best of Online and Offline
Retailers have been subjected to lockdowns and limitations during the previous 21 months, culminating in a rise in e-commerce that has altered customer expectations and the role of physical stores. The ability to seamlessly integrate online and offline will be key to success in 2022. According to a study, more than half of customers said they occasionally visit a physical store to inspect an item before purchasing it online.
Digital and data-driven store experiences are required. Retailers may digitally extend their physical footprint while offering connected, tailored experiences to customers by seamlessly integrating data across online, mobile, shop, and inventory networks.
5. Swing2App's No-code App for your website
Swing2app is ideal for enhancing its web presence by demonstrating that these same benefits apply to it and that having an app is the next big thing due to push notifications and additional advertising opportunities. It's more personal to be on the phone than it is to be on the computer.
On top of that, people spend more time on smartphones than on desktops and laptops, and 90% of that time is spent on apps. So, having an app clearly improves your conversion rate, customer retention, brand loyalty, and user re-engagement as well.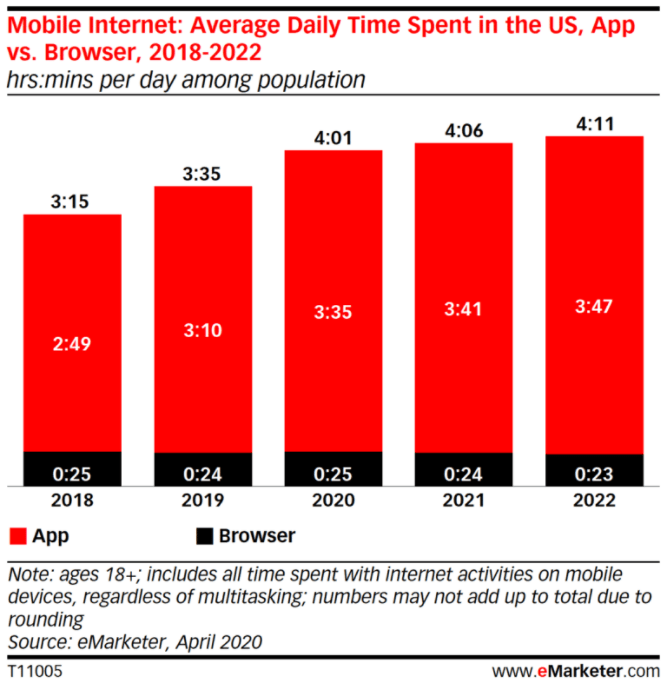 Creating an app with Swing2App is like a walk in the park.
In just five minutes, Swing2App's WebView converter can convert your Shopify, Wix, or Bigcommerce shop into a mobile app that allows you to be on your customers' phones, improve customer relations, and much more. In addition to that, you can save the cost of producing an app drastically with Swing2App. We charge you only one time without any hidden costs and lifetime Swing2app support!
Swing2App is a one-point solution for all your problems. You can send customized push notifications, integrate Google Admob, get user analytics, update your app, and much more all at a single platform.