Mobile apps are the most common ways we view content now. From just a tweet to an entire movie, we access a wide variety of content on mobile apps. Their omnipresence has never been better. People now are significantly less likely to utilize web browsers unless they're on a desktop computer. This explains why every business wants a mobile app, whether industry giants or newbie small businesses.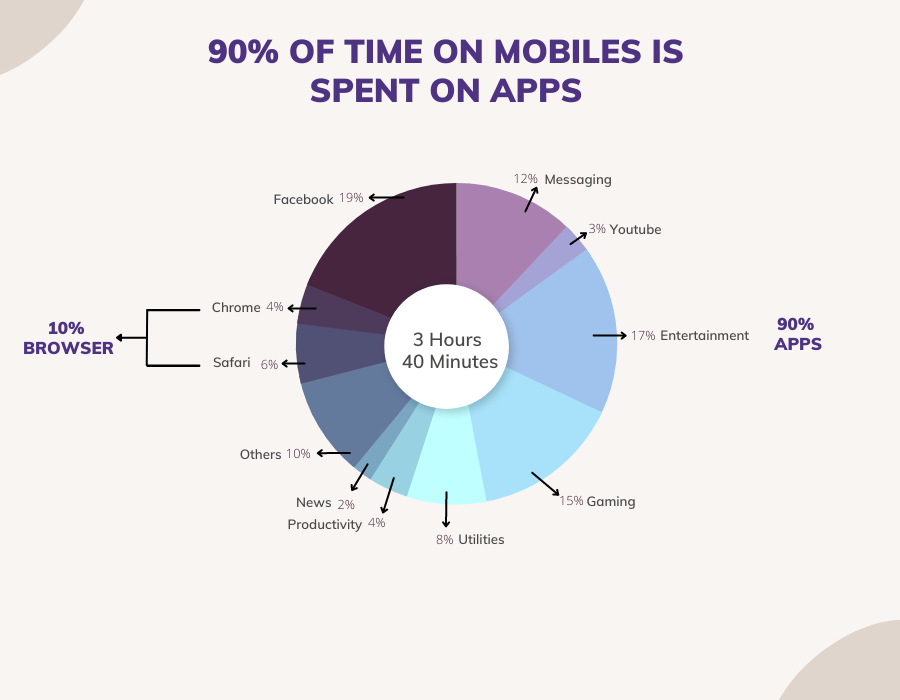 Getting an app to improve sales sounds like a fantastic idea to many businesses. It's the marketplace of the future, with mobile app revenues growing at an exponential rate year after year. However, while creating a native app you will discover that app-building cost has several hidden charges that make this alternative less appealing than it appears at first. For example, the initial development cost may easily exceed $2,000, and that's before any features are added or designs are tweaked. It's a lot of money for a draft. Then you must decide how to use the users' personal information, which necessitates hiring a business to handle customer data security. In addition, you will need to pay for server space and processors, which may easily run a few thousand dollars every month.
So, what should a small-medium-sized business do to get their business into App?
This solution is WebView apps.
It turns your website, which you've already designed, into a mobile app. All data from the website will be retained on the original website server, ensuring that no sensitive data is obtained. An app that allows shopowners to send messages to their customers via their phones will make their brand visible every time their phone is used, and users won't have to worry about emails going to spam. This is how even small-medium-sized businesses can get into the app industry for absolutely minimal cost.
Thanks to the innovative technologies numerous platform alternatives for creating hybrid and native mobile applications are now accessible. These programs can operate across a different operating system while maintaining the same codebase. The Android, iOS, and Windows operating systems are usually supported by these apps.
Every platform has its strategy for obtaining these features. They are, however, divided into two factions. On the one hand, native programs compile code from a language into ARM-compatible code.
Hybrid apps, on the other hand, are basic shells that contain a web view, which is a web browser. HTML, CSS, and JavaScript are used to create hybrid mobile apps. It's worth mentioning that you can create WebView apps without using hi-tech tools while using the same codebase.
This article highlights the cost of app development for WebView and Native apps, and which one should you choose to boost your business
What is the WebView app?
Before going any further, it is essential to understand what WebView apps are.
To comprehend the idea of a WebView, we must first know what a web browser is. The UI and the engine are two primary elements of a web browser.
The address bar, plugins, menu, and output screen are all part of the user interface. This is the component of the browser that we are familiar with.
The engine transforms the markup and code into the visual representation we see on the user interface. If we isolate the engine part, we simply get a WebView. When this engine is put in a native app, we have a WebView app.
A WebView app is any app that loads content from a web page.
Users have two choices for creating a WebView app.
1. Build an app with WebView by coding your way
2. Make a mobile app for iOS or Android using a mobile app builder.
The second alternative is considerably better for folks who do not know how to code.
Cost Analysis: WebView vs Native App
Choosing the best development approach for a project can play an essential role in the decision-making process when looking for mobile app development services, and project cost is a critical consideration for companies of all sizes. Which should you choose: hybrid or native development? This decision can either make or break the success of your mobile strategy, depending on your business objectives and goals.
Native mobile apps rely on specific platforms and use the languages supported by that platform. Swift and Objective-C are common for iOS apps, whereas Java or Kotlin is common for native Android apps. Native apps perform the best and are the most popular in the app store. Because of their speed and responsiveness, users prefer native applications to web apps or hybrid apps. These apps are more dynamic, intuitive, and provide a better user experience overall.
However, the expensive development is a huge downside of native app creations, especially for small businesses. Moreover, this is not a one-time investment, the expenses are recurring each time you want to update your app, or want any kind of tech support, the cost keeps on increasing.
Moreover, it is not just development costs, there are several maintenance costs too. Maintenance is an integral part of mobile apps, just like any other software. The industry standard for software maintenance is around 15-20% of the initial development cost. The expenditure of maintaining the app may be broken down into the following categories:
| | |
| --- | --- |
| Maintenance cost | Expenditure |
| Hosting server | The type of data on the app works with decides the cost of backend data hosting. A media-rich app would need a web server with a faster CPU, more RAM, and more disc space. An app hosting web server might cost anything from $70 to $320 per month. Amazon AWS (Amazon Web Services), Microsoft Azure, and Google Cloud are the most major web hosting solutions. |
| Monitoring and analytics | Monitoring and analyzing your mobile app data is critical to its success. It's impossible to estimate mobile app analytics costs because each app has its own market and a varying quantity of users. It starts as low as $25 and goes up as per customization. |
| Marketing and engagement | Engagement with a mobile app begins with an app install. App marketers pay a price for the app install based on the country, the platform and the advertising unit. A typical app User acquisition expenses globally ranged from $7.5 to $87 for registration, $87 for in-app purchases, and $46 for subscriptions. |
| Updates | It's just not possible to create a flawless app with version 1.o, updates are necessary. Updates may be released on an app store within an hour, but the time to develop an update varies significantly depending on the app's complexity, hence the cost varies a lot. |
| Licenses | If a mobile app design includes one or more technologies for which the developer must pay a license fee, the entire app development cost may skyrocket. A licensing price is calculated based on yearly rates, the number of devices, and can be as high as $24K per year. |
WebView Hybrid app development can perform almost everything HTML5 can, but with the addition of native app functionalities. A wrapper functions as a link between platforms, allowing native capabilities to be accessed. Hybrid apps consist of two parts. Firstly, the back-end code, is written in HTML, CSS, and JavaScript. The second is a downloaded native shell that uses WebView to load the code.
Creating just one app for all platforms is an upside of hybrid app development as it is usually faster, enabling quicker time-to-market.
It also has a downside, which is that you cannot customize your app like you can with a native app, for each customization the costs will increase.
Now, for shop owners who only want a basic app to reach their consumers and be on their mobile devices in app format to enhance sales, there is a method to obtain an app in just a few minutes for a one-time payment. Surprised? Yes, such a platform exists!
It is Swing2App: no code app builder, where you can create your existing Shopify, WooCommerce, or another website into an app in just 5 minutes. Swing2App is both time and cost-efficient thus making it the best solution for small businesses, start-ups, or even industry leaders.
The following is an analysis of the two apps development strategies.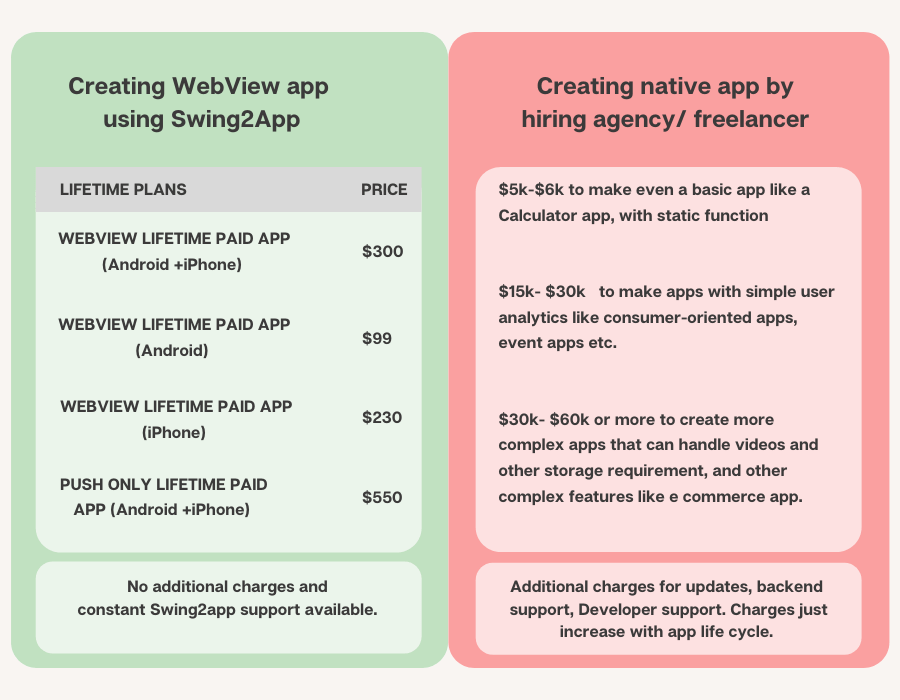 Why Swing2App?
The cost efficiency and quicker app development make Swing2App an ideal choice for no-code app creation. However, this is not all it offers, there is much more in the box.
The additional features provided by Swing2App are:
1. Create an app for both iOS and Android at the same time
2. Send unlimited push notifications
3. 24*7 Swing2App support
4. Reasonable customization costs
5. Google AdMob integration for app monetization
6. App analytics and insights
7. Payment gateways linked with the app
Still unsure whether to create an app or not?
With Swing2App, you can create a no-code WebView app for free and then pay only when you are ready to upload it to the Appstore or PlayStore.
Final Thoughts
The cost of developing an app is not set in stone. You must understand that the cost of your project depends on a variety of factors. When it comes to mobile app development costs, you get what you pay for in the end.
Swing2App can let you create an effective app at a reasonable cost and in a much faster way.