It's time to submit your mobile app to the Apple Store, but there are some decisions you need to make first. It is crucial to choose what developer account to open with Apple, but don't be intimidated, it is actually extremely simple.
Below, we explain the differences between the two options, when to use them, and why.
What Are My Options?
Apple provides two options: the Apple Developer Program & the Apple Developer Enterprise Program. Both have different purposes and processes. Now, which one should you use for your application?
Apple Developer Program
Apple Developer Program enables developers to put out their app for everyone on the Appstore. Select this option if you plan to submit your app to the Apple app store for anyone to download & use.
Your app will be visible to all; however, it must first be approved by the Appstore. To ensure that your app does not gets rejected read: Top Reasons Your App Could Be Rejected By Appstore And Ways To Avoid Them
However, if your goal isn't for it to be publicly available for everyone, but just for internal users, distributing it outside of the Store could be a good alternative.
You have two options:
Custom apps distribution – Custom Apps may be distributed using Apple Business Manager, School Manager, or redemption codes via the public App Store.
In-House – The Apple Developer Enterprise Program allows you to create certificates and provisioning profiles in order to distribute your apps via an internal portal or URL.
Apple Developer Enterprise Program
With Apple's Developer Enterprise Program, enterprises can develop and distribute proprietary iOS apps across their company outside of the App Store.
So, choose this license if you don't plan to submit your app to the Apple app store and need to restrict downloads to internal employees only.
A wonderful method to provide a unique response to the problems facing your company is to build an enterprise application. If you're planning of developing an app for your internal team, you should also think about how you'll make it available to your staff. The Apple Developer Enterprise Program can help with that. This is the precise reason why the Apple Enterprise App Store was created.
Before you think of enrolling for Apple's Enterprise Developer Program, please be aware of the following:
The Enterprise program is ONLY meant for businesses or organisations that are building employee-only apps. Under no circumstances should you make these applications available to the general public or your clients.
Your business or group has to be legally recognised. DBAs, fictional companies, trade names, or branches are not accepted by Apple.
In order for Apple to confirm that you are a legitimate business, your corporation or organisation needs a D-U-N-S Number. A D-U-N-S Number could have already been issued to your organisation, therefore it's a good idea to double verify this before subscribing.
You must be the owner/founder of the company, a member of the executive team, the senior project lead, or have been given official status by a senior employee.
You cannot sign up for the Enterprise program using the same Apple ID that you used to sign up for Apple's Developer program. You must sign up with a different Apple ID.
There is a two-week (14-day) waiting time once your account has been fully set up and active before you may submit the files needed in your account.
What Is the Apple Developer Enterprise Program?
Large corporations can add their proprietary corporate apps and provide staff members access to the Apple Enterprise App Store through the Apple Developer Enterprise Program. Companies can create and release internal-use applications using this method for exclusive distribution to their staff members. Employees of the organisation can use a mobile device management solution or a secure internal system to identify apps that have been approved by the company and download them from the app store.
Apple Developer Enterprise Program Criteria
For companies, the Apple Enterprise Program can seem too good to be true, but it's not intended for everyone. Only businesses who can't use the App Store, Apple Business Manager, or other alternatives can use this programme. It's not for consumer-facing apps as it's solely intended for internal corporate usage to distribute proprietary programmes.
There are prerequisites for your organization's eligibility as well. Use of the software requires that you:
Have 100 or more employees.
Be a company that's a legal entity and not a DBA (doing business as), branch, or trade name.
Accept the condition that the application will only be used for apps deployed securely within your company and solely for internal usage.
Create security measures and systems to guarantee that only workers have access to these corporate apps by putting in place a procedure to safeguard login information and membership assets.
Pass the verification interview with Apple and accept the necessity of the ongoing review procedure.
How does it work from the point of view of administrator?
1)To sign your app, you will use an "In House" distribution certificate.
2) Then you have to give your app an app ID
3) Further link a push certificate to this app ID
4) Ad-hoc and in-house provisioning profiles will be associated with your app ID.
Another point to remember is that your "In House" distribution certificate expires after 3 years.
Your users won't be able to download your application once it has expired. Thus, you will need to renew it in time.
Per Enterprise Account, you can create up to three "In House" distribution certificates, and you can use the same certificate for multiple applications.
Difference between Enterprise Account and Developer Account
| | | |
| --- | --- | --- |
| | Enterprise Account | Developer Account |
| For whom | Companies that need to restrict app distribution to employees should buy this license. The enterprise applications can be downloaded from the website, Mobile Device Management (MDM), or the AppCenter. | Developers or companies wishing to distribute via the App Store to the public or employees should use this license. These apps can be downloaded via AppStore. A build released during development can still be installed via AppCenter. |
| Pricing | Apple Developer Enterprise Program fee is 299 USD per year | Apple Developer Program fee is 99 USD per year |
| Pros | Devices don't need to be provisioned for installation access. (User's device doesn't need to be registered & associated with a build before installing the application) Your app does not have to be authorized by Apple. Apps aren't subjected to Apple's review process Apps do not need to be setup in the Apple app store, so you don't need to complete the full app description, create images to promote your app, or create a public privacy statement. In-App purchases aren't subject to Apple's processing fee Apps will not be indexed by Google and cannot be found via standard search engines | The app is available to the public Users and employees can review and test development builds on 100 devices of each type. Applications can be downloaded simply from the Appstore. Google search for your app will direct to the Appstore Lower yearly cost ($99/year) |
| Cons | The app must be reinstalled once a year before the profile expires (unless MDM is used). Since the app wasn't downloaded from the official app store, users will need to manually trust the developer license on their device. The user must navigate to Settings > General > Profiles and Device Management to trust the new application. Higher yearly cost ($299/year as of 3/1/2020) | During development, access to individual devices must be granted. (Each device must be registered and associated with the build before it can be installed during development) This is a con for internal applications where you may not want competitors to see what your app can do. In-app purchases must go through Apple's payment centre and are subject to a 30% fee |
How to Create an Apple Enterprise Developer Account
Step 1: Click on the URL to get to Apple's enrollment page for their Apple Enterprise program: https://developer.apple.com/programs/enterprise/enroll/
Step 2: Read carefully "What You Need To Know" items, then click the Start Your Enrollment at the bottom of the page.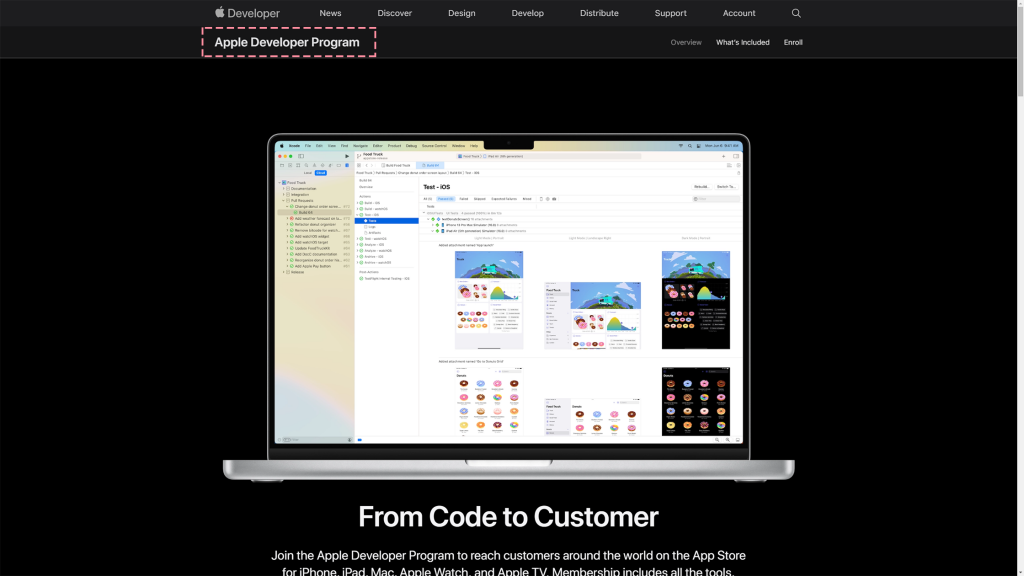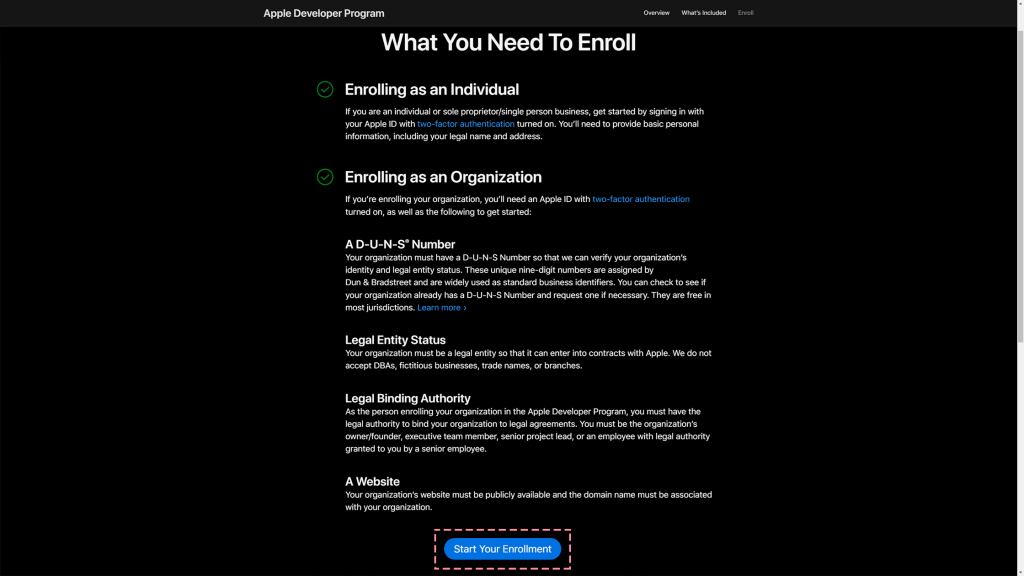 Step 3: Make sure your Apple ID information is correctly submitted, select your Entity Type, then click Continue to proceed further.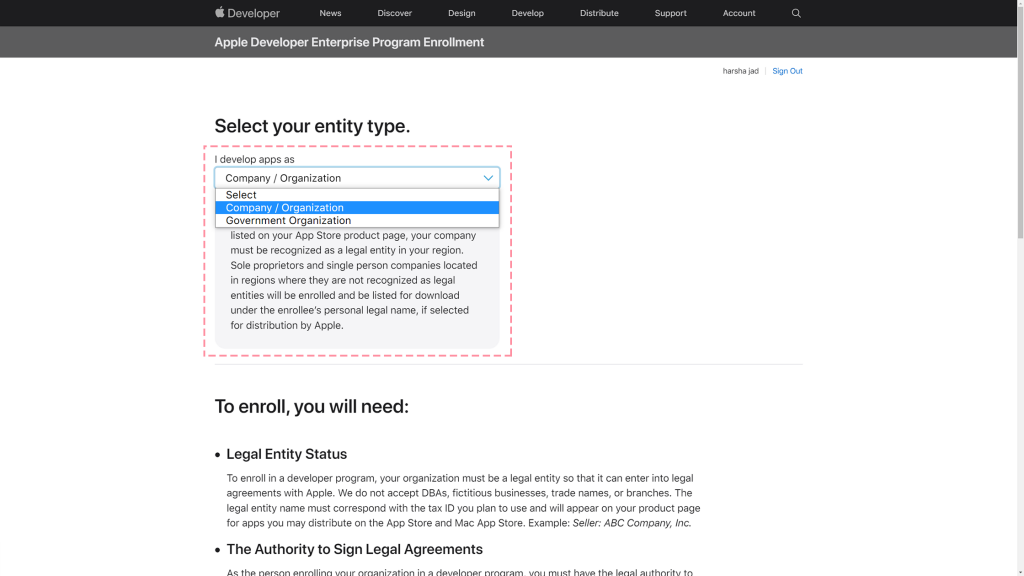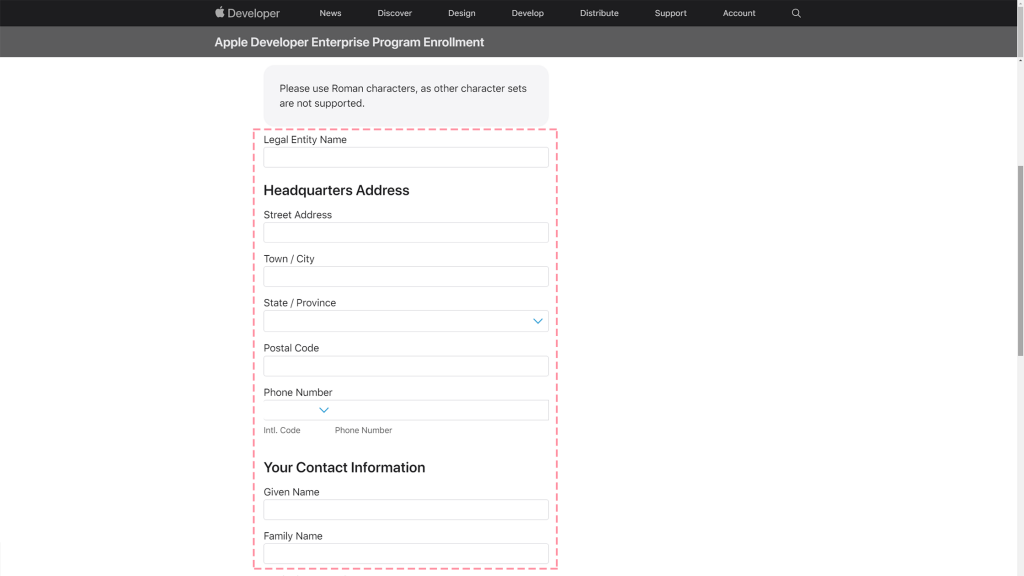 Step 4: Select the type of authority you have to enroll the company/organization in the Enterprise program.
Step 5: Carefully fill out your organization's information.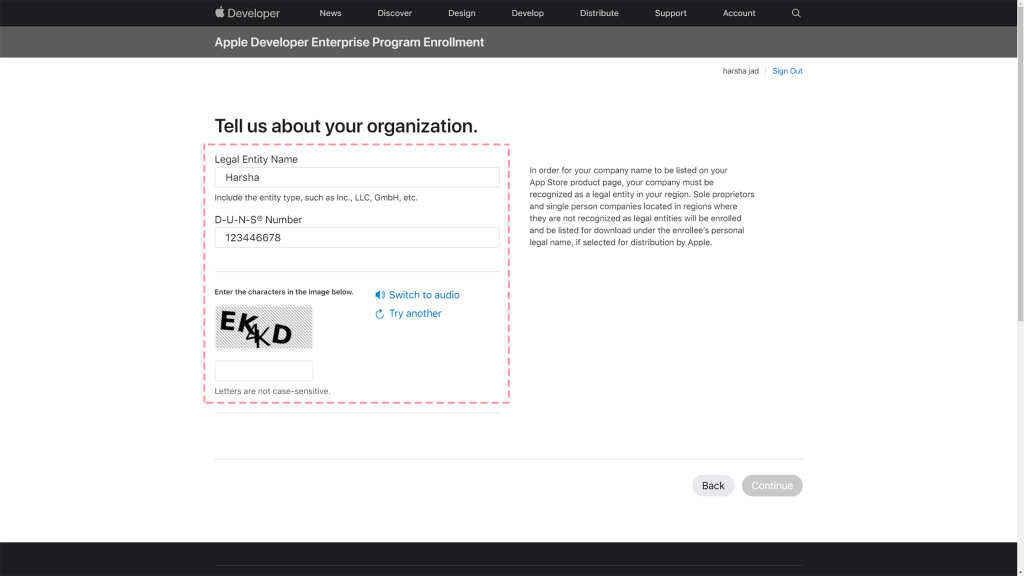 Step 6: Enter the CAPTCHA, then click Continue.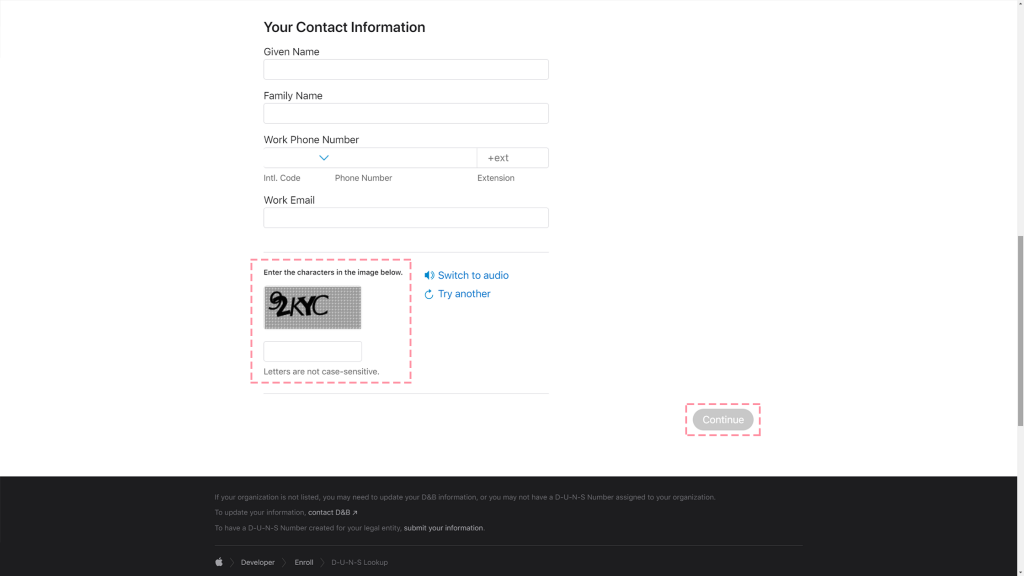 Apple will contact you to verify your information and will provide a direct link so that you can make the payment to complete your enrollment in the Enterprise program.
A 2-week (14-day) waiting period is required after your account has been fully set up/activated before we can create the files you need. 
With this, we have provided you with sufficient information about the Apple developer Enterprise program. If you still have any questions, feel free to contact us. We will be more than happy to help you out.