A few years ago, it would have been preposterous to think of developing a budget mobile app. At the beginning of the dawn of the apps, mobile app development costs were at the spike.
But just like what Moore's law says that as time goes by, the cost of technology starts to decrease, the cost of mobility solutions started to come down.
Nevertheless, developing a native app via traditional development methods is still burning holes in the business' pockets.
It is when Progressive Web Apps (PWAs) come to save the day.
What are PWAs?
PWAs are apps designed out of websites. In the essence, these are the mobilized version of your existing website that opens in the device just like a mobile app. It offers a better experience than a website does on a smartphone device.
In recent years, since the demand for mobile apps started to rise, small businesses, startups, and even big companies who wanted to test the waters first started to invest in converting their website into a mobile app.
According to these PWAs statistics, PWAs cost almost 3 to 4 times less than the native apps on average. Also, on average, they are 33% less costly to maintain.
Besides, sky-high app development costs are not the only reason why businesses started to switch to PWAs. There are so many other benefits of PWAs that attract businesses towards it.
For instance, Starbucks' PWAs saw twice the increase in daily active users, and another company Treebo saw an increase in YoY conversion rate by 4x.
As the mobile started to gain traction, apps became bigger than ever. Consequently, users started to push websites to the sidelines and preferred to use mobile apps to interact with a business.
The drastic shift from desktop to smartphones is also a reason for PWAs popularity. Let's look at the graph from Statista showing the percentage of website traffic coming from mobile devices globally.
Percentage of mobile device website traffic worldwide from 1st quarter 2015 to 3rd quarter 2020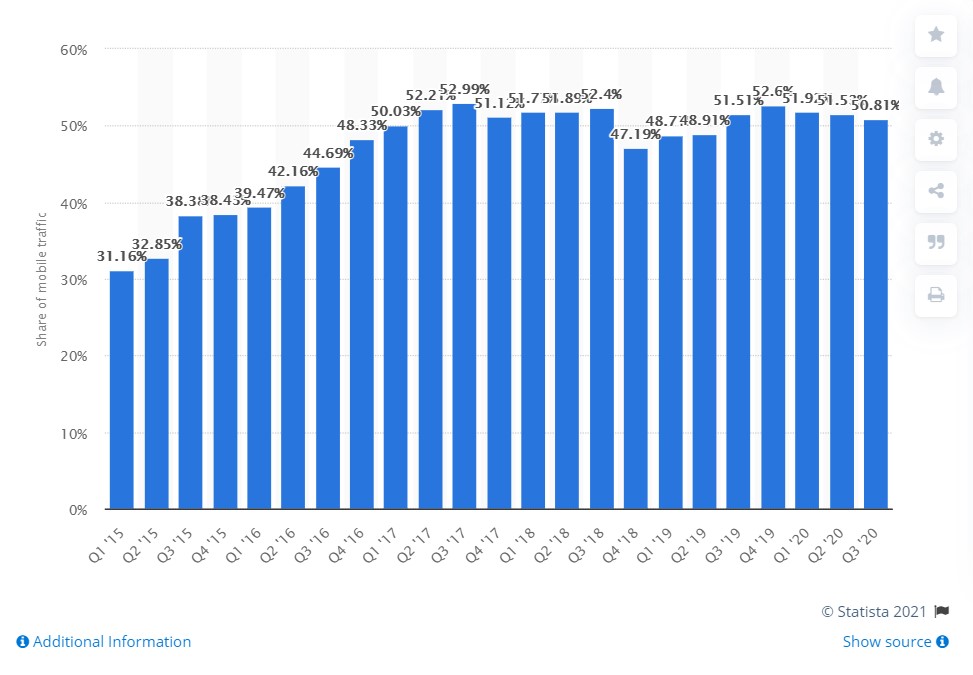 Introducing Swing2App website to mobile app converter
Swing2App is a platform that not only offers no-code app creation but also allows you to convert your website into a mobile app for free. Not just this, you can also develop your app on your own without any coding at all using prototypes provided by Swing2app.
There are 5 basic prototypes for creating general apps namely, Slide Menu. Top Menu, Footer Menu, Drop Down List, and Drop-Down Box. Then you also have to design the app by creating various pages and features like google map, calendar, posts, links, etc.
For creating web apps, there are 2 special prototypes available Web-view only and Push only, these are specially designed for those who simply want to convert their website to we app. You don't need to design your app at all, just enter the website URL and your web app will be look same as your website.
Let's check out the plethora of features you get while creating a PWA from your website.
No-code rule
How about you can create an app from your website within less than 10 minutes yourself? Sounds amazing, right? Swing2App is known for its "no-code, no-hassle" function where you do not have to write a single line of code to design and develop your website.
One Touch Functionality
One Touch is an incredible tool for your users to connect with your brand in the minimal steps. All they have to do is click on a button, email, SMS, or an external link.
Push notifications 
Not just any website, you can create a PWA with push notifications and target your users just like you would with a mobile app. Push notification allow you to personalize the user experience and keep the engagement alive.
Read more about Push Notifications:
Analytics
Analytics functionality allows you to gather insights into user behavior and gauge their preferences by analyzing the data from your mobile app. You can create effective marketing campaigns and personalize your services and user experience as well.
Discount and referral campaigns
You can target a new pool of potential users via rewards and loyalty programs with Swing2App's referral campaigns feature. Create innovative deals, discounts, and more to turn your PWA visitors into loyal customers.
Swing2App provides two choices for prototypes of web apps
1.Web view only
2.Push only
These two protoypes are specially for web apps only, selecting this you will not have to design the menus, you just have to enter your website URL and your website will be converted into an efficiently working web app in according to the prototype you choose.
The 2 main differences between the two are that with Web view only you can send push notifications but for that you need one signal integration, which you need to purchase separately. While as in push only you can send unlimited push notifications using the Swing2App platform only, no other integration is required.
Another difference is that in push only prototype you can select if you want to display the tool bar at the bottom or not.
How web agencies can use Swing2app for their benefit
If you are a website development agency you can use Swing2app no code app developing platform and earn big without working much. Your pre-existing customer base who wants to create web apps in addition to website can simply sign up and make their Web View app in no time and that too without any coding at all.
Not just this you can also reduce your development & maintenance costs by collaborating with us. For instance, if your users want a mobile app of their website you can make it using Swing2app in no time & you can charge more to your customer. This will give you an edge over your competitors.
Let's check the role of Swing2App in helping web agencies in detail:
More work in less time
Web agencies can increase their target base from only website developing to including web apps too. With Swing2app web agencies can reduce the time spent on coding, by converting the website created by them to a web app in 3 simple steps.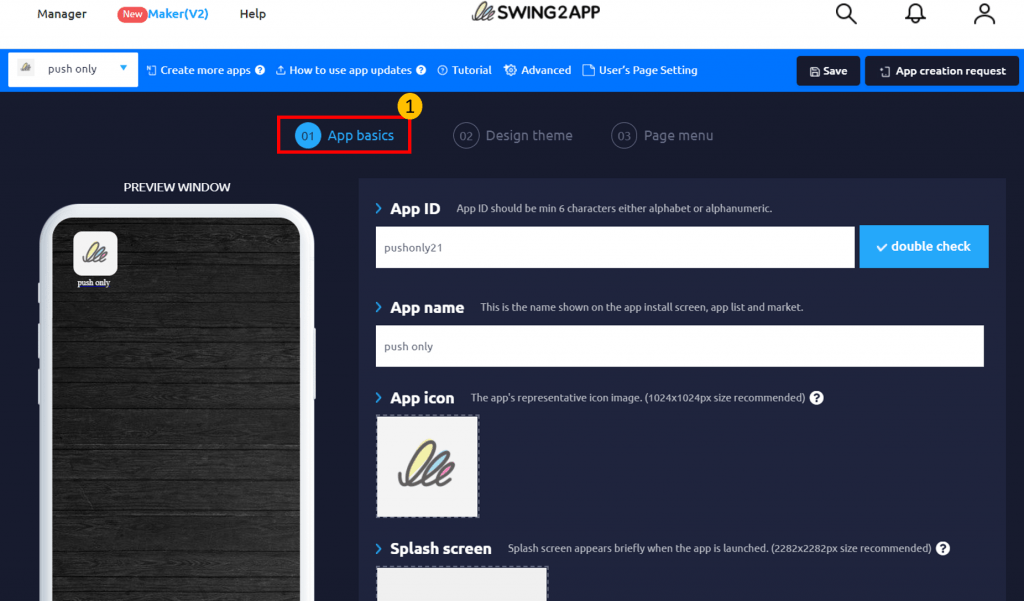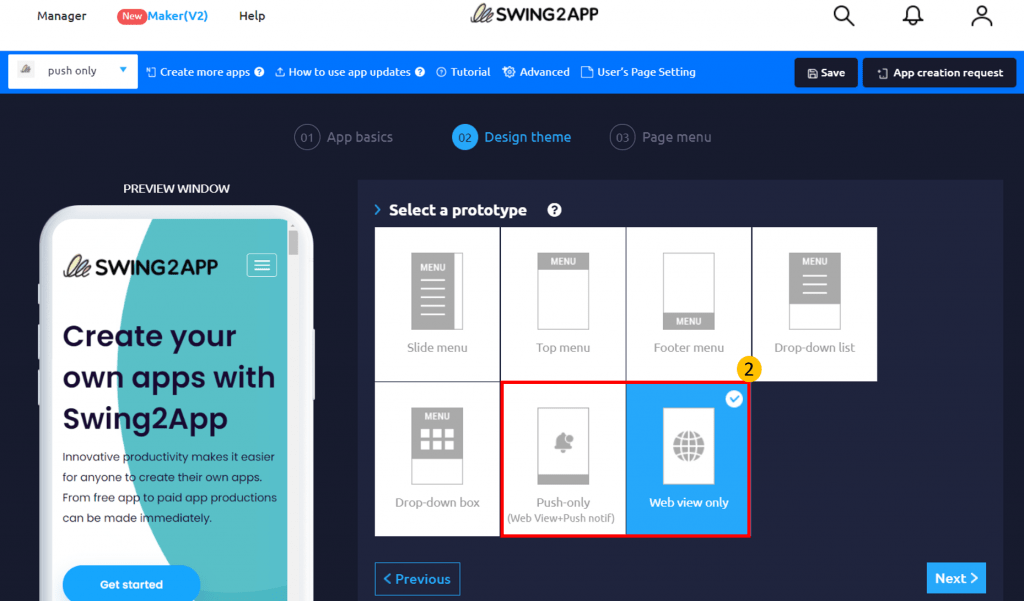 Cost efficient apps
Swing2app building is not only time efficient but cost saving too, where outsourcing the job of converting your website to web app may cost you huge amount but with Swing2App, you only need to pay for the features you want and platform you want to launch your app on.
| | |
| --- | --- |
| PLAN | PRICE |
| WEBVIEW LIFETIME PAID APP (Android +iPhone) | $300 |
| WEBVIEW LIFETIME PAID APP (Android) | $99 |
| WEBVIEW LIFETIME PAID APP (iPhone) | $230 |
| PUSH ONLY LIFETIME PAID APP (Android +iPhone) | $550 |
We have separate plans for only android or both iOS and android platforms, as well as for web only or push only prototype, so all the costs are reasonable and help you cutting unnecessary expenditure.
Increase your customer base
Web agencies already having an existing customer base of people who want to create website for their business or service, but with Swing2app you can take it a step further. You can either use Swing2App platform directly and convert your customer's website to we apps quickly or you can refer Swing2App to them and earn your commission as per our Affiliate program.
For details on affiliate program visit:
Swing2app team support
When it comes to uploading your app on Appstore or Play store it is quite difficult, as there are many guidelines which needed to be followed properly. If your app fails to adhere with even one guideline your app will be rejected.
But worry not, Swing2App provides easy store uploading process, all you have to do is purchase Play store upload ticket ($5) or Appstore upload ticket ($20) or both as per your requirement and we shall upload your app on your behalf. In this way you will not have to worry about all the terms and conditions, we will take care of that properly.
Customization by Swing2app developers available
If you are looking for something extra for your mobile app, you can always go customization provided by our developers. Customization costs will depend upon how much you want to change your app and what features you want to modify.
In addition to the services provided by Swing2App, if you need to add other features or develop a whole app, you can develop and produce the desired app by asking Swing2App to customize it.
Swing2App customizing is developed with 100% customer's desired content.
Also read our blog on web app with push notification:
Conclusion
Swing2App's No code mobile app development is not an expensive process. By following the right strategy and approach, you can make the costs of your mobile application much lower in different ways.
Now that you know what types of apps can get built based on the price, it will be much easier for you to start your development process. Check out the Swing2app Paid Plans and Packages to estimate your software development project.