People use e-commerce apps extensively for making online purchases as compared to e-commerce websites. In today's world, everything from a toothbrush to a refrigerator can be bought using e-commerce apps. An already growing eCommerce app development boom was sparked by lockdown times. Buying online through eCommerce apps has become the most convenient and preferred shopping avenue.
Statista forecasts that in 2023, mobile eCommerce sales will surpass $432 billion in market revenue. These numbers probably make you consider entering the eCommerce market. Maybe you're already in the e-commerce market, but you're trying to attract new customers and increase revenue. The answer is simple – create an eCommerce app.
Throughout this article, I will outline several steps to building an eCommerce app using the Swing2App no-code app builder, highlight eCommerce trends, and the challenges associated with e-commerce app development.
HOW TO CREATE AN ECOMMERCE APP IN A FEW EASY STEPS?
Swing2App no-code app builder allows you to create no-code apps for free and then pay only when you're ready to publish them to the App Store or Google Play. Swing2App no-code app builder provides you with industry-specific pre-built templates, which can be easily customized as per your needs.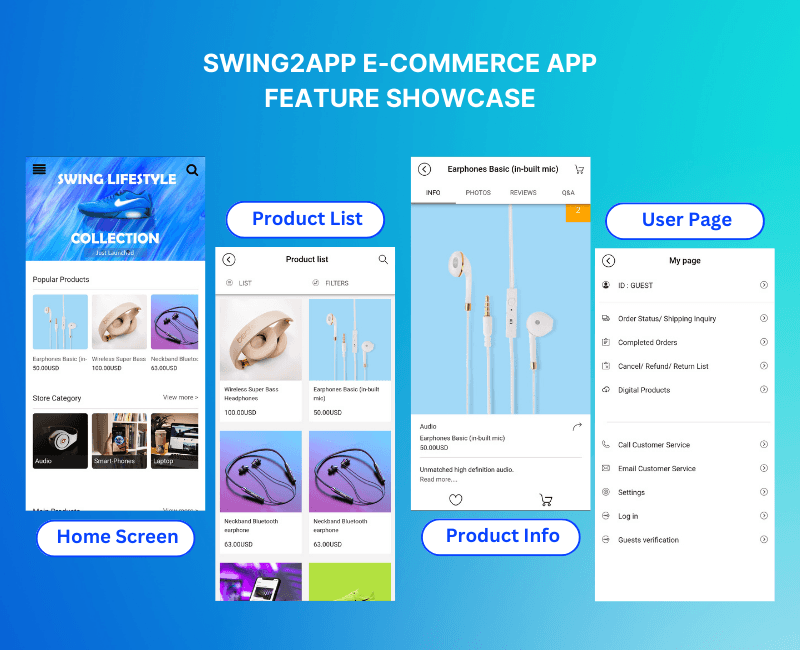 LEARN HOW TO UTILISE SWING2APP TEMPLATE.
Swing2app no-code app builder offers a range of pre-built templates for e-commerce apps, hotels, restaurants, churches, gyms, and other small businesses. These pre-built templates are specifically created to meet the needs of the industry.
Not only that, but you can easily customize and edit these pre-built templates in much less time than the traditional method. The user can simply choose a pre-built template as per their industry and then edit it to their liking. This tool saves you time during the lengthy process of designing your app themes and prototyping; it is a lifesaver for small businesses.
Furthermore, without the requirement to learn to code or hire an app development team, resources, or technology, a mobility solution may be readily created with minimal steps.
Additionally, you can turn any website into an App, whether it's a blog on WordPress or an e-commerce site on Shopify or WooCommerce, and all without any code.
Now, let's go over the three basic stages for creating an electronic device selling e-commerce app with Swing2App no-code app builder.
Follow these steps to create your own eCommerce app selling electronic devices in just a few minutes using Swing2App no-code app builder
STEPS TO BUILD AN E-COMMERCE APP WITH SWING2APP NO-CODE APP BUILDER
App creation
Enter the name of your app, choose the app theme, and color scheme, and test the device that suits your business needs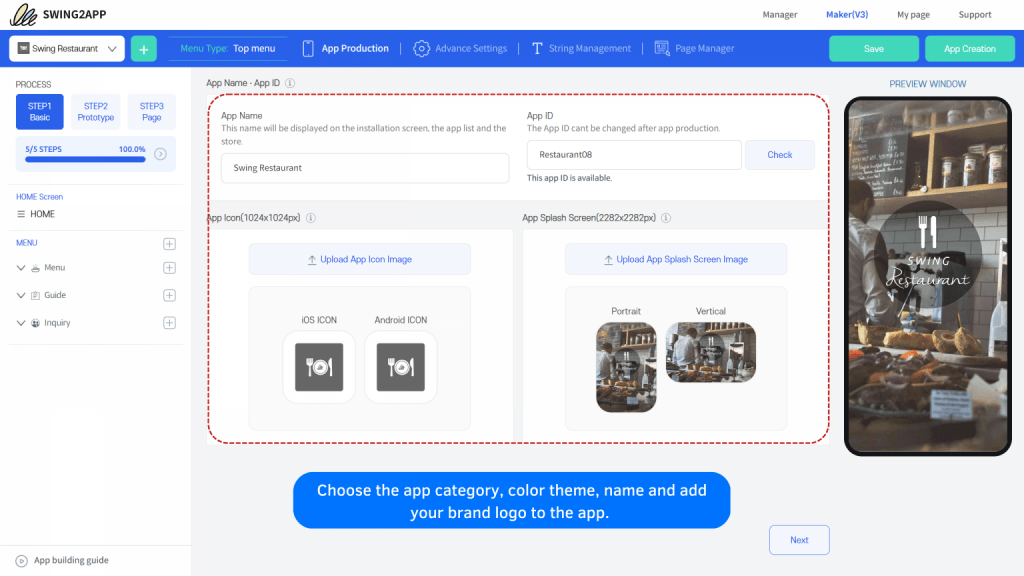 Create an eCommerce app with all the essential features like the product category, payment gateways, shopping cart, wishlist, order tracking, and much more using Swing2App no-code app builder.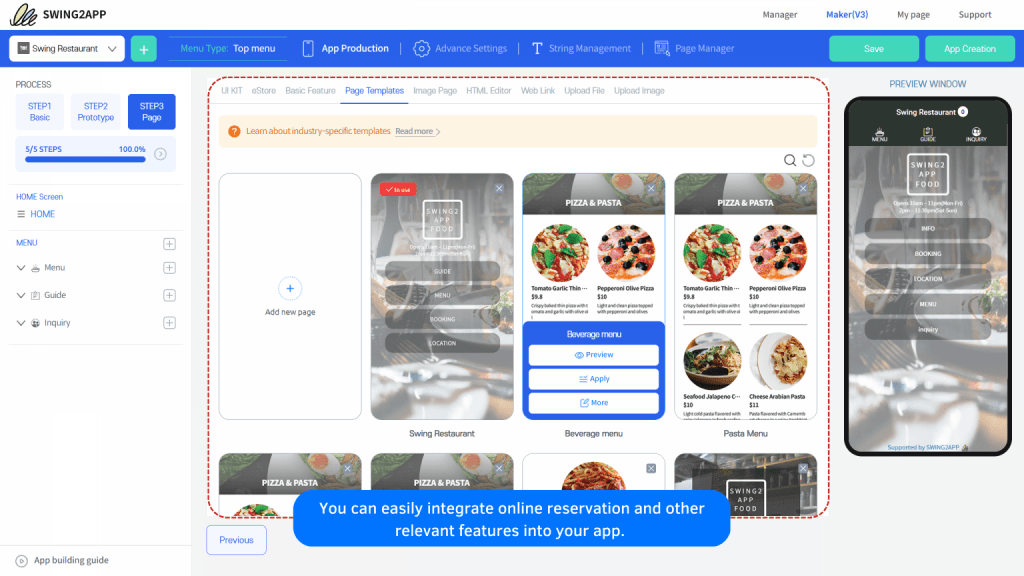 App generation request
Before testing your app on a device, make sure it is edited properly. Once you are satisfied with your no-code app, it's time for you to launch your app on the Apple App Store and Google Play Store.
Once you are ready with your mobile app, start testing and refine your e-commerce app further. Then simply launch your new eCommerce app to both Android as well as iOS app stores.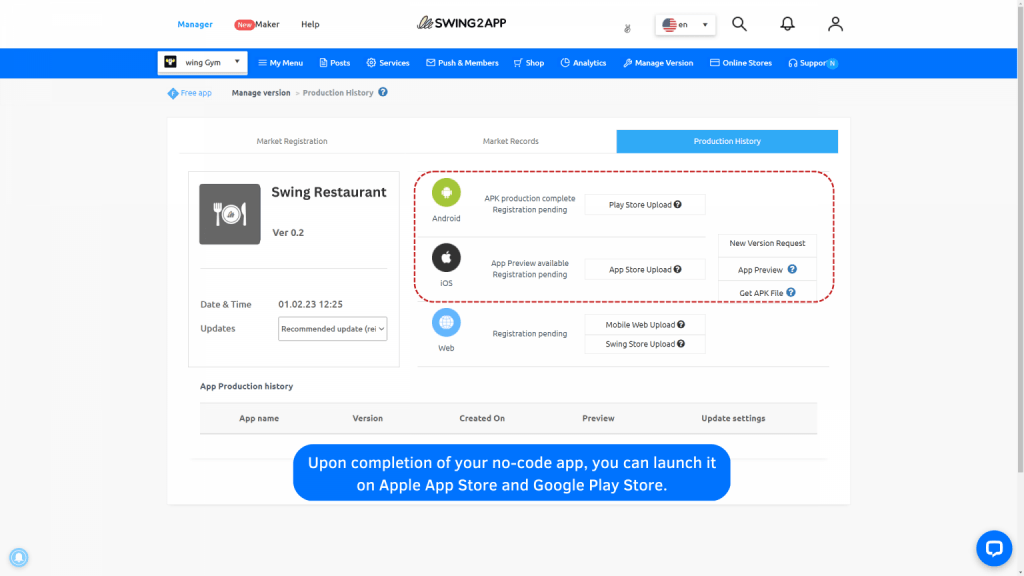 QUICK GUIDE TO ADDING PRODUCT CATEGORY REGISTRATION FEATURE IN YOUR APP USING SWING2APP
Product Category Registration
Please first apply for a swing shop. Before the menu is available, the swing shop must be requested!
Learn Product Category Registration on Swing Shop
Instead of registering a product, you must first create a category that includes the product in the main menu!
Go to Shop → Products → Product Category Registration Management.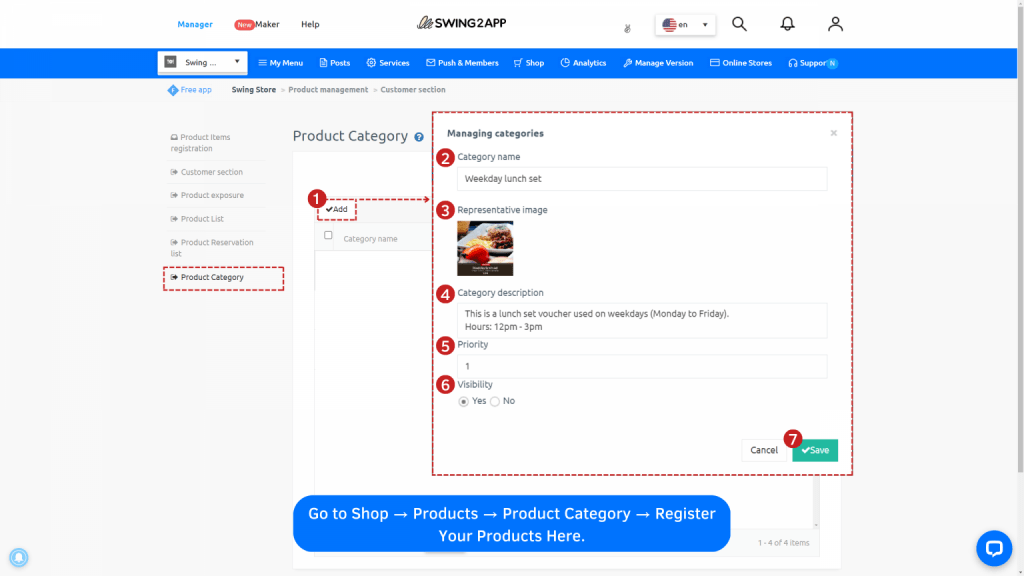 Select 1) the [Register] button on the product category registration management screen.
In the category management window, add the following details: 2) Category name 3) Representative image 4) Category description 5) Priority 6) Check Display Status 7) Select Save button.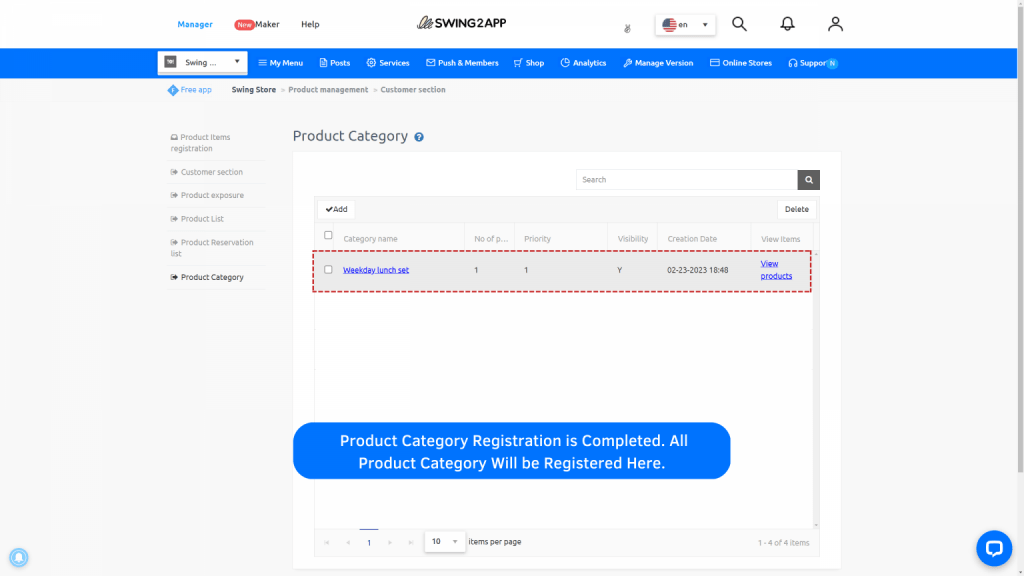 Registration for each category is now complete. Categories can still be added from that menu, and the number of categories is not limited.
You can change the content by choosing the category and deleting it using the [Delete] button.
Similarly, you can add other product categories that you want for your e-commerce app.
This is just a quick guide for adding one feature to your e-commerce app, in the same way, you can add other features of Swing Shop which include: product type, swing shop main page, shipping management, physical/ digital product registration, coupons, reservations, order management, wishlist and other such essential features of an e-commerce app.
Demo e-commerce app selling electronic gadgets created using Swing2App no-code app builder: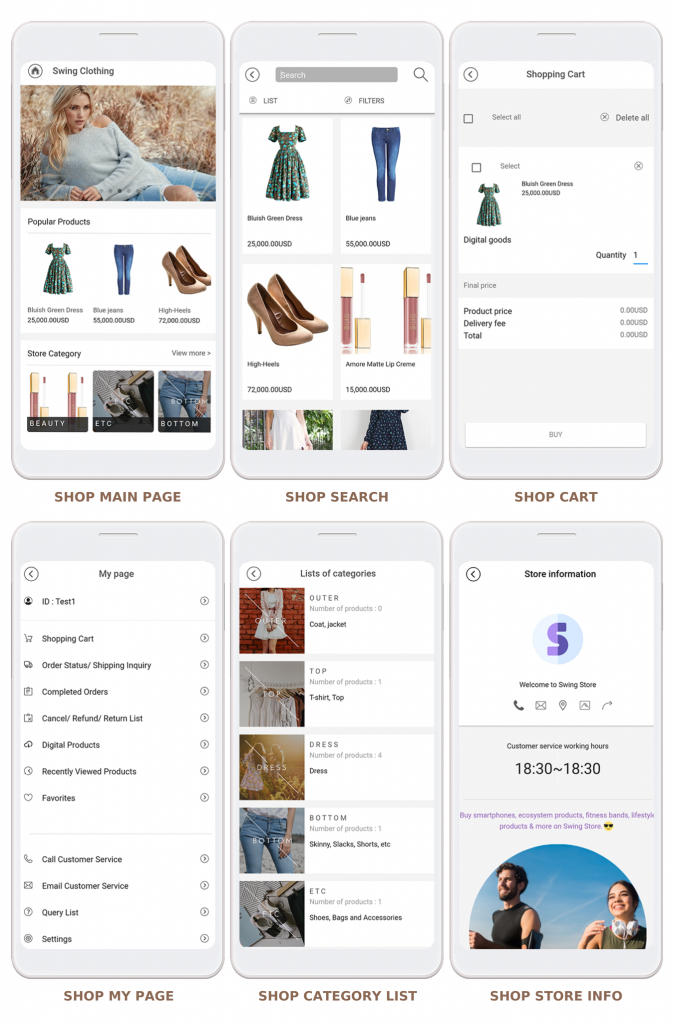 SWING2APP SPECIAL FEATURE: STORE STATISTICS
With comprehensive data on the app and product performance, store analytics can help you develop stronger marketing tactics. cs. Moreover, it also helps you to discover what works and what doesn't in order to improve and enhance your e-commerce app.
On the admin page for the swing store, under "Store Statistics," you can see how many items are being sold on your app.
Order quantity and amount by time are available for review.
You can view data for the number of readings per product and the order amount by product.
You get 4 types of store statistics:
Monthly order amount:
The monthly order amount is a statistic that allows you to see the sum and quantity of orders sold by your e-commerce app each month.
The monthly order amount can be viewed in two ways, firstly as a sum of the order amount and second the sum of the order quantity.
You can also check the order amount and order quantity statistics separately.
Daily order amount:
The daily order amount is a statistic that allows you to see the sum and quantity of orders paid for during the day.
Just like your monthly statistics, you can select the date and see your order value and quantity.
Order amount by product:
You can check the amount paid for each product by the amount of each order.
Apply a date range to see the total amount paid for each item ordered during that period.
Viewed Products:
You can check how many times you have viewed the product in the app and how many times you have viewed it by product.
You can utilize store analytics for identifying which products sell well as well as monthly order totals and amounts.
You can download it and use it with Excel to manage them independently.
REASONS TO DEVELOP AN ECOMMERCE APP
The market for e-commerce apps is huge. But if you're still not sure whether you need to create an e-commerce app, here are three main reasons why you should create an e-commerce app for your business.
The Smartphone World
Around 4 billion mobile phones are currently in use worldwide. The majority of people use their mobile devices to quickly and easily make purchases online whenever they want. You must be there where your audience is! Do you require another good reason to create a mobile commerce app?
Boost your business revenue with an e-commerce app
Smartphones are more than just a smart electronic device. Numerous global eCommerce platforms, including Walmart and Amazon, have demonstrated that mobile apps enhance revenue growth across all devices and draw in new customers.
Changes in User Behaviour Following COVID-19
The eCommerce boom was considerably hastened by COVID-19, which also had a big impact on how individuals make purchases. The total amount spent on eCommerce in May 2020 was $82.5 billion, up 77% from the same month in 2019. If we were to use the conventional year-over-year gains, it would have taken 4 to 6 years to reach that figure.
Additionally, there are other reasons to create an eCommerce app besides only having a decent responsive website, such as:
access to user quickly;
the ability to contact users through push notifications;
improved possibilities for monitoring user behavior;
effective data collection;
Fast new features and test hypotheses.
BENEFITS OF BUILDING AN ECOMMERCE APP WITH SWING2APP APP BUILDER
Establishing a strong online presence is important for businesses to thrive in today's competitive market. To tap into the vast potential of online retail, creating an ecommerce app has become a strategic necessity. With the user-friendly and powerful Swing2App app builder, building a feature-rich app has never been easier. Our innovative AI eCommerce app builder platform offers numerous benefits that can revolutionize your business operations like never before.
From expanding your customer reach to improving sales and providing a seamless shopping experience, Swing2App app builder equips you with the tools to succeed in the digital marketplace. Listed here are some key advantages of using the Swing2App app builder to develop your ecommerce app.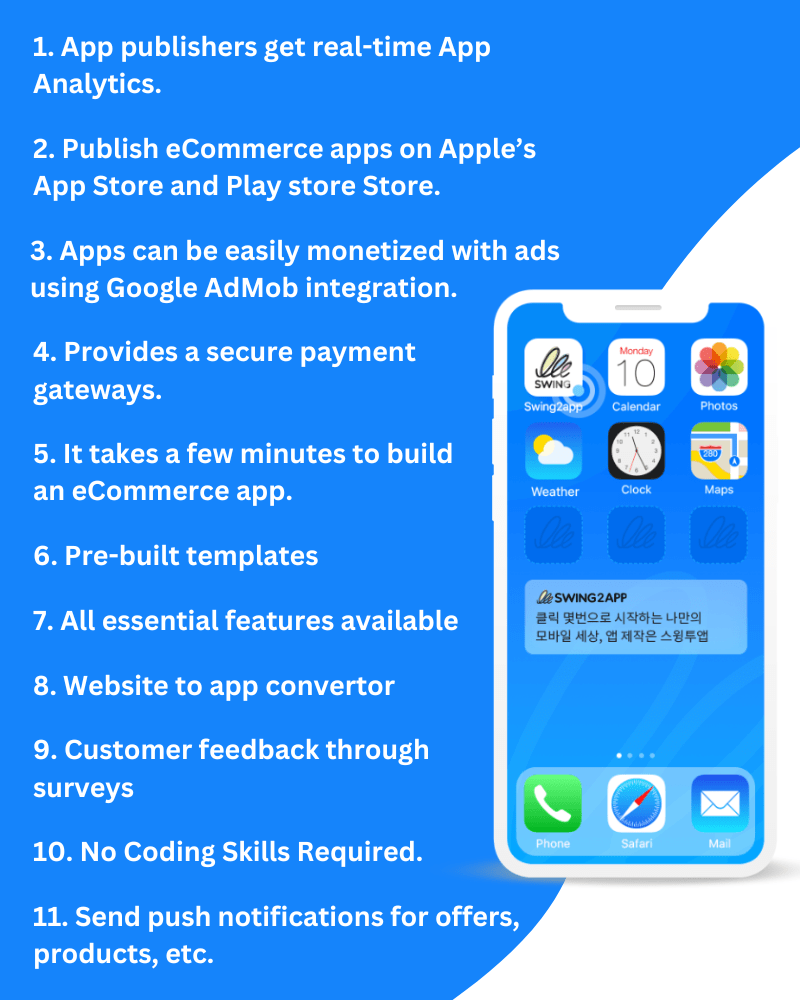 1. It takes a few minutes to build an eCommerce app.
Because app development takes so long, by the time you release your app, it can already be too late and your competitors might have snatched away your audience. With the Swing2App app builder, creating ecommerce apps just takes a few minutes from beginning to end! You naturally save a great deal of money and marketing time by doing this.
2. No Coding Skills Required.
You do not need to write even a single line of code when you build your ecommerce app with Swing2App app builder. Regardless of their level of technical expertise, anyone may utilize the Swing2App no-code app development platform to create outstanding apps thanks to its unique AI capability.
3. Publish eCommerce apps on Apple's App Store and Play Store.
Our support does not end after the app development, we support you in-app publishing as well as app maintenance. Swing2App app builder gives you complete support till you publish your app on the app store of your choice.
4. Apps can be easily monetized with ads using Google AdMob integration.
Earn from your apps while you sit back and relax. You can generate revenue from your app by running ads on your mobile app. For this you need to set up Google AdMob integration provided by Swing2App no-code app builder, it takes very little effort to enjoy the great benefits.
5. App publishers get real-time Swing2App App Analytics that can help you create strategies for your e-commerce app.
It helps you know what is working well for you and what part must you work on, to improve the entire shopping experience for your users.
6. Pre-built templates
Swing2App no-code app builder provides you with industry-specific pre-built templates, which can be easily customized as per your needs.
7. All essential features available
With Swing2App no-code app builder you get all essential e-commerce app features like product page, wishlist, order management, and much more without any coding at all!
8. Provides a secure payment gateway.
Since Swing2App app builder's ecommerce apps are security compliant, you and your customers can relax and conduct business in a secure manner.
9. Website to app converter
With Swing2App no-code app builder you can convert your e-commerce website into an app in just 5 minutes. Learn more about Swing2App website to app convertor here.
10. Customer feedback through surveys
You can add the survey form in your e-commerce app to get real-time feedback directly from your users. This helps you make decisions about what to add or change in your app to enhance the user experience.
11. Send push notifications for offers, products, etc.
Push notifications can be read by your app users without even opening your app. This is by far the most successful way to connect with your app users.
CONCLUSION
The pandemic, the growing use of smartphones, customer need for uniqueness, and other global events, among others, have all contributed to the industry's present boom in eCommerce app development.
With an eCommerce app, your business has a lot of potential, from instant access to users to a competitive advantage over your rivals. The user must always come first when creating an eCommerce app, and the most user-friendly solution must be found.
In contrast to traditional ways, your customers will have a variety of options that will guarantee memorable interactions. These apps have made life much simpler in the digital age!
If you need help creating an eCommerce app, get in touch with us.