A critical part of product management is consumer analysis.
You need to be eager to understand to the target customers and learn first-hand about their expectations and requirements if you want to move the idea to the next level. User reviews will help enhance the precision of your decision-making, when you aim to build a product that has a clear value proposition that satisfies the basic needs of your decision-making.
Surveys have increasingly become the perfect way for online companies to obtain insight into a consumer base to assess who their clients are, how their customers feel, and what their customers actually want. All of this is knowledge of considerable use! Surveys are now widely seen all over the internet, but rarely within smartphone applications, initially carried out with paper and pencil.
A typical example of a user survey submitted by email, connecting to an online survey (Typeform). This is good if context is not super relevant, but it is obvious that this style is not suitable for many product teams who wish to gain input into the user experience. So, what's the solution?
The answer is: In-app Survey.
In-app surveys are an important method for customer evaluation and customer-driven growth for the gathering of user reviews. The more you communicate with and appreciate the needs of your app users, the more you know what to create and how to build.
In-app surveys for the collection of user feedback are an effective tool for customer assessment and customer-driven development. The more you engage with the needs of your app users and respect them, the more you know what to make and how to build.
Why In-App Surveys?
Surveys help product owners get their customers' qualitative reviews proactively. Low response rates, with some survey response rates cited at 10-20 percent and others as low as 1-3 percent for smartphone web surveys, are one of the greatest obstacles in obtaining consumer input.
By reducing friction, in-app surveys aim to overcome this problem. In-app polls minimize the number of actions that users need to take to complete the survey and remove the need for users to leave the app for reviews to be sent. Holding customers in the app raises the likelihood of consumers engaging in the poll, and it also has the additional advantage of increasing the time spent on the app by users.
Audience targeting is another aspect that has an impact on survey response times. You can reach unique groups of your app users based on different parameters, such as app edition, event completion, or other custom characteristics, using a personalized, in-app survey feature available with Swing2App.
How to create survey
Choose a survey platform
To build and post your survey, choose the correct site. You can build your survey using Microsoft Excel so that you can download the reports as a spreadsheet if you are gathering a lot of data that you want to break out and evaluate.
You might want to use Google Forms to build your survey. Furthermore, think about how you want to use the details.
Survey should be short
Respondents do not like surveys that are too lengthy. So, try to limit the number of questions you ask when you're thinking about how to do a survey.
Direct the respondents via the parts if your survey is on the longer side. Let them exactly what you would ask them for.
Avoid yes no type question
Try to get at the answer in a more roundabout manner, instead of asking outright. Offer them a list of choices and ask if any of the products listed are used or recognised by them. If they happen to pick the item(s) you are interested in, just let respondents continue on.
Yes/no questions should not catch individuals who are on the fence or complexities in the views of people, in other words, try to leave, yes/no questions while thinking on how to make a survey.
Don't
Do
Do you like denim shirts?
· Yes
· No
What kind of shirts do you like?
· T-Shirt
· Crop top
· Denim shirt
· Solid shirts
· Floral tops
Include respond type questions
The main purpose of a survey is to get honest user feedback. For this if you specify only select type questions the customer will be forced to select one of the options.
However, if you keep open ended questions where users can type in their answers, you will get better and more useful suggestions to improve your business.
Don't
Do
How user friendly is our mobile app?
· Extremely good
· Fine
· Average

What if customer thinks your app is not user friendly at all?
Please write briefly if you find our app user friendly or not?

Users can reply specifically, in detail if they like your app or not and you can get honest feedback
Don't ask direct questions regarding your product/service
When you are creating a survey in response of which you are going to provide gifts to your customers, however you need to ensure the responses are true and genuine.
If you would ask direct questions chances are the user would just fill the survey to appease you, however asking indirectly and more specific questions will help you to get the honest feedback.
Don't
Do
Would you like to shop from our store again?
· Yes
· No
How would you rate your shopping experience today with us?
· Extremely good
· Fine
· Average
· Poor
· Very bad
Use the matrix questions carefully
Usually, respondents faced with a matrix would concentrate on filling out the grid rather than paying close attention to each question, and that will hurt the accuracy of the results.
Additionally, to avoid survey recipients from being visually confused, each matrix should have no more than 5-7 row or header options.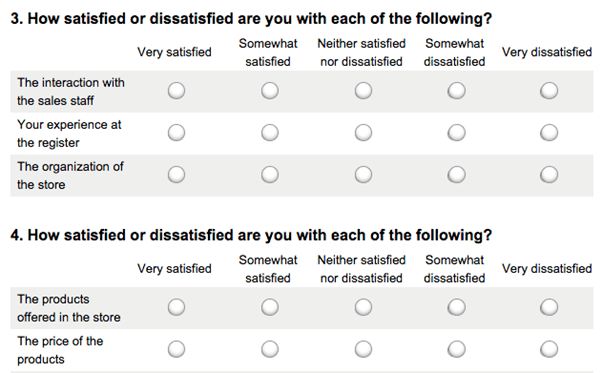 Filter fake responses
As a consistency check, at the beginning and end of each survey, you should ask a simple question. When you're designing longer surveys, this is really relevant because you might be shocked to see how many respondents forget these basic questions.
Based on the target audience mismatch, you do not always throw out respondents, however you should use it to verify the accuracy of a respondent's responses in combination with other tests. For example, for 5 out of 10 questions in your survey, just delete an answer if the survey taker replied, "Don't know" or "Not Applicable".
Swing2App in-app Survey feature
Swing2App provides a tool for Surveys, that administrator can use to create questionnaires & send it to users of the app.
In-app Survey is a feature of Swing2App that allows you to conduct a survey for users of the app.
Open ended, single choice as well as multiple choice questions can be created for the survey, and surveys can be conducted for various purposes, such as customer satisfaction surveys.
Swing2App provides a tool for surveys, so you can simply create a questionnaire by entering your questions and answers without any coding at all.
Let's check how can you create a survey in your mobile app with Swing2App no code app builder in few simple steps.
Here we have created a simple survey with different type of questions.
You can use Swing2App survey function link with your menu, to provide users to fil the survey.
Users can view the current survey like this.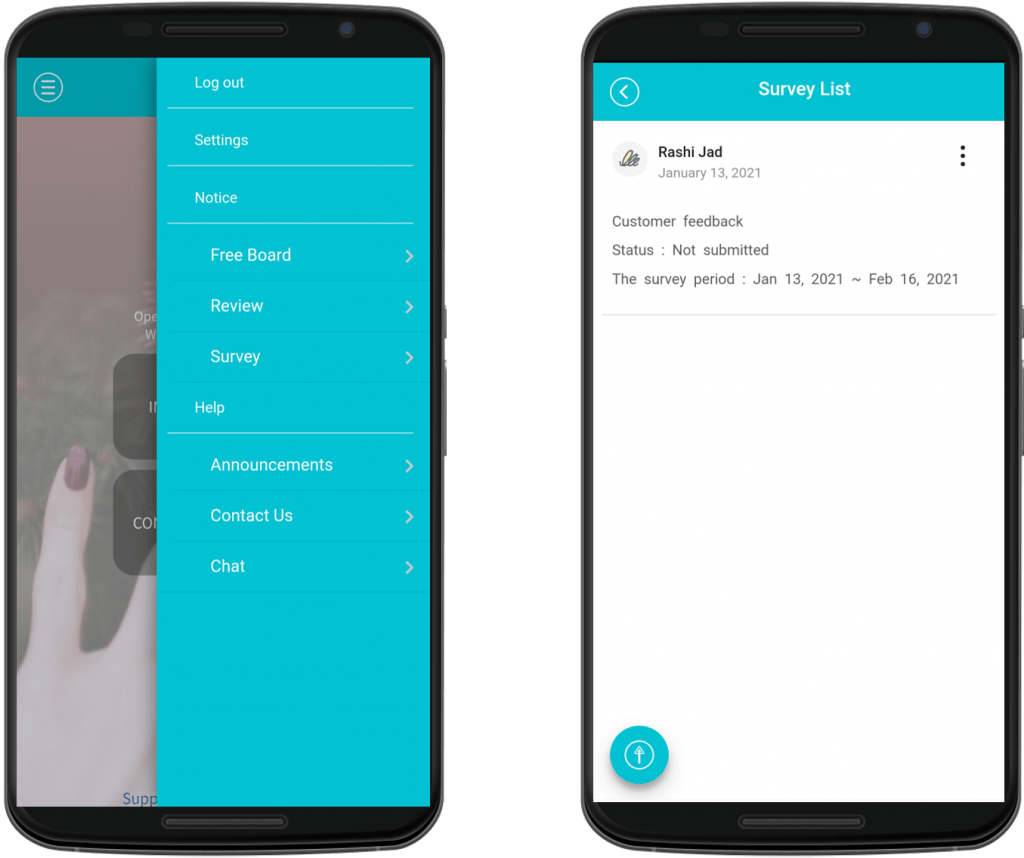 As soon as user clicks on the survey the series of question will be displayed which the user needs to answer like in the image. Here we have shown multiple choice question where only one answer is needed to be selected.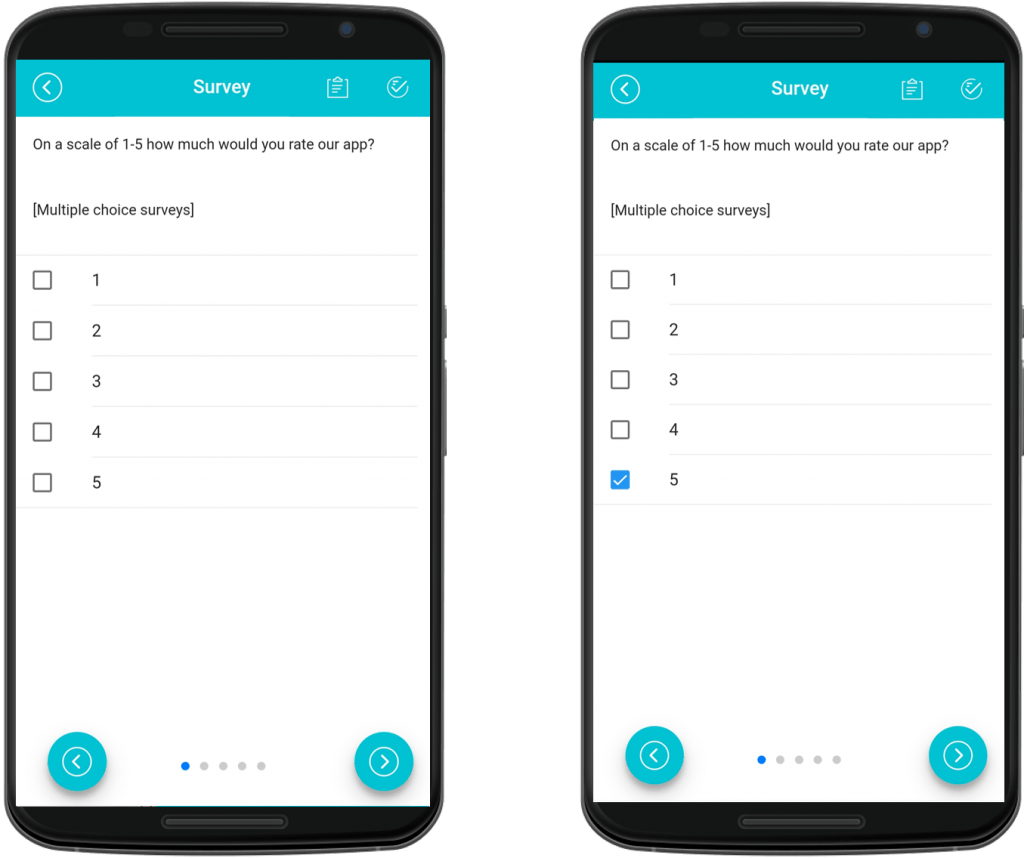 Here we have shown yes-no type question where only one answer is needed to be selected.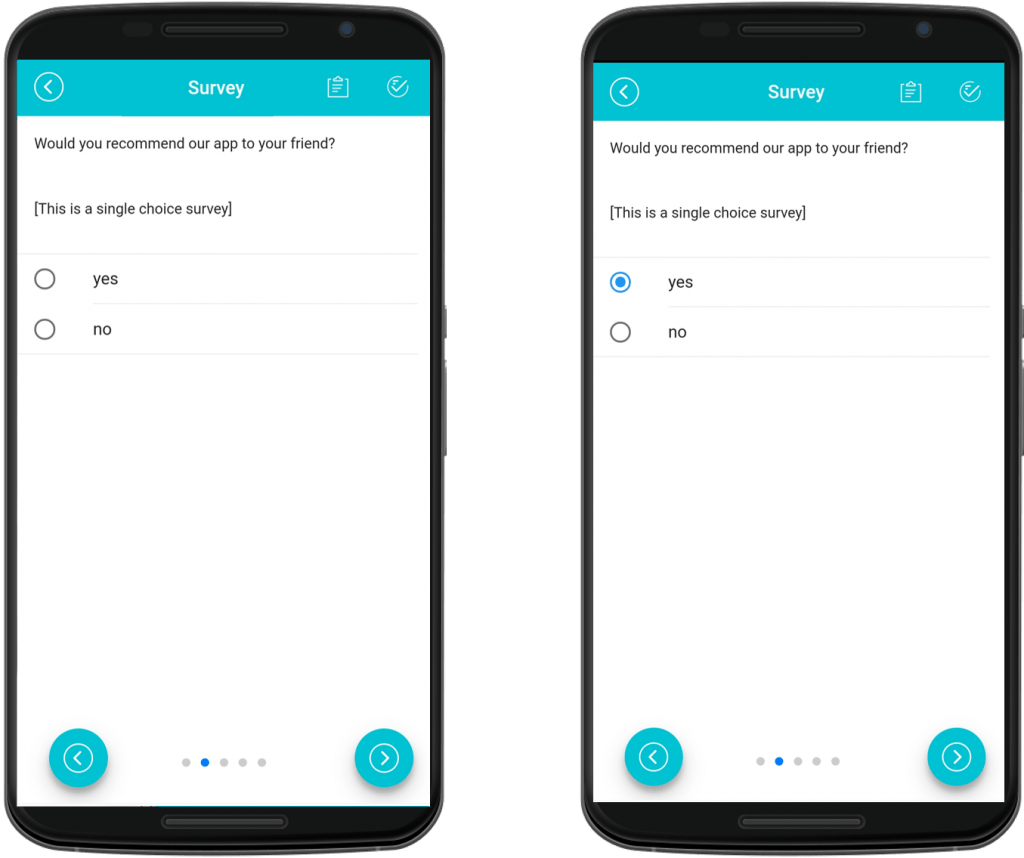 Admin can also add open ended questions where user can write whatever they want, admin can also provide hint answer as in the image.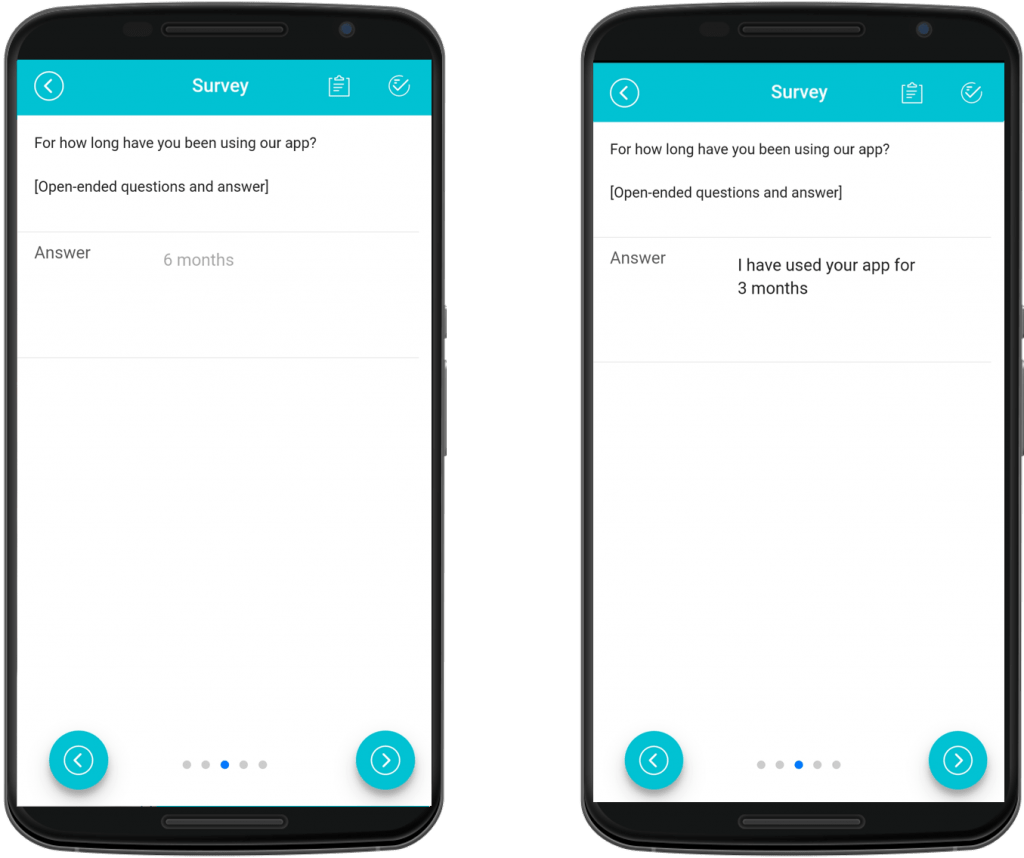 Admin can also add open ended questions where user can write whatever they want, admin can also provide hint answer as in the image and user can answer accordingly.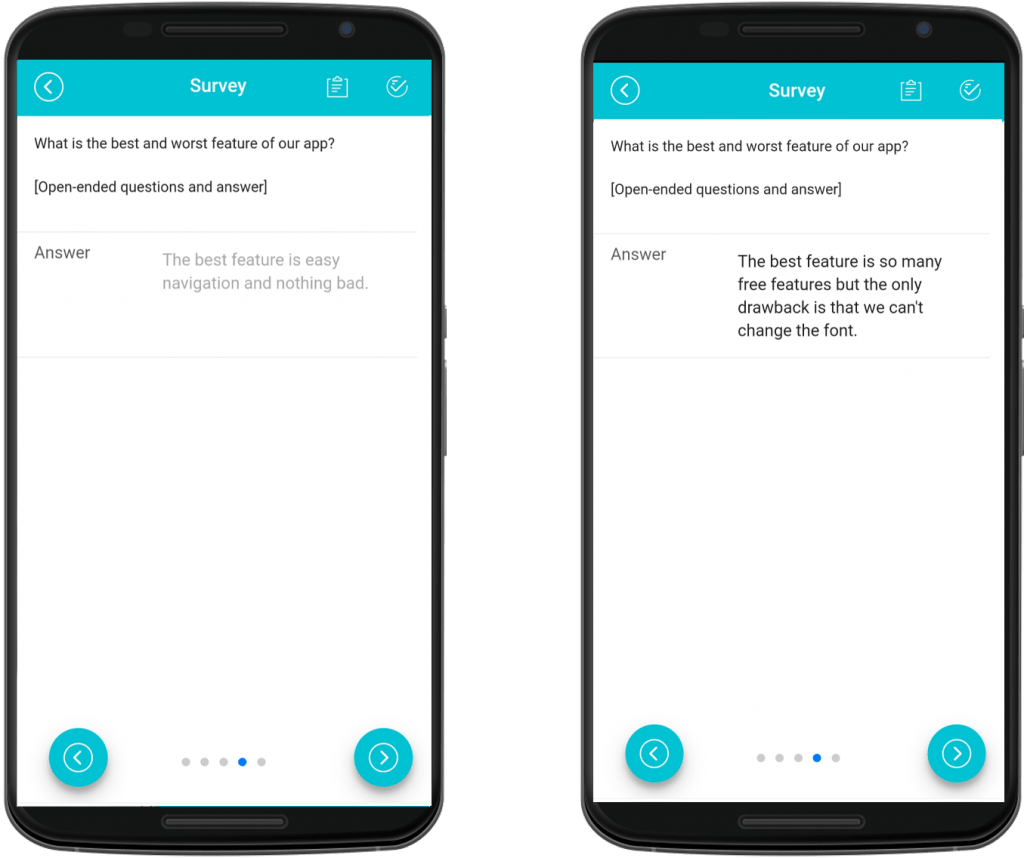 Admin can also add open ended questions where user can write whatever they want, this is ideal for asking suggestions in detail.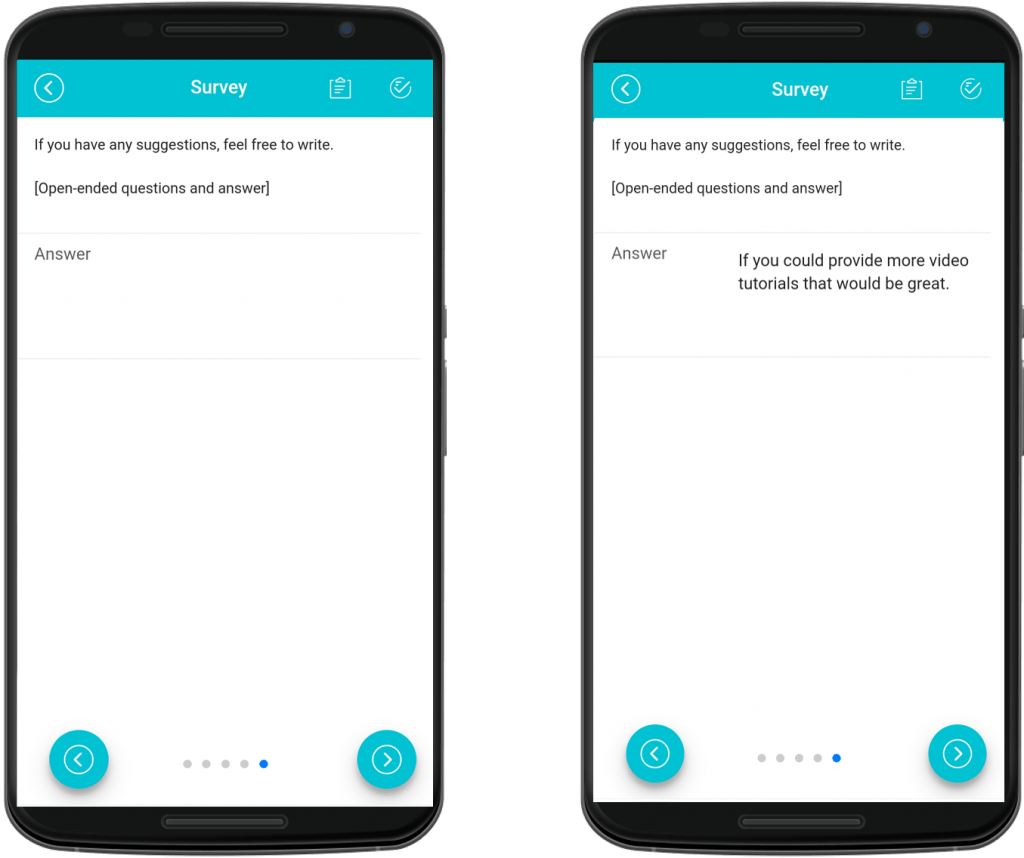 Finally, when the user finishes all the questions a confirmation notification will be shown to send the survey. After successful submission Survey list will show the status of survey as 'Submitted'.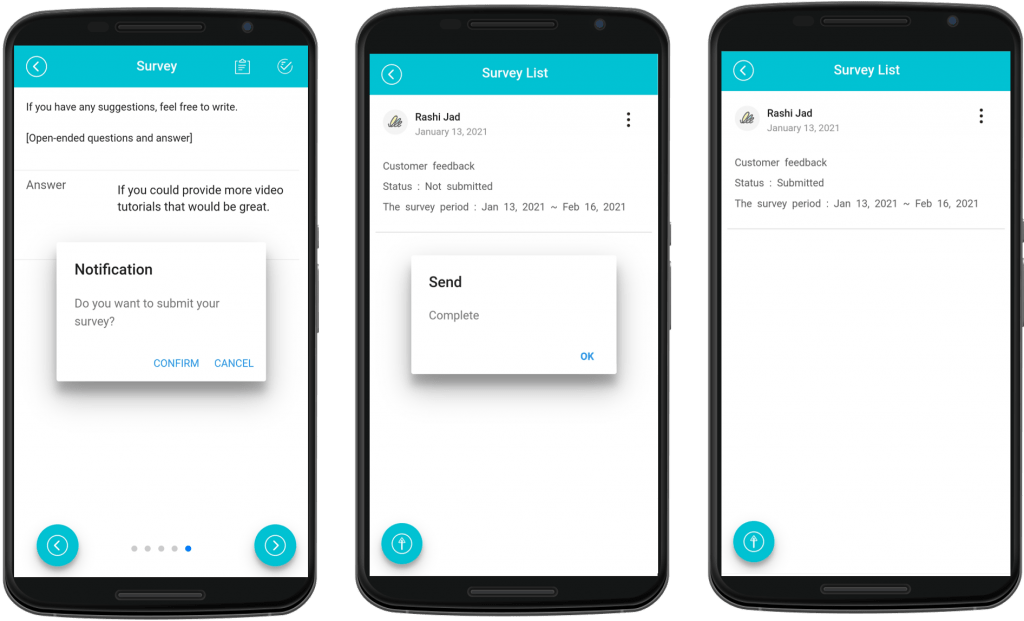 Conclusion
You now know the functionality that your survey questions can make or break, as well as the input that results from them. Consider of the right time to ask your audience until you know the survey questions you want to ask.
When, for example, you are looking for input on a current case, you will want to follow up immediately because the event is already fresh in the minds of people. If you undertake something more comprehensive, such as a brand awareness survey, consider motivating your subscribers to complete it by providing a reward or discount.
Now that you've got the basics down on building your survey, it's time to create an app with Swing2App along with in- app survey.