Student debt was already a crisis before COVID-19, but the pandemic's widespread economic suffering, including an increase in unemployment, has put some people in even more vulnerable financial situations than before.
In 2020, the average student loan debt reached a new high of $38,792, with over one third of all American students' loans to pay for college. Their outstanding debt was $1.58 trillion at the end of November 2021, according to the Federal Reserve Bank.
A student graduating from UK colleges in 2021 will have a total student debt of about 45 thousand British pounds, which is slightly higher than the student debt in Wales and Northern Ireland, but lower than 15.2 thousand in Scotland.
The average student loan debt at the time of graduation in the Canada is $27,975. The average amount of student loan debt varies by institution and type of study.
In the end, it is quite apparent that almost all major economies are struggling, and students are suffering the most for merely getting a degree in order to create a good life for themselves.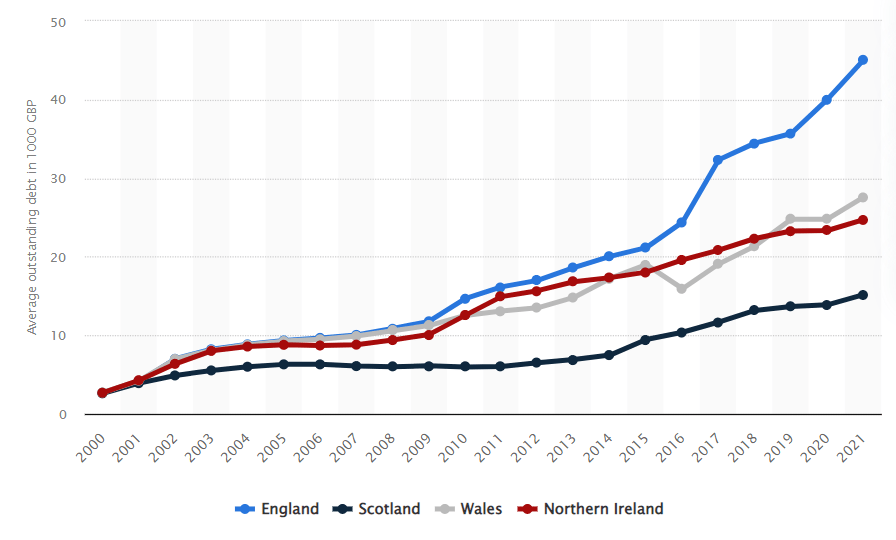 This is statistical data showing the rise in student debt in the United Kingdom. 
In light of COVID-19, households falling behind on student loan payments were significantly related to employment, income, and liquid assets (checking accounts, savings accounts, and cash). This is consistent with a pandemic that has seriously disrupted large segments of the economy.
Those with college experience, but no degree, were in the most difficult position: they carried debt while in college but did not earn the higher wages associated with a degree.
Students have experienced the largest changes in their lives in recent years. Students will be the first to have to alter as society evolves. They are the ones who must prepare to be a part of that society, so when anything changes, they must adjust, even if it means they are unable to adapt to the new requirements. We can see that if governments decide to discontinue free education, students would be in tremendous debt before they complete their studies, making it more difficult for them to secure a loan to purchase a house or start a company.
This drives students to pursue courses with good employment prospects to pay off their debt rather than pursuing a profession they enjoy. By choosing degrees that become saturated, too many individuals are forced to struggle to find employment, with some of them not able to use the degrees they invested so much in.
Now you may be asking, is there anything more students can do to find their dream jobs and solve all of their problems besides studying and striving for success?
Fortunately, thanks to technological advancements and business innovations, students now have tools that provide them with ways to repay their student debts. Young individuals are creating YouTube channels to become influencers, podcast hosts, or Twitch streamers: earning while you enjoy. Instagram, Facebook, and other social media influencers are cashing huge with their creative skills or simply by selling their products over the online marketplace. Not everyone can set up a successful channel, but it illustrates that people can succeed if they use some simple platforms like YouTube in the right way.
There's also an easier way for you to repay your debt than starting a YouTube channel or becoming a full-time influencer!
Start your online store now and we will guide you on how.
How to start an online store and how it will help in paying off your loan?
Create your eCommerce website with Shopify, Wix, BigCommerce, or any other website builder that suits your budget. DIY tools like these make creating an efficient eCommerce website easy and are the next big thing in retail. Due to the unfolding covid crisis, these are not only helpful for students, but also shop owners, medium-sized businesses, and small-sized businesses as well. By switching to digital platforms, they could reduce their rental costs and reach a wider market since they won't be reliant on customers around their physical stores. 
All of these eCommerce website-building platforms became so large because they provided students and young people with more than just a way to pay off their student debt; they also provided them with a way to earn their own money, which a part-time job simply couldn't match. They provide a way for the debt-stressed individual to create a constant channel of side income that won't stop due to any government interference or any pandemic.
It lets users sell whatever they want by offering all the tools needed to open an online store, and customers prefer online shopping rather than going to actual stores these days. Moreover, students don't have to worry about paying rent, employing staff, or going to the bank to get money for their store. If you have a product that you believe people would like to purchase, you can now sell it yourself and take control of your life to achieve much-needed financial independence.
How to make money with an e-commerce website to pay off your massive college debt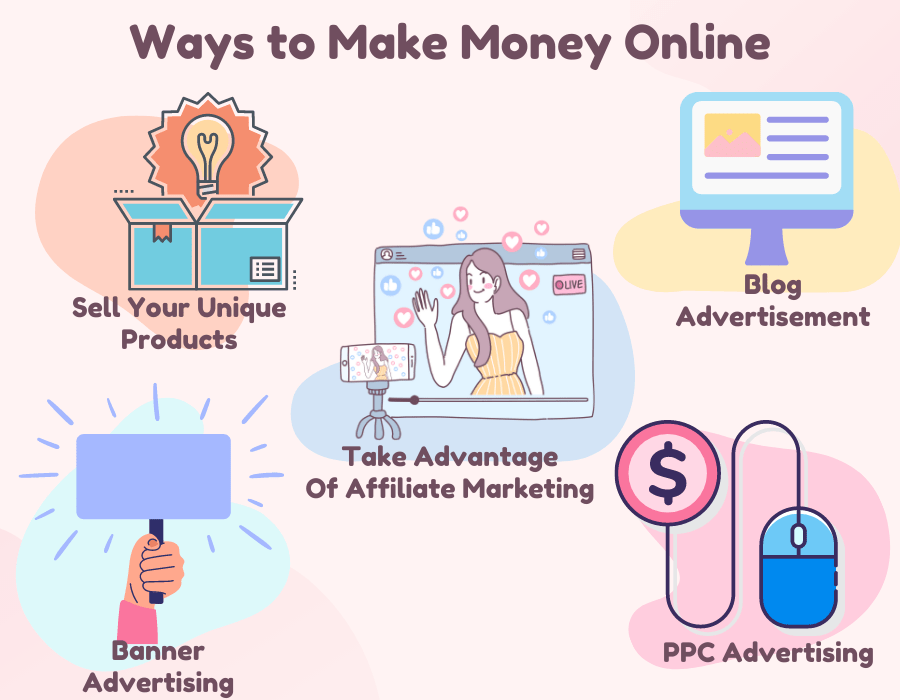 1. Sell Your Unique Products
You may also sell your own things to your intended audience through your web store. You must create a product catalogue on your e-store so that customers may explore and purchase the goods of their choosing. This is definitely the most basic income that you can earn via your eCommerce store. 
Additionally, you can try paid surveys and polls, affiliate programs with online marketplaces, pop-up and pop-under ads, audio commercials, monetization widgets, and so forth.
2. Take advantage of Affiliate Marketing
This is one of the most popular and profitable ways to profit from eCommerce websites. It is a sort of arrangement between a merchant or advertiser and one or more affiliates. As an affiliate, you may utilize your website to display advertisements for the merchant's products and services. When a consumer clicks on a product and purchases it, you are paid a percentage of the profit made by the seller. Google Adsense and other famous affiliate marketing platforms are just a few examples. 
3. Banner Advertising 
You can sell the space of your website to some advertisers in return for money. Banner ads formatted in 728*90 letterboxes, 300*250 rectangles, and 125*125 buttons are most commonly seen on the web.
If your e-commerce site is brand new, on the other hand, you need sales right now. Paid advertising that targets your clients is the most effective strategy to drive quick purchases. Product-specific advertisements, especially Google shopping ads, as well as remarketing ads, target your ideal buyer.
4. PPC Advertising
The most common choice in this area is Google AdSense, although there are others. As soon as you sign up, you can gain access to the network by adding code snippets to your website. The network will then provide contextual advertising (text or visuals) that is relevant to your page, and you will be paid for each click. Depending on the number of visitors to the site, the click-through rate (CTR), and the cost per click (CPC) of the PPC campaign, the profitability can be determined. 
5. Blogging and Cost per Mille Ads
This strategy is mostly used for blogging. You get paid based on the number of page views produced by the adverts placed on your site in this process. Blogs that produce 100,000 pages, for example, can help you make roughly $100 per month.
Creating and maintaining an active blog that brings people to your e-commerce website is maybe the most effective approach to perform inbound marketing. You should take the time to examine your customers' research journey, which includes thinking about the types of questions and searches they conduct. Make sure to address these in your blog posts. Consequently, your website traffic will rise, and more people will become customers.
Take your online business to next level with Swing2App: no-code app maker
There is now a further tool to help you succeed in this online endeavour.
In just five minutes, Swing2App's WebView converter can convert your Shopify, Wix, or Bigcommerce shop into a mobile app that allows you to be on your customers' phones, improve customer relations, and much more. If you use Swing2App, you will not need to be concerned about the government's next shift, which might otherwise completely change your life.
Swing2App is a no-code app creation platform where you can also convert your pre-existing website into an app in 3 simple steps: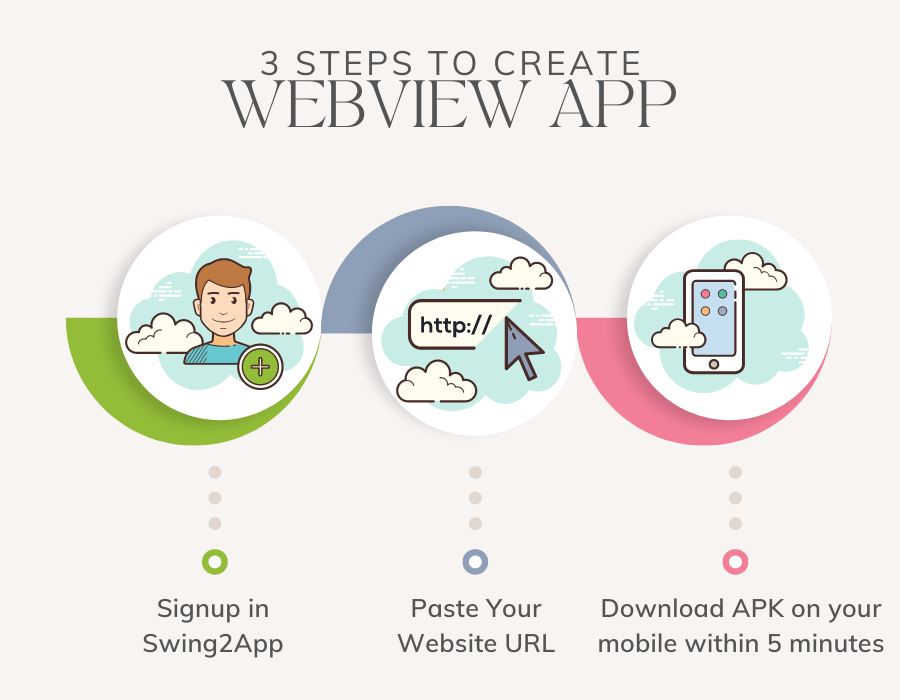 You can find more information about the process of the website to app creation here: Create Low-Cost Apps For Your Customers By Partnering With Swing2App 
Now you might be wondering why Swing2App only when you can simply build an app by outsourcing the work to any firm or freelancer?
The answer is that you can save the cost of producing an app drastically with Swing2App. We charge you only one time without any hidden costs and lifetime Swing2app support! 
Checkout our one-time plans: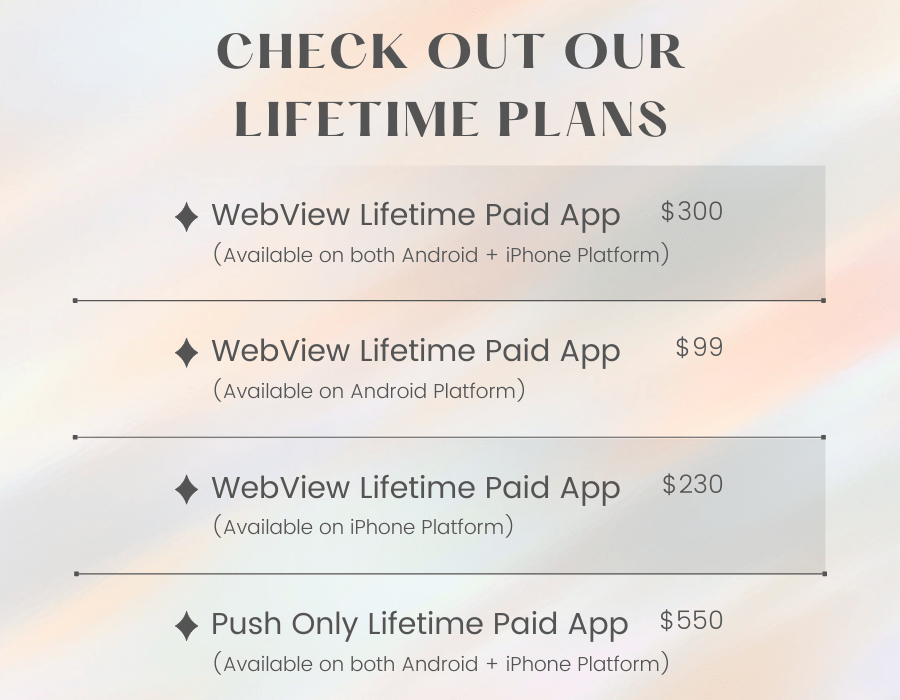 In addition to that, Swing2App is a one-point solution for all your problems. You can send customized push notifications, integrate Google Admob, get user analytics, update your app, and much more all at a single platform. 
We understand that student debt can be extremely stressful for you, so we hope our ideas can help you to reduce your burden as well as generate a steady income stream.
If you are a student and willing to pay off your debt start now by joining us!