Working hard on your app and then facing a Google Playstore rejection can be disheartening, however, it's actually not a big problem and can be resolved quickly. It happens often nowadays that developers have to face Playstore rejection. The reason why your app might face Playstore rejection is usually either they do not meet the Google policy guidelines, or they have performance issues.
As per Statista, Playstore today has about 3 million apps. With so many apps running on Playstore, it becomes its responsibility to make sure only legitimate apps are published on its platform. For this, whenever an app update is submitted via Play Console, Google verifies and makes sure none of its policies is violated. The Playstore review process for apps has become stricter to offer bug-free apps for users. Playstore rejection of the apps which could damage our smartphones or steal any important data has overall benefited us all. 
After the playstore review if your app is rejected Google sends you the rejection email that looks something like below: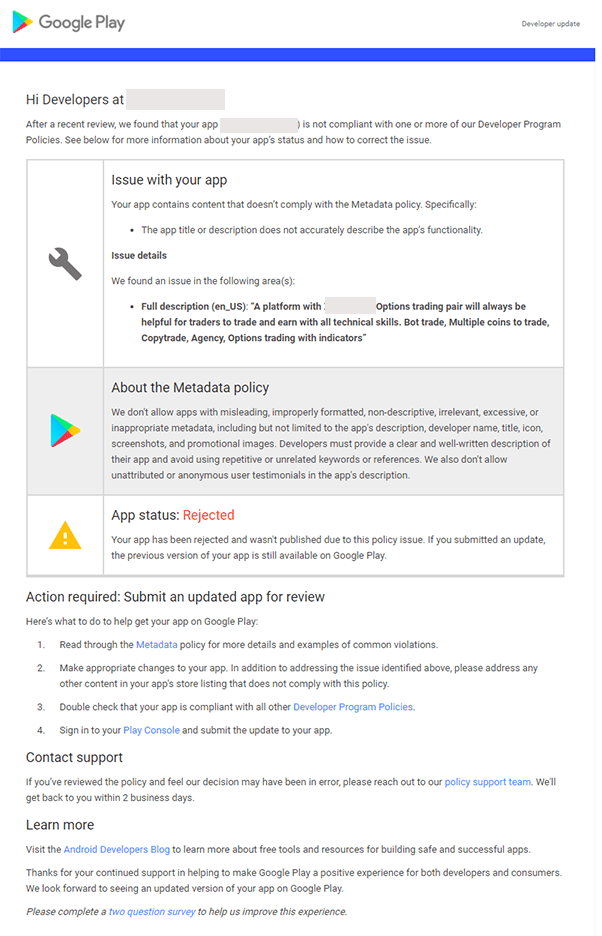 Let's first talk about why this problem arises so that we can understand how to fix it. There are plenty of reasons that one should keep in mind for which one could face playstore rejection. If your app faces playstore rejection, the discussion that follows will explain what to do and what not to do. 
Why Google play store rejects the apps? 
After Playstore review, if you get an app rejection email there are plenty of things that might have gone wrong. When an app faces Playstore rejection it is generally because the app violates Google developer policies or has some performance issues like poor UI or slow loading.
The performance issues can be easily removed during the testing phase, so the more likely cause of Playstore rejection is a violation of Google developer policies. 
The main reasons for an app facing Google playstore rejection might be: 
1. Restricted Content – An app may face playstore rejection if the app:
Doesn't comply with the local laws of the land 
Facilitate child abuse or exploitation in any form will straightaway face Playstore rejection 
Contains any inappropriate Content like hate speech, violence, profanity, or promoting terrorism. 
Provides users access to deceptive or harmful financial Services that don't comply with the rules of a country 
Provides Money Gambling, Games, and Contests to the users without any licensing. 
That promote or cause illegal Activities 
2. Impersonation 
In the Play Store context, impersonating means anything related to your app that might be a copy of other apps like company name, developer name, entity name, App logo, store listing, etc. It is considered to be misleading the users and impacts the original developers. 
3. Intellectual Property
An app faces Playstore rejection straightaway if the app or developer accounts infringe on the intellectual property rights of others (trademark, copyright, patent, trade secret, and other proprietary rights).  However, if you have a written documentation of permission to use a third party's intellectual property in your app or store listing (such as brand names, logos, and graphic assets), you must contact the Google Play team in advance of your submission to ensure that your app is not rejected for an intellectual property violation. 
4. Suspicious Products
Your app will face Playstore rejection if it poses any threat to the user's data security or privacy. Any malware, Trojan horse, or other flaw or virus listed in the app description or within the app will be detected and rejected by Google.
Click to read more about reasons your app could be face play store rejection and ways to avoid them.
What to do after getting a Play Store rejection email? 
Make sure you are not violating any Playstore policy. Now that we know the major reasons for facing playstore rejection and what they mean, it's time to work on how to get your app approved by the Play Store policy! Here are a few guidelines to help you identify where you are violating the policy: 
Take the time to read each policy in detail along with examples of policy violations and check if you are also committing the same mistakes which are resulting in policy violations.
For example, if you receive playstore rejection mail stating impersonation as the cause, remove any content in your app's store listing that could mislead users, or imply a relationship with another brand. The content is typically not your own or you don't have the right to use it, or it's so like the content produced by another developer that users may be misled. For example, titles like "Justin Bieber Official" are not allowed without the necessary permissions or rights. 
Double-check to make sure that your app complies with all other Developer Program Policies.
If your app is violating any of the above-mentioned policies, take time to remove all such factors, update your app, and submit it for another playstore review.
Following all this, if you believe the information in your app is genuine, and your app doesn't violate any Impersonation policies, you can ask Google directly to reassess your case. See the section below on how to appeal in Google playstore.
How to Appeal in Google playstore for an app rejection
As you know there can be several reasons for app rejection, for convenience of your understanding let's consider your app is facing playstore rejection because of "Impersonation".
There is a very high possibility that you are not impersonating any other app, and yet Google systems identified you as a culprit, and rejected your app update or removed your app from the Play Store. This is most likely to occur in organizations that host multiple apps on one account with the same codebase. This all causes your app to face playstore rejection.
The following steps will help you to decide what to do next: 
1. Do you have intellectual property (IP) rights on all the content of the app? 
The first question you need to ask: "Do you have the essential IP rights to use all the content included in the app?"
You are the developer and creator of your app. You know its content the best as well as responsible for it.
It is important to review all content, whether it is created from the back office (CMS pages, icon, splash screen, etc.) or brought into the app from external sources.
For instance, an app display that displays content from a website or a Facebook page, if even one image violates Google's policy, the app can be suspended.  
2. You have all the essential rights on this app 
Now all you must do is send Google Play proof that you have the right to use your own content or someone else's content with their permission.
It could be an official letter featuring the logo of the company that hired you to create the app, or your own, if it's for your own use.
It is essential that the letter explicitly names the owner of the Google Play account under which the app will be published.
It must include a statement such as, "We confirm that Mr. Kim Justin has the necessary rights to publish this application on Google Play." if the Google Play account was created under the name "Kim Justin".
In the case of Kim Corporation, the letter must state "We confirm that Kim Corporation has the necessary rights to publish this application.".
If you are a victim of such a case where you have all the rights and documents and still got rejected, then you should appeal in Google play store for providing the necessary documents and getting your app approved.
To Appeal in Google Playstore for app rejection will act as a powerful tool if you are a victim of the above-mentioned case. Copy the below link save it for future use.
Link to Appeal in Google playstore an app rejection.
Google Playstore Appeal form for app rejection.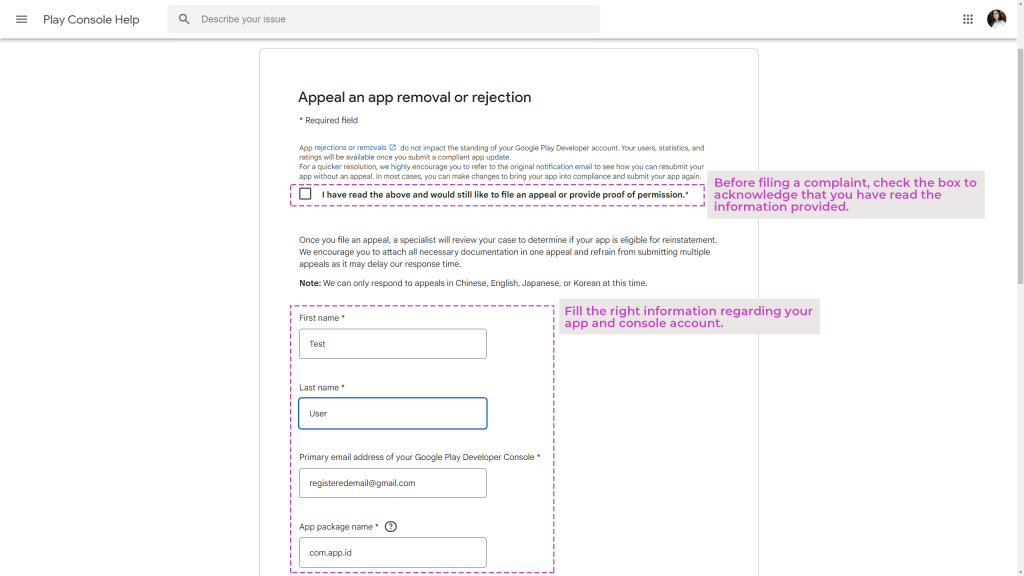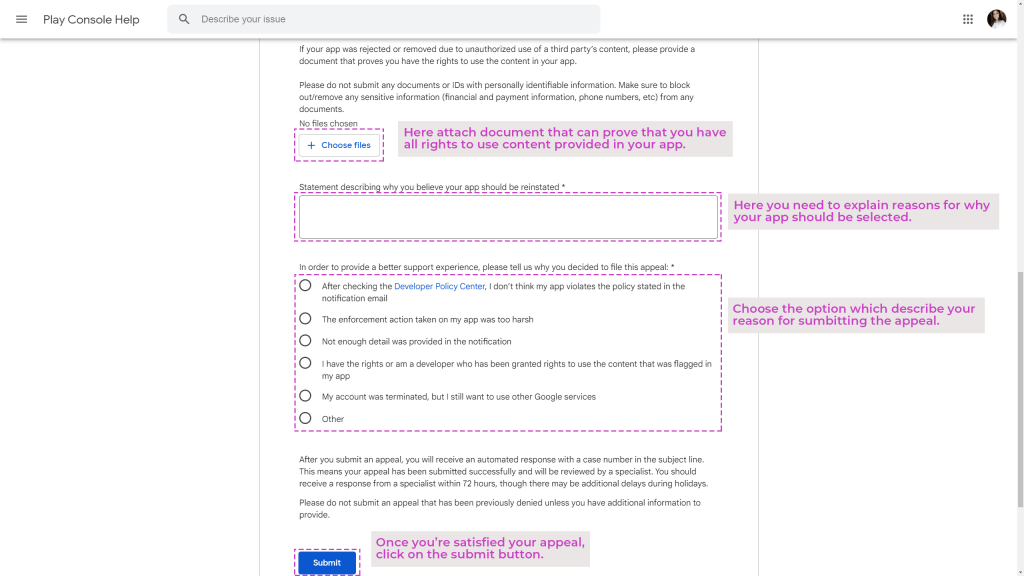 The details required while raising appeal in Google playstore include:
Primary Email address: This is the same email address through which you have registered your Google Play Store account. 
App Package name: Here enter the unique app id for your app which faced playstore rejection. 
Attachments (Optional): Now, attach all proof in support of your claim of your right.  
Reason: Lastly, select the reason why you think that you are not violating the Impersonation policy and your app wrongly faced playstore rejection. 
After submitting the appeal in Google playstore via this form, wait for the Google support team to review your case, and at most Play Store review team will reply within 1–2 business days (This can be more depending on the complexity of your case as well as the volume of requests received by Google). 
Moreover, the appeal in Google playstore for app removal or rejection can be used not only for violating impersonation policy rather for any of the policy violations your app faced playstore rejection. 
3. Re-submit your app for approval 
Your app will be resubmitted to the Play Store once Google playstore review will recheck your case and determines it is a genuine one.
You don't need to create a new apk or .aab file to resubmit your app. Follow the below-mentioned simple steps to resubmit your app: 
Sign in to your Play Console.
Select your app.
Select Store presence > Main store listing.
Click Save.
When you update an existing app on the Play Console, it may take some time for the app to be processed for standard publishing on Google Play. You can check your submission status easily by following the steps below:
Sign in to your Play Console.
Select your app.
On the left menu, select Release > Production or Testing (select the track(s) you have released)
You are all set!! your app will be ready to be published and any further updates to your app. 
4. You don't have the intellectual property (IP) rights on some content of your app 
As we said earlier to get approved by playstore review, your app needs to be compliant with Google playstore guidelines.
Even if a small part of content of your app does not comply with Google playstore guidelines, you must remove it from the app. This also implies removing that content from your website, social media page, etc. if the content is copied from someone else.
It is extremely important that you actually delete all the content that violates the Playstore policy, otherwise the app will be face playstore rejection as soon as resubmitted to Google Playstore.  
5. Avoid further app suspensions 
To avoid any further app suspensions, read very carefully Google's guidelines.
Test your app carefully for any violations.
Note: If your app faces repeated playstore rejections due to violations of Google's policy, this can cause suspension of your Google Play account, and all the other apps published through that Google play account.
To summarise
I hope that this article has provided you with a comprehensive understanding of the various reasons why your Android mobile app may face Google Play Store rejection and how to appeal in google playstore for this.
However, if you create your app using Swing2App: the best no-code app builder. Here you can create a professional app from scratch and convert your website into an app. Moreover, we also provide app upload support for both Appstore and Play store.  
Additionally, you don't need to get worried about app rejection or playstore review, as Swing2App will handle that too. We try our best to get your app approved in one go, or even if it gets rejected, we find where the issue lies and resolve it soon. Also, you also get lifetime 24*7 support from Swing2App.  
Let Swing2App handle all your app rejection worries so you can spend less time worrying!