It can be a hassle to submit your app on Google Play Store, especially if your app gets rejected without you knowing why or how to fix the problem.
Unlike Apple's approval process, Android's approval process is less stringent and more time-consuming, as it utilizes both experts and automated tools. Although android is less strict than iOS, many app developers still encounter app rejections.
According to Apple, over 150,000 applications were rejected last year for breaking the company's privacy policies.
Apple claims to have rejected over 1 million app submissions due to unlawful, hazardous, harmful, or objectionable material, though it does not provide a time limit.
Google also rejected nearly 55% More Android Apps in 2018 than 2017 as it formed more strict policies to maintain the quality of play store.
Checks are made to make sure the app does not violate any of Google's policies by using review algorithms. Then, an internal team of reviewers examines the app. A review typically takes several hours.
Did Google reject your app on the Play Store lately? It's actually not a big deal and it can be rectified fairly easily. Apps are getting declined quite frequently by Google these days. Typically, apps are rejected if either they do not comply with the publishing guidelines, or they are underperforming. Currently, Google has tightened its approval process for apps in order to offer users bug-free apps. Our smartphones have been spared from damage and data theft by removing such apps from the play store.

To understand how this problem can be resolved, let's first examine why it occurs. There are a number of app rejection reasons that one should consider before getting it published on the Play Store. You may feel scared about your apps being declined after so much effort, but you can fix it.    
We will go through the top reasons why your app might get rejected and how to solve them.
Top reasons Your App Could Be Rejected by Google
1. Issues with the quality of the design  
Google provides design guidelines to assist app developers in adhering to all of the basic principles of effective app UI design. You won't have to worry about your app being rejected by the Play Store if you make sure it follows these standards.
If you follow the guidelines when it comes to colour, fonts, and images, your app will be readily released on the Play Store, or it will be rejected.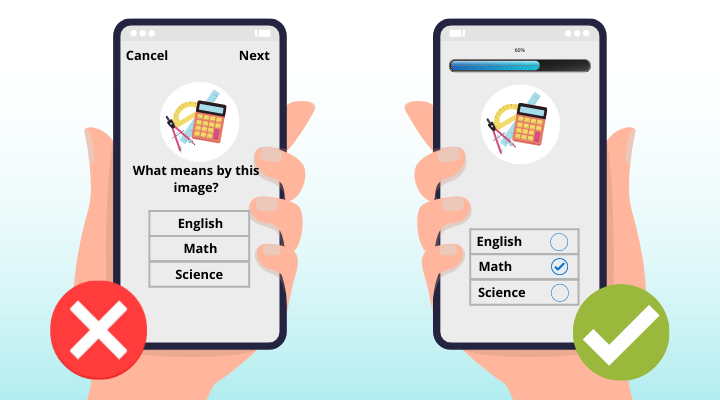 Solution
If your app is rejected due to design flaws, we propose spending some money to have it redesigned according to the shared requirements. In this situation, it is the finest viable solution.
However, when you create an app with Swing2App, you will not have to worry about the quality, design, or any other aspect of the app. No-code apps can now be created in much less time with Swing2App, and that too for both iOS and Android.
After app creation, you can leave the app store or play store publishing to us so you can relax. We will make sure that your app is published promptly, and even if it is rejected, we will help you to fix the problem.
Read more about Swing2App no-code mobile app builder.
2. Intellectual Property Rights violation 
Infringing upon the intellectual property rights of another mobile application, particularly in a patent or trademark form, is a serious offense. In case you are partnering with another entity and using their trademarks with their consent, be sure to produce their logo as the appropriate documentation will prevent your app from being rejected.
Copyright issues are very strictly monitored by Google. Make sure you don't violate them. Your app shouldn't be an imitation of a popular app. Originality should guide your design and coding. It is common for us to use a trademarked title for our app, either intentionally or by mistake, but this is not allowed by Google.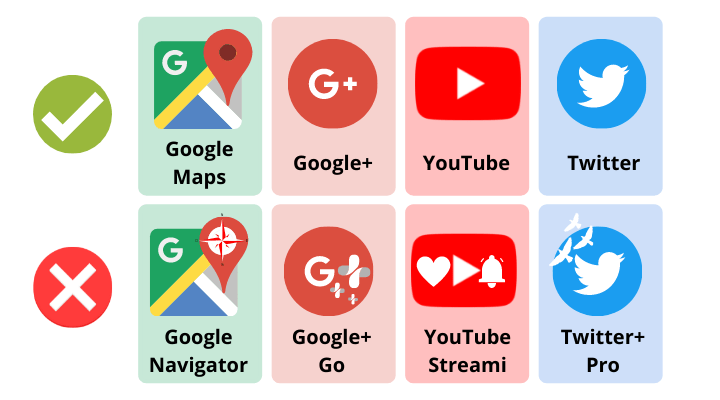 Solution
If your app is rejected because of copyright/trademark issues, simply review the title, description, and images of your app and remove any names that are protected by copyright. However, if you have received permission from the owner, Google will approve the listing with proper proof. 
3. Inappropriate app content 
Your app will be rejected if it contains graphic violence, racist or sexual commentary or any other inflammatory content.
Any mature content in the description should be clearly identified at the time of rating. Trying to hide that fact or considering it less important will eventually result in your app being rejected by Google.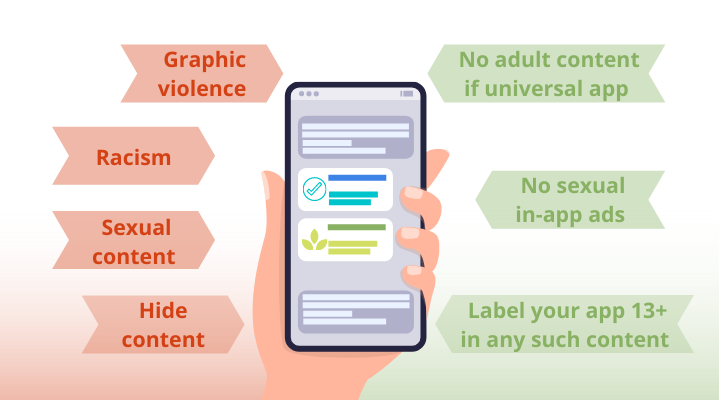 Solution  
If your app is rejected due to inappropriate content, accept the rejection with care. Do not try the same thing with any other apps linked to your account. Your Google Play Store account will be permanently terminated if you violate this guideline repeatedly. For the app which has been previously rejected, publish it with a new account and be careful about spamming this time. Ensure the address on this account is different from the one on the previous account, and don't link them together in any way.
 4. Improper App Rating 
When publishing your app to the Google Play Store, make sure to include the app's rating. Google's Play Store has an app content rating function that tells you what age category the app is appropriate for.
However, you can't just pick a rating on your own. You must complete a questionnaire, after which the app will be rated.
You should provide all relevant information about your app and ensure that it has been properly graded for the intended audience. People frequently try to deceive the moderator by providing false information, and as a result, their app is underrated.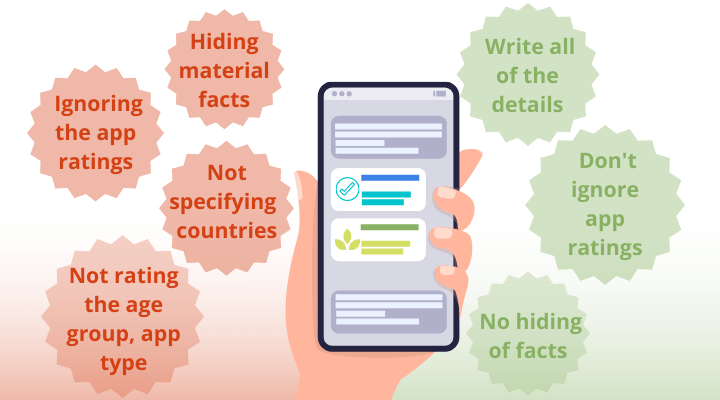 Solution
Google offers a simple solution by providing you a second chance to complete the questionnaire. This is a once-in-a-lifetime opportunity for you to supply all of the necessary information about your app and have it properly rated on Google's Play Store. If you keep making this error, your app will be permanently rejected from the store, rather than being unrated.
5. Suspicious Products
The Play Store will reject your mobile app outright if it poses any threat to the user's data security or privacy. Google will detect and reject your app if it contains malware, a Trojan horse, or any other flaw or virus that is mentioned in the description or within the app.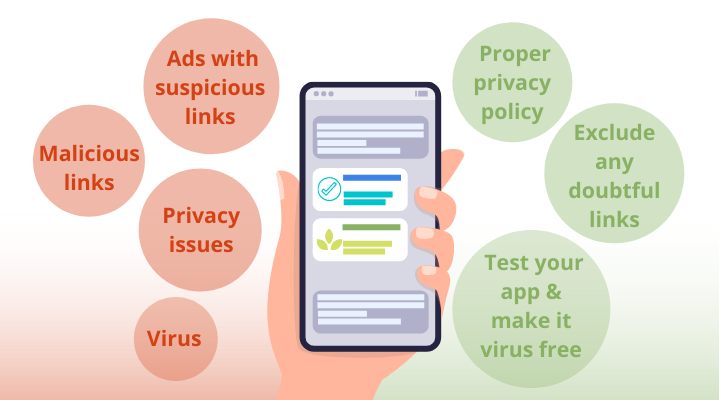 Solution
Make sure that all of the URLs and ad networks you utilise in your app are safe and free of viruses. It's against Google's standards if these adverts or links lead to something questionable or harmful. If your app has previously been rejected, attempt to remove any viruses and provide a privacy policy if the user is asking for personal information. After that, create a new account and publish an app.
6. Unfinished Versions and Bugs
During the review process, your app is put to the test. If it has any flaws or problems while performing, reviewers will chuck it aside. It's a reasonable reason for Google to reject an app since it wants to maintain the high quality of applications accessible to customers on the platform.
When customers download an app after hours of searching on the Play Store, they want it to perform smoothly. Users may become frustrated if an app fails every now and then. Therefore, Google does not accept such applications in its store, it becomes one of the primary causes of app rejected by Google.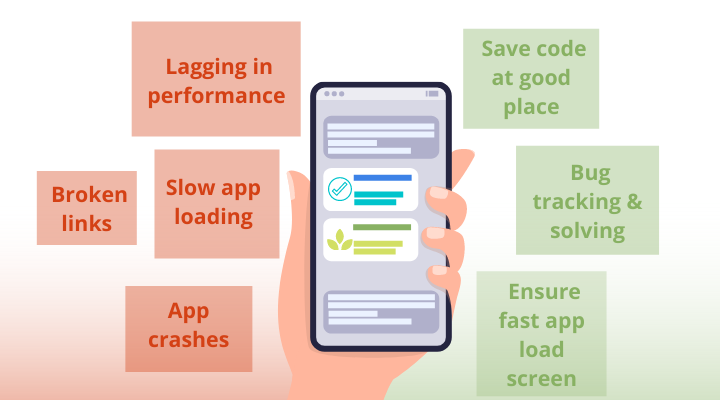 Solution
Test your app till you're completely happy with its capabilities. Ascertain that the app has been thoroughly tested in accordance with the Play Store's criteria. Before you publish your app to the public, make sure it's fully working. If your app has already been rejected, fix any technical issues and resubmit it.
Wrapping It Up
I hope that this article has provided you with a comprehensive understanding of the various reasons why your Android mobile app may be rejected by the Google Play Store.  
There are a variety of additional causes for app rejections, however, the one mentioned above is the most fundamental and is frequently overlooked by developers. Because Google employs both a manual and an automated app review system, keeping the pace of the developer standards might save you time and money.  
Build your app using a sophisticated app builder that delivers feature-rich, fully functional apps to make app publication easier and more comfortable for you.
Swing2App is the best no-code app builder where you can create a well-designed app from scratch and convert your website into an app. Moreover, we also provide app upload support for both Appstore and Play store. 
Read more about the benefits of creating an app with Swing2App.