What is the best way to convert your WordPress site into a mobile app?   
Apps make it easier to deliver content to your audience and offer a better mobile experience. By using an app, you can increase engagement and reach new audiences.
This article will show you how to convert your WordPress site into a mobile app in the best and easiest way possible.
People are browsing the web more and more with their smartphones and tablets, making responsive web design essential. However, these sites cannot provide the same quality of on-the-go User Experience (UX) as a native app.  

Fortunately, with the help of right tools to convert your WordPress site into a mobile app is much easier than you might think. With the latest no-code tools, you can quickly and affordably provide your users with a superior mobile experience.
Let's get started! 
Responsive-Mobile-Friendly Websites vs. Mobile Apps
In today's mobile-centric age, it is obvious that making your content accessible to smartphone and tablet users is important. Nevertheless, you may be confused by why an app would be necessary when your website is mobile-friendly. An app is an investment, so you don't want to waste your budget on unnecessarily complex features.
A mobile site is used for different purposes than an app. As a result, you're able to provide your users with everything they need while also growing and supporting your brand.
51 percent of smartphone users say they find new products and brands by mobile searches. Unlike an app, your website is available to anyone online, not just current users. Thus, having a responsive website that is search-engine-optimized is crucial for getting new leads.
Additionally, a responsive site plays an important role in building your brand's credibility. 57 percent of internet users won't recommend brands with not-so-user-friendly websites. So, if you are thing having an app will compensate for that then you are wrong! You first need to work on your existing website to increase your brand credibility.
When it comes to user retention, native mobile apps are much more effective than responsive websites
Mobile apps provide much better performance than websites, as well as faster loading speeds.
You can enhance the UX by integrating your app with smartphone functionalities such as camera use, touch ID, and more.
Push notifications integrations can be used to build brand awareness and remind users to check in regularly for the latest deals and offers.
The benefits of a responsive website and a mobile app can be combined to deliver a winning combination. The advantages of creating an app based off your WordPress site are hard to ignore, especially since you can do it quickly, easily, and affordably.
Why Convert a WordPress Site into a Mobile App?
If you check your website traffic on Google Analytics, you will discover a large number of users are accessing your site via their mobile phones.
Hence, you must make your website responsive to ensure a great user experience even on mobile devices. (As websites are traditionally created for desktops)
A mobile responsive WordPress website uses a design that automatically adapts according to the drive that the user is accessing. You can see that almost all prominent WordPress themes are mobile responsive. You can even find mobile responsive themes for WooCommerce.
However, some businesses may want to go even a step further! To offer an even better user experience to their customers they create their own mobile apps.
The app will allow users to launch their favourite blog, online store, membership site, or online community from their home screen instead of visiting your website in a browser.
Traditionally, building a mobile app typically costs a lot of money starting from $10,000 and goes as per your customizations. The costs are high as it requires advanced programming skills, and the competition is quite high among the app developing agencies too.
If you want to build a mobile app on a budget, there are a few WordPress plugins you can use to convert your WordPress site into a mobile application. Although all of them are paid solutions, they are significantly less expensive than hiring someone to build you a new app.
However, even these plugins require intermediate to advanced levels of WordPress skills. So, if you are an absolute beginner, then first you should use a mobile responsive theme and improve your WordPress speed to gain more mobile users.
That being said, here are the best tools to convert your WordPress site into a mobile app.
What Options Exist? Which One Should I Choose?
In order to create your mobile app, you have a couple of options. You can hire an agency to build one for you with little effort, but it is time-consuming and expensive. It may take three or more months and cost thousands.
You can also create your app yourself with tools such as Adobe PhoneGap. Nevertheless, if you are not already a skilled developer, you'll probably struggle to do it yourself (DIY). To start with, you'll have to write all your own code.
Thirdly, WordPress users can use a plugin. At a fraction of what hiring an agency would cost, you get the help of skilled developers. It's also much faster than traditional app development. For most people, this is the best choice.
The Best Tools for Mobile App Conversion
1. No-code website to app converter tool 
Swing2App is a no-code app developing platform where you can create no-code apps from scratch or simply convert your website into an app. We aim to help all the non-tech entrepreneurs out there to develop no-code apps that doesn't need coding at all.
Now you must be thinking how you can create an app without a single line of code!
Here's how you can convert your website into an app.  
Further, read "All You Need To Know About Swing2App Free Website To App Converter" 
Key features:
Inexpensive store upload (both iOS and Android) 
Cost-saving and time-efficient 
Purely no-code tools (beginner friendly) 
Unlimited push notification integration 
AdMob integration 
24*7 swing2app support 
Swing2App App Analytics  
The best part about Swing2App is that you can actually create 3 apps for free and pay only when you are ready to upload your app on the store. The Paid plan starts from $99 one time. For a detailed price policy click here.
Moreover, you can also create apps from prebuilt templates if you don't have a website and just want to create an app.
2. WordPress plugins to convert WordPress website into an app 
1. AndroApp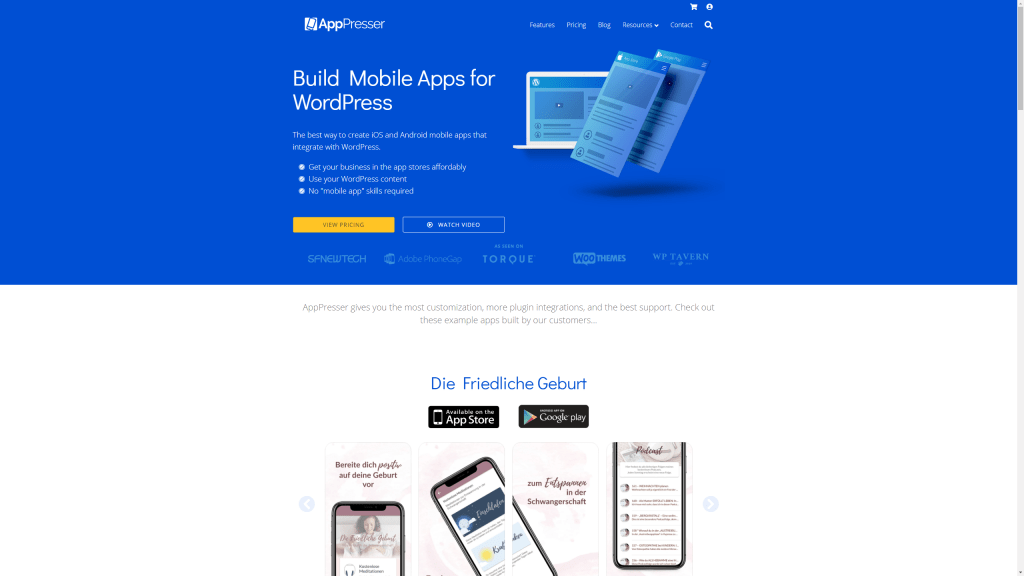 If you're on a tight budget, you might want to consider AndroApp. It enables you to quickly convert WordPress website into an Android app.
Key Features:
Has a large selection of themes 
Monetization options using AdMob and Appnext 
Includes unlimited push notifications, caching support, and custom branding 
Is easy and simple to configure 
Unfortunately, this plugin does have a few drawbacks. It's incompatible with WooCommerce or BuddyPress. Moreover, you can convert your WordPress website into an iOS app with this plugin. However, AndroApp is very affordable to convert your WordPress website into an Android app . You can convert your website into app for free, and maintenance is just $66 per year.
2. WPMobile.App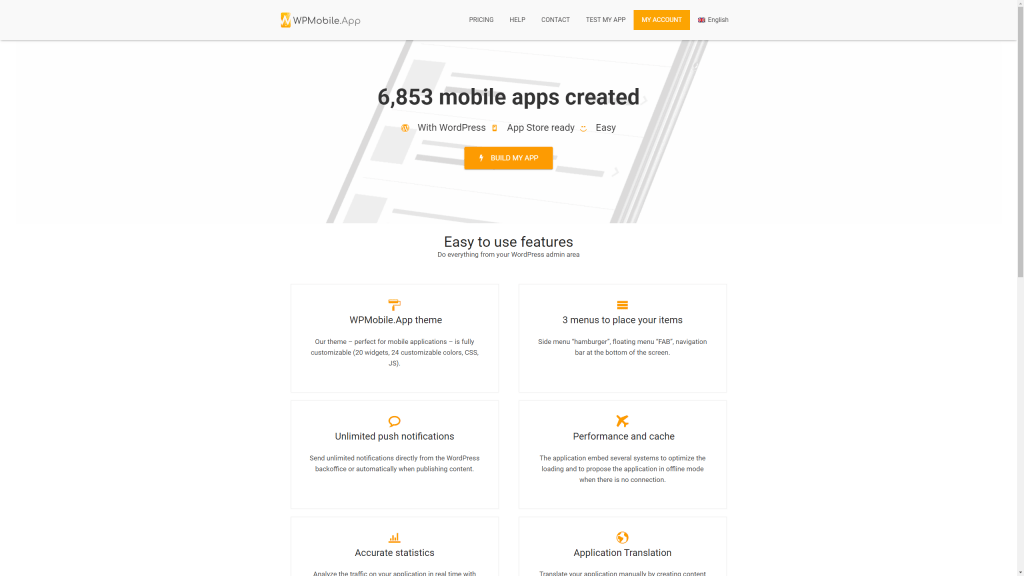 Another option for mobile app creation is WPMobile.App. With this plugin you can convert your WordPress site into an app for Android, iOS, or both. It's easy to use, with customization options available in your WordPress dashboard.
Key Features
Integrates with Weglot to translate your app
Includes standard features such as push notifications and offline content
Offers unlimited updates and support
Provides free app testing
Notably, WPMobile.App is a budget-friendly solution. It offers lifetime licenses, so you don't have subscriptions and recurring fees. An app for Android or iOS starts from 79€, or for both Android and iOS for 149€.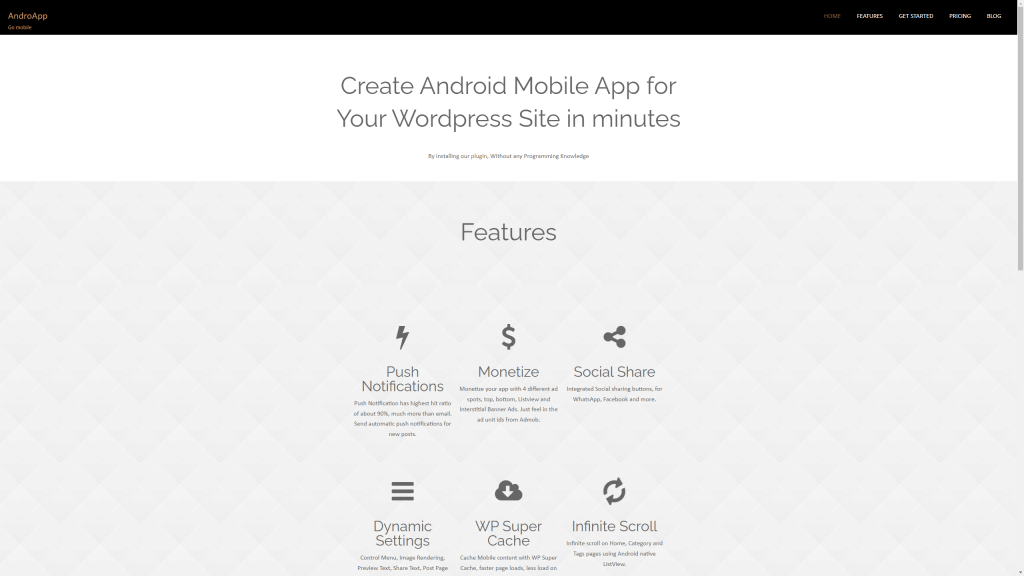 The final plugin recommended by us is AppPresser. It connects an app made with AppPresser's service to your website instead of converting your WordPress site into an app. Due to this you get full control over the design along with the visual screen.
Key Features:
easy-to-use builder
live app preview
Offers features such as Facebook login, social sharing
device functionality including contacts, cameras, and more
To convert WordPress website into an app, you'll need an AppPresser account. Plans start from $249 per year and go up to $599 per year.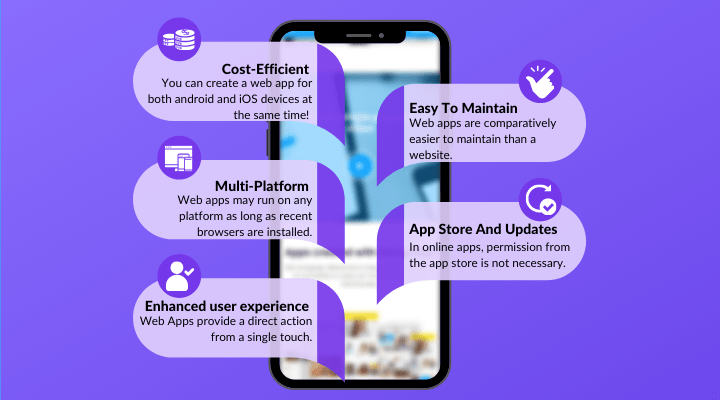 WordPress plugins can only be used inside WordPress, which is their biggest drawback!
Luckily, Swing2App does not have limitations, so you can turn any website into an app within 5 minutes, regardless of whether it's built with Shopify, Squarespace, or custom-built.
Another helpful feature of Swing2App is the quick time it takes to develop an application, letting you concentrate on your business while we handle the development.
In addition, Swing2App doesn't require you to have any programming experience; anyone can create an app using it. Users do not need to be Swing2App experts to create apps either, unlike WordPress where plugins require a certain level of expertise.
As a final point, Swing2App is affordable and has added features you won't find in WordPress plugins.
For all these reasons, Swing2App is a great choice for converting your website into an application.
It's free, so why not give it a try?