If you own a business irrespective of the size, websites have become an integral part of the business organization. In today's era where everything is available with just a push of a button, having an online presence of your firm is a must.
It is a sole method that allows you to reach millions of potential customers globally with just a click. Hence, resisting these amazing options might not be the best choice for your business.
Furthermore, because of the pandemic that is terrorizing the world, everything is happening online. So, having an online presence is most important than ever.
Moreover, maintaining a website is a regular process and there is a constant need for regular updates to keep your consumer engaged, excited, and comfortable.
However, with a phenomenal increase in the number of websites in the last decade, competition for reaching users has also increased drastically. Now, there are millions of websites (literally) on the internet, so getting your website to stand out from the crowd might be more difficult than before.
Promotion of the website is a great way to tackle this problem. It can give your website the edge that it needs not only to reach but also grow. It is the most important step while launching your website into the market. Without it reaching a vast audience can more difficult than usual.
Promotions act as a nitro boost to your websites which allows them to reach straight to the consumer's eyes. Promotions are a type of virtual advertisement that promotes your product/website on various different platforms.
Tips To Promote Your Website To Increase Traffic
There are a lot of ways by which you can promote your website on the internet. All of the methods carry a great potential to reach millions of users.
However, you should know what will be the best way or the best platform to promote your website that will reach and connect the most potential customers that it possibly can.
Here are some of the points that you can choose to promote your website in the virtual world.
Strategies SEO practice well
We can't begin to stress what a well-planned SEO strategy can do for your website. SEO practices such as keyword optimization, creating optimized landing pages, backlinking, and others ensure the visibility of your website and help it rank on relevant keywords related to your services. If your website is optimized then it has better chances of ranking for the first two pages.
Use various social media platform
Social media is a great and powerful way to reach and connect with customers and clients. No matter the size of the organization, all business firms use social media marketing to reach people and promote their products to the users.
Top social media websites like Facebook, Instagram, and Twitter allow you to reach billions of users at a low cost. Promoting on social media websites refers to creating content about the product, posting images and videos that inform the user about your business and the goods or services that you have to offer.
Affiliate or collaboration method of promotion
It is another type of promotion method that has the capability to reach a vast amount of potential customers quickly and efficiently. There are two types of collaboration, called paid and unpaid collaboration.
Paid collaboration refers to hiring a person with a big fanbase and paying them to promote the website or product that the company offers. Unpaid collaboration is a type of exchange of resources that will benefit both parties.
There is also a branch of collaboration that is called influencer marketing.
Influencer marketing is also a great way that is on the rage right now. It refers to appointing people with a big fanbase paying them to promote the product or website. It is a fantastic way to attract a pool of consumers to your website.
Start your website blog, invite guest bloggers
Creating blogs for your website is essential for the organization as it informs the new clients and customers about the product, service, or overall environment that your business operates in.
Blogs contain all the technical and functional aspects that the user might need to get familiar with the business and the services that it offers. Building an in-house team of writers is the primary way to start your blog.
It allows constant updates of information and content that your blog contains. Another great way is inviting various guest bloggers that are well informed about the field that your company operates in.
They offer deeper and better insight into the product/service that the firm offers. Furthermore, these guest bloggers also invite their own readers to your website blog which helps the organization not only to earn more profit but grow also.
Use Google local business
This might be one of the best methods that can take your business to the next level. Google is the largest search engine in the world and almost everything is available on google. Hence, it is only natural that people often use google to buy products and services.
That is why Google allows you to enter the details of your business like location, photos, reviews and allows the customers to reach your website instantly.
Self-promotion on various forums
It is a general practice across various industry domains where companies directly or indirectly promote their services via third party profiles and personas. Forums such as Quora and Reddit are the major players in this arena.
It helps create an online presence and helps you target demographics that you did not even consider.
Promoting through Google ads
Promotion of your website through Google Ads is also a phenomenal way to reach a lot of eyes at once.
It is a promotion platform where business organizations can pay to display their ads on different google platforms. It is also capable to display ads on various mobile applications supported by google, websites, videos, and more.
Create your Web app and upload on Appstore and Playstore
With Swing2app no code app builder you can convert your website into an app in 3 simple steps in no time. Moreover, you can also upload your app on Playstore as well as Appstore easily, you just have to purchase the store upload tickets and Swing2App will publish your app on both the stores on your behalf, in this way you can save your time and effort spent on checking whether your app in adhering to all the terms and conditions of Appstore and Playstore.
So, you can create your web app for both android and iOS platform and this will surely increase your user base, as more people prefer mobile apps over websites.
Not just this, you can send unlimited push notifications to your users, as well as preschedule them. Personalized push notifications help in getting the user attention better, and with Swing2app you can do that well.
Read more about creating app with your website:
Convert your Website to App with Swing2App
With Swing2app you can create web view app or push only app, these are the two prototypes provided for converting your website into app in no time. The entire process does not require any coding at all and is quite simple. Converting your website to an app, will help you in gaining more customers as it is well known that people prefer mobile apps due to its convenience.
Swing2app enables its users to create web app for android as well as iOS platforms simultaneously, you don't need to do anything extra for developing your app for either of the platforms.
There are certain differences between web-view only and push only prototype. In web view only you can simply convert your existing website into an app, your app will look and work exactly same as the website.
However, if you wish to send push notifications in your app too, Swing2app also provides one-signal integration with this, so that you can send and manage your push notifications conveniently. Earlier if a user wanted to convert their website to an app and wanted to send push notifications to users then they had to make Push-only prototype of apps only but now the WebView prototype app users can also send and receive unlimited push notifications with the simple integration of OneSignal with Swing2App.
In case of Push Only prototype, if you enter the website URL without, it will be linked to the app and produced, and a push toolbar will be created at the bottom of the app. However, you have the option if you want the toolbar or not.
Additionally, with this you can send unlimited push notifications to the users who have installed your app using the Swing2App platform only.
Tutorial to create push only:
You can buy the life time plans from Swing2App online store, you have to pay only once and you can use the features and your app for life time without any additional costs.
| | |
| --- | --- |
| LIFETIME PLANS | PRICE |
| WEBVIEW LIFETIME PAID APP (Android +iPhone) | $300 |
| WEBVIEW LIFETIME PAID APP (Android) | $99 |
| WEBVIEW LIFETIME PAID APP (iPhone) | $230 |
| PUSH ONLY LIFETIME PAID APP (Android +iPhone) | $550 |
To convert your existing website into your web app all you have to do is sign up for Swing2App no code app developing platform and follow the steps: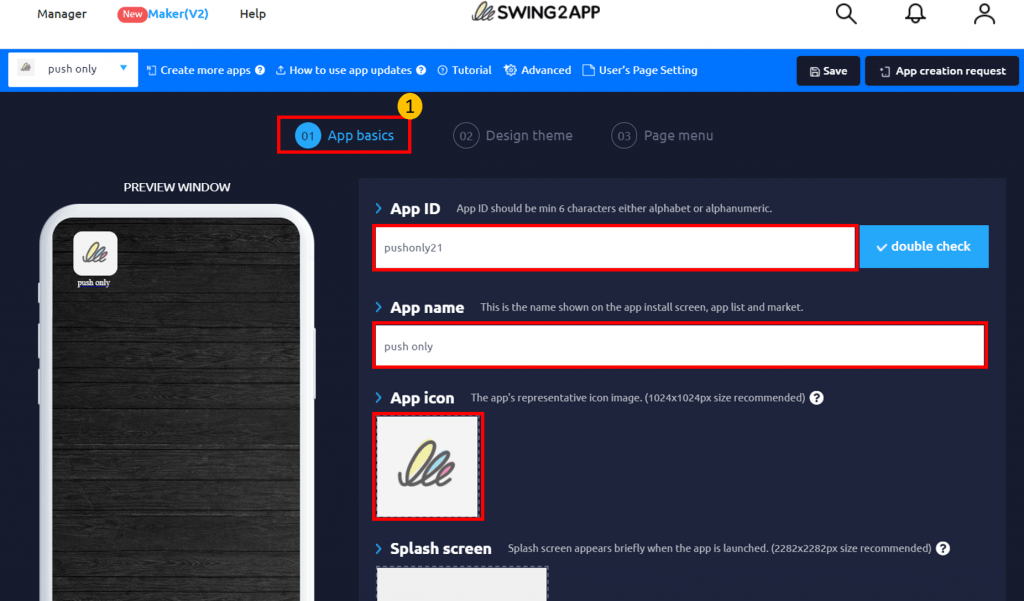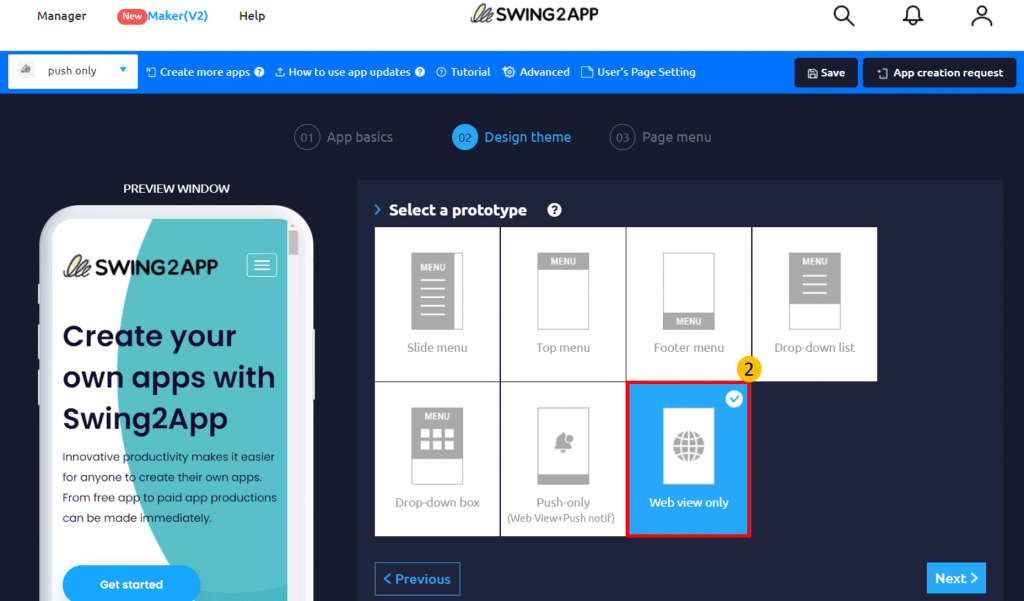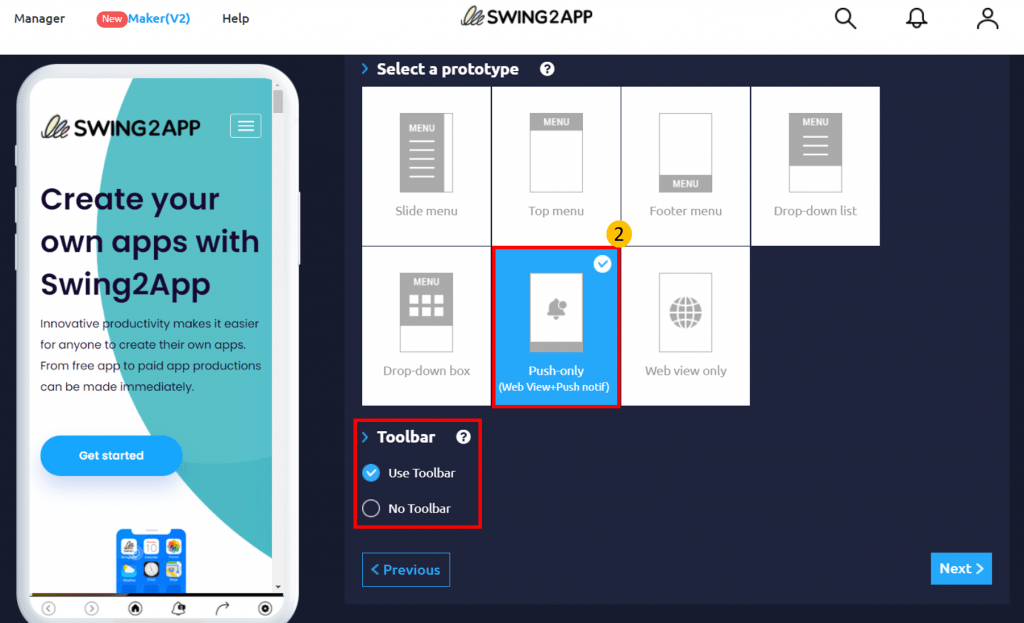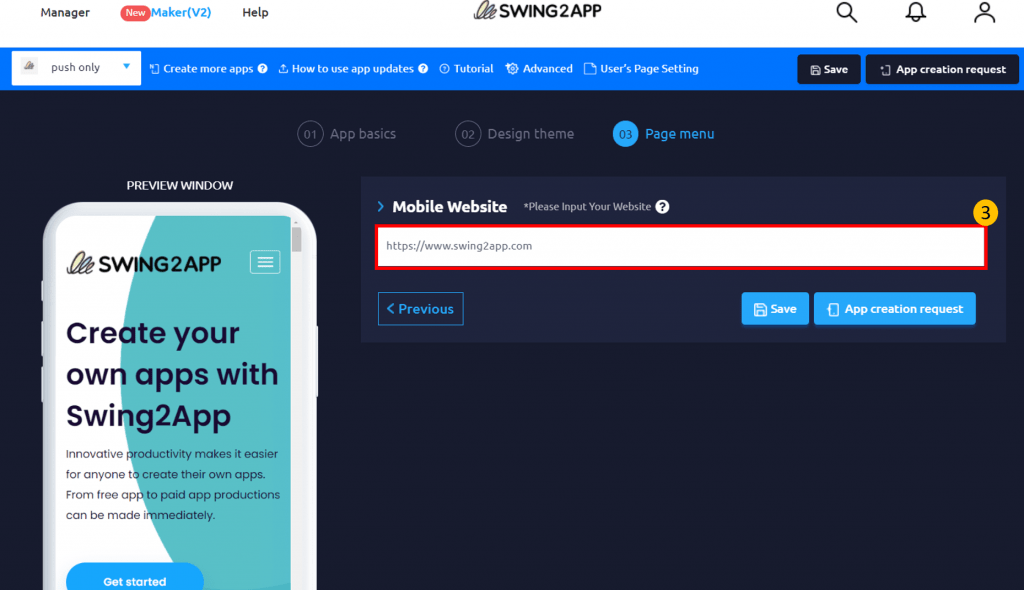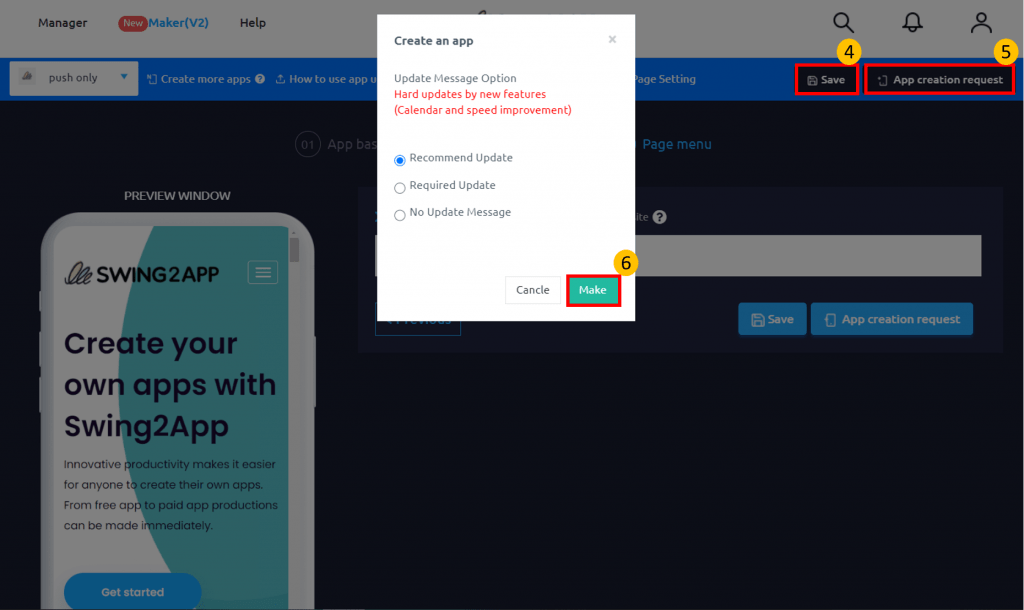 Tutorial to create web view app in swing2app:
Conclusion
Creating web app of your website is one of the most important step in promoting your website. It opens new paths for your prospective customers, as more and more people prefer mobile apps.
Just focussing on your website is not sufficient in todays world. Having explained all this above, we recommend you to try the Swing2App no code app building platform and covert your website into web app in few simple steps.
So what are you waiting for?