Android and iOS are not just the trendsetters in the mobile domain, they are the biggest rivals as well. Both the platforms are two poles apart in features and characteristics.
This begs us the question of what platform should a startup or SMEs choose for their first app if they can't afford native app development for both iOS and Android.
The curiosity regarding Android vs iOS in terms of market share, demographics, popularity, among others has been building up for a few years. So, let's not be curious anymore and evaluate the key difference in both.
Android vs iOS: Statistics
1.Market Capital
A report by Statcounter states that the market capital of Android is way more than that of iOS. The former stands at 71.93% and the latter is valued at 27.47% worldwide. This signifies the wide usage of Android compared to other operating systems. This high share percentage is owed to the fact that many smartphone devices use Android as the default OS.
Source: StatCounter Global Stats – OS Market Share
2.Global Smartphone Market Share
The graph below clearly states that the market share of iOS devices reduced significantly between 2018 to 2020. Meanwhile, Android has been consistent in its share with other manufacturers such as Xiaomi, Realme, Vivo, Oppo, all use Android OS like Samsung.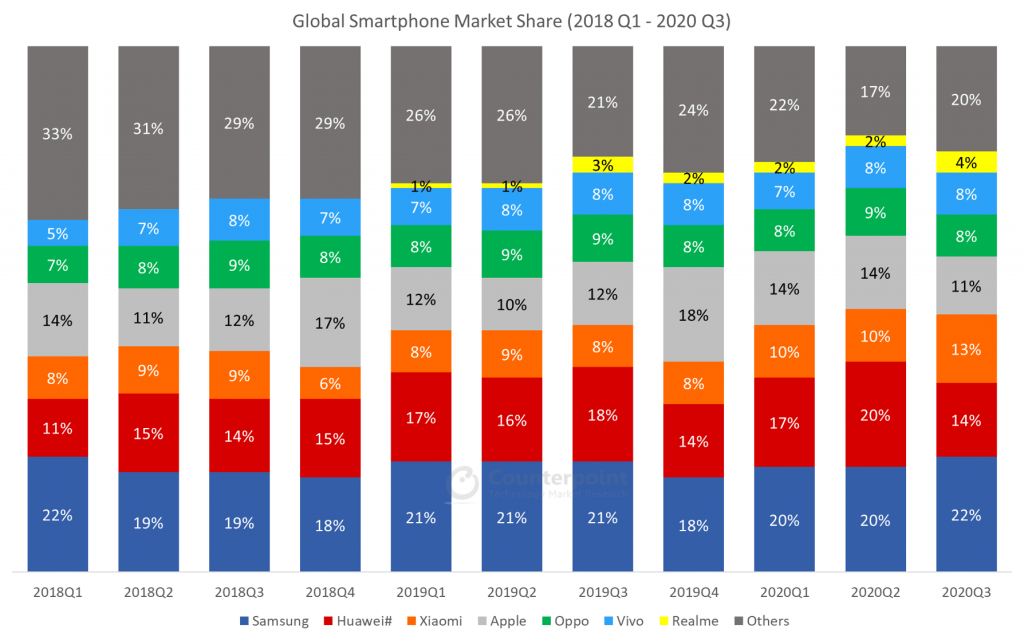 3.Gross OS Revenue Worldwide
Revenue for apps is determined by the in-app purchases, premium apps, and subscriptions. From 3Q19 to 3Q20, the consumer spending for Play Store increased by 33.8% year over year reaching $10.3 billion.
Whereas, for iOS, the spending increased by 31% year over year7 reaching $19 billion. Nevertheless, Apple's revenue is double of what the Play Store earns.
Revenue growth is a crucial factor for app owners since it reflects how many of their customers are willing to spend on a paid app and which platform has customers that prefer the free mobile app.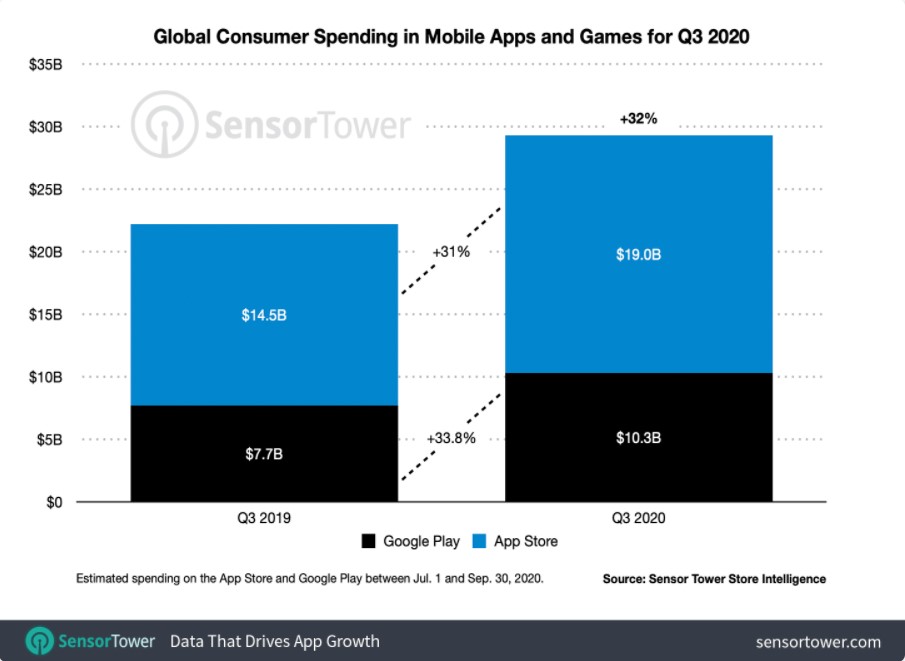 4.Global App and Games Downloads
One of the main sources of revenue via the app is downloads. The more an app gains downloads the more profitable it is in the longer run. A popular app also allows you to opt for other revenue avenues for your app such as in-app advertisements.
Although the global downloads for both Play Store and App Store increased from 2019 to 2020, Play Store saw a staggering increase of 31% in downloads reaching 28.3 billion in Q32020.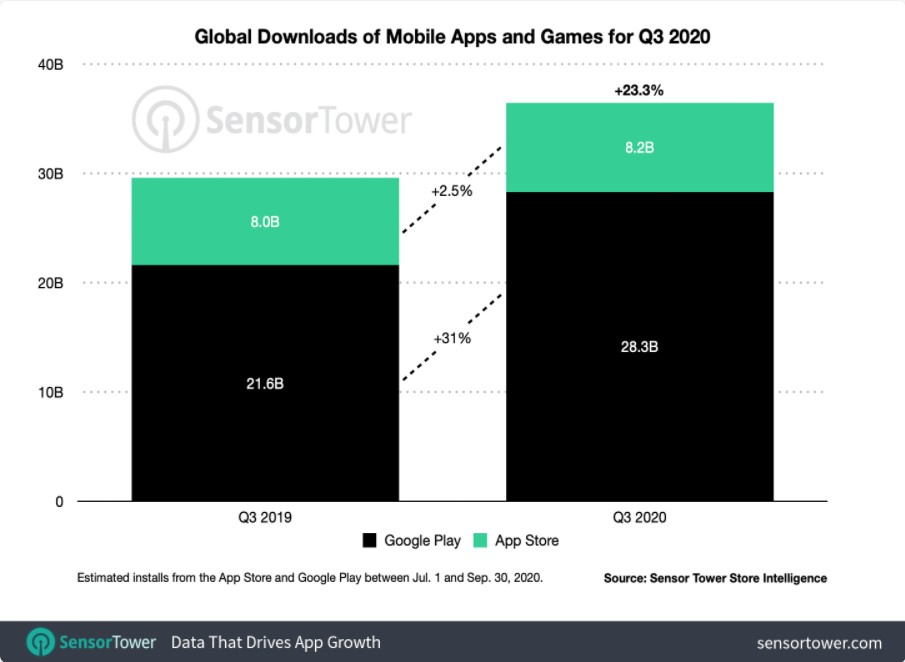 Moving on from statistics, many other factors make each platform suitable for certain things. As an entrepreneur, you have to research to be able to discern what are your focus points and which platform is more suitable for you to begin your app development with.
You can always create a similar app for different operating systems once you have enough investment and reason to expand your user base. So, here are some points of difference you should consider for Android and iOS app development.
Things To Consider While Choosing An OS For Your Mobile App
Identify Your Audience
The above statistics show that Android has a strong grip worldwide as compared to iOS. Nevertheless, in terms of revenue, iOS generates almost double the amount of Android. It is because iOS has some revenue-generating countries like Australia and the USA where iOS has the stronger grip.
Therefore, if you want a large user base first irrespective of the spending capability of the users, Android is a great option since you will be able to cover many countries and go global. However, if you are only targeting countries such as the USA, it is best to first launch your app on iOS.
Take Snapchat for example, it started out with an iOS app and once it had enough regular users, it expanded to the Android platform as well.
User Preference For Paid Or Free Apps
As an entrepreneur, you should go beyond the geographical borders and probe into the spending habits of your targeted users. One of the major differences between Android and iOS is the demographics.
Generally speaking, a majority of the iOS user base belongs to the higher income category with the ability to handle complex devices, therefore they are more than willing to spend on paid apps or in-app purchases.
Age also plays a pivotal role in discerning the demographics for both platforms. iOS users tend to belong to a mature age with the capability of spending more. Whereas, Android dominates the countries which are late adopters of technology. The user base mostly belongs to the age group of 25 to 45 years which are spend-conscious and prefer apps that are free to download.
In-app purchases
Taking the last point forward, your decision to go with either of the platforms also depends on the revenue model of your app. If you want to launch a free app that brings revenue with advertisements and later develop a subscription model for it, then you should go with Android, since Android users have the majority and are willing to try new apps for free.
On the other hand, if your app supports in-app purchases or paid models, then statistics are witness that iOS is the perfect fit for you. This difference is based on geographical factors such as countries with users willing to pay.
Design and development
Although the cost of developing Android or iOS is pretty much the same now, there are other factors however that you should consider, i.e., design guidelines.
Apple is known for its quality, thus it is more stringent when it comes to app designs. Apple has a higher score in rejecting apps than Play Store, which is more flexible with its guidelines. Nevertheless, Play Store can reject your app if it does not follow the Material Design guidelines.
For iOS app development, you have to be more shrewd in following Human Interface Apple guidelines if you want your app to be published on the store in the first place. Because the guidelines are strict, there is less room for innovation, whereas Play Store offers experimentation. For instance, Play Store supports transparent background for app icons, unlike Apple.
Fragmentation
Device fragmentation can add a lot to the final cost of app development. Because Apple only focuses on a few devices, the fragmentation is low. Therefore, your app only has to adjust to a few devices' resolutions, screen size, etc.
In Android, multiple manufacturers use its OS as default therefore there are hundreds of devices with different resolutions, screen displays, etc to adjust your app to. This leads to an increase in the cost of app development.
So far, it's been either this or that. How about you find you a middle ground? That is, there is a third way which is a cost and time-effective way – Swing2App's rapid app development.
Create Native-like Android and iOS Apps With No-code App Builder
Swing2App is an app creator platform that supports rapid app development for free without requiring any prior knowledge of coding and programming.
You can create native-like Android and iOS apps for free without having to write a single line of code. The platform takes care of everything on the backend. All you have to do is choose the design templates to design the UI/UX of your app and the features you want your app to have.
Unlike traditional app development, you will be able to ship your app to the market in a couple of days since it only takes a few minutes to create your own app. Moreover, the learning curve with this platform is very low and it also offers documentation to help you every step of the way.
You can always start free with Swing2App, and once you have your app ready, you can opt for any subscription and continue to achieve success with your own Android and iOS apps.
Visit Swing2App.