Starting a small business calls for adopting a lean business mentality. Here's how you can create a lean business strategy using lean startup approach.
The lean startup model is one alternate method to the traditional, hit-or-miss strategy of launching a small business. It enables company founders to approach new product development with less risk and greater flexibility.
The probability of your startup succeeding isn't in your control. While having a great concept for a new business is important, putting that idea into action is even more important in today's current web-based industry. However, according to Forbes Magazine, 45% of companies fail within five years. Only one or two startups out of every 10 will provide a significant return on investment.
The lean startup method helps you to increase your chances of success. One critical success factor is to optimize consumer value while minimizing waste. Lean is providing more value to consumers while using less resources. It prefers experimentation to meticulous planning, client input to intuition, and iterative design to traditional "big design up front" development. Although the technique is new, concepts such as "minimum viable product" and "pivoting" have swiftly taken hold in the startup sector.
Let's discuss why the lean startup method became popular and its primary advantages.
WHAT IS LEAN STARTUP METHODOLOGY? 
The term "lean startup" was coined by Eric Ries in his book The Lean Startup and is based on the concepts of Toyota's infamous lean manufacturing approach, which focuses on minimizing waste and optimizing resource allocation.
The basic concept of a lean startup is to avoid developing a product that does not work. It is about avoiding developing a product that consumers do not require. Rather, start with an issue that has to be solved and then construct a business strategy around it.
Lean startup is suitable for entrepreneurs and small businesses who are still seeking for a viable business plan or product. Large organizations can also utilize it provided they have the flexibility to adapt fast to fresh information and listen to client feedback.
In other terms, lean startup is a business and product development technique. By combining business-hypothesis-driven experimentation, iterative product releases, and validated learning, this technique promises to reduce product development cycles.
The idea behind the lean startup methodology is that by investing time in iteratively building products or services to meet the needs of early customers, startup companies can reduce market risks and cut the huge cost of initial project funding as well as costly product launches and failures. Launching a new product at a tech start-up, a small business, or a large company has always been a win-or-lose business.
The concept of lean startup lays out that by releasing a minimum viable product, a company can then use customer feedback to further tailor their product to the specific needs of its customers and ensure the product the company is developing is going to be in demand.
Although the technique is new, concepts like "minimum viable product" and "pivoting" have swiftly acquired hold in the startup industry. In traditional business development, entrepreneurs spend months in planning and research, but all they have in the end is merely untested hypotheses. So instead of writing a solid business plan, entrepreneurs outline their hypotheses in a framework called a "business model canvas". This is essentially a representation of how a firm generates value for itself and its consumers.
In addition, lean startups adopt the "get out of the building" strategy. They go out and get input from potential users, clients, and partners on all aspects of the business model, including product features, price, distribution channels, and cost-effective client acquisition techniques. Then, based on client feedback, they change their assumptions, restart the cycle, test revised products, and make more minor tweaks (iterations).
Another Lean startup practice that is Agile development, began in the software business but has now spread to other areas. Agile development, as opposed to traditional year-long product development cycles, saves time as well as money by creating the product iteratively and gradually. It is the process through which startups develop and test their minimal viable products.
Now, you know the basics of lean startup. Let's get into the 3 basic principles of the lean startup process.
THE THREE PRINCIPLES OF THE LEAN STARTUP PROCESS
The process of lean startup development is based on the "build-measure-learn" philosophy. This involves delivering your minimal viable product (MVP) quickly and assessing future stages depending on user feedback.
To understand how this works, pretend you're a business founder working on a smartphone app to help people live a healthier life. Here are three essential elements of the lean startup approach that might assist you in through the process.
1. Experimental learning – start with hypotheses instead of a business plan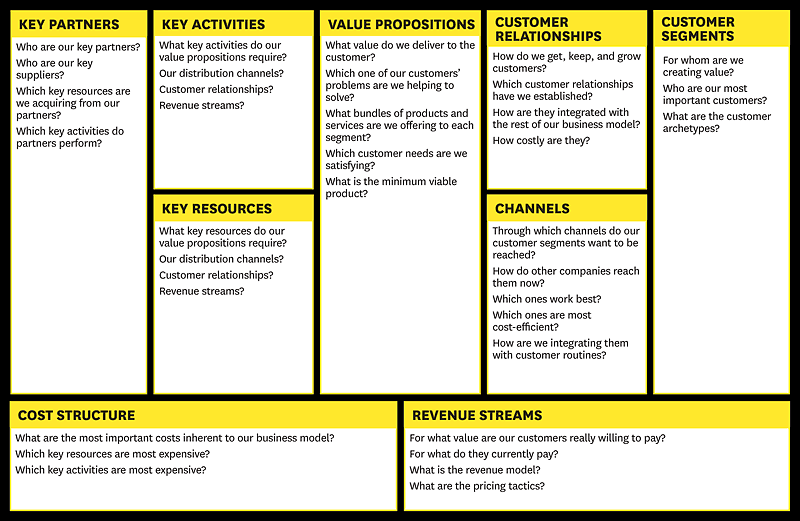 Source: hbr.org
Get started by understanding that your initial product idea is based on assumptions, not facts. You must formulate these assumptions as hypotheses and test them.
To do this, lean startups employ the business model canvas or lean canvas. These are visual representations of your thoughts on how you want to deliver value to your customers.
When you first start thinking about your health app, you may have the following assumptions:
"A healthy life means the same thing for all my customers."
"Most people struggle with mental health issues."
"People are willing to pay for an app that helps them live a healthier life.
You must recognize these as assumptions, not facts. As you move on, you'll be either confirming or rejecting them.
2. Customer feedback – customer development

Source: hbr.org
The second key principle of the lean startup method is to begin testing the product concept with potential consumers as soon as possible. This allows you to test if the product features, price, distribution channels, and client acquisition strategies you have in mind are viable.
Based on user input, you'll either make changes to the product or business strategy – or pivot the big concept.
Customer feedback on your health app might help you validate your early hypothesis. For example, you may discover that your prospective consumers do not have an issue with mental health, but they struggle with work-life balance. This will help you understand how your app should function.
3. Short product development cycles – agile development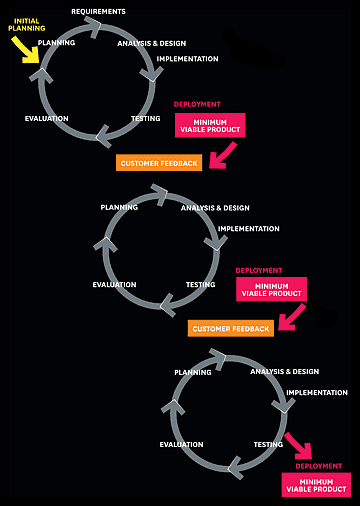 Source: hbr.org
The third lean startup approach concept is based on agile software development. It is all about developing your product or service in short development cycles, often known as iterations.
This method reduces waste and concentrates on distributing the products as frequently as feasible. It's linked to client feedback; the two-go hand in hand.
Imagine that you chose to construct a full product for your health app after only one round of feedback on your MVP. This may cause you to build services that people do not require, such as a premium membership plan with access to 500 healthy recipes.
Instead, you might use short development cycles to determine whether it's profitable to spend on that feature. Give customers access to four recipes first and find out if they like it. This prevents you from wasting time and resources.
THE ADVANTAGES OF THE LEAN STARTUP METHODOLOGY
We can see the inherent benefits of the lean startup technique now that we've discussed a lot about lean startup approach. These benefits are many and will pay dividends for a small business in the short term by proving to potential investors that you have a solid plan, in the medium term by encouraging employees to deliver value-added products and services efficiently, and in the long term by creating a growing and loyal customer base. The lean startup technique helps companies by doing the following:
Rather of "inspecting out" defective products or service, lean startup model assist in "building in" quality at every stage of a process. This saves a lot of time, money, and manufacturing or development costs.
The product launch requires less money. When you start with an MVP, you need fewer resources. As a result, you will have less need for early cash to get your idea started. A lesser expenditure amount may make it easier to get funding.
Increasing overall product knowledge by demanding excellence from every employee in all departments.
You fail aften and learn quickly. Failing isn't actually failing in the lean startup process. Each negative criticism serves as learning material for your company. This approach, coined "validated learning" by Eric Ries in his book, involves changing your assumptions based on user input.
Allowing the organisation to provide goods and services on schedule and within budget.
You create a product that customers genuinely want. In traditional business, it sometimes a bad product is designed and forced down on people. The lean startup process can help you prevent this. According to Eric Ries, this is due to what he terms "innovation accounting" – a rigorous approach of evaluating if a product is getting closer to satisfying customers.
It may be used for any startup, not just in tech. Lean product development may be applied in both startups and existing businesses. The adaptability of lean concepts makes them applicable to a wide range of enterprises and industries.
Building a sense of respect for people because methods of lean business model prove the business recognizes and values the efforts of everyone in every link in the supply chain and customer base as well.
HOW TO WRITE A LEAN BUSINESS PLAN
The business model canvas allows you to examine all nine components of your company on a single page. Each component of the business model has a set of assumptions that must be tested. The following image depicts how a business model canvas is prepared and the 9 components it must include.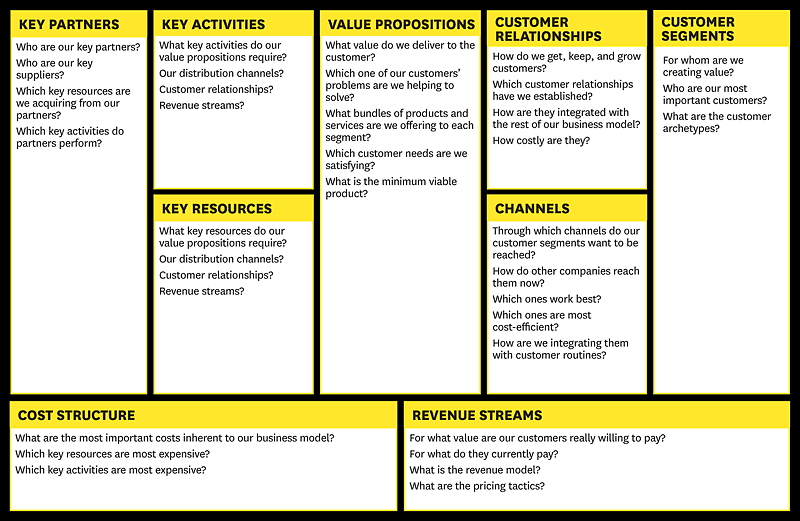 Source: hbr.org
Understanding the basic principles of the lean startup method can help you build an excellent lean business plan. While the Small Business Administration (SBA) offers great examples of new company plans, make sure your plan includes the following critical elements:
Business model: Everyone in your company must understand your business model.
Strategy: Explains how your business solves an issue or meets a market demand.
Methods: Outlines the processes needed to achieve marketing, sales, and business goals.
Schedule: Describes when the business begins, where it is situated, and when it becomes profitable.
Income/Expense Statement: A statement that summarises income, sales, and costs.
HOW SWING2APP SUPPORTS A LEAN METHODOLOGY
Swing2App was developed on the lean startup process because its "no code-no problem" technology allows budding small businesses to build robust and feature-rich applications that serve most industry sectors. Swing2App's no-code app builder, when paired with a lean business strategy, create an outstanding lean startup process and framework.
How Swing2App will help you in your small business?
It's free to create an MVP app with Swing2App, and you'll only have to pay once you're ready to upload it to the Appstore or Play Store. By using Swing2App's no-code app builder, your app development is agile from the beginning, so you can later alter and update your app as needed.
Compared to traditional app development methods, Swing2App offers several industry-specific templates for you to select, edit, add features and options, and your app will be ready in much less time.
Further read: How Can Swing2app Can Give You Long Term Advantage That Other Company's Or Freelancers Developer Can't?
Keep in mind that you'll need a lean business plan based on the principles of a lean startup methodology if you want to launch a small business in 2023. This method assists you in designing a sustainable firm with a skilled workforce that provides value to your consumers and increases your chances of getting investment for your startup.
Get up and start up today!
Visit Swing2App Now!
LEAN STARTUP SUMMARY
Lean startup methodology is the process of validating hypothesis / preconceived notions by constantly testing a customer's reaction to an MVP and asking for their feedback. This input is then analyzed to decide if the company should stick with the original concept or pivot.
This framework enables you to bring your product to market fast and with little risk.
Facebook was not the first social media platform. The first vehicle was not built by Henry Ford. But they both came out on top.
Why? Because "those who could learn faster overtook those who went first."