Learn the perfect way to create a successful mobile app without any coding
Ever since the inception of mobile apps, the industry has seen immense growth in large and small organizations driving towards capturing the mobile platform.
Now that the users have been exposed to the instantaneousness, the need for real-time and on-demand services at the tip of the fingertips has become a norm.
To meet the demand curve and primarily to stay afloat in the cut-throat competition, there is little to no room for avoiding the adoption of mobility solutions.
It ripples down to scenarios where startups and SMEs cannot afford to lose the opportunities mobility solutions offer. They are looking to enter this arena with whatever resources they have.
Thus, as a new or small entrepreneur, you must know the prerequisites before entering into mobile app development for good.
Let's start with the obvious.
Mobile app development Basics
1.Market research
If you do not have any specific idea in mind for what you want to create an app, studying the industry and market is the first thing to do. Analyse the demand and trends on the market to get insights into a profitable mobile app idea.
If you already have an app idea or want to develop an app for your existing business, you still need to take time to understand what your users want from your app.
2.Target Audience
Once you are clear on the type of app you want to develop, you need to bifurcate your targeted audience from the pool of users.
It includes identifying and setting the geographical regions you are going to target, study the demography of your potential users, and more.
3.Competitor Analysis
If you have a unique idea, there is a possibility someone else has it too. Therefore, you need to figure out whether you have a competitor, and if yes, what are their tactics.
Only when you outshine your competitors you will be able to establish a stronghold in the market to attract loyal customers and generate constant revenue.
Finally, let's talk about the crucial prerequisites you must know before indulging into developing a mobile app.
Things to consider before starting with mobile app development
1.Mobility platform of choice
One of the primary decisions you will need to make for your mobile app development is determining whether you want to go native or hybrid.
In brief, native mobile applications are apps created specifically for a particular platform. From code, backend to designing an app, everything is done individually for Android and iOS platforms.
Looking at the graph below, we can see that Android holds a majority of the market share and is widely accessible by people. But Apple has its perks for businesses. Hence, the choice remains with your preferences
On the contrary, hybrid apps share the same base code and are created in a way that a single app performs well on both platforms. Hybrid app development is great for startups looking to invest in the mobile app for their brand, but do not have enough investment to create two separate applications.
Another option that you should look into is Progressive Web Apps (PWAs). These applications pose a low barrier to entry ideal for small businesses. PWAs are web apps designed for easy access via smartphones.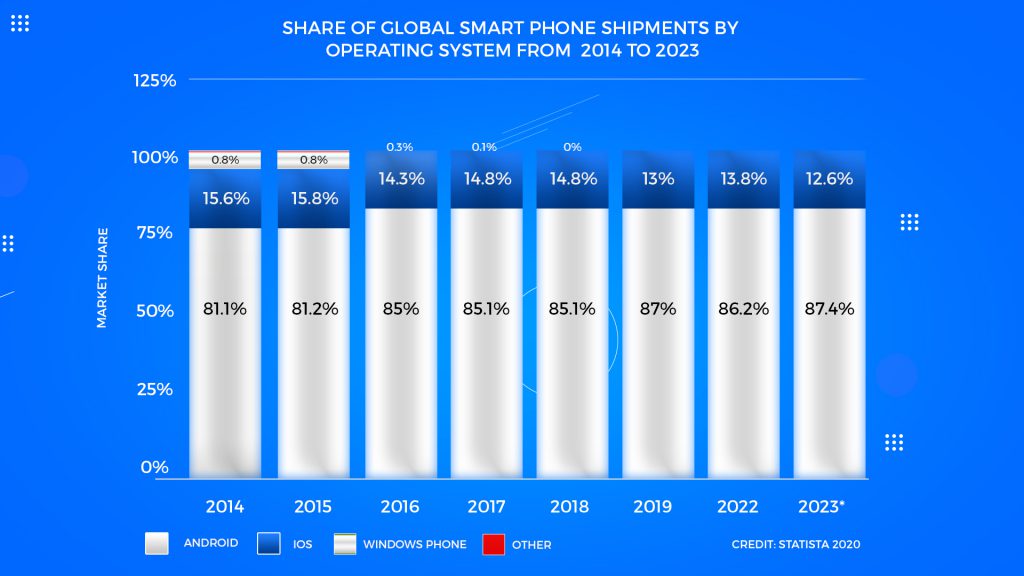 Bonus: If you already own a website for your business, you can enter mobile platform by converting your website into a functioning mobile app via a no-code app builder. Check out the video to know how..
2.App development team: company or freelancer?
Because of the increasing popularity of mobile apps and unprecedented demand for their development, many ways to create apps have come to the limelight.
Hiring a mobile app development company is one way to go about it. It is the most popular and standard way of developing impeccable mobile apps.
Since going for in-house app development is not an option, hiring a team from a dedicated company sounds feasible. Nevertheless, these companies charge hundreds of dollars per hour; something that can drain the capital of startups faster than anything.
Another option is hiring a freelance developer (or a team of freelancers) to work on your project.
The challenge here is they might not have the proper tools or latest tech-stack to give you an app with the potential to grab the attention of users. For instance, you will need a host server to take care of the backend of your app.
Besides, the app development process is an amalgamation of processes of Q/A testing, UI/UX designing, prototyping, and much more. Hiring a freelancer or even a team might not suffice to guarantee the effectiveness of your app.
Additionally, both of these options are not cost and time-efficient. For someone aiming for instant time-to-market, these two options might not work in favour.
3.Budget and time-to-market
Carrying over the last pointer from above, budget and time-to-market are other crucial elements for startups and small businesses to consider before the app creation.
A small business or startups does not have enough capital to invest in one product at once.
Even if you outsource your app development needs, the cost can cut a hole in the pocket from the start; an inevitable challenge that SMEs face. To this, a potential solution has come forward – no-code app creation platforms.
Speaking of time-to-market, most of the startups are about innovative ideas. If the idea gets leaked into the market or someone else launches a similar app in the market, the worst thing to happen is you losing the first mover's advantage.
Therefore, releasing the beta version of your innovative app into the market is paramount for its success in later years. You will have you to find ways in which you can shorten the gap between the ideation and launching stages.
4.Infrastructure
What we mean by infrastructure here is a hosting server, along with a Cloud facility.
An app has two parts – user panel and admin panel. For you to handle your app, you will need a platform where all the information entered and related to your app users stays secure.
Some mid-sized or large companies may be able to host the backend of their app in their server, it is not an option for startups.
Thus, you will require a third-party hosting service provider for this purpose. However, the provider has to pass three parameters – reliability, security, and scalability.
Now, being a new entrant in this field, choosing one from a myriad of options is overwhelming. Without legitimate information about service providers, it becomes a challenge to find a reliable platform.
In retrospect, things will become complicated since you are developing your mobile app with one team of developers or a company and then seeking third-party hosting servers for this purpose
5.Use existing services and tools to your benefit
Time is money for every business and cost-effectiveness is a formula for success and sustainability. To that end, instead of investing in technologies and tools for mobile app development at once, you should find a more efficacious way to save up capital.
As mentioned above, there are many reliable third-party service providers for everything you will need for your app. For instance, you can leverage existing platforms for analytical servers, authentication servers, push notification servers, and so on.
Therefore, you will not need to build these servers from scratch and invest loads of money. So, try to find the best real-time solutions available for you to save huge bucks on your app development.
Is there a better alternative to expensive Native and Hybrid app development?
So far, we discussed the downsides of hiring a mobile app development company or a team of freelancers. We also talked about the time-to-market and the incredible budget you should have for either of these options.
Additionally, native and hybrid app development also requires developers of different programming languages and all the other necessary costs that come with it.
Instead of becoming overwhelmed and giving up on your vision to land your business model on the mobility platform, you have a third way out which is way more efficient for small businesses and startups.
Rapid mobile app development (RAD)
Behold the new entrant, the future of mobile app development. This agile software development methodology supports the rapid iterations and releases significantly reducing time-to-market as compared to the standard methods.
App builder platforms are a by-product of this innovative idea. These platforms have turned the whole development process into an effective DIY model. Now, individuals can create apps within minutes on these platforms and publish apps as well then and there.
RAD was introduced to minimize the barrier to entry for SMEs and startups and allow them to kickstart their mobility journey with the minimum investment.
Get started with Swing2App: a no code mobile app creation platform
Swing2App is a no-code app development platform where users can make apps themselves without having to write a single line of code. By providing relevant tools, the users can design, test, and add features to the scalable mobile apps.
Now, grab the opportunities that come with the first mover's advantage and create beta versions of your apps within minutes. You can always add more features in the later versions.
Sans doubt, choosing an app creation platform over hiring a mobile app development company is the wisest choice. As for the infrastructure, Swing2App allows the hosting server facility and takes care of all your app's backend needs.
Thus, you will not have to invest in other third-party hosting services since all you need is in one place.
Check out our introduction tutorial to get started.