Push notifications are one of the trending marketing techniques with a mobile app. It is the best way to stay connected with your users even when they are not using your app.
In your app, you must have come across notifications like:
Hey, Kim the items you waitlisted are selling out fast! Order now your favourite dress!
These are called push notifications, which can be sent to the app user at any time whether the app is opened or not. It appears even on the lock screen, so your message is delivered even if the user does not use the mobile phone. This is highly beneficial, especially for time-sensitive messages (like expected delivery time, etc.) 
You can use push notifications to drive engagement, increase app usage, connect with users, and so on. The possibilities are truly limitless.
However, you must follow the right way to use push notifications to get maximum benefits. To help you understand the right way I created this guide. Continue to read more about how push notifications work, why you should use them, when to use push notifications, and how to use them effectively. 
What are Push Notifications?
A push notification is a small, pop-up message sent by a mobile app on a user's device, even when the app isn't open. These notifications are designed to grab the attention of users and convey reminders, updates, promotions, and more.
Push notifications usually consist of a title, a message, an image, and a URL. They may also include logos, emojis, and other elements to make them more attractive. Push notifications look different across various operating systems, such as Google Android and Apple OS.
Elements of a Push Notification
A push notification is a short message that is delivered directly to the home screen of a mobile device.
Push notifications are better than email and other customer communication methods because of the delivery method. Even though push alerts are like an SMS text message; pushes go directly to the smartphone user, and hence are more visible. This guarantees that users will see the push notification the next time they check their phone or tablet.
When users download an app, usually they opt-in to these push messages by default. But the user has more control over push notifications, it can be even disabled.
While there are certain similarities between push messages and texts, there are also some significant differences. When users open a push message, they get transported straight to the app and to a screen where they can read the rest of the message. This implies that the message must be short and engaging, ensuring the users can read everything in its entirety directly even from the lock screen.
This is one of the reasons why push messages with fewer words have a higher click rate: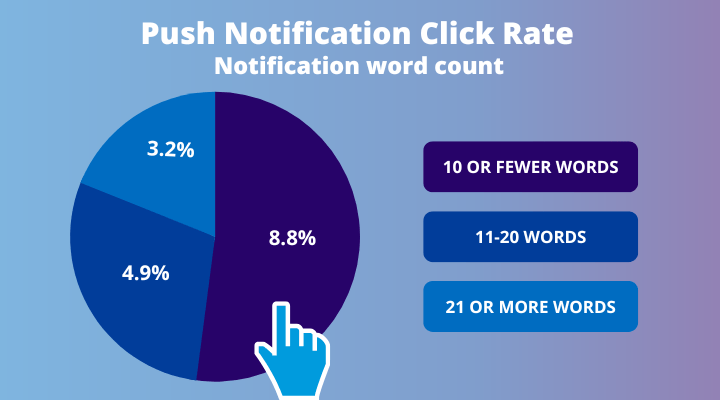 CTR: CTR is the number of clicks that your ad receives divided by impressions (the number of times your ad is shown): clicks ÷ impressions = CTR. For example, if you had 5 clicks and 100 impressions, then your CTR would be 5%.
Unlike emails and SMS texts, push alerts can be sent without the user sharing any contact information. However, the user must have the notifications enabled on their device, app publishers can send them at any time.
Android Vs iOS Push Notifications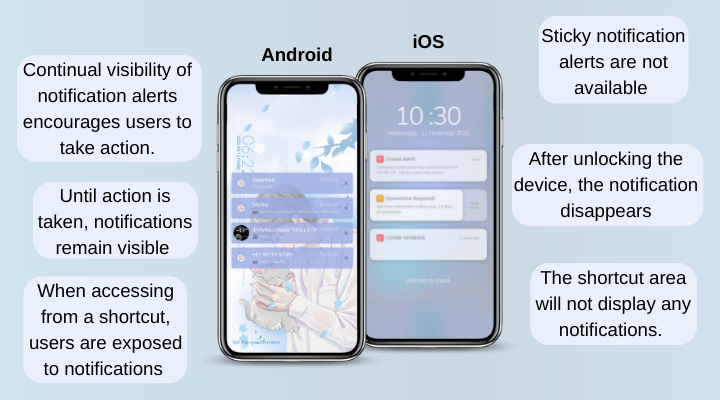 | | | |
| --- | --- | --- |
| | iOS | Android |
| Opt-In / Opt-out | Users must Opt-In to push notifications after installing the app | Automatically opted-in |
| Access push notification locked screen | They will see the notification on the lock screen, if they have enabled lock screen notifications for that application | They will see the notification on the lock screen unless they have disabled it. Most Android phones have a LED notification light which can be enabled. |
| How to view | Swipe down and see notification history in chronological order, with the option to delete each day. | In the notification tray by swiping down. Long-press an application's icon and see just it's recent notifications. |
| User notification options | Clear, open, long-press to see more info and application options like reply and snooze. | All those, plus snooze the notification for a predefined time period. |
| Change Notification Settings | Open the Settings App, go to Notifications, find the app. | Either in App Settings and then through the Apps and Notifications, or long-press an app's icon, chose the info icon, and get to that app's specific settings. |
| Notification display options | Disable/enable notifications, allow notifications on the lock screen, sounds, and show temporary or persistent banners. | Disable/enable notifications, allow notifications on the lock screen fully or hide sensitive information. When the phone is unlocked, notification dots on individual apps, enable the phone's blink light, and allow sounds. |
Push Notification Functionality: How it Works
For a message to appear in a user's notification center, there is a lot of work behind the scenes.

The first requirement is that a push notification service specific to each operating system is needed. Then push service must be enabled by the app publisher. As a result, the publisher has an API (application programming interface) to communicate with each service.
One example of an OS-specific service is Apple Push Notifications (APNs). Here's how it works: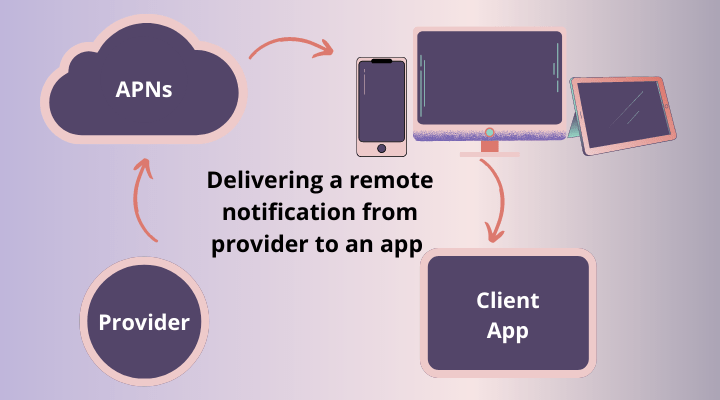 The process is slightly different if you're using APNs to send messages from multiple providers to multiple devices (like smartphones, tablets, and computers).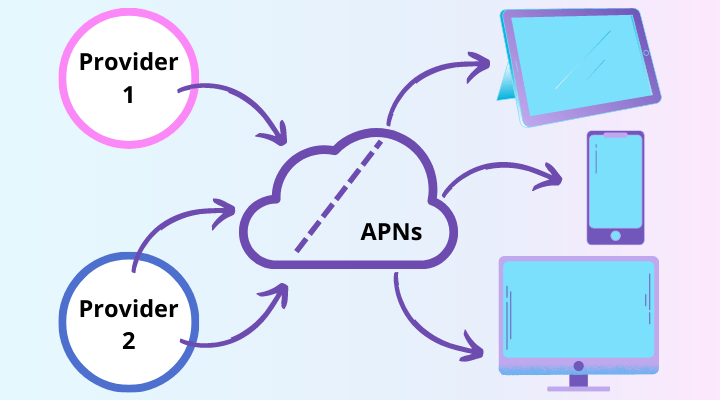 Beyond Apple Push Notifications, Google Firebase Cloud Messaging (FCM) and OneSignal are other examples of a notification service for Android devices.
The basic concepts behind how this works from the publisher's end is quite straightforward. After you've been set up with a push notification sending platform, then you just have to draft a new message, select the target audience, and send the notification.
Why Use Push Notifications?
Push notifications are a powerful mobile-first communication channel that can reach app users anytime, whether or not they are in your app, to capture their attention and reengage them.
Using mobile push notifications, or push alerts sent to mobile devices, can complement your use of channels such as email, SMS, and web push notifications with a variety of unique benefits. Mobile push notifications are the most popular type of push notification and are often referred to simply as "push notifications" or "push."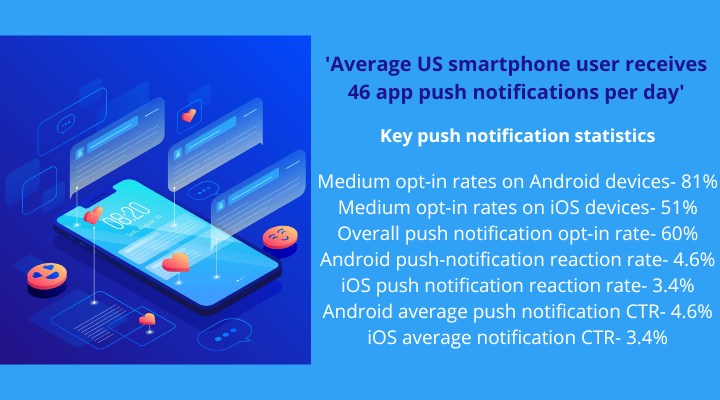 Push vs SMS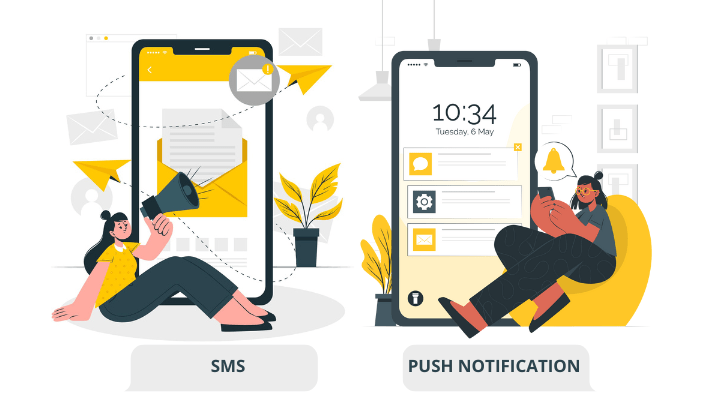 With SMS (or short messaging services) you can send text messages of up to 160 characters in length. On the other hand, Push notifications are brief to-the-point alerts triggered by an app that a customer has already downloaded. The app doesn't have to be open for the push alert to appear.
There is no competition between the two. There are pros and cons to both methods. For instance, SMS gives you more flexibility, you can add links, and character limits are longer. Delivery is secured, and reliable, and customers are guaranteed to see your message (the 98% open rate). It's easier to miss or skip a push notification that might only be visible for a limited time (cannot be re-read).
However, push notifications are easier to manage than SMS. You can send push notifications without recipients providing you with written consent. Moreover, it is less likely that users will take time to go into their notification settings to change the frequency and type of notifications.
With SMS, recipients must provide clear written consent and opt-in before your business can send them SMS messages. This is a huge barrier to entry.
Open rates for push notifications vary between 30% and 60%, and the interaction is as high as 40% according to a study by IBM partner Xtify. Look at the following image for comparison with email.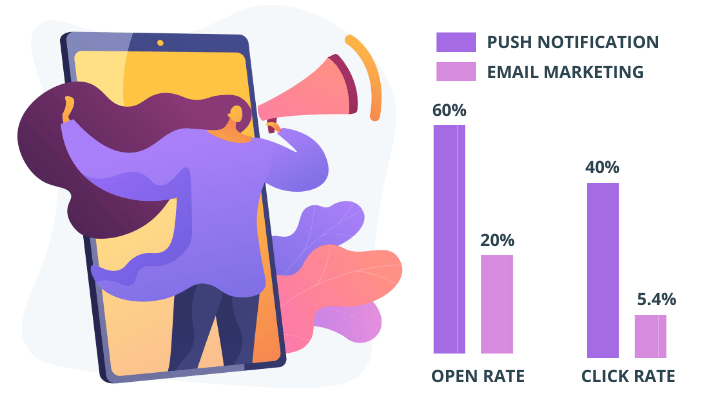 To summarise the differences between push and SMS:
| | | |
| --- | --- | --- |
| | PUSH NOTIFICATIONS | SMS |
| Opt-in ways | App installation in needed | Provide phone number verified by OTP |
| Opt-out ways | Turn off the notifications in settings | Send code to company to stop receiving SMSs |
| Visibility | One-time only and for a limited time | Can be viewed repeatedly in inbox as well as saved |
| Content | 1-2 sentences (very short) | 160 characters |
| Reach | Limited-only to those who have downloaded the app | Unlimited |
| Features | Links and rich media can be added: GIFs, emojis, photos, videos, audios, Custom CTAs | Only links can be added to the SMSs |
Things Push Notifications Can Help You Achieve
1. Increase Message Visibility
It ensures that your messages are at once seen, even when users are inactive. You can send time-sensitive messages and create a seamless user experience.
2. Drive Retention and Increase User Engagement
Highly visible push alerts remind your users to come back to your app. This boosts your website and app retention by re-engaging users with push. Engage your users with updates and new content.
3. Boost Conversions
Increase sales by designing and sending push notification campaigns related to in-app rewards, promos, discounts, or other deals.
4. Create a Connected User Experience (UX)
Reduce friction within the customer journey by sending transactional notifications to keep users informed and updated by creating a seamless experience.
Cons of Push notification marketing
1. Act like pop-up Ads
Generally, people do not like pop-up ads as they are disturbing. The push notifications pop out as Ads, which causes hindrance to regular activity. The notifications may come as surprise to the user which they do not like especially during work.
2. Work only when loyalty is already there
New users need to opt-in manually to the notifications when they download the app. New users who have just experienced your brand will hardly opt in to the notification for the first time.
3. Spamming:
Just like any other communication channel, marketers can misuse push notifications for spamming. They can use the real-time nature of mobile and web push alerts for bombarding a series of irrelevant messages.
4. You need additional setup: You cannot use push marketing without a push notification service or tool. However, push notification services are generally expensive. A full-fledged service will cost you around $150/1000 notifications.  
Best Practices for Push Notifications
In order to maximize your results and meet users' expectations, it's essential to follow push notification best practices.
Ensure that your push notification adheres to these three points:
1. Relevant and timely: The user's behaviour, location, or preference prompts the notification.
2. Personalised: The content of the push appeals to the individual user.
3. Actionable: The notification must make it clear what should the user do next.
Check out our blog to learn more about earning user permission, automation and scheduling messages, and other best practices for personalizing and optimizing push campaigns.
1. Deliver an exciting update – e.g. Spotify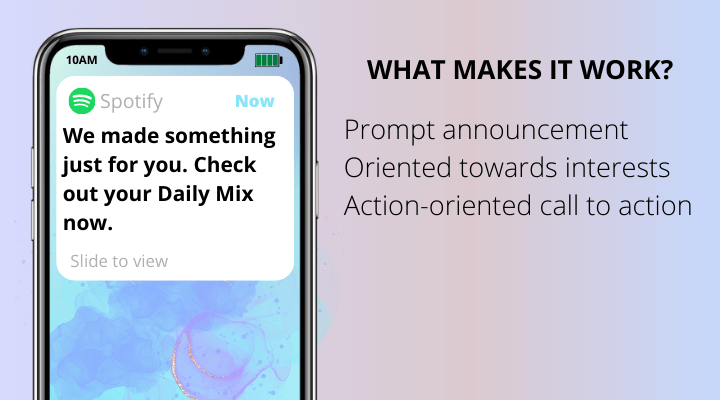 Timely: Spotify sends this push notification to users when it added the Beatles' discography to its library, so the interested users can listen it as soon as they get the notification.
Personalized: It's probable that the users who listen to music like "classic rock" or "oldies," will receive this notification; which makes this push personalized to their taste.
Actionable: The phrase "Play music's greatest catalogue right now" tells the user what to do next and promises that users will enjoy it.
2. challenge the user or make an assumption – e.g. Tinder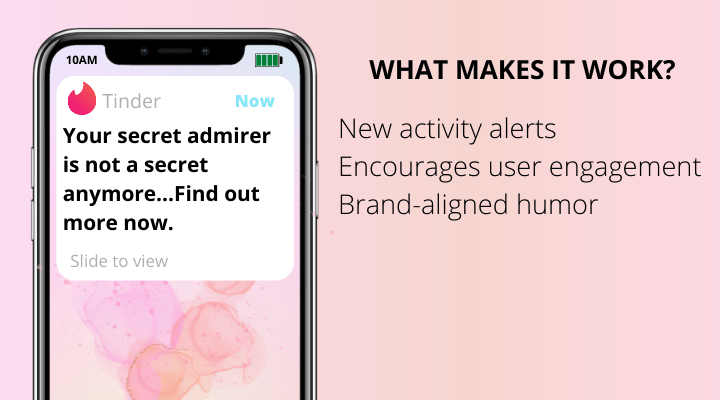 Timely: This message is sent to Tinder dating app users when someone swipes right to imply interest.
Personalized: It issues a challenge or make an assumption, which attracts the user. This may appear rude but given Tinder's niche and brand identity, they can get away with it.
Actionable: By saying in the push that it's "probably not gonna work out," Tinder has thrown a challenge to the user. It's likely that the user is curious about the vague "new person" and swipes the app regardless of whether the connection works out or not.
3. Evoke self-reflection – e.g. Headspace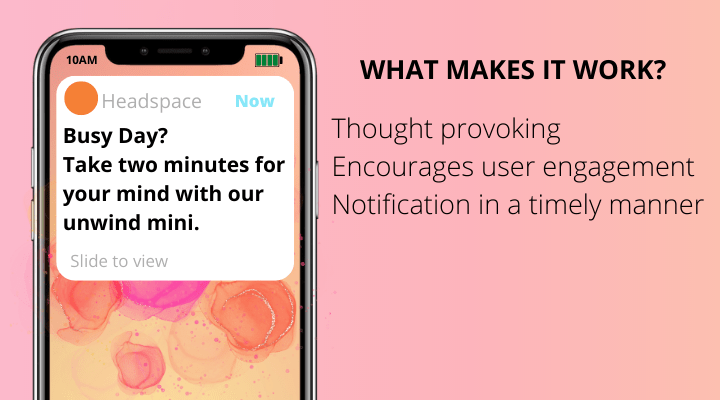 Timely: The frequency and timing of these "Mindful Moment" push notifications are user-tracked inside the app.
Personalized: Users are addressed as "you" in the push and asked compelling questions. Among social media updates and calendar events, these thought-provoking notifications stand out.
Actionable: Users after reading such pushed tend to foster a mindset that encourages them to meditate, which means they will go to app to learn more about meditation.
4. Use lots of emojis –e.g. The New York Times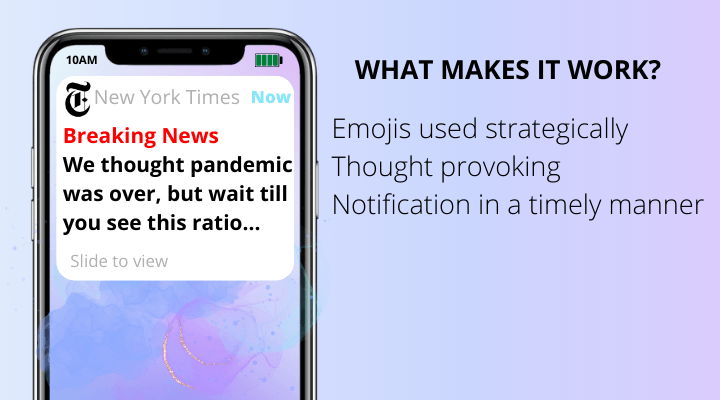 Timely: This notification was sent simultaneously with the release of a special edition of the New York Times Magazine.
Personalized: The use of emojis to replace words in this push makes it stand out and the user will spend a few seconds decoding the message in their head.
Actionable: In the phrase: There's an ALL COMICS (note the strategic use of capital letters) issue to see! Surely the issue will be as much fun as the push notification.
Types of Push Notifications
Push notifications are often classified into two primary categories based on the use case and message content: transactional and marketing notifications.
Transactional Notifications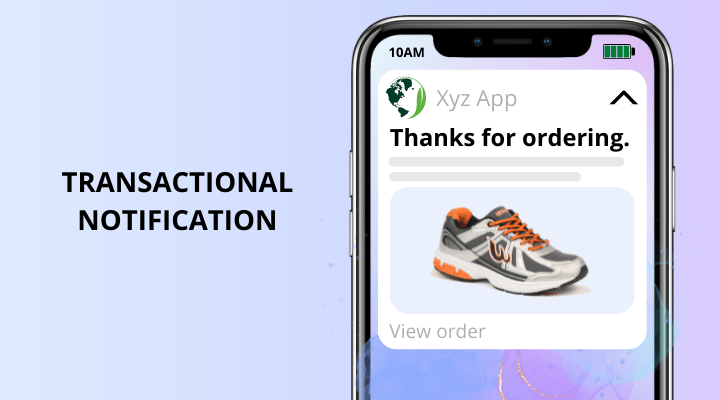 Transactional notifications are messages or push alerts that are issued in response to an app user's activity. Important status notifications including order confirmations, verifications, payment status updates, and delivery updates might be communicated through them.
Transactional alerts are often prompted by a particular user activity and are a part of a process you've initiated with the end-user, such as a recent purchase they made.
Password resets, confirmations, order delivery updates, two-factor authentication, abandoned cart alerts, event registration confirmations, security checks, and welcome messages are all examples of transactional push.
Marketing Notifications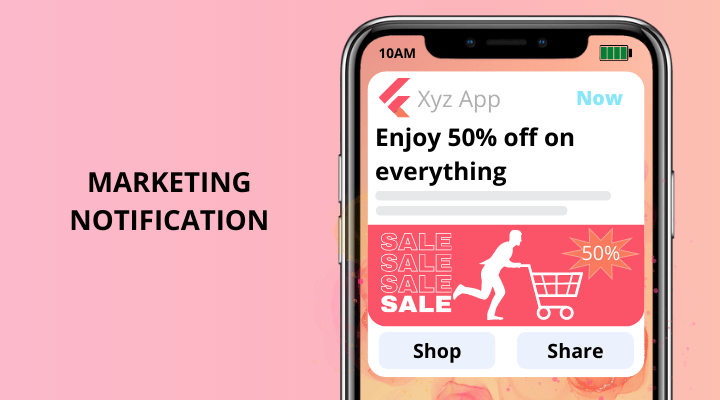 Marketing notifications are not necessary for the app experience, they are secondary. They are sent to engage users with the goal of increasing app retention and boosting revenue.
Marketing messages may include exclusive offers or deals or content to bring users back to your app (user retention). Some examples include flash sales, promotions, and breaking news updates.
These include:
Rich Push Notifications
Abandoned Cart Push Notification
For-your-information (FYI) Notifications
Triggered Push Notifications
Reminder Notifications
Interest-based Geolocation Notifications
Mobile-friendly Push Notifications
Time-bound notifications
Transactional push notifications
User-based push notifications
Swing2App and push notifications
Now we know that push notifications play a significant role in app marketing through your app, however, you first need to develop an app for that.
The app development costs are huge and then sending regular push notifications may further increase the costs. Moreover, sending a push notification to your users is not easy as sending an SMS text, it requires additional knowledge which most of people lack.
To your rescue comes Swing2app app builder, here you can easily create an app in which you can send unlimited push notifications & that too for free. It also provides many free customizable templates, designs, prototypes, in app surveys, push notifications, SMS, calendar and many fore features,
Once you create an app you can avail of this service on the Swing2app platform and boost the engagement on your app with the remarkable push notifications which would perfectly compliment your free app.
With swing2app 'Send Push' Feature, you can also select the recipient and also exclude someone if you want too.
You can send push both instantly and preschedule it too using the 'reservation feature'. Moreover, Sing2app also provides SMS notification feature too. You can manage and send both your push as well as SMS notifications from the same platform. This definitely makes your job efficient and convenient too.
You can send push notifications via Swing2App using all the prototypes except the WebView prototype.
For WebView you need to integrate OneSignal and send notifications from there.
Read more about Push only and WebView prototype.
Stepwise guide to send Push notifications via Swing2App
Ready to start sending push notifications to your app users? As previously mentioned, you need to set yourself up with a push notification service.
But if you're using Swing2App to create your app, you can send and manage push messages directly from your Manager dashboard.
1. Go to the Manager.
2. Select Push & Members.
3. Click Send Push.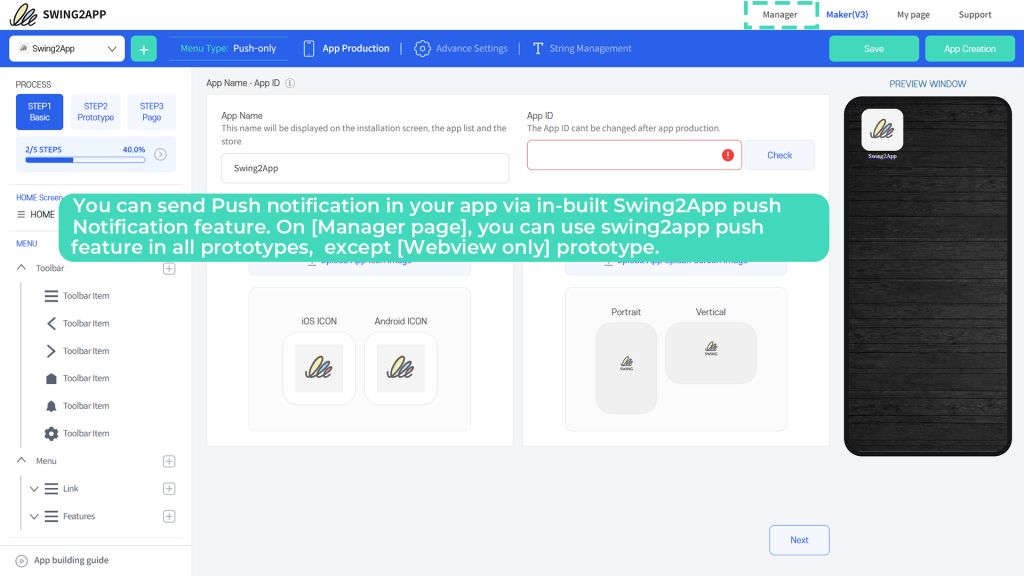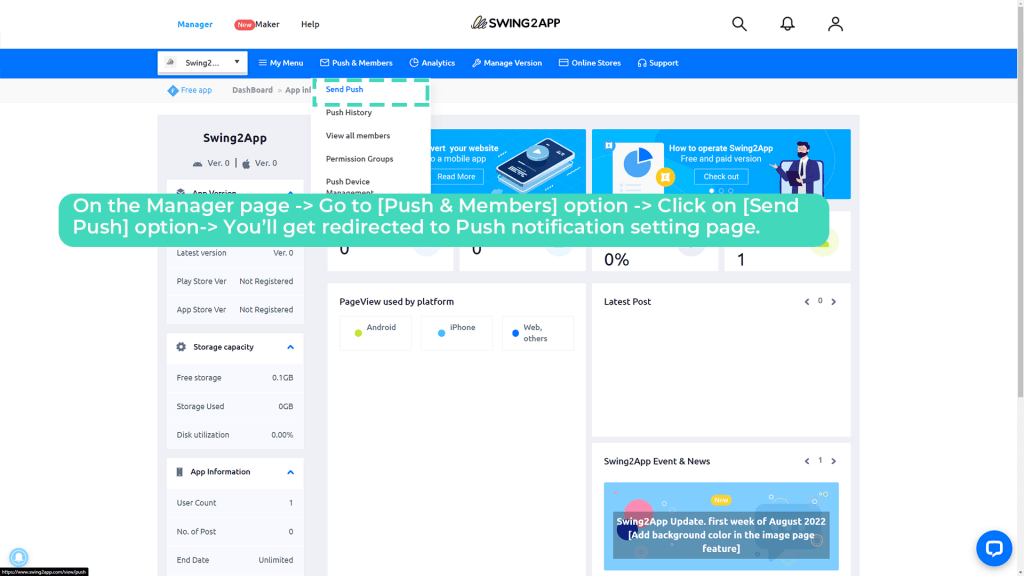 You'll be directed to Push Management Page, where you can create, edit, and send Push notifications.
1. In Send Push Settings, select members you want to send push.
2. Check Reservation Settings box.
3. Set the date & time you want to send Push.
4. Click on the Send Push button.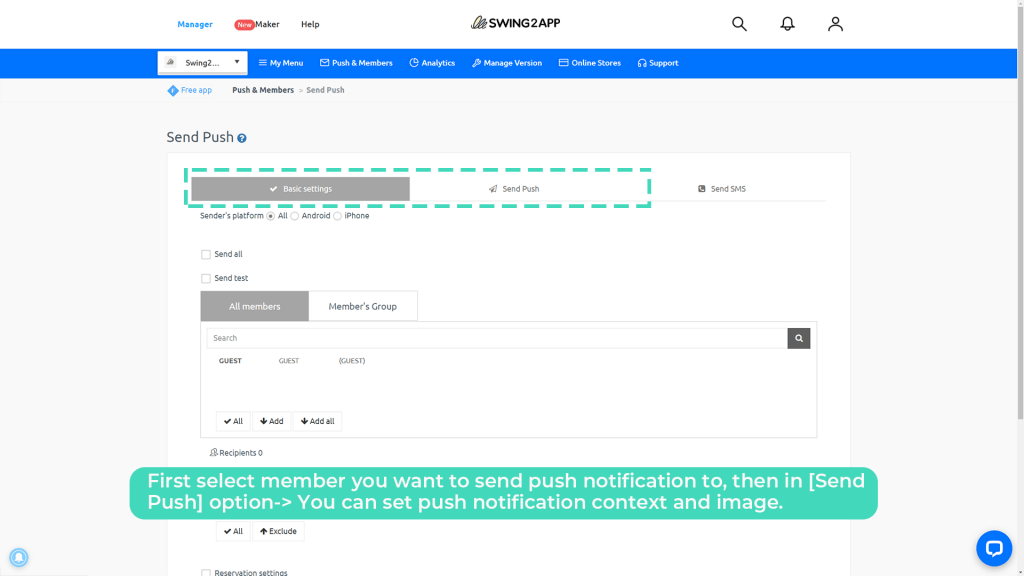 NOTE: If you check Repeat Box, then you'll be able to set schedule multiple times in a day, week, month, or year.
Swing2App is the easiest way to manage and send push notifications at every step of the user journey.