Shopping and delivery apps are a growing trend that shows no signs of going away anytime soon, and with ever-increasing technological innovations like no-code development, it is possible to design a grocery delivering app like InstaCart or InstaShop that fits all needs.
Do you also want to create a grocery delivery app like InstaCart and make a strategic move into the ever-expanding on-demand market? Then you should read this post to learn everything there is to know about the InstaCart or InstaShop -like grocery delivery app company, including its market dynamics, app development process, must-have features, and application development process.
GROCERY DELIVERY APPS MARKET OVERVIEW
According to Future Market Insights, the grocery delivery apps market was valued at $38.5 billion in 2022 and is expected to reach $81.5 billion in a decade at a CAGR of 7.8%.
According to Statista.com, platform-to-consumer delivery revenue is now $70,741 million. Even before the coronavirus, researchers predicted annual growth of 8.2%.
UAE presently has 18.7 million mobile phone subscribers, and as this number has increased, so has the demand for rapid delivery apps. As a result of this growing popularity, the online grocery shopping market and grocery delivery apps grew by 31% between 2016 and 2019, and the numbers continue to rise.
While the market is favorable for investing in InstaCart or InstaShop-like app development, let us take a quick look at the business model that has made the InstaCart app a tremendous success before digging deep into the development process. 
WHAT IS THE NEED FOR INSTANT GROCERY DELIVERY APPS?
Businesses are emphasizing fast commerce as a result of a shift in client purchasing patterns and preferences from value-seeking to convenience-seeking, resulting in small-sized transactions rather than bigger, monthly expenditures. Companies have concluded that Q-Commerce (Quick commerce), which predominantly targets middle and upper-class customers, is the way forward in the FMCG industry due to its regular usage, heavy consumption, and user demand. Instant grocery delivery might be useful when you are throwing a party at home, are missing some vital things, or are returning home after a long day and need to cook supper for your family but don't have all of the ingredients on hand. In many circumstances, ordering on the go while traveling is beneficial. 
BENEFITS OF ON-DEMAND DELIVERY APP DEVELOPMENT
The benefits of developing an on-demand delivery app like Instacart for your business are: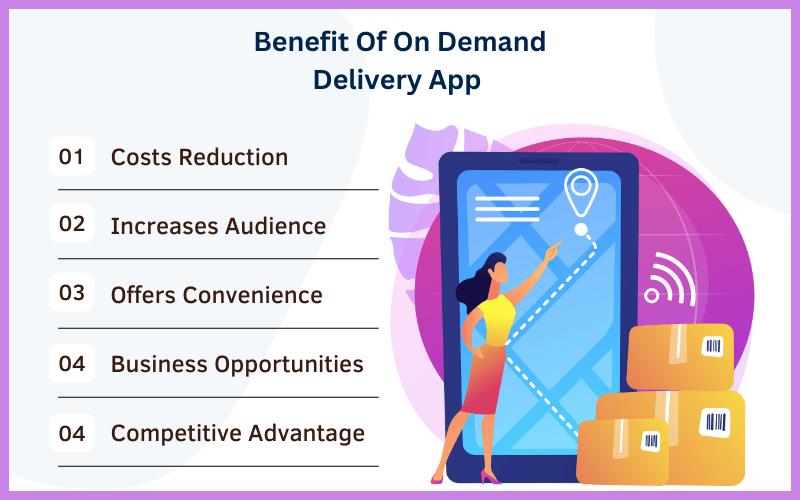 Costs Reduction
Because it incorporates cutting-edge technologies and fewer human resources, the process of developing an on-demand delivery app can save a significant amount of money in operational costs. Furthermore, the on-demand delivery app may be used as a marketing tool, allowing you to save money on business advertising.
Increases Audience
Mobile applications have grown in popularity among users of all ages and with a wide range of interests. There are more than 5.33 billion unique mobile phone users in the globe today, and this is the size of audience you can reach just by developing a mobile app for your on-demand delivery business.
Offers Convenience
All parties benefit from on-demand delivery apps. Customers benefit from the opportunity to place an order exactly when they need to. And a contractor distributes the goods entirely over the phone, which considerably improves the procedure.
Business Opportunities
Delivery apps can provide your company with new chances and revenue streams that it would not have had otherwise. Delivery apps have experienced an increase in orders during the current quarantine as they bring the outside world to the customer. In certain ways, the on-demand delivery app is still cost-effective and offers a high ROI over time.
Competitive Advantage
Finally, having both an app and a website for your on-demand delivery app service provides you with a substantial competitive advantage over your competitors in the long run.
INSTACART-LIKE GROCERY DELIVERY BUSINESS MODELS
It is important to familiarize yourself with the different grocery app business models so you can select the most right one for your business.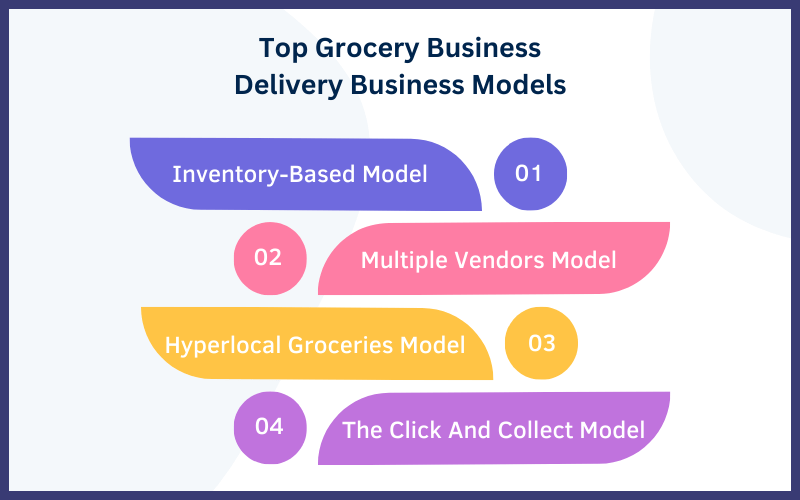 Inventory-based Model
The owner of the online grocery and delivery app purchases, manages, and maintains the inventory. It is the owner's responsibility to purchase goods from various suppliers, store them in their warehouse, and deliver them on time.
One example is Alibaba-backed BigBasket, which utilizes an inventory-based business model. A short time after switching to this model type in 2013, the company witnessed an increase in sales.
Multiple Vendors Model
This business concept brings together a large number of customers and vendors in one location – the shopping and delivery platform. As a result, in this circumstance, either the vendor or the platform owner handles packaging and delivery. We name this business model the "Zero Inventories Business Model" because the owner is not responsible for keeping inventory.
Peapod is one example of a company that uses multiple vendor marketplace business strategies.
Hyperlocal Groceries Model
When you choose the hyperlocal foods business model, you will primarily focus on the demands of clients in a specific geographic area and assure fast order delivery to the customer's door.
However, your customers' addresses and the store from which the delivery person will pick up the purchase must be in the same zip code for this to be possible. As a result, in order to meet this demand, the platform owner should work with as many regional vendors or suppliers as possible.
Instacart, for example, connects customers with personal shoppers to provide hyper-local on-demand grocery delivery.
The Click-and-Collect Model
Customers can place online orders and pick them up from a store using the Click and Collect business approach, often known as BOPIC (Buy Online, Pick-Up In-Store). It seeks to provide clients with both online and offline purchasing experiences.
Depending on the infrastructure and business model you choose, ensuring error-free and prompt delivery might propel your idea to the next level.
For example, Kroger, the world's largest online grocery retailer, recently celebrated the achievement of its 1000th click-and-collect grocery shopping service.
Now that you're familiar with the various business models, let's get to the meat of the article: how to create a grocery delivery app like InstaCart.
MUST HAVE FEATURES OF AN ON-DEMAND GROCERY DELIVERY APP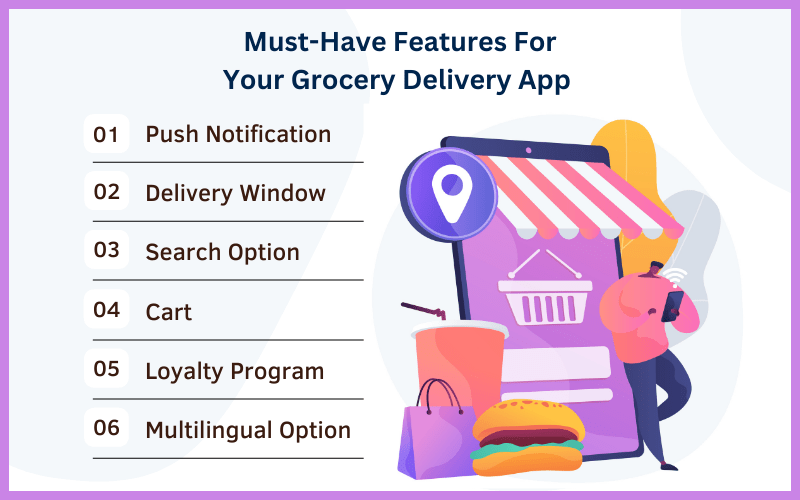 In this competitive world of on-demand applications, it is the characteristics of an application that make it relevant and popular. Let us look at the essential characteristics that a rapid grocery delivery app like InstaCart should offer.
Push Notification
Push notifications are an excellent method to keep your customers informed about new promotions and goods. You can send mobile devices messages or pop-up notifications telling users about the availability of products, stocks, offers, limits, events, and so on. However, if this feature is abused, users may delete your programme because receiving so many messages may irritate them. As a result, having a well-defined push notification approach is critical.
Delivery Window
You should give your customers more control over the delivery window to improve their shopping experience and profitability. Customers should be allowed to select the time and location for the delivery of their requested items.
Search Option
A search bar is an essential element for any instant grocery delivery app. Customers, on the other hand, will find it much easier to make an order and navigate through the app with an AI-enabled voice search tool. It speeds up customer inquiries and makes it easier to find certain products on the app.
Cart
A supermarket shopping software should always allow users to add goods to their virtual shopping cart without leaving the page. It improves the user experience because customers may remain on the page where they are selecting while adding items to the cart. It enables people to add items without interruption from a single page.
Loyalty Program
What if you were rewarded for staying loyal to an app? These loyalty programmes give customers access to a variety of incentives and present that are in their best interests. Furthermore, it motivates customers to make additional purchases through the app because each transaction brings them closer to earning some of the other forms of incentives. 
Multilingual Option
One should not limit themselves to serving a single network. Adding many languages to the app may help to grow and expand the business globally.
Further read: How To Build A No-Code App In Different Languages?
ADDITIONAL FEATURES YOU CAN INCLUDE IN YOUR GROCERY DELIVERY APP
The basic features stated above can be included in the MVP version of the application. However, in order to keep ahead of the competition, you must have innovative features that outperform for a better user experience. Some of the features that can be added after the MVP launch are as follows: 
Wishlist
Creating a Wishlist allows the customer to store a favorite product and add it to their cart for later purchase. Similarly, the commonly ordered list, which is retrieved automatically based on prior purchases, improves the user experience because the user does not have to trawl through the entire list repeatedly. 
Sign-up with Biometric
The ways of enabling logging with social network accounts or sign-up pages have become outdated. AI-powered fingerprint sensors and face recognition biometric login not only make it easier for customers to utilize your application, but they are also more authentic ways to earn the user's confidence. 
Fast Track Delivery
Groceries are something that you may require at once often. Providing the choice of standard delivery and fast-track delivery will earn the customer's loyalty because the customer can rely on your app in emergency scenarios as well. At the same time, because customers can pay extra for such quick deliveries, this can be a good method to monetize your application. 
Recipe Corner
Personalize your application since it is the greatest method to give an excellent user experience and is cost-effective in the long run. Including a recipe area in the application aids in the creation of a list of loyal consumers who will return to try new dishes. You can encourage users to buy the necessary groceries through your app by integrating a recipe corner. 
HOW TO MONETIZE YOUR INSTANT GROCERY DELIVERY APP?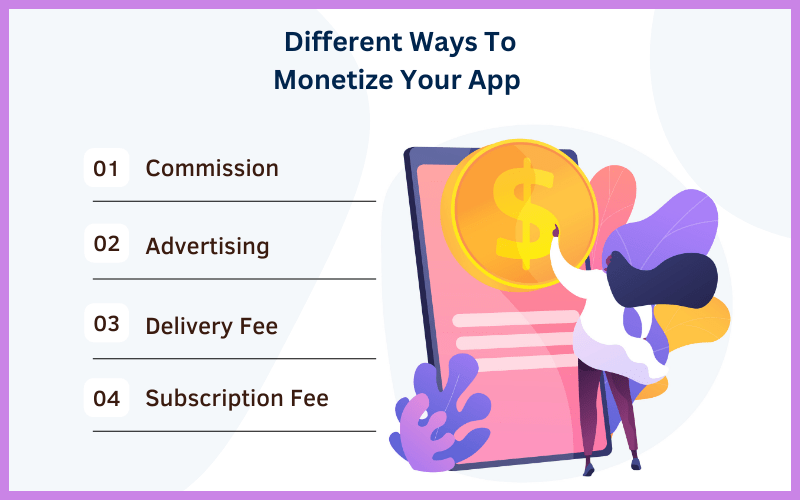 Assume you've created the best app imaginable and are ready to put it to use. However, you must assure that you can make a living from it. What causes this? To achieve a satisfactory ROI, your business may use the following income generation strategies in your app:
Commission
You may choose to charge store owners a small commission in exchange for putting their business on your app and bringing them additional clients via your platform.
Advertising
This is a very successful method of generating revenue. Allow other merchants and brands to run ads on your grocery app for a fee.
Delivery Fee
The shipping fees you charge could be decided by your location. You might wish to provide free delivery if it's close by and a small delivery price if it's a long distance.
Subscription Fee
Customers that subscribe to your app through bundles and memberships may be eligible for premium services such as free delivery. You might charge them a subscription fee to have access to the package.
HOW TO CREATE AN ON-DEMAND DELIVERY APP IN A FEW SIMPLE STEPS WITH SWING2APP?
Make your own on-demand delivery app for Android and iOS in minutes by following the simple three-step method.
Name your on-demand delivery app
Choose the app category, color theme, and test device suitable for your on-demand delivery app, and then add your brand logo. 
Add the on-demand delivery app features provided by Swing2App
Easily integrate on-demand delivery and other relevant features into your app without knowing how to code only with Swing2App no-code app builder.
Edit, test, and launch your app
Before testing your app on a device, make sure it is edited properly. Once you are satisfied with your no-code app, it's time for you to launch your app on Apple App Store and Google Play Store
WHY CHOOSE SWING2APP'S ON-DEMAND DELIVERY APP BUILDER?
Swing2App's no-code app builder tool makes it very simple for anyone to create on-demand delivery apps for Android and iOS. There is no requirement for coding or technical knowledge. Simply visit our on-demand delivery app maker, enter the name of your business, choose a suitable app category, select a color scheme of your liking, select a test device, add an on-demand delivery feature to your app, customize the app design as per your needs, finalize a proper app plan that fits your budget, and you are ready to publish your on-demand delivery app to Google Play Store and Apple App Store in a matter of minutes. Here are some of the reasons why you should use Swing2App's app creator to create on-demand delivery apps.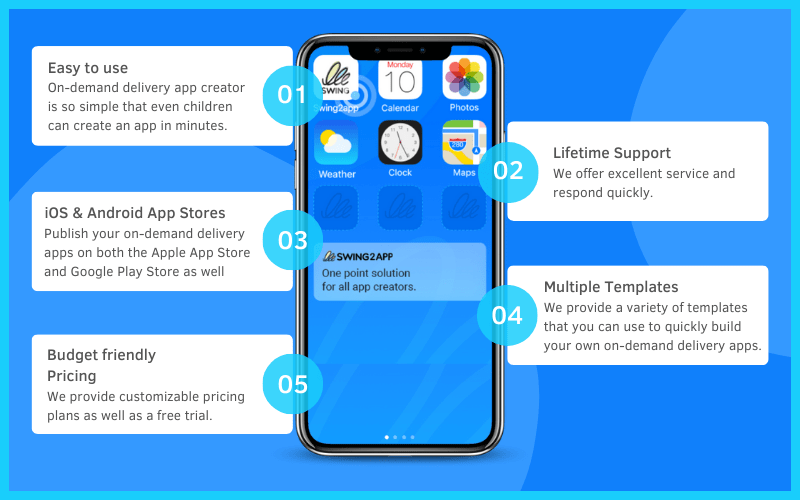 Easy to use
Swing2App's on-demand delivery app creator is so simple that even children can create an app in minutes. Simply follow the steps and your app will be ready.
Lifetime Support
We offer excellent service and respond quickly. We have a great support team to aid users with any problems they may encounter.
Both iOS and Android App Stores
Publish your on-demand delivery apps on both the Apple App Store and Google Play Store as well
Multiple Templates
On our no-code app creation platform, we provide a variety of templates that you can use to quickly build your own on-demand delivery apps.
Budget-friendly Pricing 
We provide customizable pricing plans as well as a free trial. You can buy a plan that meets your requirements and begin developing your own on-demand delivery app right away.
BOOST YOUR GROCERY DELIVERY APP DEVELOPMENT WITH SWING2APP
Creating innovative solutions for startups and well-established companies has always been a core strength of Swing2App no-code app builder.
So, don't delay; contact us now because we are the best in the app development market to help you with the creation of your on-demand groceries and delivery app.