With so many free apps available on Play Store and App Store, how are they able to earn if their apps are free to download? For the majority of apps, the answer is in-app purchases.
Often people download an app for free, but in order to truly experience the entire app they need to spend something via in-app purchases. This is true for both App Store and Google Play users, in-app purchases are used to prompt users to spend after downloading for free, maybe for some add-on features, game passes, or subscriptions.
In-app purchases are one of the most common and appealing app monetization models. As per Statista, mobile app users spend over $380 billion on in-app purchases, however more on the Apple app store than on Google Play. In-app purchases account for approximately 48% of the entire mobile app revenue.
The huge earning potential from in-app purchases allows developers to introduce their apps to the target audience for free to download and use and then pay for premium or additional features.
In this blog you will learn what in-app purchases mean, and how can you use in-app purchases to earn from your app. Let's explore!
WHAT ARE IN-APP PURCHASES IN THE APPLE APP STORE AND GOOGLE PLAY STORE?
While installing an app from the App Store or Google Play Store, you might have read "Offers in-app purchases" or a similar phrase. If you haven't noticed this until now, check out the images below.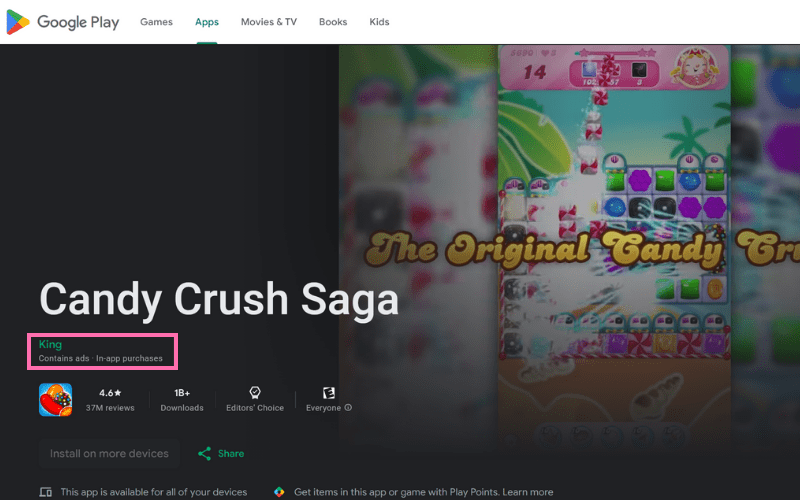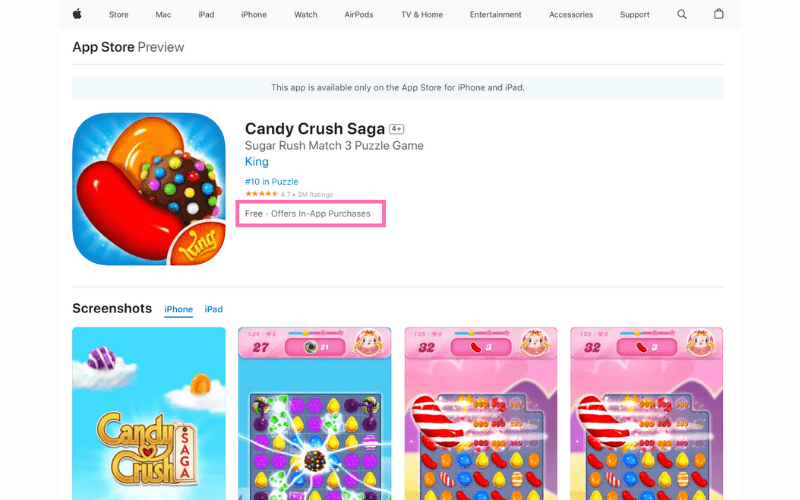 Nowadays most apps, especially gaming apps (as in the above example), offer in-app purchases selling game passes, premium subscriptions, or other digital products. Over time, in-app purchases have become one of the most popular and efficient app monetization strategies for selling add-on features or services to your customers.
In-app purchases (IAP), can be defined as a term that collectively describes all types of purchases made by a user while using the app. The type of in-app purchase made depends upon the type of the app, features, services, etc.
In-app purchase features can be used across all types of apps like: free apps, paid apps, freemium apps, and so on.
With in-app purchases, users can purchase different kinds of digital products or special access within the app – like ad removal, access to complete articles or e-books, or subscribing to premium app features.
For example, users can download gaming apps for free, however, they may need to buy via in-app purchases: game level upgrade, extra lives, or an avatar/ costume of their choice.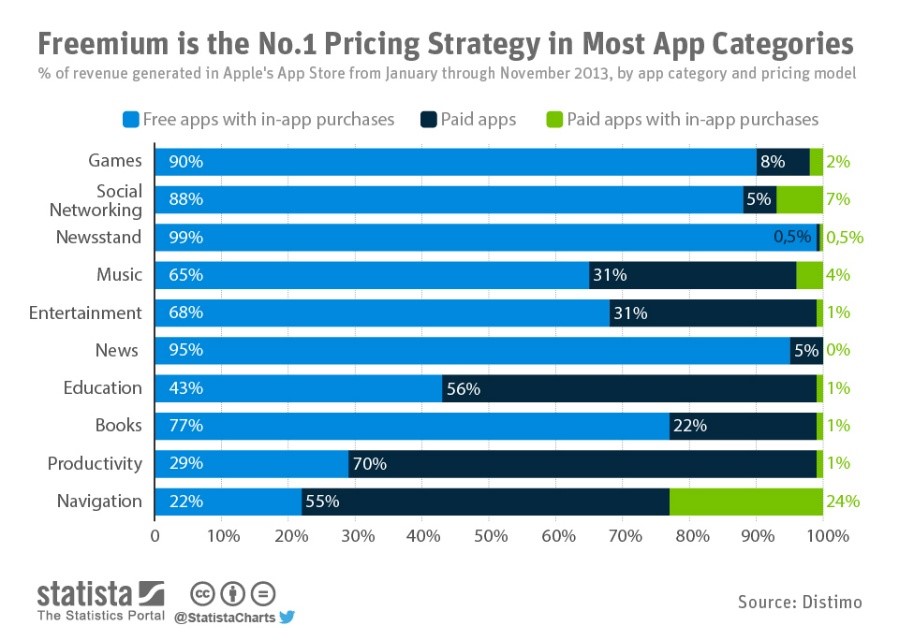 However, keep in mind that when you publish your app via the App Store (for iOS) or Google Play Store (for Android), the marketplace takes a share of all the in-app purchase revenue. This is an important point to consider if in-app purchase is going to be the only source of your app revenue.
Before talking about the in-app purchase app stores commission, let's first discuss about the types of in-app purchases that you may use in your app to generate more app revenue.
TYPES OF IN-APP PURCHASES
Auto-Renewable Subscriptions
With subscriptions as a mode of in-app purchase, you can earn revenue from your app by offering your app users access to premium content or add-on features for a price at specific intervals. You may offer different subscription options — like weekly, monthly, quarterly, or yearly payment plans. These plans are renewed automatically unless your app users decide to cancel.
The use of subscriptions as a mode of in-app purchase is particularly prominent in music or streaming apps, for example: Amazon Prime, Netflix, Spotify, or YouTube Premium. App users who purchase these subscriptions get unlimited access to are entitled without any interruptions as long as the subscription plan is valid.
Subscriptions as in-app purchases for app monetization in your app are especially perfect if you are a content creator or producer (digital courses, newspaper, magazines) looking to earn money from your apps. Offering your users in-app purchases is the simplest but most efficient way to earn revenue from your app.
Example: Memrize language learning app has an annual auto-renewable subscription, Spotify music streaming app
Non-Renewable Subscriptions
The only difference between renewable and non-renewable subscriptions is that the latter won't auto-renew like the former. So, if your app user wants continued and uninterrupted access to whatever they purchased, they must manually subscribe again to that product/service.
If the service or digital product offered by the app is static and is only applicable for a limited time, then this is the suitable in-app purchase model. You may select a non-renewable subscription model for your app if you are offering a one-time service like a monthly magazine or newspaper to your users.
Example: Call of duty season pass, one-time subscription to an online magazine like Forbes for 1 year/ 6 months, etc.
Consumables
Google Play store doesn't differentiate between consumable and non-consumable in-app purchases. However, Apple app store guidelines make it mandatory to specify the type of in-app purchase ( Consumables or non-consumables) in App Store Connect.
This differentiation is to classify one-time-use features/ products/ services and reusable ones.
Consumable in-app purchases are digital goods that can be used and re-purchased multiple times. Some examples of consumable in-app purchases may include extra lives in game apps, game currencies, reward credits, limited-time special offers, or a package of exports to a new file format.
Consumable in-app purchases are also known as expendables. Expendable or consumable in-app purchases are limited to only the mobile device on which they were purchased.
Example: Extra lives in Candy Crush game, etc.
Non-Consumables
The non-consumable in-app purchases need to be purchased only one-time, and they give your app users permanent/lifetime access to app features or digital content within the app, like filters for photo editing. Using non-consumable in-app purchases is generally for unlocking add-on features or upgrading to premium content.
Other common examples of non-consumable in-app purchases include:
Exclusive offers.
Ads Removal.
Upgrades to the premium version.
These in-app purchases will not perish with usage.
These were the different types of in-app purchases that you may have come across while using apps. Both Google Play Store and Apple App Store let you publish your apps with in-app purchases (IAPs). You must refer to Play Store and App Store guidelines carefully and learn how to enable in-app purchases for your own app. 
Example: removal of the watermark in a pdf convertor 
HOW TO USE IN-APP PURCHASES IN YOUR APP
As discussed above, there are different ways to make sure that in-app purchases work effectively for both you and your users as well. To summarize, here are some suggestions that might help you in deciding the right in-app purchase model for your app:
For example, if you are looking to use in-app purchases in a gaming app then offering options that will take their gaming experience to the next level is a great idea. This may include consumables like game currencies and additional lives, or extra game time. Otherwise, you can also sell a premium subscription that includes all this for a limited time (for a month or year).
Similarly, another great idea is to first offer a freemium model by offering the app for free to download and use at first (entirely or for a limited time). However, to earn revenue from your app you charge them a fee for add-on or exclusive services and functions by offering such in-app purchases. This may include "members only" products, exclusive content, or premium upgrades for loyal users.
For example, if you are creating an education app, you may offer premium upgrades or exclusive content access to your users via in-app purchases. Moreover, in education and learning apps people are more likely to buy ads removal in-app purchases. So, in the end, the type of in-app purchase you choose depends on the type of app you are offering.
IOS VS ANDROID IN-APP PURCHASES: IAP REVENUE SHARING MODEL AND COMMISSION
Both Google Play and Apple App Store take a cut as a fee for each purchase made on the application marketplace. This cut is in percentage, and it differs according to the purchase being made.
One-Time Purchase
Both Google Play and Apple App Store charge an overall 30% fee for all one-time purchases.
Subscriptions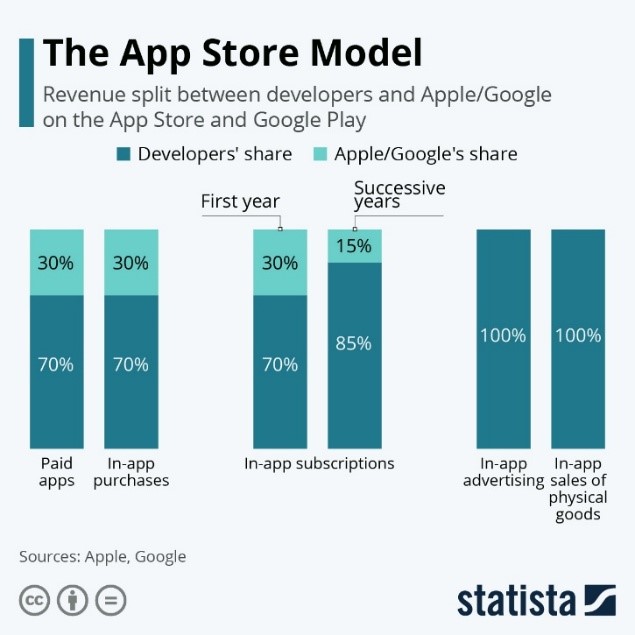 Both Google Play and Apple App Store charge a 30% fee for all subscriptions for the first year. After the first year, this fee is reduced to 15%.
For example, assuming that sales generate $10,000,000, and you spend about $6,000,000 on marketing expenses for servers and labour, the share between Apple and the developer of the revenue generated by the app is as follows.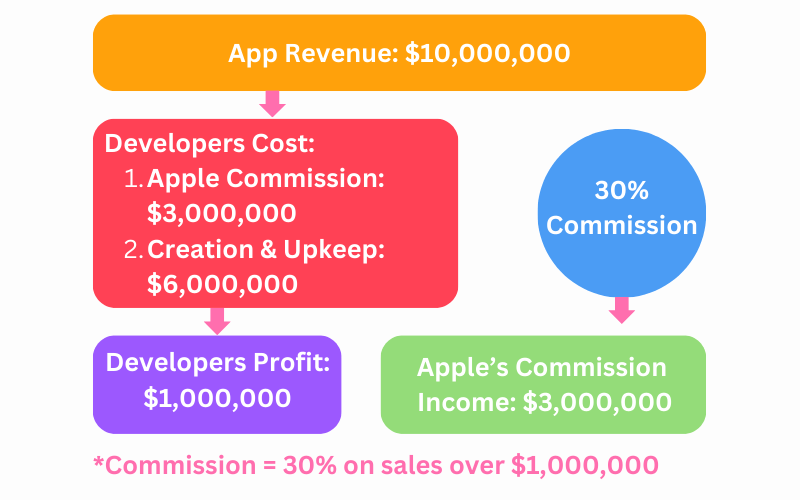 Amid increased regulatory scrutiny over how it runs its App Store, now it has reduced the App Store commissions for smaller businesses. Developers making up to $1 million per year will only have to pay a 15% commission on in-app sales, rather than the customary 30% fee, under the revised parameters of the "App Store Small Business Program."
Moreover, the actual cost to the app developer will turn out:
| | | |
| --- | --- | --- |
| | Google Play store | Apple App store |
| Cost | One-time fee Google Developer fee $25 + 30% commission on all IAP | Apple Developer fee $99/year + 30% commission on all IAP on total cost paid by the customer |
| Refund | Refund after the review is less than 2 hours | Within 2 weeks (14 days) |
iOS vs Android: who earns more by in-app purchase
As per the reports, iOS app owners are more likely to pay for apps and in-app purchases than Android owners. By now you also know that in-app purchases are one of the most common app monetization strategies across the globe.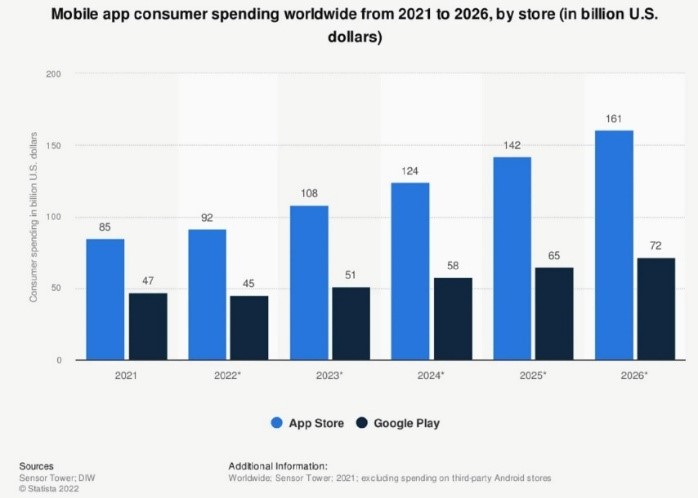 As data predicts that users will continue to spend more on the apps, it is obvious that in-app purchases may prove to be a great source of app revenue for app owners. In-app purchases will continue to be one of the best app monetization strategies in the coming years as well.
WHICH APP CATEGORIES ATTRACT MORE IN-APP PURCHASES?
As per Statista, the leading category for global revenue from mobile apps are mobile game apps with a revenue of more than USD 200 billion.
Approximately 50% of non-game apps and nearly 80% of game apps use in-app purchases for revenue generation.
Social networking mobile apps bag the second rank in the app revenue generated which is around USD 31 billion, followed by Entertainment apps, Photo and video apps, Lifestyle apps, Music apps, and so on. These trends continue even today the same, as people spend the most on gaming and entertainment apps.
If we look at in-app purchases app store wise then on the Google Play Store, gaming apps are to account for 80% of revenue till 2020. While others accounted for 4-3% only. This trend is not much different on the Apple App Store where gaming apps account for 66% share of app revenue. However, in-app purchases is a billion-dollar industry so even 1 % is a huge amount.
So, don't worry if you are not creating a game app but some other app, in-app purchases will still prove to be a great app monetization strategy for your business.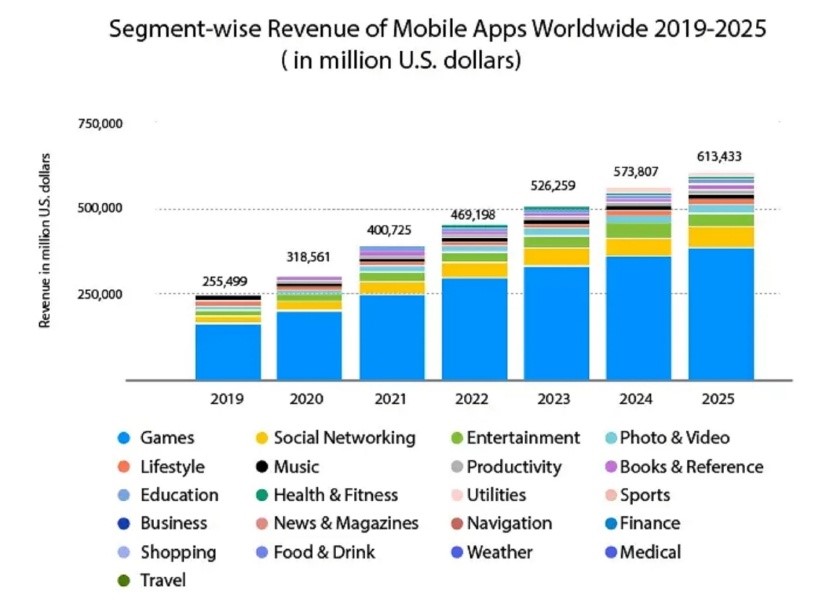 PROS OF IN-APP PURCHASES
In-app purchases offer amazing benefits for app publishers to earn from their app, and that's perhaps the reason why in-app purchases are so common today. Here are a few benefits of using in-app purchases in your app as a mode of app monetization to earn from your app:
You can offer your app for free, which will surely increase the chances of app downloads as compared to a paid app. 
In-app purchases offer a low-risk and low-friction app monetization strategy, as people pay only if they want to and otherwise can use the free version (with ads/ limited features, etc.). 
In-app purchases are the major source of app revenue and offer huge profit potential, as already shown in the data above. 
The risk associated with in-app purchases is quite low as digital products don't need you to maintain any physical stock or transportation expenses. 
The in-app purchase increases the chance of earning from your app as it allows you to charge relative to how much people want to pay (by providing different benefits at various prices).  
Moreover, you're not limited to only using in-app purchases as an app monetization strategy. You can easily combine multiple app monetization strategies to boost your app revenue. 
CONS OF IN-APP PURCHASES
Like any other thing, in-app purchases also have some challenges or downsides associated with it. Let's take a look at some of the cons of in-app purchases as an app monetization strategy:
A large percentage of app users just enjoy freebies and will never purchase anything through in-app purchases. You need to account for such people as it may make your revenue graph highly skewed or can even lead to unstable revenue. 
Every app marketplace including the App Store as well as Google Play takes a fairly significant fee/commission on in-app purchases made through your app. (as discussed above) 
Your app users may have a negative view of in-app purchases, especially if they need to spend money to use even the basic app features, or are targeted towards children (as they are easily tempted). 
It is possible for in-app purchases to be made by unauthorized users (like a child using their parents' phone), resulting in a refund or chargeback. 
ALTERNATIVES TO IN-APP PURCHASES
We know that in-app purchases are the most common and most revenue-generating app monetization strategy. However, there are also several other ways in which you can monetize your app, instead of solely depending upon in-app purchases.
In-app Ads
Many apps use in-app ads to monetize their apps. However, this is generally done in combination with in-app purchases. For example, you may get 1 extra life or a premium feature if you watch an ad video and the app also offers a subscription for the same if you want more. In this way, you can use ads as an incentive for people to pay for the premium by providing them a tiny glimpse of what they could get after purchasing an item or an ad-free version of your app. This is doubly beneficial as you can earn even with those ads from free users.
Use Swing2App Ad Mob integration to earn from your no-code app created using Swing2App no-code app builder.
Paid Apps
You can also earn from your app by making your app a paid app. Instead of offering your users free to download, and waiting for them to pay later via in-app purchases or watching in-app ads, you can require them to pay upfront to download it.
This is a more stable and predictable app revenue strategy since you know exactly how much you'll earn from each user. It also allows you to provide a cleaner UI and better user experience, since you're not showing in-app ads or trying to motivate them to buy something via in-app purchase.
However, the biggest downside of paid apps is they are much harder to sell than free ones, and don't offer the long-term earning potential of apps as with the in-app ads or in-app purchases.
Reader App: Avoiding In-App Purchase Fees
When you launch your app and start to earn money from your app, the 15-30% fees for in-app purchases in the App Store and Play Store are not something you would want. So how to avoid these fees for in-app purchases?
To avoid in-app purchases App Store free, you may offer subscriptions that are paid and managed outside of the app (on the website), which will not incur the App Store's commissions as the purchases are not made via the App Store. However, this is only possible in the iOS App Store for "reader apps".
Reader apps are basically the apps that allow users to access previously purchased digital products (via a website) – such as books, newspapers, magazines, audio, and video, as a primary product.
Examples of reader apps are Netflix, Spotify, Kindle, etc. These can definitely offer purchases and subscriptions, but as they take place outside of the App Store, there is no 15-30% commission charged on the revenue generated by your app.
This is a result of legal strife with Epic Games, so now Apple is loosening its regulations on how apps can contact users and enable payments outside of the App Store thus giving more financial accessibility to businesses.
However, publishing your app as a reader app is not an option available to everyone. You may get your app removed from the App Store if you ignore the regulations and try to keep your app out from being charged for the in-app purchases fees.
On the one hand, Apple might be getting lenient, however, the Google Play Store is not!
Google Play just began enforcing stricter rules on apps that use purchases outside of the Google Play Store.
Hence, it's best to think of in-app purchase fees as an investment for boosting your business. App stores provide you with a huge market, so you should be ready to pay something for this service. Moreover, in-app purchases remain the most revenue-generating source for apps, so you can't simply ignore it, rather use a combination of other app monetization strategies along with this.
TO CONCLUDE
Whatever your app monetization strategy might be, looking at the huge potential of in-app purchases you are likely to include an in-app purchase in one form or another.
The potential of in-app purchases is also just another reason why it makes sense to convert your website into mobile apps, with Swing2App no-code app builder. Swing2App includes everything you need to monetize your app, be it with a subscription or freemium model, or by showing ads.