Mobile is no longer a trend in eCommerce; it has become an essential norm for the online purchasing experience.
We live in a mobile-centric world where mobile consumption is present everywhere. Just look around you. These devices are attached to our hands almost all the time.
Your job as a business owner is to be aware of and adapt to these changes. How can you make use of this information to boost eCommerce sales? The answer is straightforward: your eCommerce store needs a mobile app.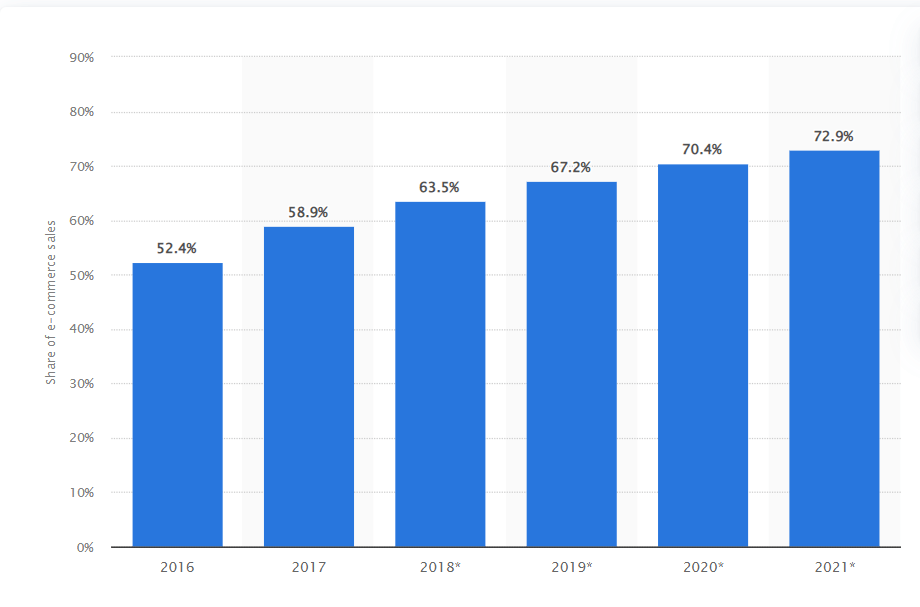 MCommerce is predicted to grow to the same size as eCommerce. Hence, having an eCommerce mobile app for the shopping website is not a privilege anymore, but an inescapable option. While many businesses have begun to convert their websites into full-fledged eCommerce mobile apps, there is still a significant gap.
In a world where there are a lot of competitors in the market at every stage, having a website isn't just enough. Latest business innovations have created many opportunities for even small businesses to take their business online as well as create an app without any coding.
However, many e-merchants still have questions such as, "Why do I need a mobile app if I already have a mobile website?" and "What is the difference between a mobile app and a mobile website/ responsive website?" There are still some misconceptions out there. 
Let's discuss the differences between a mobile app and a mobile website and explore how you may combine the two to improve your mobile commerce strategy.
Responsive Website vs Mobile App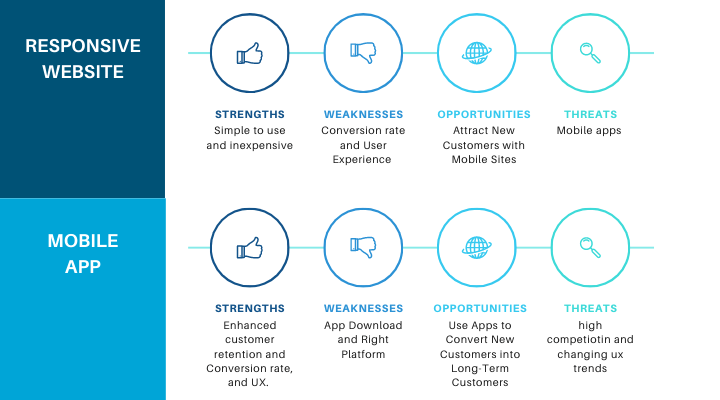 Responsive Website
In mobile or responsive design, a website is optimized for use on a mobile device or tablet, so that users can easily shop and make purchases from the site. 
Strength: Simple to use and inexpensive 
It may seem self-evident, but having a mobile site makes it simple for customers to purchase using their phones and tablets. They're making a lot of purchases on these devices, so having a mobile website that works effectively for browsing, product research, and conversion is critical.
Another advantage of mobile sites is that they are always available to everyone with an internet connection: you don't have to download a website to browse your items, as you would with a mobile app.
Also, now that mobile websites have become the norm, it's quite simple and inexpensive to automatically resize your website for mobile use with most eCommerce systems.
Weaknesses: Conversion rate and User Experience 
Mobile websites are scaled-up desktop websites that are good in certain ways but not in others. Mobile websites rely heavily on internet access and are not saved locally on smartphones. As a result, mobile websites take longer to load and are not interruption-proof when users have a weak connection.
Loading time and disconnections have a big influence on conversion rate. The slower your website loads, the more users will abandon it and become irritated. Ultimately, you could lose customers who might otherwise shop at your site.
It's no surprise that mobile websites have the greatest percentage of shopping cart abandonment, with up to 90 percent of visitors abandoning their carts (apps have a rate of approximately 20 percent), and businesses struggle to convert shoppers to mobile sites.
Opportunity: Attract New Customers with Mobile Sites 
Your mobile website is accessible to everyone, making it ideal for attracting new customers and being found on the internet.
In any comparison, mobile apps far outperform responsive websites on almost all parameters, and as a result, are also somewhat more expensive. This is a worthwhile expenditure, considering the huge return on investment it brings!
Mobile App
Native apps are built specifically for the operating systems (iOS & Android) on mobile devices, which ensures the best user experience.
Hybrid apps are a combination of native apps and web applications. They are basically web apps that have been wrapped in native apps. Through a browser embedded in the app, they can connect to whatever capabilities the mobile platform provides after downloading and installing from an app store. Browsers and their plug-ins run on the back end and are not visible to the user. 
Developers love hybrid apps because they allow them to write code once for a mobile app and still support multiple platforms. Hybrid apps may perform slightly slower than native or web versions of the same app because they add an extra layer of code between source code and the target platform.
Strengths: Enhanced customer retention Conversion rate, and UX. 
Mobile applications are developed in the language of your consumers' devices (iOS, Android, and so on), ensuring that they are more intuitive, simpler, and convenient to use than any other mobile solution. As a result, conversion rates are substantially greater.
Apps are significantly quicker than mobile web pages. Customers will have access to all your content once they download your app. Due to a simpler checkout process, mobile shopping cart abandonment is substantially lower.
Additionally, features such as push notifications with the newest deals, location-based marketing, loyalty-program integration, and the continual branding of the app icon every time they open their phone ensure that users return twice as quickly and spend more within applications.
Weakness: App Download and Right Platform 
Apps have the drawback of requiring consumers to trust your brand before they will download them. The entry barrier is higher for first-time users with a mobile app. Because of this, mobile applications are extremely effective at converting first-time clients into repeat clients.
There are many different types of app technology available, including hybrid, web app, native, custom-developed (expensive), SaaS-technology, integrated, and stand-alone. It's difficult for novices to pick the proper one.
Customer experience is the driving force of any app. Push notifications with the most recent discounts, location-based marketing, loyalty-program integration, and persistent branding of the app icon anytime they open their phone are all features that ensure users return twice as often.
Opportunity: Use Apps to Convert New Customers into Long-Term Customers 
Although first-time consumers may download applications, they are most effective at converting new customers into major spenders. Choose a platform that is well integrated, easy to maintain, and provides the best mobile experience for your consumers.
Talking about the app building platform, we have the solution for you: Swing2App no-code app builder. 
With Swing2App, you can easily create no-code apps from scratch as well as covert your website into an app, without even a single line of code. Isn't it great? Especially for small businesses, small shop owners, and non-tech entrepreneurs.
Let's discuss more about the Swing2App Website convertor. 
How swing2app can convert your Shopify/ WordPress or any other eCommerce website into an app? 
Many eCommerce stores have already well-established websites created using leading website builders like Shopify, Wix, WooCommerce, or any other brand. You might also have a website for your small business that is built using one of these platforms. If not and you want to learn more about website development, please visit our blog: What Is The New Way Of Running A Store In 2022?
If you have a website already, you can easily convert your website into an app in just five minutes with Swing2App's no code app builder!
You may be wondering why we use Swing2App exclusively and not another no-code platform? We understand your concern.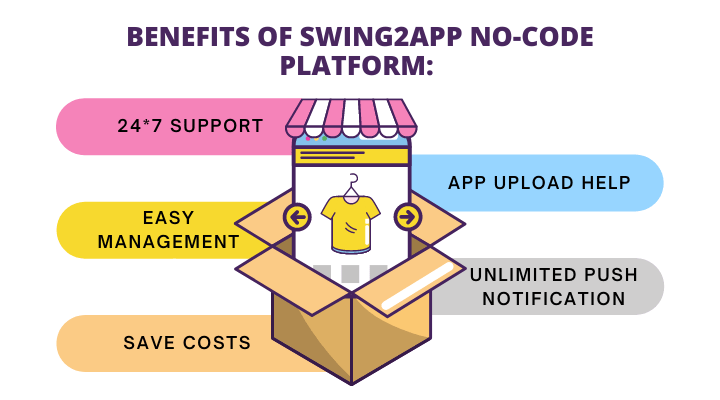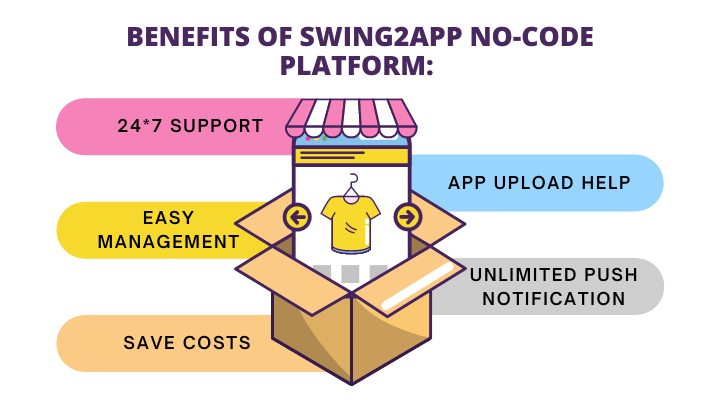 Besides the fastest website to app conversion, the following are some benefits of our no-code platform:
24*7 Support: Platforms and app development companies are generally only involved with the creation process. They don't guarantee any future app maintenance or support. You may have to spend several dollars on even a tiny change to an app, and the costs escalate!
After the app has been created, how do you upload it? If you need technical assistance, what do you do?
Outsourcing is a possibility that you might consider. It will be necessary to hire a separate team to maintain your app if you outsource development. However, this is another cost that you will have to incur. Additionally, agencies take longer to assist you technically, especially after the app development is complete. Therefore, it is quite difficult to just have a dedicated team supporting your app on a constant basis.
You get lifetime app support with Swing2App. Our friendly team is always available to help with any issue you might have.
App upload help: For uploading the app on Appstore or Playstore you need to create a developer account fill out all the details carefully and then the store reviews your app and either approves your app or sends you rejection mail. What if due to a minute error your app uploading process is hampered? 
Because swing2app specializes in apps, we are always up to date on policy changes for apps, allowing for a rapid and accurate upload. 
We upload your app on your behalf when you buy a $10 Playstore ticket or a $20 Appstore ticket (both are very affordable). All you need to do is focus on your business and let Swing2App worry about the rest.
Easy management: With Swing2App analytics you can constantly check and study your customer acquisition, your app's performance, thus helping you to provide better facilities. It can also help you to boost your business further once you know what your audience likes the most in your app.
The various features of Swing2App help you in both customer acquisition as well as retention. As people spend 90% of their time in apps, hence having an app will take your business directly to the fingertips of your customers.
Unlimited push notification: Push notifications are key to customer acquisition as well as retention. With Swing2App you can send customized push notifications to customers based on region and customer type which will reflect upon your revenue.
It is one of the most significant advantages of converting a website into an app via Swing2App. While push alerts may be sent from a website, they are restricted. You could send notifications to everyone who has the app installed, regardless of their operating system. Users can receive updates about new material, exclusive deals, and particular information such as shipment updates, and announcements.
Save costs: You can save multiple costs by using Swing2App. First and foremost, you can create both android and iOS apps at the same time for just $300 (which is a one-time investment). However, you can create for a single platform too, which will obviously cost even lesser.
As both Push only and WebView (with One Signal) allow you to send unlimited push notifications to your app users, which means you don't have to pay separately for it.
Create your app with Swing2App
Your mobile success is our duty at Swing2App. We'll develop and deliver a web app that reflects your brand and puts your consumers first in only a few weeks. Moreover, creating an app is completely free; you only have to pay if you're satisfied with it and want to publish it on the app store.
Our app support staff will be there to help you anytime you need it. Swing2App can help you become the next great business in 2022.