Your website is a valuable resource. It aids in promoting your business, serves as a sales platform, and is a low-cost communication tool. Customers may visit your site from their computers, laptops, and portable devices using a browser. However, the usage pattern has recently altered dramatically: (1) smartphone usage is now greater than nonmobile devices, and (2) mobile devices provide advantages for both companies and users that nonmobile devices cannot match.
Initially, companies created responsive or "mobile-friendly" websites to keep up with the exploding popularity of mobile smartphones. This responsive site's user interface has been upgraded to enhance the user experience. The user experience was enhanced largely by upgrading the user interface on these responsive sites. However, mobile-friendly websites do not utilize the features like push notifications, cameras, GPS, or offline access. Firms have spent a great deal of money creating native mobile apps to exploit these features. The move reflects the fact that customers prefer mobile apps.
You may have heard from experts that every company should have a mobile-friendly website. But then why does it convert at a lesser rate than mobile apps?
Due to the rapid shift toward mobile, having a mobile presence is becoming increasingly important for every organization.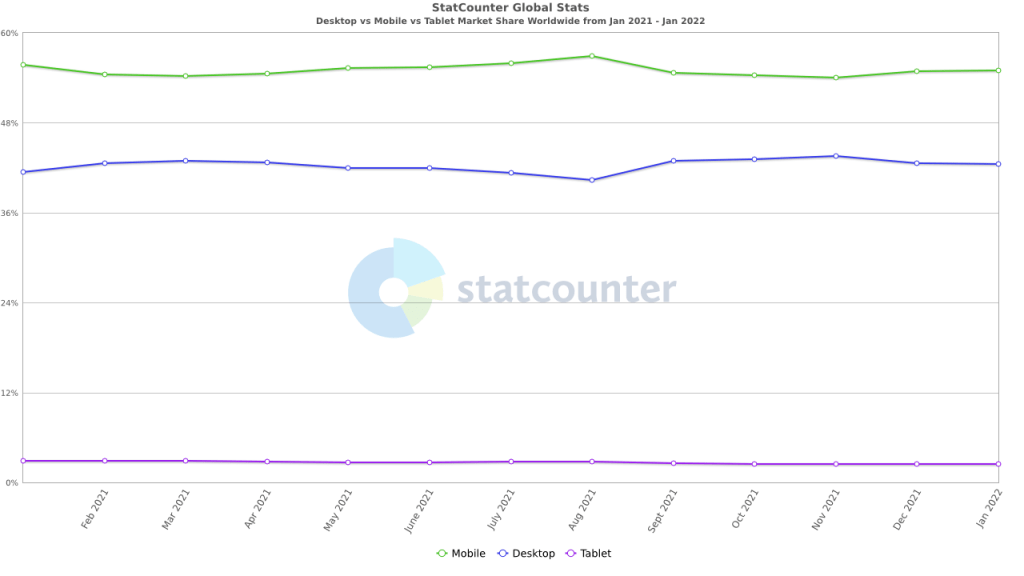 In the world, more than 53% of all mobile traffic originates from mobile devices, making mobile app development vital.
Mobile apps convert more frequently than mobile websites, even though both work on smartphones. Moreover, mobile application development can solve many mobile web challenges.
However, as a small business owner, one of your main concerns is the development expense. Different factors, like target audiences, budget, and intent, influence which one you choose.
To begin with, let's take a look at some of the core differences between mobile apps and mobile websites.
Mobile App vs. Mobile Website
Before assessing the pros and cons of mobile apps and mobile websites, you must know that both can be accessed through a smartphone. It might be an Android, iOS, Windows phone, or tablet. Gone are the days when people preferred to surf static websites on their PCs. As a result of Google's changing algorithms, your website must now be mobile-first, and the trend of mobile website building has taken off. But what is it actually, and how is it different from ordinary websites?  
In simple terms, a mobile website is a collection of interconnected pages that can be accessed from any browser. Developing a responsive website is no longer a difficult process for web app developers owing to the innovative technologies, programming languages, and tools. They may quickly create responsive websites that adjust to various screen sizes or altogether modify their design patterns on various devices.
On the other hand, a mobile application is software that can run on platforms such as iOS and Android. These apps may be readily downloaded from the app store and installed immediately on the device. When comparing the benefits of mobile apps to the website for your business, you will notice that the benefits of mobile apps have eclipsed the advantages of having a mobile website.
Especially for small and medium-sized businesses, it's a huge leap to move your company to digital platforms, so it's reasonable to do thorough research to establish which alternative best suits your objectives and budget. Many industry leaders, in fact, have both a user-friendly website and a sophisticated mobile app with capabilities customized to their target demographic and business requirements.  
The following table depicts the major difference between the two: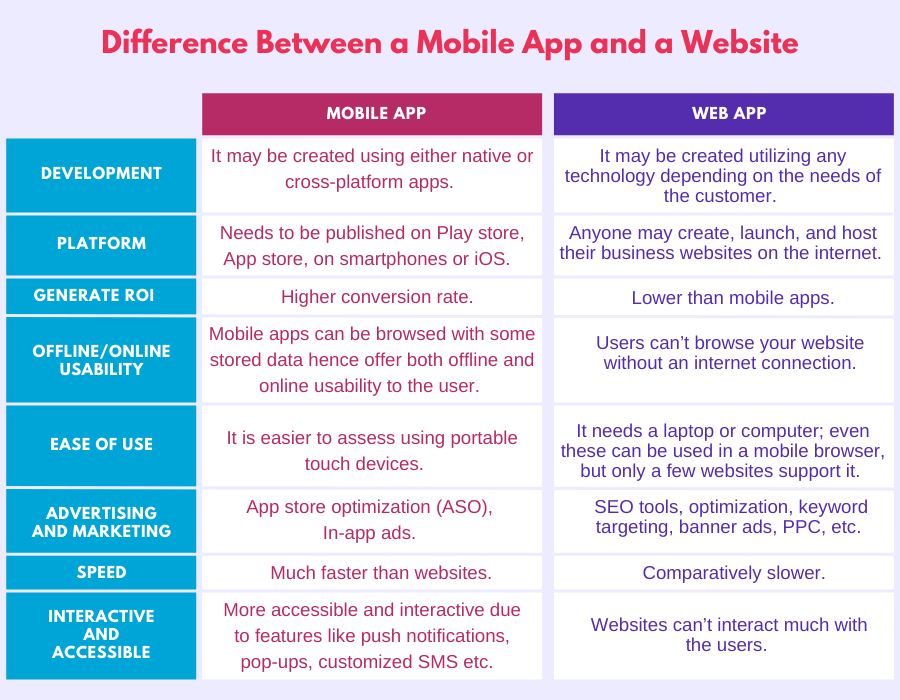 Why Should you Consider Mobile App Development?
1. Ease of Access
According to a recent study, mobile users spend 83 percent of their time in apps vs 17 percent in web browsers, which we believe is due in large part to the ease of having an app right on the home screen. 
Apps put you right where your customers are: Mobile phones. Mobile applications remove the need to remember your website address or to take the time to search the URL.
Furthermore, retrieving information through apps is 1.5 times faster than retrieving information from websites. This is because, website data is kept on servers, but user data is preserved locally on the smartphone.
2. Build More Loyalty and Engagement
By creating a mobile application, you can give your consumers a home – an icon on their phone's home screen, a more personalized experience, and access to your data in a one-tap process.
Buyers are attracted by promotions and coupons. You may earn your customers' loyalty by offering them exclusive offers that are only available through your app. Getting a new client is more expensive than keeping an existing one. Apps make it easy to keep your clients interested and satisfied.
3. Push Notifications
While push alerts may be sent from a website, they are restricted. But you can send notifications to everyone via the app, regardless of their operating system.
Push notifications will make it easier for you to stay in touch as well as to interact easily with your customer. Customers may receive notifications about specials, personal offers, new posts, and more without having to open your app.
When alerts are enabled, your notifications appear on the device's lock or main screen, allowing users to view your notifications as soon as they use their phone.
4. Search Engine Optimization (SEO)
As per your query, Google and other search engines are designed to offer the most relevant results. Because Google connects your mobile applications to your website, having a mobile app will improve your website's search ranking.
Google will show your app as an "app pack" when someone searches for your brand on a mobile device, bearing in mind that it wants to provide the best possible response. When Google recognizes that the user is using a mobile device, it will provide results customized to that platform. 
5. Increase your sources of Revenue
When you turn a website into a mobile app, you're laying the groundwork for a potentially lucrative income stream for your company.
In-app advertising, eCommerce sales, subscriptions, and in-app purchases are all ways to monetize your apps. 
Moving on to eCommerce, we've seen that income from eCommerce applications has increased at an incredible rate in recent years, to the point where 78 percent of consumers would prefer to visit a shop via a mobile app over a mobile site.
You could also develop a subscriber-only app and bundle it with a membership plan, or you could create an ad-free version that users may pay a monthly price to use.
The thing is clear: when you transform a website into an app, your applications will have lots of ways to recoup their costs. We've established Google AdMob integration to provide you with app monetization choices with Swing2App! 
How to convert your website into an app with Swing2App?
Converting your website into an app with Swing2App is no rocket science!
It is an application development platform by which anyone can develop their own iOS and Android app. The software includes prototypes, templates, and other features by which users can easily customize apps using different colours, themes, user interfaces etc. 
The content editing tools in SWING2APP allow developers to add and delete content in real-time as well as you can see the changes on the virtual screen. It offers different features including posts, bulletin boards, multiple chat rooms, submission to official app stores, custom domain, version tracking and more.
With Swing2App converting a website into an app is a simple 3 step no-code process: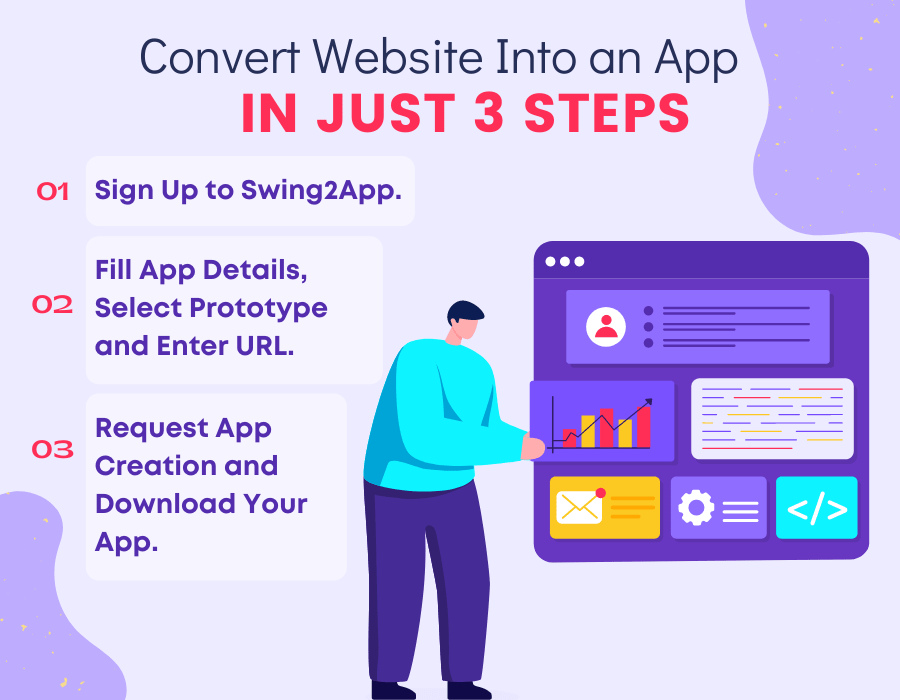 Why Swing2App?
Swing2App lets you convert your website into mobile apps in just 5 minutes without any coding!
You receive all the benefits listed in the previous section of this article, including
A user-friendly and accessible app
Optimal methods of monetization
An engagement and loyalty channel
Send unlimited push notifications
App Store brand presence that stands out
Compared with hiring agencies or freelancers, you save tens of thousands of dollars, get better apps, and the apps update automatically with your site so you needn't add anything new to your work process.
We don't charge recurring fees; you only pay a one-time fee for converting your website into an app. A single payment allows you to enjoy all the additional benefits such as Swing2App analytics, unlimited push notifications, app maintenance, payment gateways, and much more. This makes Swing2App the best and most cost-effective choice for everyone, especially small businesses.
To know more about the process of converting your website into an app please visit: 3 simple steps to convert a website into an app 
Interested in converting your website into a mobile app?
This article has covered a lot of ground. Our discussions have covered the advantages of turning your business website into an app, as well as how Swing2App can help.
Paying tens or hundreds of thousands of dollars to build native apps from the scratch only makes sense if you're an app-first, highly financed startup. Converting a website into mobile apps makes sense if you're already established on the web and have a web-based product.