There's an app for everything these days. Websites are embracing apps at an increasing rate. The reason you're reading this is that you're thinking to convert your website into a mobile app.
Consumers today expect fast loading and browsing experiences. Users will lose interest if the loading process takes too long. As you can see from the Progressive Web Apps (PWA) statistics:
The Starbucks PWA resulted in 2x daily active users.
AliExpress sales conversions increased by 84% on iOS.
Telegram, an instant messaging app, was launched in 2013. With the company's PWA, the number of users' sessions has increased by 50%, as well as the retention rates. 

What are the benefits if you convert your website into a mobile app? What are the main challenges? Are there any easy, affordable website to app maker? 
Let's explore these and other questions. You'll learn about all the options for completing this task – and why Swing2App website to app maker might be right for you.  
Why your business might need a mobile app
Businesses and customers alike benefit from converting website mobile apps – that's why nearly a third of small businesses already have one. Below are a few reasons why you might want to convert your website into a mobile app.
Ease of Access
Once an app has been installed, it's much easier to engage with that application than it is to open a separate browser application to view a website.
According to research, mobile users spend 83% of their time in apps while only 17% in web browsers — this is due to the convenience of having a mobile app right on the home screen
Search Engine Optimization
Google will display your app as an "app pack" when someone searches for your brand on a mobile device. Google will analyse that the user is browsing on mobile and will want to show results that are best suited for that interface.
A mobile app, your website will rank higher as more people are using mobile devices to browse the internet. 
Integrations
Another advantage of turning your website into a mobile app is that mobile applications have more access to your phone's functionalities than a web browser.
To make your user experience even more engaging and immersive, you may combine your app with phone contacts, browser data, camera functionalities, and other smartphone capabilities like GPS.
Converting website to app gives you added advantage of all these functions which boosts customer retention.
Enhance your Mobile UX
It's upsetting to find that your favourite brand or product has a fantastic website on the desktop, but when you load it on your phone or tablet, it's nothing like the desktop version.
Your responsibility as a marketer, website owner, and/or web developer is to produce a positive user experience, but what if your site isn't mobile-friendly? Should you shut it down and start from scratch, start taking on a website redesign, or try to fix the flaws possibly leading to more issues in the future?
Instead, you may convert your website to app. This manner, you can maintain your desktop version the same while providing a more user-friendly mobile version.
More Loyalty and Engagement
Going to Google Play or the App Store is an act of loyalty in and of itself. Users who do so are demonstrating that they are, or are on their way to being, your most ardent supporters. The 20% of users who are responsible for 80% of your company's engagement and income.
By converting website to app, you can provide these core consumers a "home" — an icon on their home screen, a more personal contained experience, and a one-tap direct route to your information. You'll have more chances to develop your relationship by keeping top of mind and interacting easily via push notifications.
Revenue Potential
When you turn a website into a mobile app, you're laying the foundations for a lucrative income stream for your company.
The main ways to monetize your mobile app are: In-app advertising, eCommerce sales, subscriptions, and in-app.
Furthermore, we've seen that income from eCommerce applications has increased at an incredible rate in recent years, to the point where 78 percent of consumers would prefer to visit a eCommerce store via a mobile app over a mobile site. In comparison to eCommerce stores on the mobile web, eCommerce apps have 3x greater conversion rates. Creating website to app is very easy with Swing2App no code app builder.
Other potential monetization strategies are also accessible. You could, for example, develop a subscriber-only app and bundle it with a membership plan, or you could create an ad-free version that users may pay a monthly price to use.
Push Notifications
One of the most significant advantages of converting a website into an app is the ability to provide push alerts.
While push notifications may be sent from a website, they are quite restricted. On iOS, you can't email them at all and must go through far more permissions hoops. You may send notifications to everyone who has the app installed, regardless of their operating system. This is one of the greatest advantages when you convert website to app.
Push notifications are enabled on 33 percent of persons under the age of 34's phones for various companies and applications. That's a significant number of prospective users with whom you can communicate directly via the highly visible lock screen. When compared to email, push notifications offer a considerably greater engagement rate, and you're not limited in your reach like you are on social media.
Whether your mobile app should be iOS or Android (or both)
As Android and iOS applications have various code versions, you'll need to pick if your programme is for Android or iOS consumers. In an ideal world, you'd like to cater your app to both sorts of customers; but, if you don't have the time or money to construct two separate applications, you may have to make a tough choice.
However, with Swing2App you can covert website to app for both iOS and android at the same time. Isn't it great!
Android has a far greater user base than iOS. The Android OS had an 84 percent market dominance in 2021, while the iOS OS had just around 16 percent. Android smartphones are used by many more people throughout the world than iOS devices.
While Android is the most common operating system worldwide, iOS is the most popular in the United States and Japan, as shown in the graph below.
source
Both operating systems are functionally similar, and you may host your software on any platform if you like. The biggest difference between the two systems, aside from the quantity of users, is the coding format. APK files are used by Android, while .ipa files are used by iOS.
You may make your app available on both Android and iOS, but you'll have to develop two unique applications – even if they have the same functionality.
The guidelines for app rejection are another variation between Android and iOS. Apple guidelines have very rigorous criteria, and it prefers to only publish entertaining and useful apps that make use of iOS-exclusive capabilities. As a result, webpages that are transformed into iOS applications are more likely to be rejected by Apple's App Store.
Apple is equally concerned with the user interface (inappropriate UI is the most frequent rejection reason). It provides designers and developers with "Human Interface Guidelines" and "UI Design Dos and Don'ts." If Apple thinks your app's UI isn't up to par, it will remove it from the App Store.
What to consider when creating a mobile app 
There are a number of tools available to assist with the conversion of website into mobile app (iOS or Android). Such services, however, cannot provide much customization. That's why it's preferable to build a native app from the ground up rather than use a third-party solution to convert your website.
Keeping that in mind, it's important to remember that app development necessitates planning and time. You might not know what it takes to construct an app from the ground up if you haven't built one before. Before you start designing your app, think about the following factors:
Development costs
App development costs are distinct from website development costs in that they cannot be created with a low-cost building tool such as a content management system. In your team, you'll almost certainly need a developer or a development team.
The cost of developing a native app might be perhaps high. However, investing some money at the outset of the process and getting a decent result right away is preferable to paying a service to design the interface you want over and over again.
We'll go through price in more detail in the following section, but if you're spending thousands of dollars on an app, you'll want to know what the entire cost will be before you commit to app development.
Screen Size
The mobile market is brimming with one-of-a-kind products, including a variety of smartphones and tablets. As a result, while designing a UI/UX, you should take into account different screen sizes and make sure that all pictures, charts, and buttons appear fantastic on different devices.
Pro Tip: To avoid issues, work with a knowledgeable and professional UI/UX designer.
Search Presence
People will often look for your website before downloading your mobile app. While Google will assist you by including "app packs" in search results, you can also inform consumers about your mobile app via a popup on your website. This will entice users to download your app, especially if your website isn't mobile-friendly.
Now that we've covered all of our areas, let's put our strategy into action and talk about how to turn your website into a mobile app.
Examples of websites converted to an app 
1.H&M
source
2. Canva
source
How to convert a website into a mobile app
There are several ways by which you can convert your website into a mobile app. Basically there are 5 broad options for you to convert website into a mobile app:
1.Code the mobile app by yourself
2. Hire a freelancer to create the mobile app
3. Hire an app development agency to build the mobile app
4. Use a DIY app creators
5. Convert a website to app with Swing2App
We will discuss the last one that is to convert your website into a mobile app with Swing2App. To know about other options please read our blog:
In Swing2App, we designed it so that anyone (especially non-techies who don't know coding) can easily convert any website into apps while keeping all the great features of the web. As part of our service, we handle all of the tricky parts like customization, submission and publishing on the App Stores, and ongoing updates.
In addition to providing you with the kind of result you'd expect from custom development, Swing2App also handles all the tricky bits, so you don't have to. It's all available at an affordable price.
How to convert website into a mobile app in 3 simple steps?
Converting your website into an app with Swing2App is no rocket science!
It is an application development platform by which anyone can develop their own iOS and Android app. The software includes prototypes, templates, and other features by which users can easily customize apps using different colours, themes, user interfaces etc.
The content editing tools in SWING2APP allow developers to add and delete content in real-time as well as you can see the changes on the virtual screen. It offers different features including posts, bulletin boards, multiple chat rooms, submission to official app stores, custom domain, version tracking and more.
With Swing2App converting a website into an app is a simple 3 step no-code process: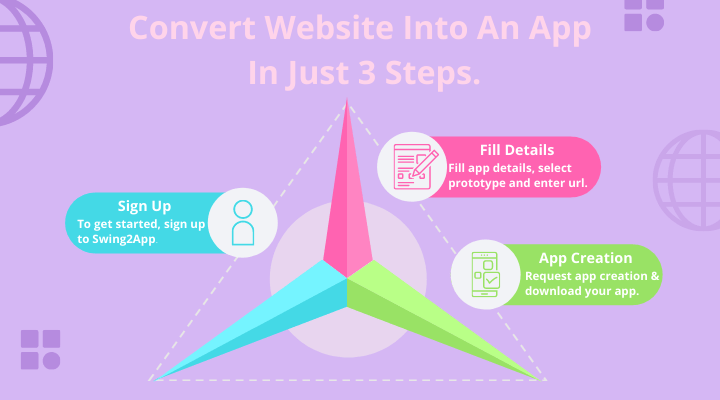 For the detailed process visit our blog on: How To Convert Your Website Into An IOS Or Android App With Swing2App?
Why Swing2App?
Compared to hiring agencies or freelancers, you save tens of thousands of dollars, get better apps, and the apps update automatically with your site so you needn't add anything new to your work process.
We don't charge recurring fees; you only pay a one-time fee for converting your website into an app. A single payment allows you to enjoy all the additional benefits such as Swing2App analytics, unlimited push notifications, app maintenance, payment gateways, and much more. This makes Swing2App the best and most cost-effective choice for everyone, especially small businesses.
To know more about the process of converting your website into an app please visit: 3 simple steps to convert a website into an app.
To conclude
You should now be able to answer the question of how to turn a website to app. We discussed the advantages of utilising apps as well as some of the aspects of mobile app creation.
Web-based apps are easier to create, more valuable to your users, to deploy, manage, and protect, and to upgrade as your business grows. The most significant aspect is that the SWING2APP app creator actually offers a code-free experience. Because of the large range of services accessible, it is unquestionably the best free app builder.