As much enticing the higher or exponentially increasing app downloads may seem, they aren't and shouldn't be the only metrics for business to base their success on.
Of course, increasing downloads signifies more new users but it is equally important to evaluate the state of existing users.
For example, a new user downloading your app will add to the total downloads number, but if they never actually use the app or even sign up will only serve as a dead end for businesses. It has nothing substantial to offer in value.
However, if an app has an active user base with low download counts, it still offers businesses profits. Moreover, acquiring new users costs way more for businesses than retaining the existing ones.
User engagement is KEY to retaining these existing customers.
So, why is it that user engagement is often difficult for businesses to attain? Let's look at some challenges.
Challenges to User Engagement and their Solutions
1.Not using personalized push notifications
Many times, users save products in shopping cart but don't checkout due to price or forget about the product.
If your app is not structured to send personalized push notifications like discount for the product in cart or on similar products, user will forget about the product he wished to purchase. User's will have no attraction or motivation to revisit your app and thus it would severely impact your business.
Solution for not losing your customers just because they have forgotten you is to constantly remind them about your products. You have to send personalized push notifications with attractive discount coupons. This will not only increase the customer re-visit but your sales too.
When you send personalized notifications, with the user's name and the product they have been eyeing upon, chances are huge that the user will probably purchase it.
For example, Amazon sends personalized push notifications with user's name for the recently searched products by the user as well as similar products related to user purchase history.

2.Not going fully digital
Many companies still rely on paper coupons when it comes to customer loyalty campaigns. Now, this can significantly affect your campaign because:
A) The coupons might get lost, misplaced, or damaged.
B) Not all customers may indulge with the paper coupons since they might be inconvenient for them.
Therefore, you need to seek out tools that help you make all your marketing efforts and services digital.
For Example like Starbucks online loyalty program is best, while offline stores even though they provide paper coupons, people don't really want to carry them.
Starbucks gathers information on customers habits, interests etc. thus empowering them to offer more relevant perks & communication to customers. The app offers customers convenience while clearly communicating how customers can earn rewards points (stars) and what they will get with them. Moreover, sending customized offers has helped the brand to stay on the top.
3.Lack of social media integration in app
If your business app lacks social media integration, it is the worst for your business in long term. Well established businesses as well as small scale business both heavily rely on social media marketing by their users. Whenever a customer posts regarding their product on any social platform it automatically forms a marketing channel, people connected with that user will come to know about your product easily.
If you don't have an active social media, this means you are cutting your most of the user engagement straightaway.
As a business you must ensure that you are active on all social media platforms possible, so as to increase to customer base and following easily.
Depending on what suits your brand and what your business has to offer, your social media engagement goals might include:
Changing public perception of your brand
Developing new customer leads
Collecting feedback about new products
Educating your audience with resources and advice
For example, Domino's pizza posts everyday some engaging content regarding new menus, surveys for what people like best in menu and fun catchy posts. These posts tend to attract the customer so that they order pizza more often.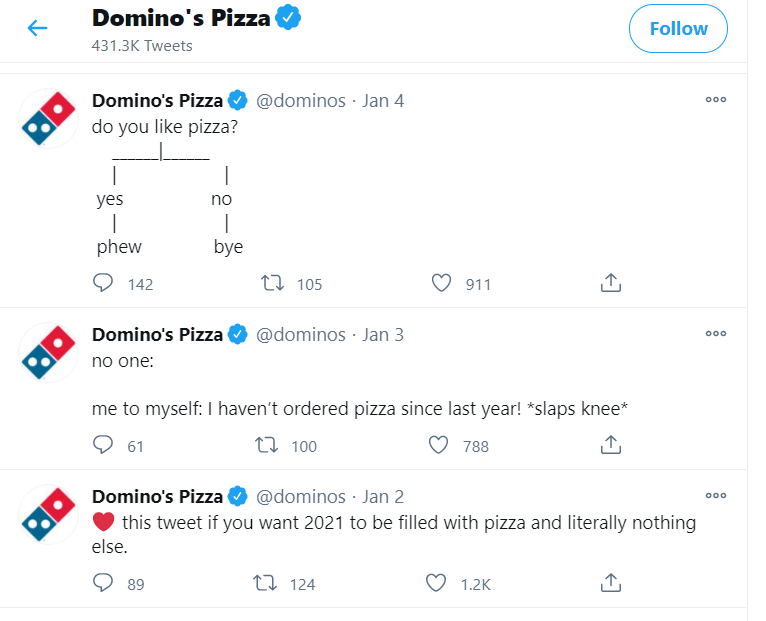 4.Feedback getting ignored due to incorrect methodology
If your business is both online and offline and you are choosing to conduct paper survey thinking it would help your business, then you are wrong. Those survey will surely give you some data regarding your customers but not all. Most users tend to ignore most of the questions in offline survey.
However, using online or to get more efficient results in-app feedbacks provides you to set necessary field to be filled without which customer can not submit the feedback. This helps in getting all the relevant data.
Moreover, online survey also provides instant insights regarding the customers which the paper surveys fail to deliver.
The whole point in gathering user feedback is to understand their pain points and take actionable measures to resolve the existing issues.
Many businesses do invest their time and resources in conducting feedback surveys to gauge users' overall experience, but often fail at understanding what the collective feedback means and how to procure actionable insights from it.
For this purpose, there are many tools out there that offer services like sentiment analysis that instantly tell you the general user sentiment and much more. In any case, it is every business' priority to listen and act on the customer feedback to provide a seamless experience.
For example- If you are a business owner conducting paper feedback, it might get lost, but on app you can manage the data for several years and compare too.
Uber's feedback is one of the ways in which you can get better and genuine user ratings.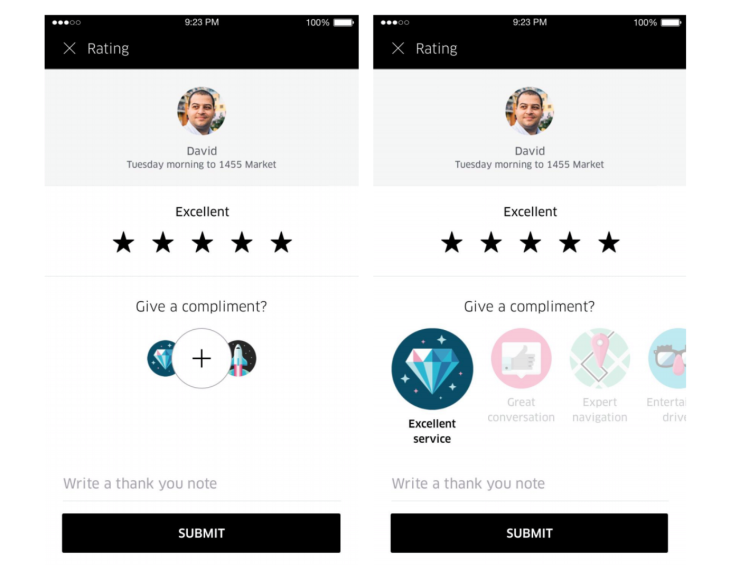 Here are some excellent brand examples that aced their user engagement and retention strategies.
Amazon

Amazon is probably the most successful app in the e-Commerce space. But how has it managed to keep this title for years?
Amazon app employs some tried and tested engagement strategies such as targeted push notifications, lightning deals, limited time discounts, order replacements, quick cancellation policy, prompt and trackable shipping service.
Other than this, Amazon Prime subscription strategy has helped the brand create a sense of customer loyalty by offering special advantages to their prime members.
Zomato

SOURCE: http://www.pngimagesfree.com/LOGO/Zomato-Logo.htmZomato sends personalized push notifications to grab users' attention and inform them about everyday deals. It also has a very attractive loyalty program where it offers multiple coupons applicable while ordering.
Subscriptions are an amazing way to promote customer loyalty, something which Zomato has also implemented with multiple subscription packages such as silver and gold. Each subscription offers something different and more to the customers.
Things You Can Do To Improve User Engagement and Retention
1.Offer trial before sign up
One of the reasons why users leave an app or uninstall it is because of the immediate sign-up requirement. Sometimes, users want to try the features your app provides before revealing their information to you.
If you ask for registration right away when they do not have any other way to see how amazing your app is, you will lose customers before you even get a chance to show your masterpiece.
2.Optimize push notifications
In our other extensive article on push notifications, we discussed in detail how remarkable and more so, crucial a role push notifications play in increasing the customer engagement at large.
Push notifications promote personalization – one of the principles for excellent user engagement at this point. Sending a simple notification to users' smart phones about an exciting limited-time offer is enough to activate the passive users and increase engagement.
With Swing2App mobile app maker, you can easily integrate push notifications into your app that you created.
3.Easy opting out
Nothing irritates users more than the stubborn apps incessantly sending notifications. Sometimes, some brands forget to take a breather and bombard users' notifications and information they are no longer interested in.
The best way to ensure a positive experience is to give easy opt-out options to users. Even though they might be leaving now, if you assist them even at this last stage, it will leave a positive impression about your product and they might spread a good word about you.
You can easily create mobile apps with no-code app builders that offer easy opt-in functionality.
4.Design reward programs
Loyalty programs are a great way to encourage them to keep engaging with your brand. If your business model can support it, you should totally go ahead and create a loyalty program such as offering discounts, limited-time offers, and so on.
Another way to reward customers is to offer freemium functionality with basic but useful features.
With Swing2app you can easily design loyalty programs by using the coupons and stamp feature.
5.Act on the feedback
Everyone knows the importance and power of customer feedback, but not all know how to optimize the collected data and procure benefits from it. You can collect users' opinion about your overall services, products, their experience and etc. using in-app surveys by app creators.
Once you know what users' think, you should act on them. Take their suggestions and improve on those points.
Conclusion
These are some of the ways that will help you improve engagement on your app along with increasing the retention rate. With tools such as Swing2App, you can readily imbibe some of the features mentioned above to instantly increase engagement.
With Swing2app you can send unlimited personalized push notifications, which really help in getting the customer revisit your app and use it more often. Not just this, you can also preschedule these push notifications, which will be sent automatically to your users on the set time.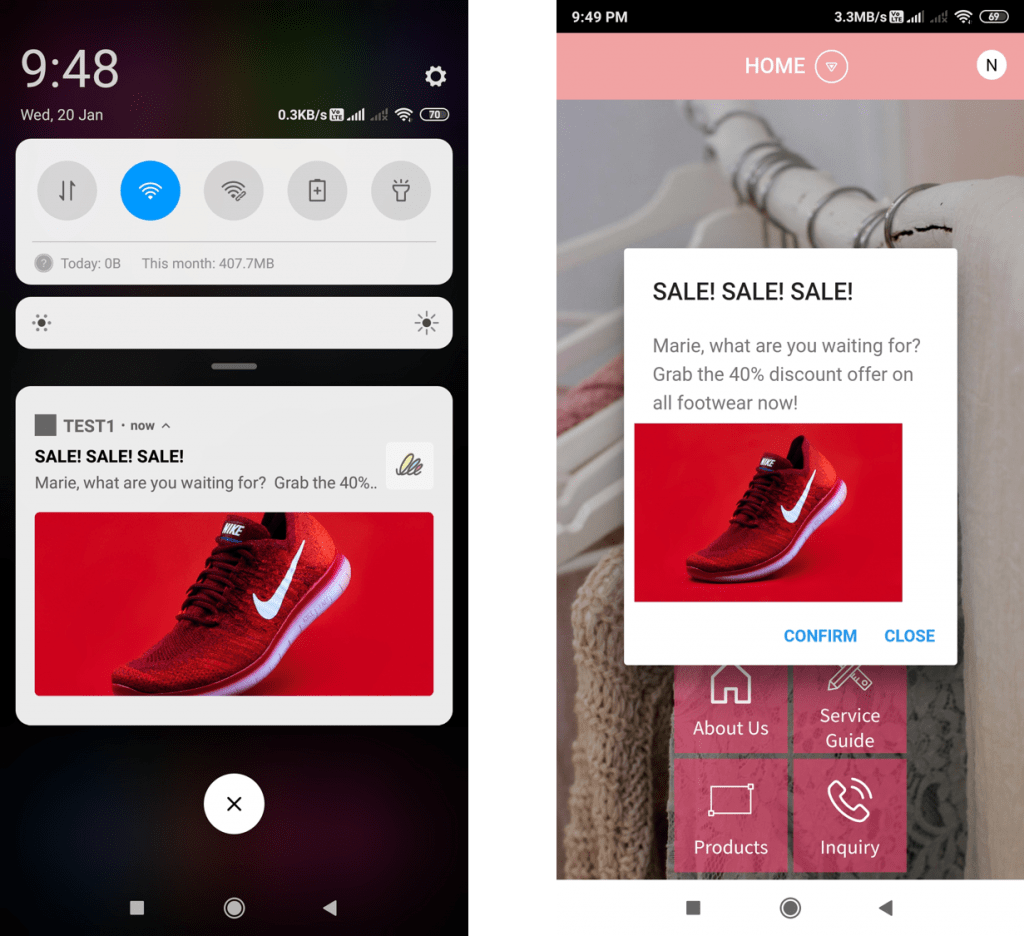 To know more about Swing2App push notifications visit:
Moreover, you can also provide coupons as loyalty cards to your customer with the swing2app Stamp feature, you just have to assign the users you want to send the loyalty stamp. This will ensure that you give special discount to your loyal customers, and this surely will increase your customer base.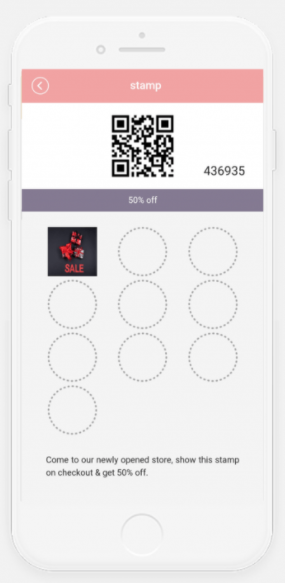 To know more about Swing2App coupons and stamps feature visit:
To keep check on the user feedback Swing2App also provides Survey feature where you can create customized survey for your own app. The survey insights will help you to identify your weaknesses and strengths, thus improving your business. This also gives the customer the surety that their feedback and suggestions matter for your business.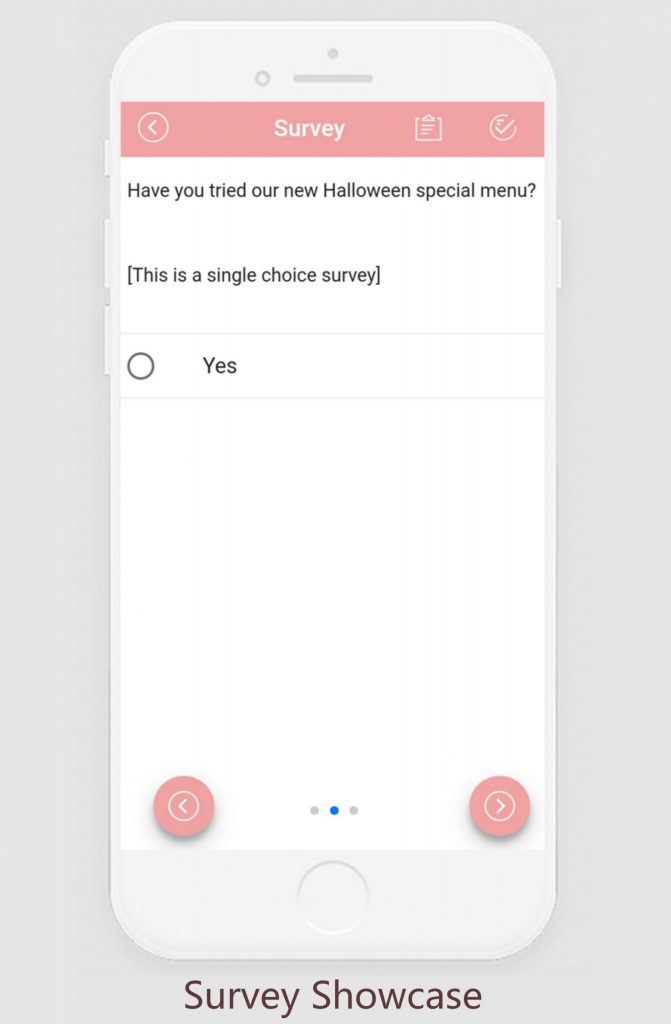 To know more about Swing2App in-app survey visit:
The best part is you can manage all this on single platform of Swing2App and that too without any coding.
Conclusion
Customer satisfaction goes beyond interaction with social media, handing away loyalty points, or referral incentives.
It's about remembering your clients as individuals who you greatly respect and appreciating them for their support.
When customers realize that their feedback is values by a company or a business and place their interests before pure profit, they will have immense respect for you and support you even more!
With Swing2App you can get all these features like, loyalty programs, in-app survey, push notifications, pop-ups and much more all under the same platform. So, we suggest that you should give it a try to get to know it better.