Let's get it straight, we all know that mobile apps are way ahead in the game than websites. Irrespective of the industry type or scale of business, the former has become a crucial player.
We already know why big companies like Starbucks, Airbnb, Amazon hail the mobile apps, but it is interesting to evaluate why small businesses or startups should get on board on the mobile app development bandwagon.
In such a competitive age and time, only having a website for your business is like going into a lion's den with a stick as a defense. You can't survive the attack being that underprepared.
On a different note, the way to success is retaining your customer and turning visitors into your loyal customers. With websites, the challenge is real. Trying to improve your retention rate with only a website is like trying to save a sinking boat with a bucket; you can try as hard as you may, but it will render useless.
The only way to improve your retention rate is by increasing the engagement rate. But how?
With a mobile app, you can try different tactics to keep engaging with users. Unlike a website, your app will be downloaded into the users' phone. The only way you won't be able to engage is when they uninstall the app, which is not as simple as just leaving your website with a click.
You have a chance to attract the attention of the users with your mobile app by employing push notifications and personalizing the whole experience. Unlike a website, you can ask your users to register on your app so you can gather information to personalize your marketing tactics for each user.
This way, even if the users forget to engage with your app, you have a way to remind them via such enticing notifications about limited offers, sales, loyalty programs, and whatnot. This is an opportunity that will be lost with a website.
Statistics showing the importance of mobile apps for small businesses
What better way to evaluate the effectiveness of something than the numeric data.
A survey conducted in 2018 by Clutch on 351 small businesses revealed some interesting results. A staggering 55% of millennials-owned small businesses already had mobile apps, with 42% of Gen X entrepreneurs followed by 13% of baby boomers.
Additionally, 26% of respondents consider mobile payments to be the most useful feature of apps and 24% expressed that social media integration was the most attractive point of mobile apps.
Continuing the same line of thought but from a different perspective, mobile apps are not just for businesses but also offer a lot to customers. A mobile app is much more convenient for users to use on mobile devices. It helps them have a better experience, which undoubtedly benefits businesses incredibly.
A Braintree report in 2018 states 58% of shoppers prefer to visit mobile apps and websites on their devices. Out of which 38% use one or the other at least once a week.
It is now time to discuss how creating mobile apps help not only online businesses but offline as well.
Benefits Of Creating Mobile Apps
For Offline Business
Increase your reach
The ultimate reason why offline businesses are gravitating towards mobility solutions for their brand is that they can expand their customer reach. If a business is operating as well as marketing offline, the pool of customers is very limited. Moreover, in this digital age, offline marketing is nothing but a wastage of resources.
Mobile apps help broaden the marketing scope for any offline business and drives in more customers and sales in comparison. Additionally, a business with an app is more accessible to the customers. It helps not limit their choices due to differences in the region and can connect with your brand easily.
Neon poodle expanded across 3 continents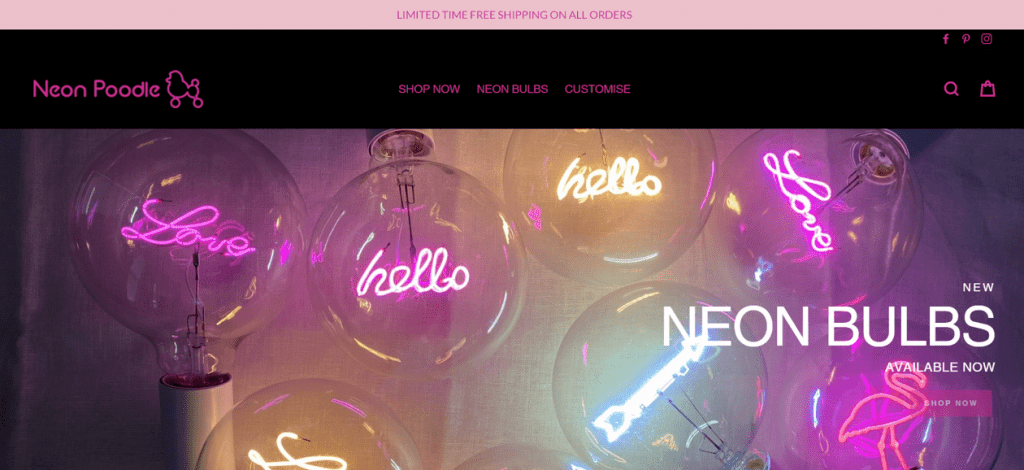 The idea for Neon Poodle came from wanting a lighting solution for the daughter of the business owner. After much research, they came up with this solution for any room that is beautiful and is safe for everyone. And in just three years, Neon Poodle became Australia's No.1 eCommerce store for neon signs. Today, they are selling neon signs for just about anyone to use absolutely anywhere.
Reduce costs in operations and streamline them
For businesses operating in the food industry, mobile apps help save costs on many operations. For instance, a restaurant with a mobile app will not only save time in collecting orders but can also adapt to the self pick-up model and save costs on delivery.
Open Table: one stop app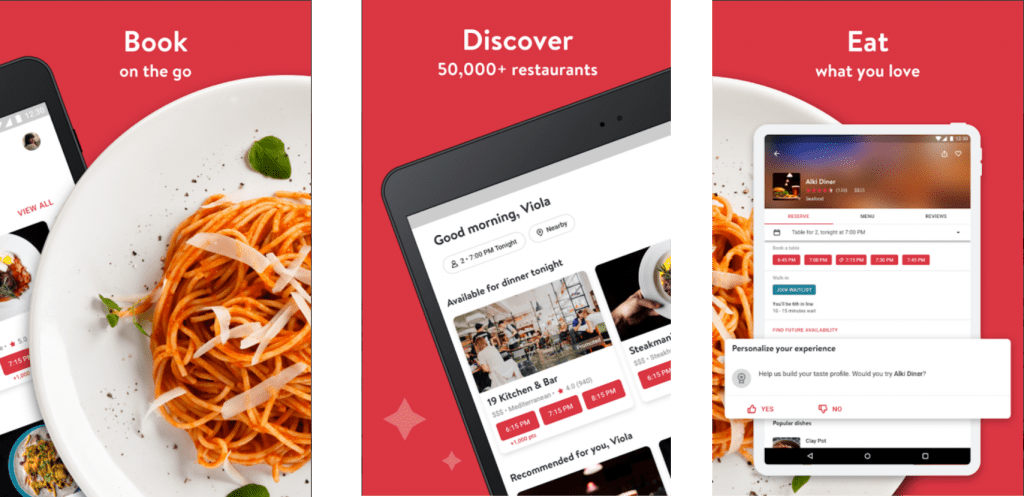 There's no better option than using Open Table to find and book a table at a restaurant for free. Plus, any time you dine out, you also get awarded with dining points as an extra incentive. Plus, it runs in all major tourist destinations, including hundreds of Las Vegas' most iconic restaurants.
This helps in reducing cost of the company in marketing and hiring employees for reservation.
Enhanced CRM
With an app for your business, you can connect with more customers as well as provide them personalized push notifications and coupons. With better customer relationship management your business will get more leads which in turn means increased revenue. Not only this you can also improve customer retention as well as save sales and marketing costs.
Lyft: Driven by Community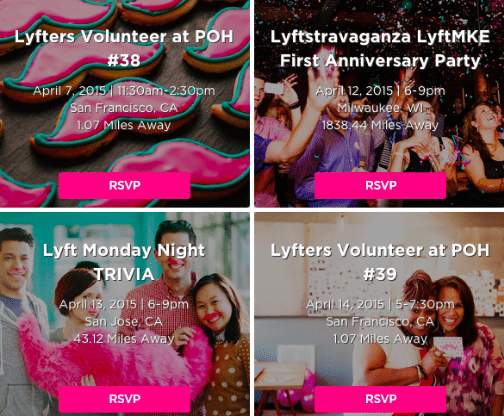 While they have less total installs than Uber, because of the culture they have created, their user interaction is greater. They are evidence that the loyalty of a company to its users strengthens getting the dedication in exchange. Lyft has built mission-based principles focusing on community development, awareness of the environment, and civic involvement.
Provide convenience to customers
An app essentially is more convenient than visiting a store for anyone. Your customer can purchase, view your products and services, as well as book an appointment with the comfort of sitting at home. The more the customers feel satisfied the better is for your business.
Slack: Give the People ease
How their worth in few years has risen from $0 to $4 billion. For few or no big ad strategies, it is one of the purest cases of success focused on product demands and delivery of an easy-to-use app. A simple, easy-to-use, and customizable platform is better than the fancy new app that only a small part of the market can use.
Better marketing
More than 70% of customers want brands to have personalized experience. And the best way to personalize interaction with your consumers is with a smartphone app.
Businesses have the chance to engage their clients in real-time with a smartphone app and build good partnerships. Businesses will quickly remind clients of programs and goods at an appropriate time by push alerts.
Nivea: App with Marketing their product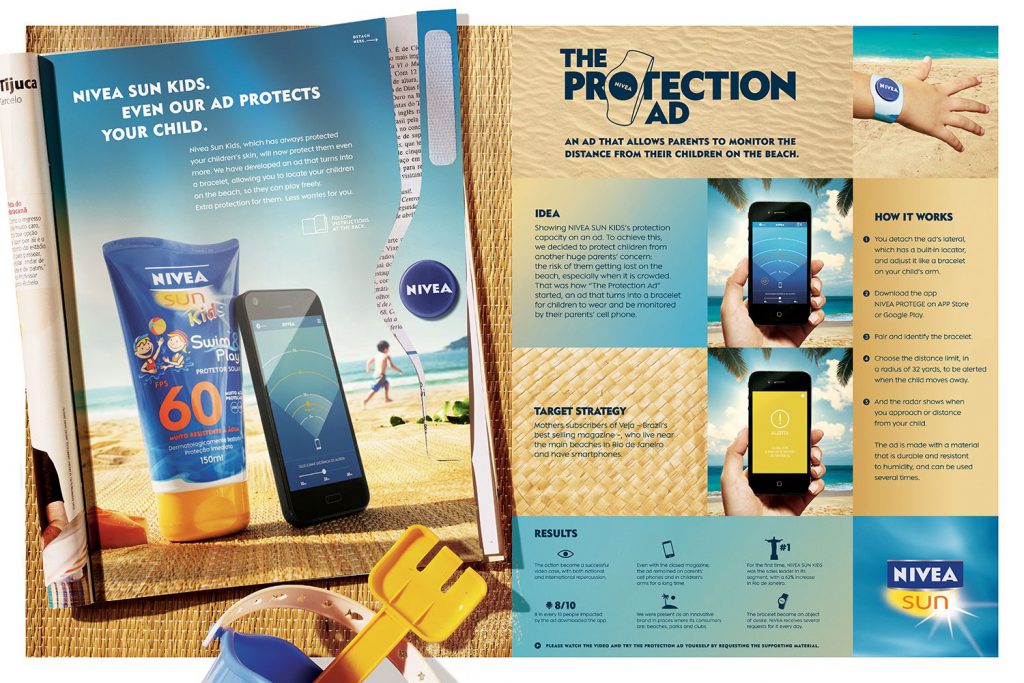 Nivea Sun Kids created a mobile app that allows parents to keep track of their kids in busy area. Actually, the app was an expansion of an ad which monitored the bracelet. When it was on the child's arm, it recorded the displacement. All it took was to import the app from the App Store or Google Play, pair the bracelet, mark the child. Parents could set the distance & If it exceeded, an alert was sent by the app. A genius idea which illustrated the core marketing values of Nivea with a value-added execution.
Rewards
To maintain and expand your loyal customer base, loyalty programs are essential, no matter the nature of the business. Giving out physical coupons is so old fashion and impractical at best. These coupons get misplaced or lost all the time and sometimes, users do not remember to use them.
With an app for your business, you can not only create a loyalty program but can also increase customer engagement. For instance, you can send notifications to the customers who forget to use your coupons and not engage with your business. A simple reminder like this will go a long way for your business.
App creation platforms like Swing2App allows you to integrate its Stamps feature in your mobile app, which you can create for free with this no-code app builder.
Starbucks- Loyalty Card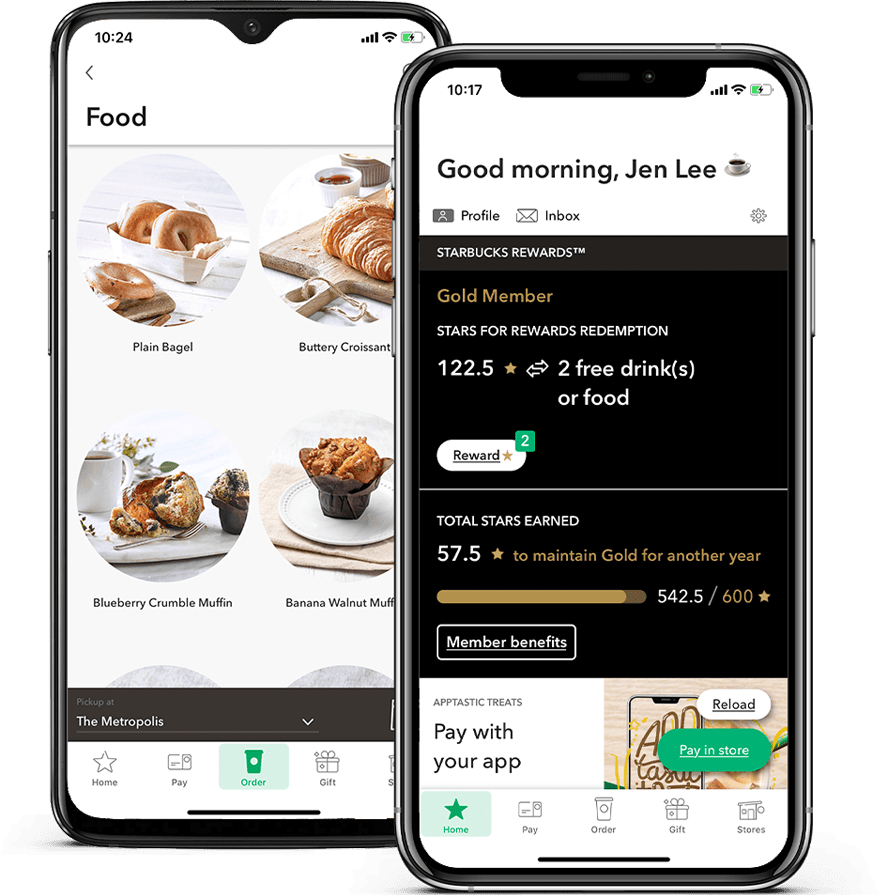 Customers were allowed via phones to pay for in-store transactions. Today, approximately 20 percent of all loyalty card purchases are served by the app. Starbucks merged the applications with Square in 2012, a mobile payment system and the passbook functionality of Apple, so that data from the loyalty card could be seen on an iPhone. It is difficult to compare the particular features and access speed of a smartphone app with that of a mobile website.
Payment and inventory
Allowing your customers to pay online directly on the app will improve their customer experience and also save the hassle. Additionally, many businesses use mobile apps to keep track of their inventory and also create catalogues of their inventory to display to customers for sale.
For Online Businesses
Increase customer engagement in real-time
Many e-Commerce apps are acing their engagement game by using personalized push notifications to make users interact with their app.
Uber: Referrals for Growth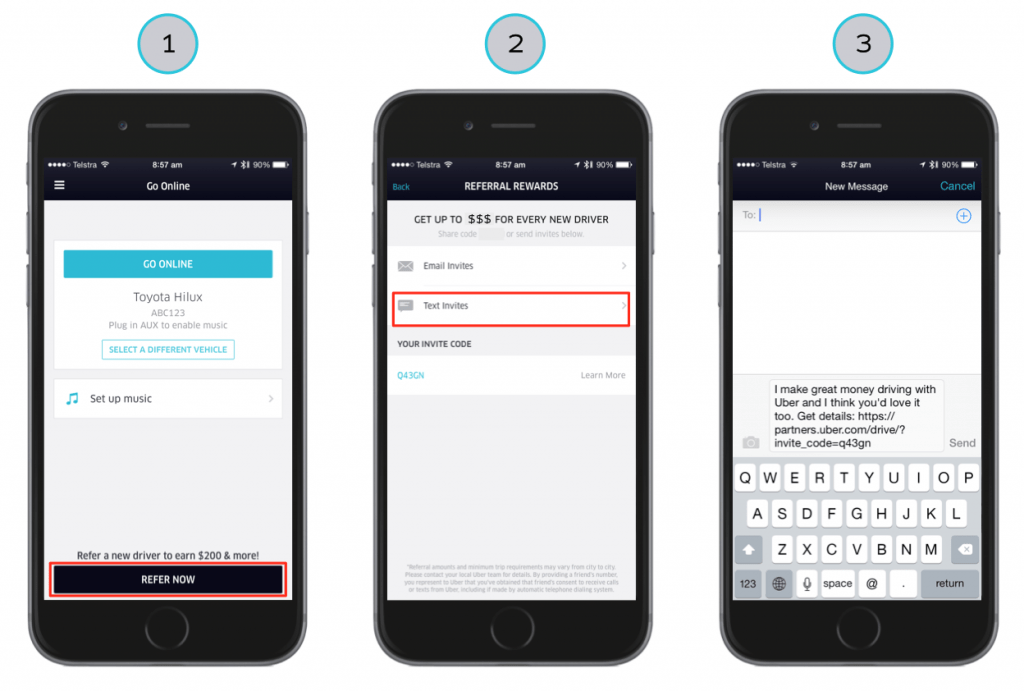 Uber is the champion of the referral program since its riders have tapped into the most important opportunity for fuel development. Frequent riders have the option to offer a free ride to new users in return for a free ride themselves. For potential clients, it opens the door while strengthening current customer partnerships.
Save maintenance cost
For the business who are already online having a mobile helps in cutting the business costs even more. With an app created with Swing2App you can send unlimited free push notifications which can save your cost of sending SMS to your potential customers.
You can also get a detailed app analytics report with the analytics tools which help in planning the marketing strategy and much more.
Amazon: personalized push notifications

Amazon app employs some tried and tested engagement strategies such as targeted push notifications, lightning deals, limited time discounts, order replacements, quick cancellation policy, prompt, and trackable shipping service. Amazon sends personalized push notifications with user's name for the recently searched products by the user as well as similar products related to user purchase history.
Turning already existing websites into mobile apps
Many online businesses that already own a website are not moving towards Progressive Web Apps. With a website converter tool like Swing2App, you can also turn your website into a functional app for free in a matter of minutes in three simple steps.
Smartphones are more popular than desktops
Unlike an offline business, online businesses can only interact with their customers via websites and mobile apps. Since the majority of the users prefer to use a smartphone than a desktop, it makes sense to give them what they want. A mobile app increases customer experience more than a website which they might open on their smartphone, originally meant to be used on a desktop.
How Swing2App can help your small business
Low cost
Swing2App paid plans are diverse for long and short term, and the price is reasonable too. You can start with as low as $33 per month and can opt for long term products up to $580 for 2 years.
Even the basic plan has all the essential features that are required for any app.
With higher price you get extra benefits like additional bulletin boards, store upload tickets, Ad-Mob plugins, additional storage and much more.
This helps in ensuring best output at low investment with Swing2App
Less time
The Swing2App no code app builder platform is extremely user friendly, moreover there is no need to learn coding at all. So, this saves your time as you don't have to check upon the developers rather you can create your app on your own as per your requirements.
Also, you get all the features like pop ups push notification sending, app analytics all on the single platform, which reduces the problem of finding multiple service providers for different steps in app development process.
Swing2app will upload their app
Uploading and publishing your app on Appstore or Play store is one the most crucial step. For an amateur, it can be quite confusing to deal with all the terms and conditions that your app needs to fulfil in order to get published.
However, with Swing2App you can publish your app easily by simply purchasing the Swing2App store upload tickets and we will upload the app on your behalf. In this way, you would not have to deal with the complexities and just focus on your app designing.
No code needed
The saviour for all the non-technical entrepreneurs looking to create a mobile app is a no code app developing platform and Swing2App delivers it well.
With Swing2App you don't need to have any coding experience at all, the process is quite simple that anyone can create a fully functional app with all the essential features in few simple steps.
Moreover, if you are the one having some coding knowledge you can use html editor to make your app too, but that is your choice.
Now you might be thinking what quality you should be expecting. For that let's check a basic hotel app that can be used be small hotel business owners to streamline their day-to-day activities as well as engage more customers by providing them reservation feature and much more.
Use cases: Hotel reservation app
Here we have created a basic Hotel Reservation app with various essential menu pages attached.
The main purpose of hotel reservation app is that your customers should be able to book a reservation in your hotel at the ease of sitting at their homes.
This would not only reduce the time spent on manual reservation process but also streamline the hotel business.
With an app user can check all the details about your hotel, check out the rooms available and view the image gallery too, without actually visiting the hotel.
Having an app for your hotel not only helps the customer but the hotel business owner too, you can easily check the scheduled reservations and approve the bookings accordingly. Moreover, you can also display your beautiful hotel and all the amenities provided by you.
You can also send your customers unlimited push notifications so as to engage with them better and provide them attractive offers to visit your hotel again.
All in all having an app makes everything simpler and better for both the customer as well as the business owner.
Let's check out a basic Hotel App created on Swing2App platform without any coding.
Main page and About us page showing the hotel details.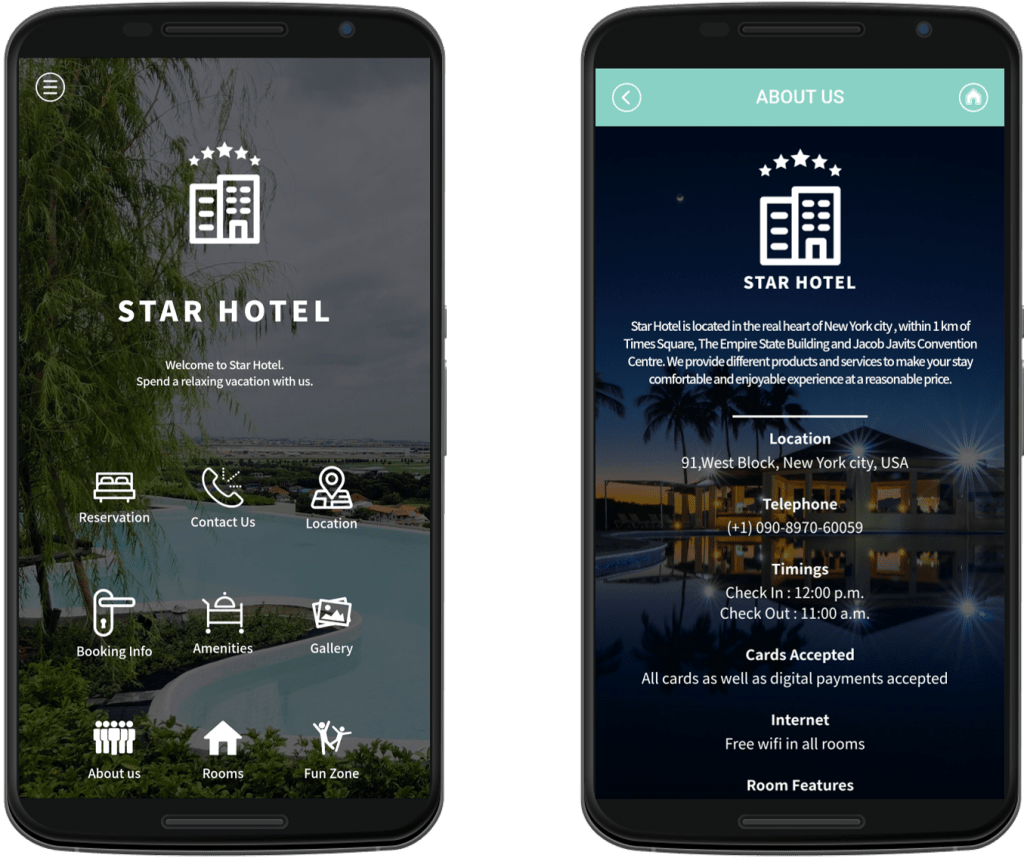 Location feature shows your hotel on google map. Rooms available menu shows the various rooms and their features. On gallery page you can display you hotel beautifully.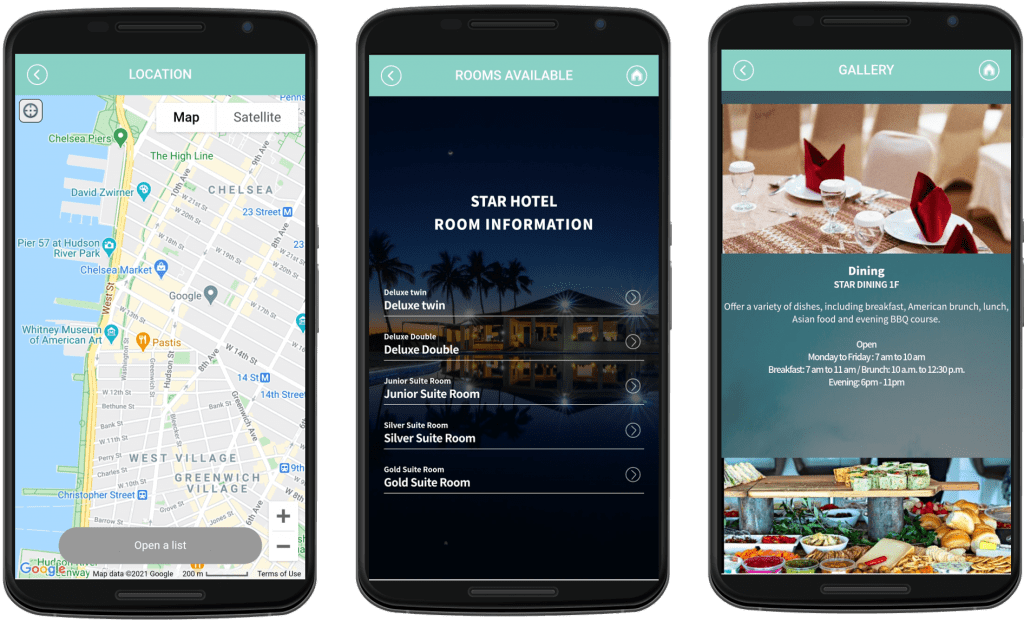 Reservation feature is quite simple to use for the user, the customer needs to select the date of reservation and fill out the reservation details and the reservation request would be sent to hotel admin.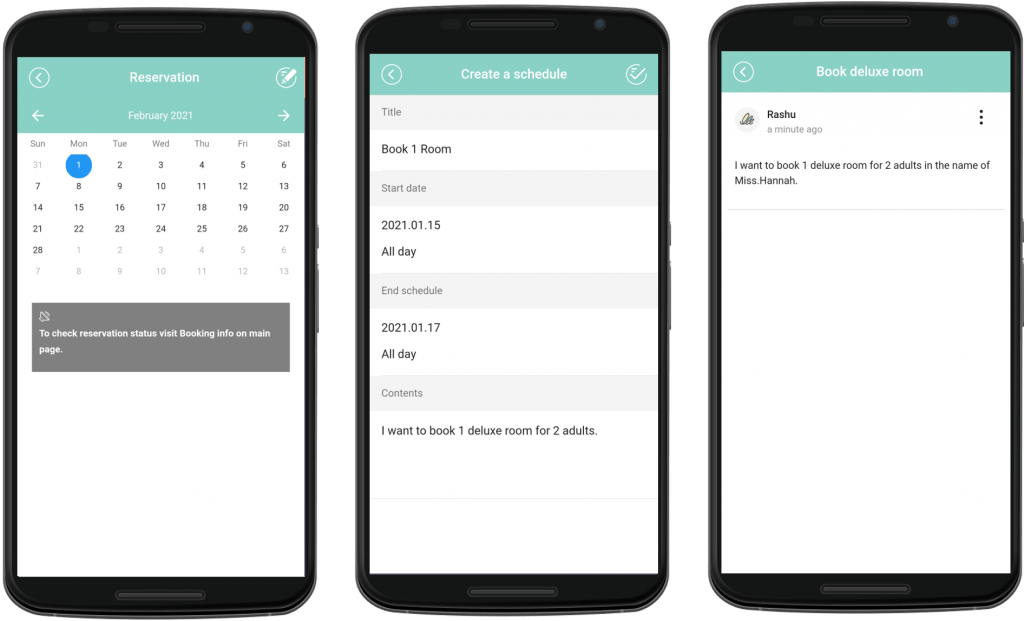 Admin then verifies if the reservation can be made or not and the customers can check the booking status in the Booking Info option.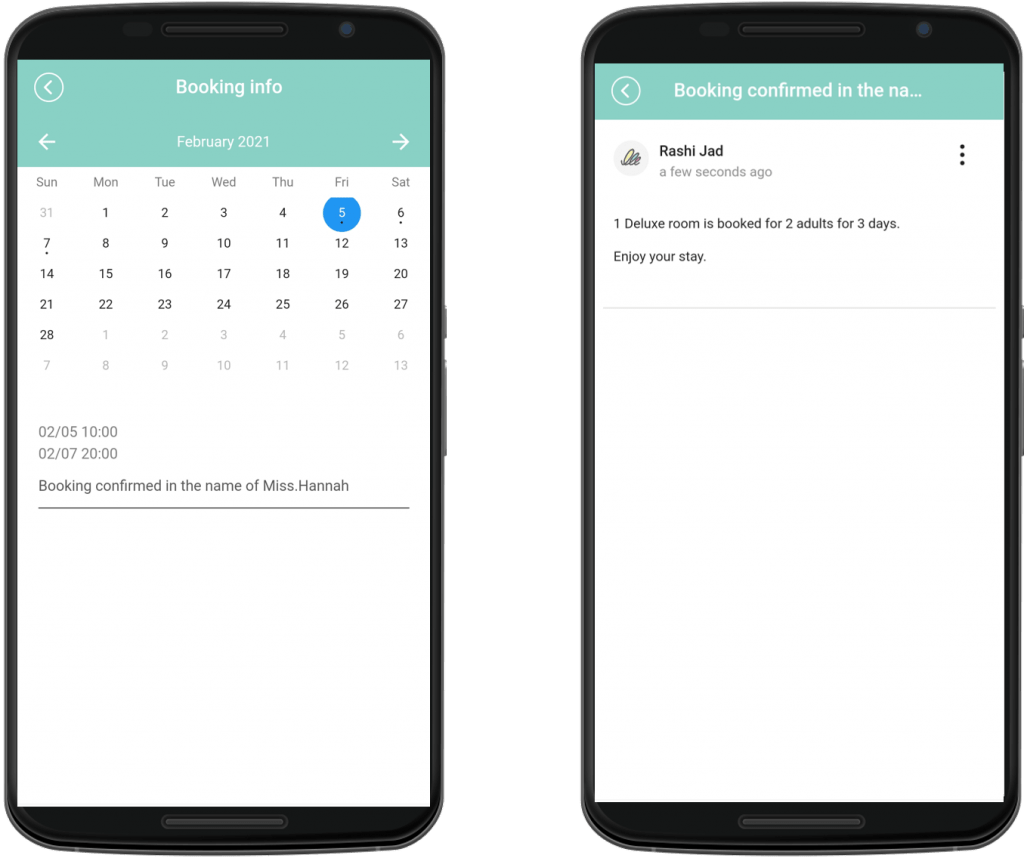 Conclusion
It is essential to create an app and include it in the growth plan for your firm, no matter which niche your company belongs to. A mobile app will help you expand your business in more ways than one, as we discussed in the article above. It can also be fair to conclude that a mobile app is a perfect way to develop your small business, no matter what niche you belong to.
If you think it's a costly thing to create an app or that it will require years of work over which your finances would be affected, it's time to join Swing2App.