In the modern world, everyone is a brand, for better or worse. Your success will depend on persuading people to see your value, whether you're sending in a job application, asking for a raise, or creating a dating profile. So you must learn to market yourself effectively.
Building a personal brand has grown in importance for people across all professions in the current era. Personal branding will become much more important in 2023 as the digital world becomes an increasingly more vital aspect of our lives.
For the most part, when we think of "personal brands," we see social media influencers singing, dancing, posing, or discussing fitness and fashion. These individuals are renowned for their expertise. They keep up with the latest trends. Their followers have trust in them. What if you had the same level of influence at work? Imagine if experts in your field came to you for guidance and motivation. This is the essence of personal branding.
WHAT IS PERSONAL BRANDING?
In case you're unfamiliar with the term "personal branding,
Whether you are an individual or a corporation, personal branding is the process of developing and promoting a unique identity and image for oneself.
Kendra Cherry, a psychology professor, defines personal branding as the process of creating a unique and sustainable professional identity that sets apart an individual from others in their sector or field. The individual's values, abilities, and expertise should be communicated through this image and identity, which should be consistently displayed on a variety of online and offline channels.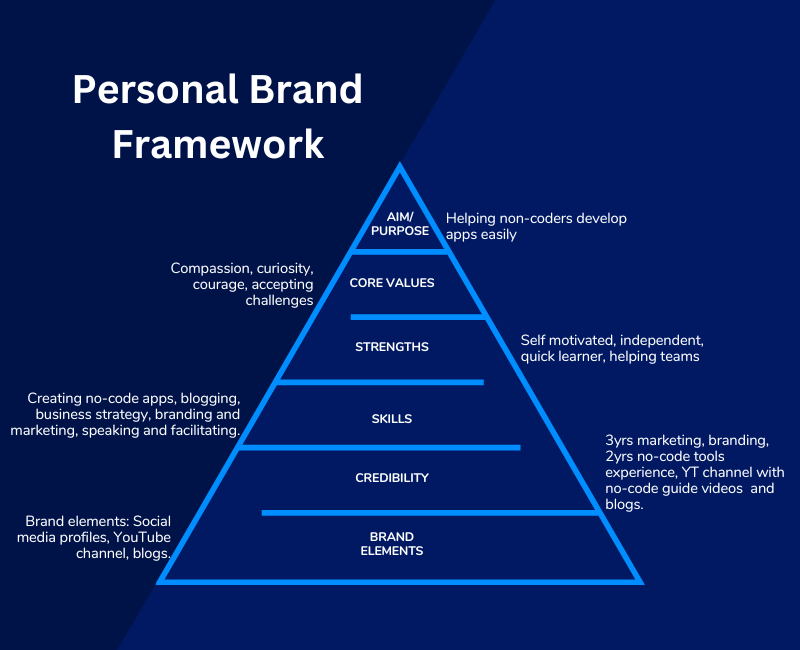 Your name, logo, website, social media profiles, and general online presence can all be part of your personal branding.
Unfortunately, despite our best efforts, we rarely have perfect control over our own brands. As Amazon founder Jeff Bezos is quoted as saying, "Your brand is what people say about you when you're not in the room." It's the combination of the associations, beliefs, sentiments, attitudes, and hopes that people have about you as a whole. Your goal for creating a strong personal brand should be to guarantee that the story being told about you is factual, cohesive, captivating, and distinct.
So, how do you go about building a strong personal brand in 2023? To get you started, consider these suggestions:
TIPS FOR CREATING A POWERFUL PERSONAL BRANDING IN 2023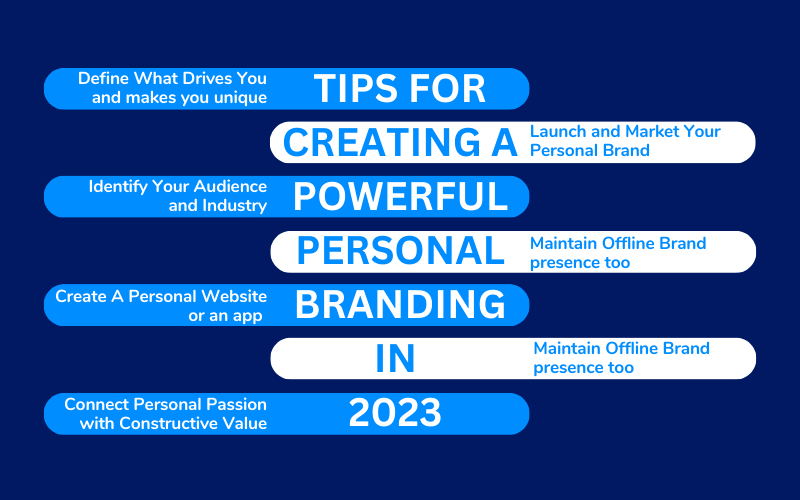 Define What Drives You and makes you unique: What makes you different from other professionals in your field?
What sets apart you from other professionals with expertise in your field?
Your unique value proposition ought to reflect your abilities, life experiences, and unique personality traits.
For creating a strong personal brand developing a sense of connection and trust with your target audience is must. Be active and agile to provide your best effort in every circumstance.
Finding your unique value proposition (UVP) will enable you to stand out in a crowded market and set apart yourself. Your UVP can be your subject-matter expertise, your distinctive method of problem-solving, or your capacity to relate to your audience. Make sure it distinguishes you from the competition, whatever it may be.
Identify Your Audience and Industry: What is the primary solution, success element or unique feature of your brand? Whose problems are you solving?
With your personal brand, who are you trying to connect with?
Defining your target audience helps you customize your content and messaging to the needs and interests of your target audience.
Create A Personal Website or an app 
A personal website acts as the foundation of your brand, providing information about you, your goals, and your values. It's an excellent way to present your work, tell your story, and provide potential clients or employers with your contact details. A simple, well-designed website with a unique structure and simple navigation would work just fine as your personal website.
With Swing2App no-code app builder you can also convert your website into an app and increase your customer retention with your unique app. Having an app for your brand is a must have in todays worlds where more and more people rely on apps rather than going out at stores.
It also gives you an edge over your competitors, which sets your brand apart in the market.
Read more about why should you create an app in 2023?
Connect Personal Passion with Constructive Value: whatever claims you make should be supported by data; this requires investigation and the citation of reliable sources.
Building a strong personal brand demands not only publishing your own content, but also engaging with your target audience. This may include answering messages and comments, taking part in online conversations, or collaborating with other experts in your field.
Launch and Market Your Personal Brand: build an online presence, broaden your social network, and increase your social footprint.
Building a strong personal brand requires consistent sharing of meaningful and useful content on various social media platforms. This can take the form of articles, blog posts, podcasts, videos, or any other medium that appeals to your audience.
Maintain Offline Brand presence too: Implementing personal branding online can be simple. You can pick the appropriate colors and fonts for your website and social media. But while talking with people in person, you also need to uphold your brand.
When speaking at events, stick to the same vocabulary. Maintain the same calmness that customers have come to expect from your brand online. Then, you can increase the number of individuals who know and recognize you.
PERSONAL BRANDING TRENDS TO EMBRACE IN 2023
1. Use storytelling (especially visual storytelling)
You've certainly heard of the use of storytelling to create a captivating brand that engages your audience. How do you do this? You can do this by outlining significant occasions or experiences in your life that helped to mould or form the person you are today. To show off not just your strengths but also your individuality and various viewpoints, share the experiences and lessons you learned while overcoming such difficulties.
An effective professional photograph in your social media profiles, such as LinkedIn or Instagram, design features (such as fonts and colors) in your posts and stories, and it should be visible across all of the platforms you use are the first things to consider. You can choose from a variety of apps to find distinctive design components for your brand.
2. Have a personal website
A personal website that serves as a "Centre point" for everything about you is an important part of developing a powerful online presence. Your website should include your personal brand and contain your portfolio, blog, and résumé or bio. In order for potential employers and clients to find you online, make sure your website is professional, user-friendly, includes "call to action" buttons to contact you, and is optimized for search engines.
3. Networking
Networking is one of the best ways to develop a powerful personal brand. You should regularly network to build your community, not simply when you need to locate a new job or customer. To extend your network and meet new people, you can do this by going to industry events, taking part in online communities, and joining professional organization. In order to achieve your goals when networking, be sure to be aware of what they are. You should also follow up with any new connections or contacts you make after the event in order to continue the conversation.
4. Use Video to create a strong personal brand
Video must be a part of your personal branding plan if you want to build a powerful personal brand and increase your online visibility. With the use of video, you may impactfully show your abilities, knowledge, working style, and personality with your audience and help them develop trust in you. Examples involve creating videos in advance and sharing them on social media, broadcasting live to your audience, making videos for your website, vlogging, and organizing live masterclasses or webinars.
COMMON MISTAKES TO AVOID
Now that you've got to know the basics of a creating a strong personal brand, make sure you avoid some common mistakes people while building your personal brand:
• Failing to specify your target audience: As was previously said, it's critical to understand who your branding efforts are intended to reach. Lack of a target audience specification might lead to a dispersed, unfocused brand that fails to connect with anyone. Don't try to appeal to everyone; instead, be clear about the audience you want to engage and adjust your branding strategy accordingly.
• Copying other people: While it's critical to be updated of what other professionals in your area are doing, it's unwise to attempt to imitate their branding or style. Your own brand should be genuine and original, not a replica of another person's. Don't be scared to take chances and give things a unique twist of your own. If you are genuine, your audience is more inclined to trust you and interact with you.
• Failing to maintain consistency: Building a strong personal brand requires maintaining a consistent visual identity and messaging. Lack of consistency can cause confusion in your audience and make it challenging for them to identify and remember you. To make sure they are consistent and reflect your current aims and beliefs, make sure to routinely evaluate and update your branding materials.
USE SWING2APP TO GIVE YOUR BRAND AN ONLINE PRESENCE AND PLATFORM TO GROW
With Swing2App you can create free no-code apps for your brand and also convert your website into an app in 5 minutes.
Is this some kind of Magic? Well yes the simple yet effective magic of Swing2App is done at the back-end where all the code gets generate while you visually edit the app by simply choosing the theme, menus and features for your app. It is codeless for the user, as all the code is generated at the backend by the platform's no-code technology, so you don't need to worry about lengthy codes, bugs or errors.
Swing2App takes care of everything starting from app creation, app store launch as well as post launch maintenance too. Thus making is truly a one-point solution for all developers
You might ask why Swin2App is the best choice for you?
Well to begin with the entire process is based on no-code technology, so anyone can create a no-code app for their brand without any hassle. Empowering small business in creating their own brand and apps is our goal and we are more than happy to help you in creating an app for your brand.
Additionally, the app creation process is totally free and you can also check your app in real-time in the preview window. This makes app launch much quicker by cutting the time to wait till the end to check and test your app, here you can view and edit your app simultaneously.
Even if you are a pro-coder and have a vast experience in coding apps, Swing2App is a boon for you too. As you all know, time is an extremely valuable asset and this is what Swing2App no-code developer gives you!
With Swing2App no-code app developer the entire app journey is reduced from several months or years to just a few days or weeks, thus saving a lot of time which can be utilized for other things like branding and marketing.
Swing2App no-code app builder also offers Appstore as well as Playstore app launch at a very affordable price.
Read to know more about: How much does is cost to publish an app on Appstore.
You also get future assistance from the Swing2App developer team in case you face any issues, which most app development platforms don't offer once you are done with app launch. But we will stay with you throughout your journey and help you in every possible way to make your app a great success.
These are just some basic features about Sing2App no-code app builder. Explore Swing2App yourself and know more about our no-code app development platform.
Further read how to create a no-code app with Swing2App and quickly launch your no-code app.
CONCLUSION
Although it takes time and work, developing a personal brand is worthwhile. You can build a brand that is as outstanding as you are and supports your aims by following these steps and avoiding typical pitfalls. The more honest you are, the more your audience will relate to you and your message. Don't be scared to experiment and have fun with your personal branding.