Were we to turn the clock back a decade, many applications and web designs would rely entirely on developers who worked long hours to make the code work. As a result, developers are now creating no-code tools to help us create without coding.

With the right no-code tools, you can now create blogs, websites, and more. Even if you are a coder, these tools can help you be more productive.
Even building a website or app that might seem challenging can be done easily with no-code tools.
Now, there are a lot of no-code tools out there. You must be wondering which one is the best for you?
What if I tell you can get multiple no-code tools at one place? Amazing, isn't it?
WELOVENOCODE is an arena of no-code tools.
The WeLoveNoCode Tools directory contains 2000+ useful tools for No-Code projects. You'll find tools for web and mobile app development, integration, automation, design, marketing, and more. Browse by category, pick your favorites, and start creating your project without coding!
Without any further ado let's explore WeLoveNoCode: the no-code platform.
It is likely you have heard of tools such as Zapier for workflow automation, AppSheet for app development, BigCommerce for an e-commerce website, etc. that allow you to accomplish your goals without coding.
WeLoveNoCode is a bundle of more than 2000 no-code tools and platforms to make software faster and easier.
Are you wondering if you have to pay for every service you use? Nope. Rather you pay per project which makes WeLoveNoCode a very cost-effective platform. Know more about WeLoveNoCode Pricing.
On WeLoveNoCode these tools come at a flat rate and your project will be handled by a no-code developer expert. The No-Code developers will do the rest for you – you just need to select what you wish to create and the No-Code tool. Basically, on WeLoveNoCode at a flat rate, you get the dual benefit of unlimited no-code tools as well as vetted no-code developer experts.
All you need to do is sit back and enjoy the fruits of your investment in WeLoveNoCode.
The three unique features of WeLoveNoCode are that the No-Code development services provided by WeLoveNoCode are unlimited, high-quality, and at a flat rate.
How WeLoveNoCode Works?
The process of creating an app or website or a landing page is as simple as ordering online!
All you need to do is tell us about your project hire a no-code developer and check the progress.
It is a simple 3 step process:
1.Project details
This is the first step to start your project with WeLoveNoCode and is quite basic. You need to fill up basic details about your project like:
Project name-For example if you want to create a landing page, you can name your project "Landing page" or something else depending upon your project.
Your goal-This is very important step as this will give your no-code developer expert an outline of what you want from this project. Do you want a landing page for sale conversions or just for information, do you want it responsive and all other details.
Reference links- This is also an essential step in WeLoveNoCode development process.
Your references enable the no-code developer expert to analyse your perspective, what you like and what you don't like so that your software can be developed according to your needs.
User Story- Here you have to specify what benefits and functionalities you want in your software as a user. For example, if you are creating a landing page, do you want to play a demo video automatically or do you want to add certain additional functionalities like QR code for further process and so on.
Choose a no-code tool- You can choose from a wide range of no-code tools provided by the WeLoveNoCode library. If you don't know any no-code tools or don't want to choose one you can select other tools and continue.
You can also enter additional comments if you want to.
Finish creation – Once you have completed all the above-mentioned steps you must click on Finish creation. With this, you have created a new project on WeLoveNoCode which will be displayed on your dashboard. Within an hour or so a no-code developer expert will be assigned to you with whom you can chat too about the project. You can also check your project task-wise progress mentioned as: To-do, in-progress, and completed. Moreover, you can also have a call with your no-code developer expert if you want to.
2.Hire WeLoveNoCode developer
WeLoveNoCode selects no-code experts for you be it no-code developers, designers, or, project managers, agrees on rough timelines & roadmaps for development, and a fixed monthly fee for development.
3. Track progress and release your software
You can track the daily progress of your project, chat with your no-code team and even call them via WeLoveNoCode platform.
WeLoveNoCode monitors your project progress regularly and makes sure that everything is going well and in time.
WeLoveNoCode Pricing
The Price policy of WeLoveNoCode is as simple as the platform itself. To break it down into simpler terms they provide 3 types of payment options.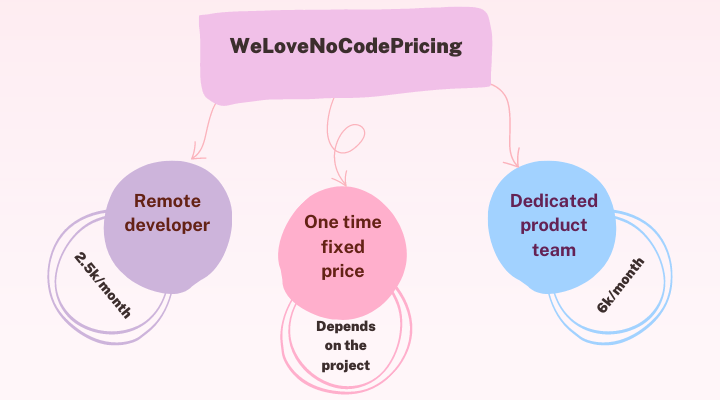 The three different payment options of WeLoveNoCode provides different benefits. So, you can choose one that suits you he best.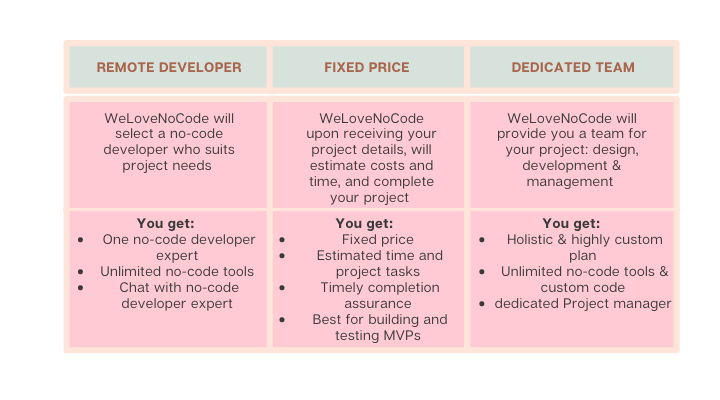 Top no-code tools available with WeLoveNoCode
With WeLoveNoCode you can choose from 2000+ no-code tools as per your requirements. Some of the top no-code tools available on WeLoveNoCode are:
Webflow can be used by designers or teams to create, and scale beautiful websites in a completely visual screen — a perfect no-code tool for non-technical folks.
With its easy-to-use CMS you can create websites, e-commerce marketplaces, blogs or and kind of website you wish. Webflow has lots of automation, so you don't need to spend much time in web designing.
Read more about Top No Code App Builders For 2022: What Is The Best No-Code App Builder?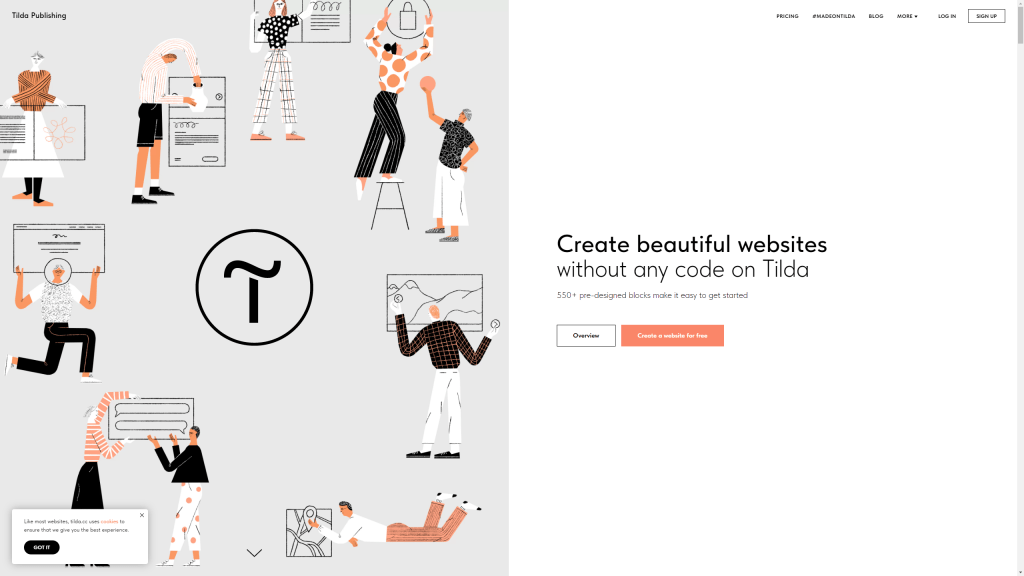 With Tilda no-code development tool anyone can design a beautiful website, e-commerce store, landing page, or a blog. Everything is entirely no-code development process. This makes your creation quicker and easier.
You can use the various pre-built templates available on Tilda as per your choice. So, you can stop worrying about the designing and just focus on your content!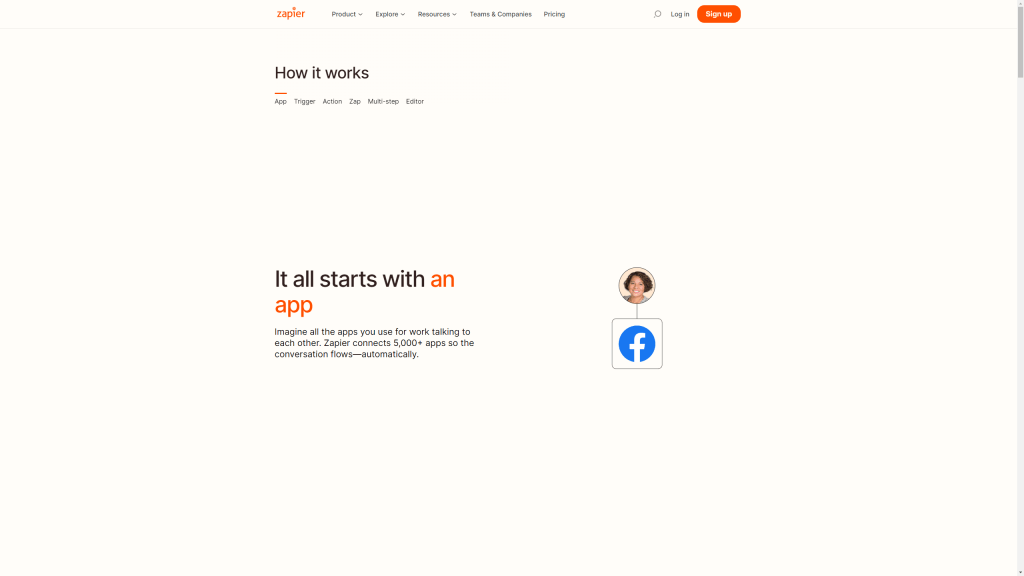 Zapier is a no-code development tool for used automating tasks that a repetitive in multiple apps. Zapier connects multiple apps (more than 4000). Hence, anything done in one app is communicated to other apps in order to perform a particular task.
This automation requires entirely no-code process, therefore is a must try tool for no-code developers.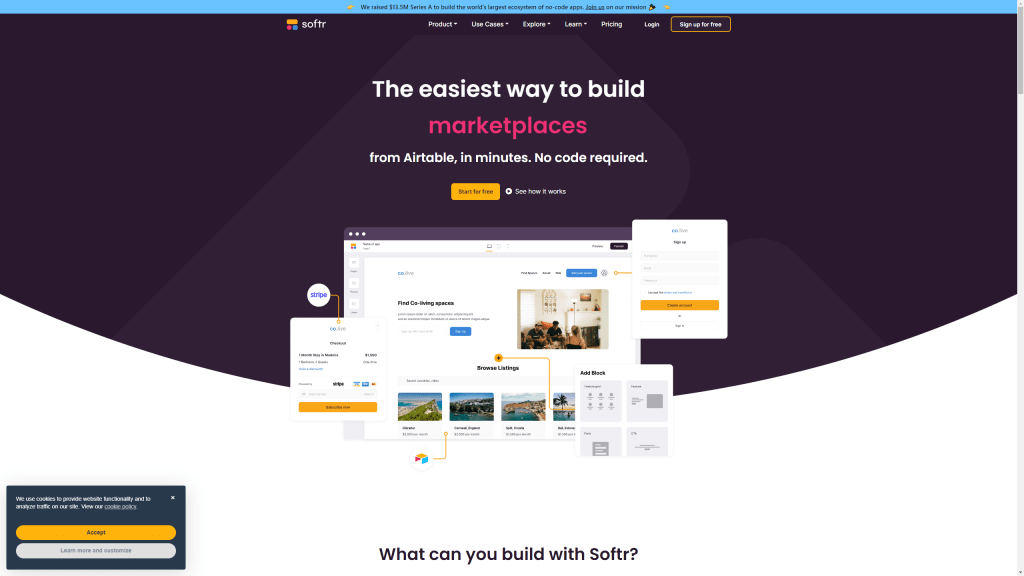 Soft is one of the best platforms for non-tech entrepreneurs to build websites.
By leveraging your Airtable data and building powerful websites and web apps with Softr, you can act on your ideas faster.
You can know about other tools here.
A Free No-code app builder for no-code developers
Do you want to try out a no-code platform but don't want to invest right away?
We got a solution for you:
You can create apps with Swing2App if you are a no-code enthusiast or an advanced coder, we offer a free no-code app builder platform, image maps, HTML code editors, and other options to create your app.
The goal of our free no-code app builder platform is to make it easy to develop professional apps for anyone.
Once you register for Swing2App, you can create 3 free apps. You can also publish your free no-code app on the Playstore for free under the free commercial version only with the help of our free no-code app builder.
Using Swing2App, a free no-code app builder, you can access many industry-specific free templates. For instance, these features could include google maps, digital shops, product QR codes, chaat rooms, posts, and much more.
In addition, we offer 2 apps (Android + iOS) for the price and time of 1 app; thus, our free no-code app builder is cost-efficient and time-efficient.
With our free app builder, you can not only create an app from scratch, but also convert your existing website into an app in just five minutes.  
Swing2App no-code development tool also includes post-launch functionality, such as user analytics, push notifications, pop-ups, in-app chats, and much more.   
The paid version starts from $ 99 one time, click to get a detailed price policy.