Currently, more people use their mobile phones than their computers.
Business owners now realize the importance of leveraging mobile channels to attract customers. But that's not enough. To maximize this channel, they must also optimize their mobile apps and websites to improve user experience and conversion rates.
Businesses may use both mobile websites and apps, or they may choose one over the other. Cost, usability, features, and the target audience determine whether mobile apps or websites should be used.
Moreover, studies show that users prefer mobile apps more than mobile websites. It makes sense to have mobile apps for reaching out to customers.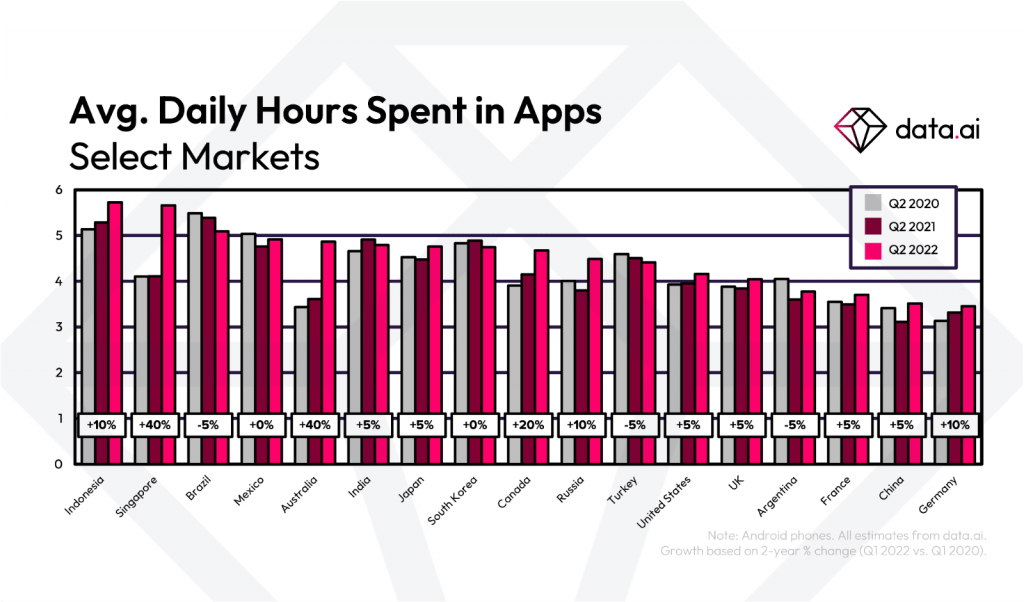 Apart from that, there are many other reasons why mobile apps are better than websites.
Read on to find out the top 8 reasons why mobile apps are better than websites. 
WHY MOBILE APPS ARE BETTER THAN WEBSITES
1. Personalization & Customization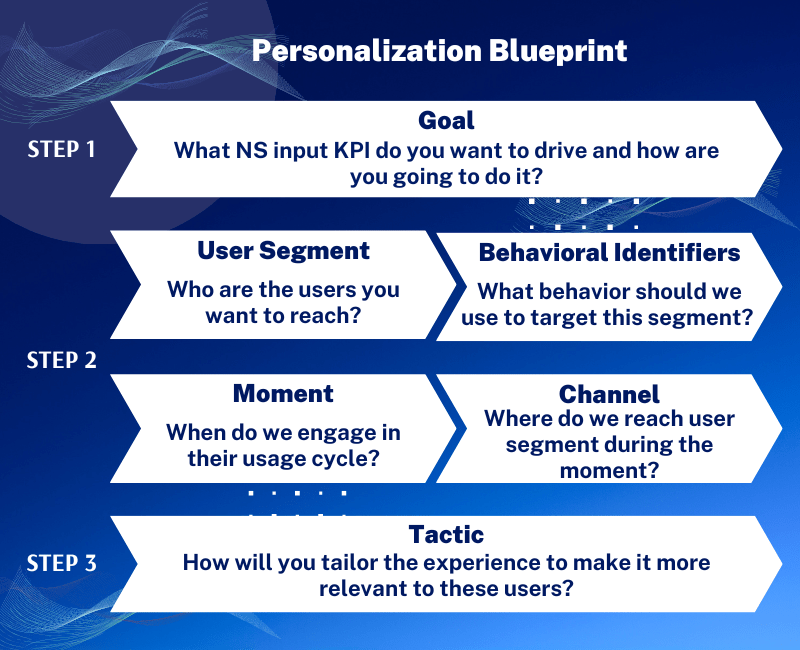 Mobile applications are the greatest choice for daily usage. Users may make preferences, create accounts, and store important information in an application. Business-wise, a mobile application is a far better alternative for audience targeting and creating marketing campaigns for various user groups.
According on the user's interests, location, usage patterns, and other factors, personalization seeks to provide targeted content.
It's simple to provide consumers with a tailored experience while using mobile apps. You may try out various consumer experiences using an A/B testing tool for mobile apps.
Users of mobile applications may be able to establish their preferences up front, depending on which they may receive customised content. Additionally, apps may monitor user involvement and use that information to provide users with personalised updates and suggestions. They can also give location-specific content by determining users' locations in real-time.
However, personalization has other uses outside only enhancing the user experience. Additionally, it may increase the conversion rate of apps.
Users who are delivered to personalized material have a better probability of converting since it has a more human feel than generic information, which might come across as robotic or artificial.
2. Push Notifications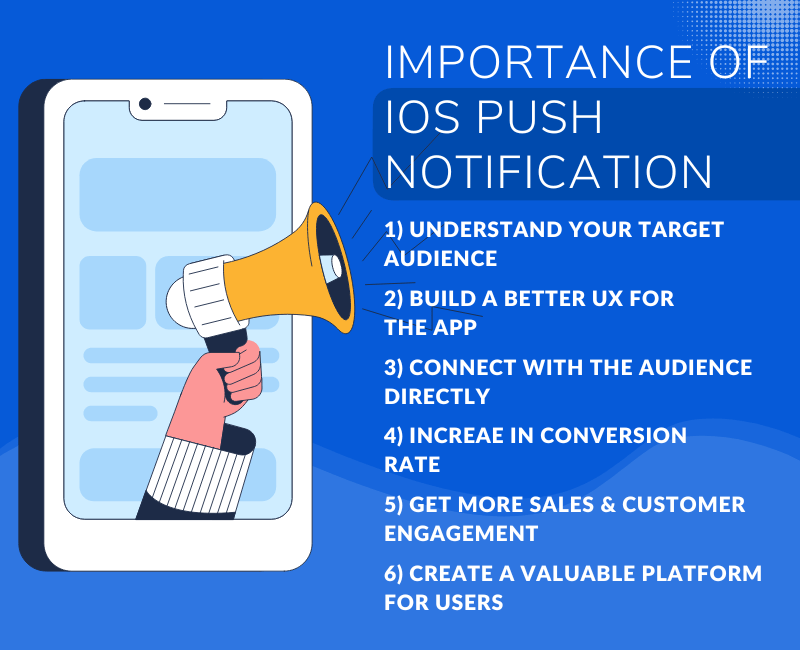 Mobile apps have the capability to automatically deliver alerts to users who have the app installed on their device. As a result, publishers will be able to send messages to users directly. One of the main reasons why many businesses desire to create a mobile app in the first place is the capability to deliver the notifications.
There have been cases where push alerts have resulted in 40% click-through rates. Swing2App allows you to send push notifications if you decide to create a mobile website using our platform.
3. User-Friendly Experience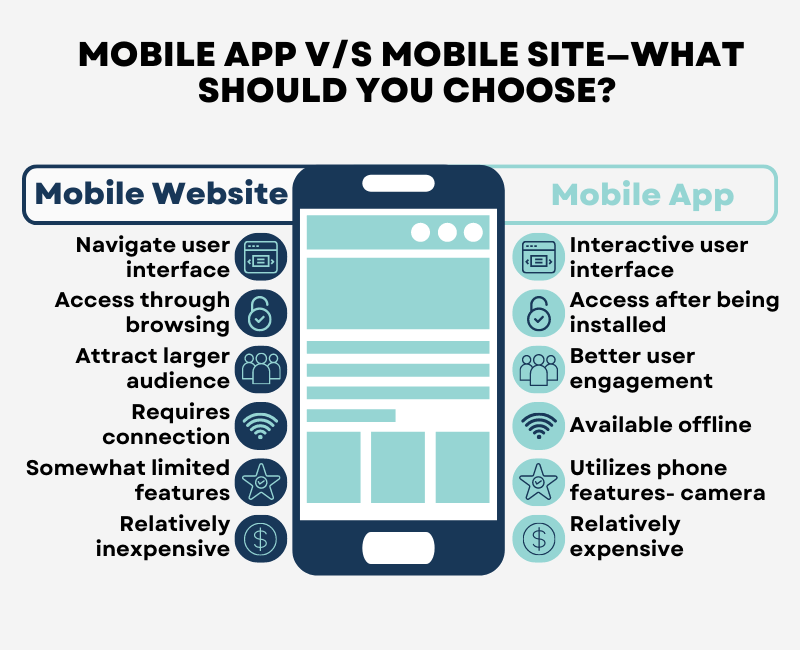 According to research, mobile applications are more popular than websites since they are more user friendly. Mobile applications are easy to use, offer a better user experience, and load content more quickly. Through the use of gestures, apps let users do tasks more effectively. In contrast to the website, it is fairly simple to navigate.
Even the most basic functionalities of mobile websites still rely on browsers, despite all the technological breakthroughs in web design. The functionality of mobile webpages is reliant on browser capabilities like the "back button," "refresh button," and "address bar."
However, none of these limitations apply to mobile applications.
A mobile app may be created with a variety of complicated functionalities based on advanced gestures such as 'tap', 'swipe,' 'drag,' 'pinch,' 'hold,' and others.
These gestures may be used by apps to provide cutting-edge features that can enhance user performance. An app may, for instance, allow users to swipe to the next or previous step.
4. Brand Presence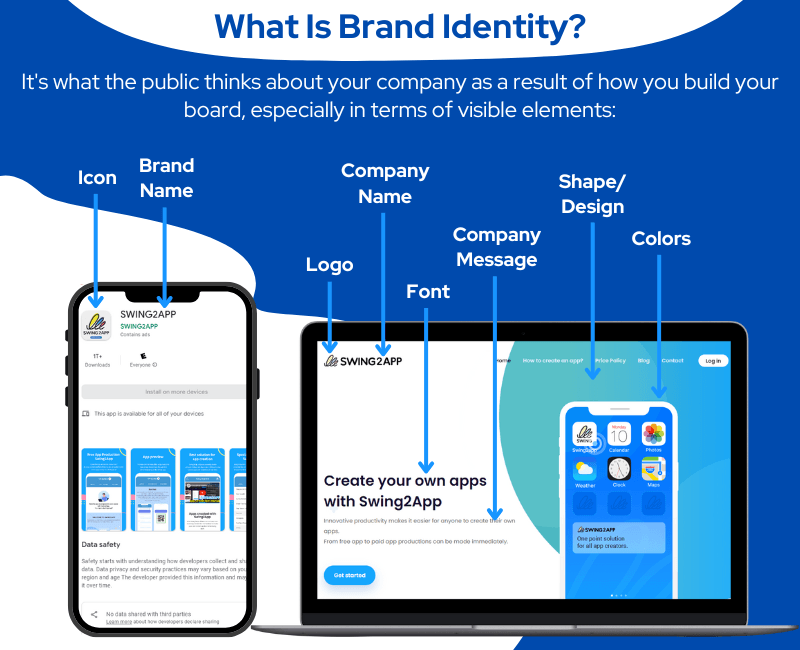 More people use smartphones than any other type of device. Therefore, it can be concluded that users spend nearly every day using the installed apps on their device. This regular action offers applications a chance to market themselves. The brand linked with the app is still brought to the user's attention even when they are not using it.
Mobile devices are where users spend a significant percentage of their time. It's reasonable to assume that a lot of people utilise the mobile applications they have downloaded and installed on their smartphones virtually daily. This frequent contact offers the applications a chance to advertise themselves.
Users are reminded of the brand connected with a mobile app even when they are not actively using it. The app's icon serves as a little advertising for the company.
The availability of an app on any device influences the user's subconscious view of that brand.
5. Use of mobile device features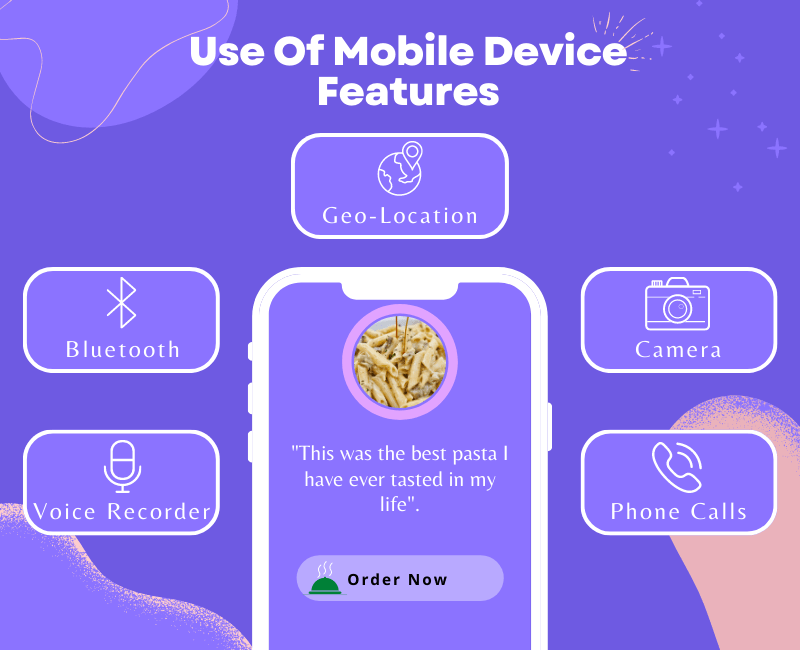 Use of the camera, contact list, phone calls, and other features is made simple by the mobile app. by using these functionalities the user experience will become more engaging and enjoyable. Additionally, it lessens the effort consumers would need to exert. Device features may undoubtedly reduce the time it takes users to complete a task in your app and even increase conversions.
For instance, users of a banking app can be required to upload their photos in order to finish filling out a form. Users of the app may be able to take and submit pictures using the camera on their mobile device.
The interconnected features greatly reduce the amount of time needed to complete a certain job in an app and increase conversions.
The benefit of using mobile device functions like a camera, contact list, GPS, phone calls, accelerometer, compass, etc. is available with mobile apps.
6. New stream of conversions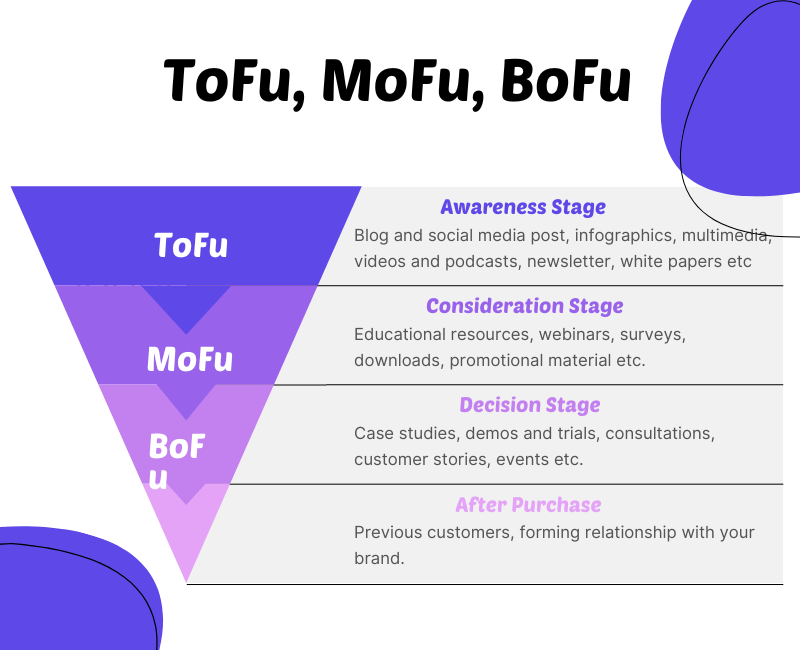 If you want to enhance conversions, mobile applications can give an easy method to move visitors through the conversion funnel.
Both top-of-the-funnel (ToFu) and bottom-of-the-funnel (BoFu) customers may be attracted via mobile apps.
Utility apps, for instance, can attract ToFu users who can then be developed into BoFu leads. However, applications like eCommerce already have customers that are BoFu and have a better conversion rate.
Additionally, you can utilise mobile applications to target particular consumers in the funnel because they are much more focused overall (in terms of their functionality and content). In contrast, mobile websites may connect with a wide range of users.
7. Apps work faster than websites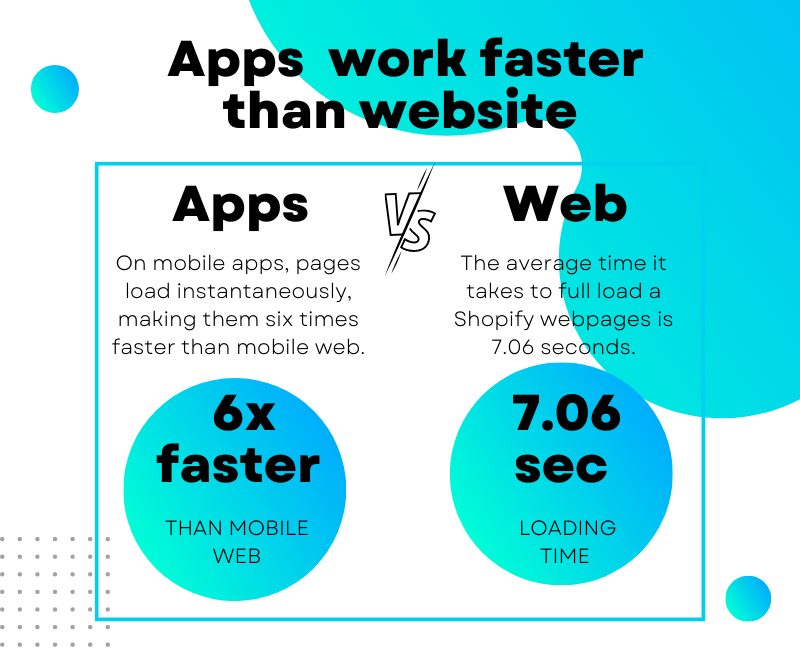 A well-designed mobile app may complete activities significantly faster than a mobile website.
In contrast to webpages, which often require web servers, apps typically keep their data locally on mobile devices. As a result, data retrieval in mobile apps happens quickly.
Apps may save even more time for users by remembering their preferences and taking proactive steps on their behalf.
Additionally, there is a technological explanation for why mobile apps run more quickly than mobile websites: the framework used by mobile apps may run nearly five times quicker than JavaScript code! While all of this is going on in the background, users of mobile applications may execute tasks more quickly on the front end, which again enhances the user experience.
8. Users spend more time on Apps
Only 12% of the time is spent on mobile websites by mobile users, whereas 88% of their time is spent on mobile applications.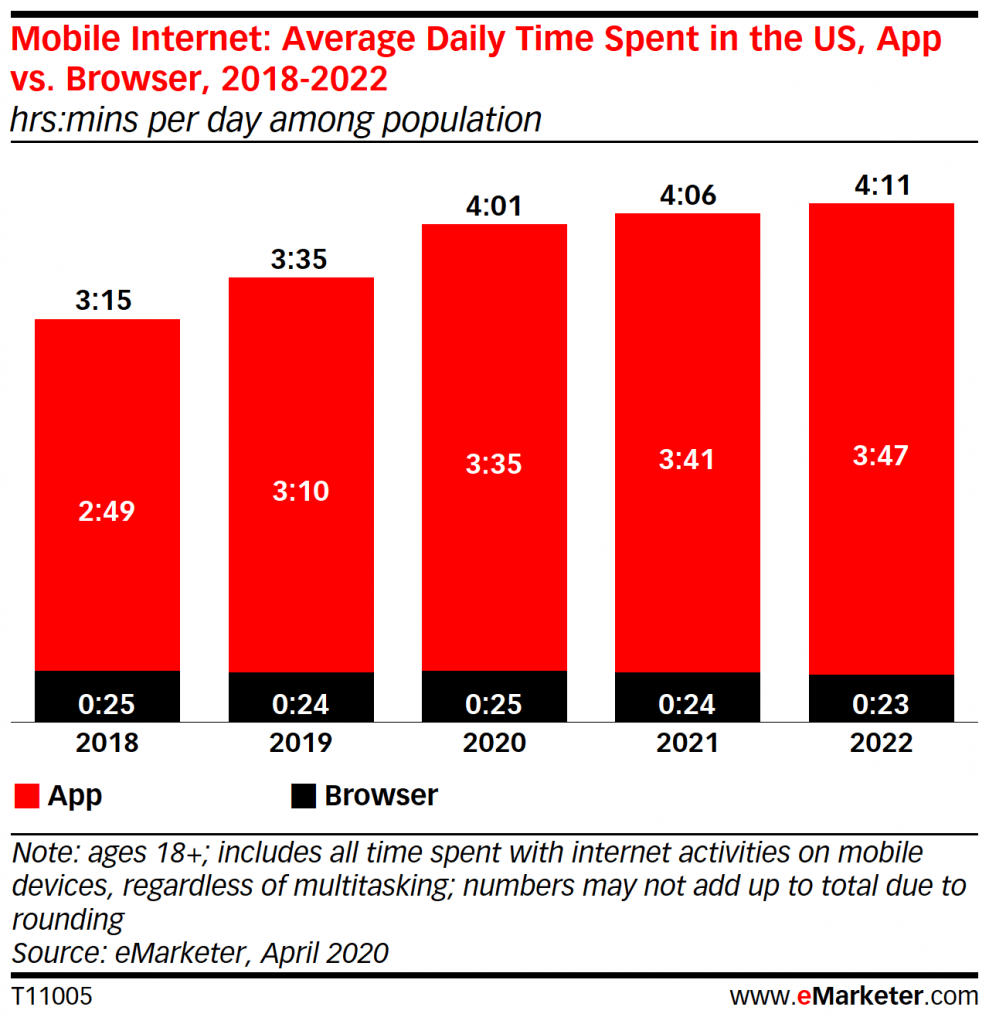 MOBILE APP V/S MOBILE SITE—WHAT SHOULD YOU CHOOSE?  
Creating both a mobile website and a mobile app for your business can be pricey, and you may have to select one of the two channels based on your budget and business goals. Mobile applications can help you increase conversions and retention even if both channels have their own advantages and disadvantages. Mobile applications provide more customization and operational efficiency in addition to a variety of other unique capabilities.
Once you've created a visually appealing mobile app, how can you make sure it fulfils all of its promises and accelerates the desired development for your company rather of being simply another channel you need to manage and maintain? The solution is straightforward—you put it to rigorous examination.
Through the use of mobile app A/B testing, you can gradually improve the in-app user experience by experimenting with different features, app flows, and other UI-based adjustments to raise engagement, conversion, and retention rates. Therefore, although having a fully functional mobile app is undoubtedly the first step in connecting with a completely new audience group, ongoing optimization can help you create real gains in your key business KPIs. Swing2App is a powerful mobile app development platform that enables you to create engaging apps that astonish people and release top-notch apps.
Also read: All About Websites, Web Apps, And Progressive Web Apps
CREATE NO-CODE APP WITH SWING2APP OR CONVERT YOUR WEBSITE TO AN APP AND ENJOY THE DUAL BENEFITS.
Mobile webpage vs. mobile app Many company owners are faced with a difficult choice as they try to figure out the best approach to connect with, reach out to, and service their consumers.
One of the most crucial factors influencing this decision is cost-effectiveness. Why choose one if you can enjoy the benefits of both website and app in a cost-efficient way?
By using Swing2App, you can scale your business quickly and cost-effectively without having to know any coding.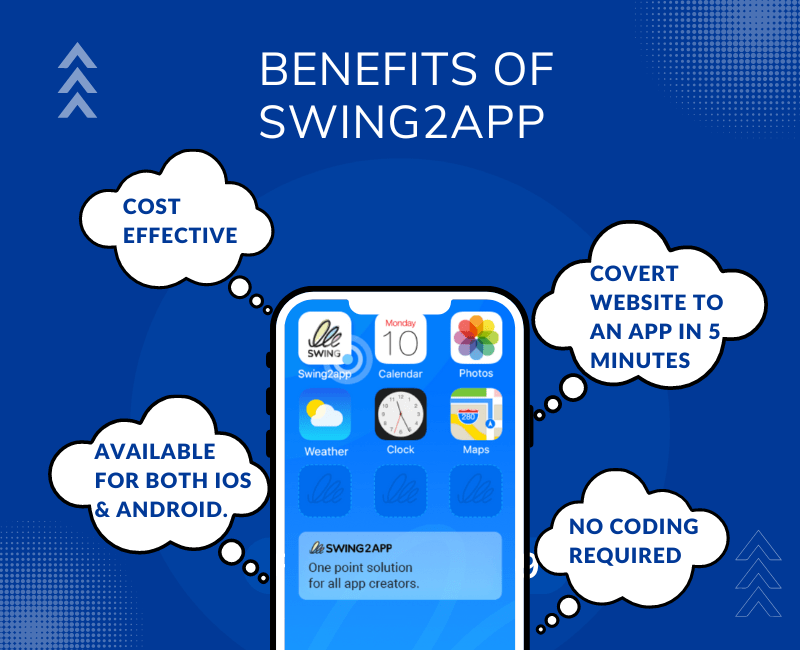 Some other benefits of Swing2App no-code app development solution are:
Android and iOS apps:
For a newbie developer it is quite a decision to make whether to choose Between Android and iOS app development. If he chooses one, the audience will be limited to only one platform either Appstore or Play store which means a loss of great opportunity.
However, this is not the scenario with Swing2App. Here you can create app for both the platforms at the same time as well as cost, this is like freeing two birds with one key.
However, if you develop both, everyone will be able to use your app. We don't have to build from zero every time because of our user-friendly app development tools. So, creating both an Android and an iOS app will surely cost a bit extra but not as much as coding it separately!
Convert website to an app in 5 minutes:
If you already have a website, then the task of creating an app becomes even more simple. All you need to do is enter your website URL in Swing2App website to App converter and your app will be created within 5 minutes.
No complex coding, no unreasonable costs, and time efficiency are what you get with Swing2App.
Further read: How To Convert Your Website Into A Mobile App
Free app creation:
Create your own app for free, you get to download your APK, 100MB storage, unlimited posts as well as you can upload your app for free with Swing2App free commercial version for android.
The biggest advantage of using Swing2App is that you can create your MVP app absolutely free and pay only when you want to upload it on PlayStore or AppStore.
You also get industry-specific app templates, which further reduce your development time and provide you with basic ideas to further build on upon it. With swing2App free template templates you can create e-commerce apps, delivery apps, business apps, and much more.
App Analytics:
Swing2App provides all the various analytics about your app like User pageview, device usage, feature usage, push notification data, new user data, and much more.
All this enables the app developer to make more informed decisions about future updates and features. Moreover, they can also use this vital data and create analysis to understand users' behaviour.
Real-time update:
Automatically update content in-app without any need for resubmission. This can be done easily with our Content Editing Tool, which is also an entirely codeless process.
Virtual app screen:
It's the era of visual development, what could be better than creating your app visually rather than just seeing endless lines of code!
Swing2App has a preview window at all the steps so that you can visualize all the changes that you make and thus compare them. If you don't like the appearance of the app at any point you can edit it on the spot without spending much time rewriting the code.
App monetization:
Let your app earn money for you while you can focus on other things. Swing2App provides a Google AdMob plugin for developers who want to earn from ad revenue.
Moreover, you can also earn from in-app sales or subscription plans that are entirely up to you and your app business plan. And don't worry about payment gateway setup as Swing2App provides PayPal and Stripe for transaction facility.
For all App creators (beginner and pro):
For developers that already have coding experience Swing2App is a means to save their precious time by creating an app in much less time than it requires to code even a basic app.
For beginners it is a blessing, you don't need to spend your time learning to code, rather devote that time to the ideation of your app business.
Choose no-code, Choose Swing2App. We're your one-stop-shop for all things no-code, with everything you'll need to create any kind of app with ease
CONCLUSION
The "app vs. web" debate will continue to be a very real one for businesses looking to develop a mobile presence as mobile use expands globally. A mobile-friendly responsive website is the obvious choice if your mobile goals are mostly marketing-driven or if you want to supply content and create a significant mobile presence that can be easily maintained, shared among users, and found on search engines.
On the other hand, an app will probably be necessary if your objective is to deliver a user experience that resembles a gaming interface or a computer program more than a website, or if you need access to a user's phone storage and native functionalities. 
It's also worth noting that a mobile/responsive website and a native app aren't always mutually exclusive. Numerous businesses provide both a downloaded native app for more specialised needs and a public website that is mobile-friendly for their overall online presence. In the end, it all comes down to selecting the right instrument for the task.