HOW WILL A BLOG APP HELP YOUR BUSINESS IF YOU ARE AN ASPIRING BLOGGER? IS BETTER TO HAVE AN APP FOR YOUR BLOGS OR ONLINE WEBSITES ARE ENOUGH? 
A blog reader wants to be able to access content easily. Smartphone users are growing tired of sitting in front of a computer, entering a website, and then searching for content.
It may be that you have a blog website, but you should continue to expand and be more creative by creating a blog app too. There is no doubt that mobile apps have become the rage and all the numbers point in that direction. A study showed that people spent 87% of their time online using mobile apps. The mobile app is the future, so you will need a robust mCommerce infrastructure to be prepared for both.  

Our goal today is to tell you everything you need to know about it. Continue reading to learn why and how to make a blog app. Also, learn how you can incorporate some must-have features into your app to stay up-to-date with trends for the upcoming year and beyond. Let's begin! 
WHY EVERY BLOGGER NEEDS AN APP
Before we get into the important aspects, let us first discuss the importance of apps for bloggers in today's world. Examine the following points to understand more about it:
1. Apps offer ease of accessibility & convenience
Are you reading this on your smartphone? Would you choose a mobile app over a website to read your favourite authors' works? If yes, you have identified the importance of apps yourself. Mobile apps provide more convenience, which increases their viability.
With mobile apps, information and content are always accessible. In contrast to webpages, users don't always need to launch a search engine and look for the platform or information they want. The proximity and accessibility provided by a blog app encourages more activity and discourage users from leaving the platform or switching to a rival one.
2. Mobile apps generate longer session time
One of the most significant advantages of mobile apps is that users tend to spend more time with them. We use different apps on our phones every day for more efficient methods than websites. This results in longer app usage hours when compared to webpages.
Most Americans choose to browse through applications rather than webpages, according to studies. It's obvious that people who could be your readers and consumers spend more time on their mobile devices and apps. Hence creating a blog app for your blog website is must.
3. Marketing gets more attention on apps
Since mobile apps have become increasingly popular, the online marketing and advertising sector has also advanced significantly. This is the case because while apps attract greater attention, any advertisement there has a higher possibility of converting users.
As bloggers frequently have the chance to increase their cash through advertisements and promotions, they must develop an app to increase their earnings. For further impact, you may also manage your own campaigns and notify your users via push notifications that can happen only via a blog app.
4. Brand messages create more impact on apps
Mobile apps help you connect with your target market. This also guarantees that the messages you develop for them are sent more effectively with the least amount of entropy, noise, or loss that is typical of websites.
Therefore, having a strong blog website and an equally strong blog app helps your branding. The mobile app will make your target audience more accessible and help you establish your brand identity while the website will get more exposure and improve its search engine rankings and visibility.
5. Statistics show that apps are more powerful
Recent studies, surveys, and other comparable evaluations all point to the effectiveness and influence of mobile apps over websites.
In fact, according to data, consumers spend 90% of their online time using mobile applications, and only 10% of that time is spent on other types of web platforms. Statistics also show that more internet users like mobile apps than webpages.
It is not necessary to create a blog app from scratch when you already have a website. You can simply convert your blog website to blog app in just 5 minutes with Swing2App.
6.It helps with your app stand out itself among its competitors
Publishing a mobile app for your blog could help you stand out in the ever-increasing blogger competition. Quick access to your material by mobile readers can improve the perception of your blog app and help you stay ahead of the competition. A mobile application will be useful for driving traffic to your blog.
Create Android apps without coding using Swing2App App Maker for free.
7. It ensures more content views
Most smartphone users check their social networking accounts and other favourite apps before starting their daily activities. Before going to bed at night, they repeat this action. You can encourage the regular readers of your blog to download the blog app and read your posts before starting and after finishing their daily activities.
Important examples are blog apps like BuzzFeed, Goodreads, etc. Users who view content over their mobile apps view more content than users visit via the website.
One of the best features that smartphones offer for app development is push notifications, which can employ for your blog app. You may keep your readers informed about the content of your blog by notifying them whenever a new article is published. One of the best features that smartphones offer for app development is push notifications, which can employ for your blog app. You may keep your readers informed about the content of your blog by notifying them whenever a new article is published.
8. Makes sharing easier
You may also make it simple for your followers to share your material on social media. Users would have to copy the link to the content on your mobile site, leave the browser, go to the social network's app, and share the link there on their own. Instead, you can make this sharing procedure simpler by allowing your mobile app to collaborate with other apps.
Your blog needs a mobile app to both attract new readers and give your current readers conveniences. Create your Swing2App account right away and make a bold entry into the mobile world if you have a blog website and want to turn it into a blog app to reach your fans.
CONVERT YOUR WORDPRESS BLOG TO APP WITH SWING2APP
Learning how to turn your WordPress into a mobile app is the quickest way for a blogger to create a mobile application. Making a mobile app without using any form of code is a straightforward strategy.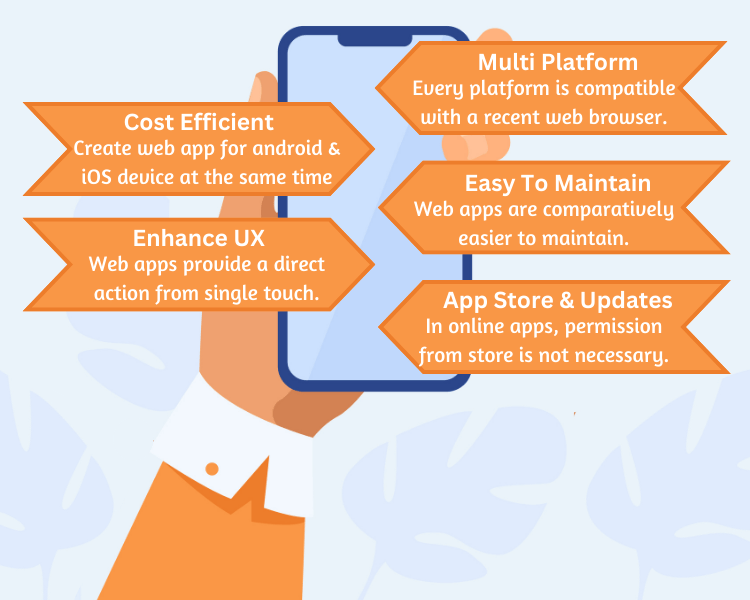 With Swing2App, creating an Android or iOS app from your WordPress or other website or blog is a breeze. You can convert your website into an app in just 5 minutes by following3 simple steps:
STEP1. Sig up for Swing2App and choose "Create Web App" 

STEP2. Add your app details and choose theme for your app 

STEP3. Enter your blog website URL and click on app creation request. 

Swing2App has some additional incredible advantages outside only saving you a tonne of time. Some of key benefits are:
Cost-saving: You can save multiple costs by using Swing2App. First and foremost, you can create both android and iOS apps at the same time for just $300 (which is a one-time investment). However, you can create for a single platform too, which will obviously cost even lesser.
As both Push only and WebView (with OneSignal) allow you to send unlimited push notifications to your blog app users, which means you don't have to pay separately for it.
Time-efficient: As you create 2 apps (Android and iOS) and the same time, and this takes only 5 minutes. So, you can easily cut your app development and publishing time from 6-7 months to weeks.
Enhanced UI for your users: Apps are definitely better than responsive web apps in terms of UI. By converting your blog website into a blog app you can enjoy this benefit too. The better the UI, the more time they will spend on your app which means the likelihood of buying a product or service will surely be higher.
App Analytics: With Swing2App analytics you can constantly check and study your customer acquisition, your app's performance, thus helping you to provide better facilities. It can also help you to boost your business further once you know what your audience likes the most in your blog app.
Higher ROI: The various features of Swing2App help you in both customer acquisition as well as retention. As people spend 90% of their time in apps, hence having a blog app will take your business directly to the fingertips of your customers.
The ability to send push notifications and user Analytics also helps you to add to your revenue. It's simple the more you engage with your customers, you will learn more about their habits and needs, and with necessary improvements in your product or service, you can be the next big business of 2022.
Further, read about All You Need To Know About Swing2App Free Website To App Converter 
MUST-HAVE FEATURES IN YOUR BLOGGING APP
Let's get right to it and talk about some of the features you need to make sure your app has now that you are aware of how important mobile apps are for your blogging platforms.
The features for a blogging app that can keep you trending in 2022 and beyond are as follows:
1. Multi-channel login access
Online users have developed with time and have gotten more intelligent and demanding. They want a platform where they invest their time, effort, and resources to have a wide range of options, ease, and security.
Offering them a seamless and exciting onboarding experience might be the first step towards doing this. Support for multiple login channels is an essential feature for your blogging app. They should be able to log in conveniently however they choose thanks to the variety of onboarding options your app should provide.
2. Reader(user)-friendly interface
The user interface of your app is crucial in grabbing users' attention and keeping them hooked.
The app's layout, screen aesthetics, buttons, menu, etc., should all work together to create a cohesive whole. In reality, the theme of your blog app can go well with the theme of your website if you already have a popular website with visitors.
Your users will feel more at ease as a result of this uniformity, making it simpler for them to understand the material. To guarantee the same, you can create your app utilising a tool that enables you to modify it however you see fit.
How users engage with your blog app and how easy they may go from option A to option B inside it are both determined by the navigation. In a word, the navigation experience has a significant impact on the conversion rate and success of your app.
In the years to come, there will be an even greater need for frictionless, fluid, and dynamic navigation in a blog app. The two most common types of navigation menus will probably continue to be the hamburger menu and the menu in the bottom navigation bar, which is well provided in Swinng2App.
You must therefore have an app that complies with these requirements and provides your users with a user-friendly app experience.
4. Support for eCommerce
A new age business has a greater chance of success if it is more active. As a result, you shouldn't be hesitant to try your hand at eCommerce and expand your thinking beyond blogging and content creation. You can also make some extra money by selling goods and stuff.
An app that can support mCommerce capabilities like product search and filtering, checkout, payment gateways, and more is required for this. As a result, you can develop a website that supports the same and then pair it with an app that is just as dynamic.
5. Push notifications
In the digital age, push notifications have emerged as one of the quickest, simplest, and most useful forms of communication. When you have a blog app and want to conduct a campaign to engage and interact with your clients, it becomes especially beneficial.
You can develop an application that makes advantage of this capability, enables you to design special push alerts, and lets you schedule them for blog app users., all with Swing2App easily.
Suggested Read: Push Notification Explained And Why Do They Matter? – A complete guide
6. Monetization support
In-app advertisements are a fantastic tool for marketing, promotion, and even for generating additional income from your blog app. The majority of blog owners receive pitches from various companies about endorsing their goods and running advertisements on the site. If your app has monetization capability, you can also benefit from this possibility.
As a result, you can search for an app developer who provides some sort of in-app monetization assistance. Create a Google AdMob account, for instance, and use it to display adverts in your mobile app.
Read: HOW TO EARN MORE REVENUE WITH YOUR APPS: GOOGLE ADMOB
CONCLUSION
Without writing a single line of code, you can download the Swing2App app builder and turn your website to an Android or iOSapplication. For your blog website, blogs with eCommerce websites, and more, you can create high-quality Android and iOS apps here.
Swing2App makes certain that your blog app has all of the newest features mentioned above in addition to others. It is actually the ideal framework for converting your WordPress and WooCommerce websites into mobile apps.
Swing2App's dynamic interface also makes it the most financially sound choice if you want to be prepared for the future and dominate your niche in the blogging business. Why wait when you can make a strong and dynamic app right away? Go ahead and use the free platform to explore!